Instruction
If you cannot find a cat-nurse, get ready to nurse a baby themselves. Decide what you will feed him – ready a substitute from the pet store or will do to prepare the mixture, similar to cat milk. If you decided to do this mix, mix 4 parts cow's milk with 1 part of the egg white. The milk must be boiled – crude kittens not suitable! It happens that cow's milk is poorly tolerated by the kitten – then you can try infant formula for newborns, only dilute it by half thinner than indicated in the instructions. The mixture should be warm but not hot – 38-39оС for the first week of life, 30-32oC for a second, then - 26-28oC.
During the first days of life the kitten will need to nurse from the pipette, if you failed to get special cat's water dish. Dropper needs to be clean, after each feeding it should be thoroughly washed with hot water. Put the kitten in a box with low sides on the tummy, let his front paws rest on the Board of the box. Holding the kid's left hand behind the back and neck, feed him. The pipette can be both sharp end and blunt as preferred, and better if it is plastic, not glass. Remember not to squeeze all the contents of the pipette to the kitten in his mouth – he should suck it up; if the cat will forget how to suck, teach it again will be impossible. Because when feeding from a pipette into the stomach of the kitten gets a lot of air, you will need from time to time to give him a chance to burp. When the kitten is week, try to go to the medical syringe without a needle.
Newborn kittens are fed every 2 hours, including night hours; on the 3rd day night you can feed every three hours. From 5 to 21 days of life kittens are fed every 4 hours. When the kitten turns 2 weeks, you can give him sometimes to lap up the mixture from a spoon or small plate, but himself he still does not know how. With 3 weeks you can teach kittens to other products.
Feeding a kitten is a time – consuming occupation, but, growing up, funny fluffy ball will reward you for all the concern and warm affection.
Advice 2: How to feed a Persian kitten
The life expectancy of the cat, its health and well-being are directly dependent on what she eats. Food adult cats do not usually have any particular problems. And how correctly to feed a Persian kitten?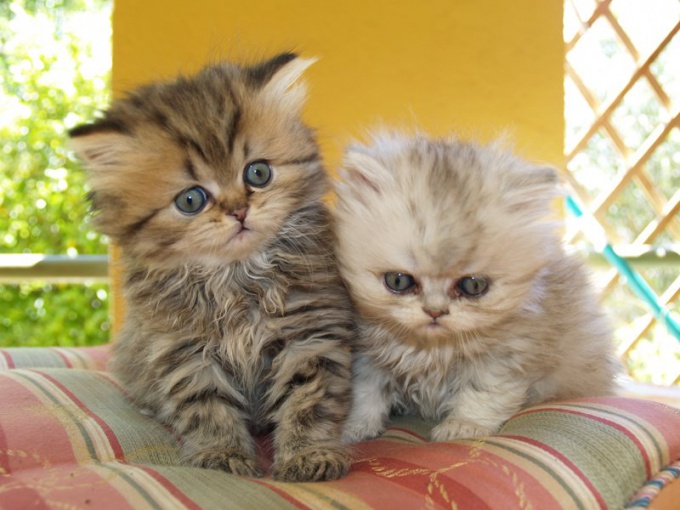 Instruction
As a rule, the kittens convey to new owners at the age of 9-12 weeks. By acquiring a small "Persian", get the owner all the information about the diet and follow all regulations. Avoid abrupt change in diet. Separation from mother, brothers and sisters, with a familiar environment is already stressful for a kitten. This period is added the risk of infectious diseases related to the fact that the body of the baby ceases to receive from his mother the necessary antibodies. In this situation it is necessary to ensure the kitten is particularly meticulous care.
Until your kitten will not be 4 months, you must maintain five times a day feeding regime. By the sixth month – to reduce the number of feedings to three, keeping the normal daily diet. Three-month kitten should consume about 170g of food a day (5 feedings in 3 hours), four-month – about 200g of food (4 feeding after 3-4 hours), a five-month – 200g of food (3 feeding in 6 hours). Go to twice-a-day feeding regime it is possible to achieve a pet one year.
Daily kitten diet should consist of two-thirds meat and one third of the garnish (porridge, cottage cheese and boiled vegetables). You can use lean meat (beef, lamb, rabbit) and boiled sea fish (not more than one or two times a week). One or two times a week one serving of meat can be replaced with offal (liver, kidney, heart).
A serving of dairy food may consist of brewed of wheat or oatmeal. Cereals contain carbohydrates that are needed for kittens in small quantities. Instead of cow's milk is better to use a water-dissolved powdered milk. The ideal option is goat's milk.
The approximate balance of daily servings of food the kitten:

• 100-120g of meat;

• 20-30g of breast food;

• 10-20g of cereals;

• 20-30g of vegetables.
One or two times a week the kitten can offer half of boiled egg yolk, which contains the necessary animal vitamin E (Biotin).
You need to give small "Persian" from mineral supplements and medications, contribute to the strengthening of the skeleton and growth. Persian cats do need taurine. This amino acid is found in foods of animal origin, and its lack leads to heart disease, blindness and reproductive problems. But still, before using vitamins for cats should consult a veterinarian.
Vitamin needs can partially be met by adding to the food plant oil, and well crushed, added to the feed of vegetables (carrots, cauliflower, parsley). They can mince together with meat or boiled fish.
In pet stores, there are now lots of ready made balanced feed for cats, both dry and canned. Feed manufacturers do not approve of mixed feeding (canned food with dry food). Dry food for kittens easy on the road, they do not deteriorate and leave a clean kurnosau Persian face. Canned – good for small kittens with weak dentition.
Of course, what food to give the kitten to you, but if your choice is still leaning in favor of prepared feeds for kittens, and not a natural food, try to purchase for their little "Persian" feed the higher class. This food is not cheap but is a complete a specialized diet that meets all the needs of a kitten in vitamins, nutrients and minerals. If you give the kitten food is higher class, then he does not need any additional additives. Such foods are very well absorbed – not less than 85% and have no soy protein. Their recipes are developed by nutrition specialists and tested on hundreds of animals. In addition, the feed of the highest class do not contain artificial flavors, but very tasty and kittens with great pleasure eat them. Feeding recommendations are typically listed on the packaging with the food.
Note
Potato is poorly digested by animals, therefore, offer it to the kitten only occasionally in small quantities, with broth and well-chopped.

Chicken is not good for eating kittens, because usually the chickens on poultry farms receive feed with additives of hormones.
Useful advice
Kitten food should be warm, not hot or cold. The food from the fridge to warm or scalding hot water.

When feeding prepared food is sure to be near a bowl of clean water for drinking.
Advice 3: How to feed Siamese kittens
Food Siamese kitten should be useful and balanced. Don't feed only protein or plant food. It should have its own, designated place for feeding. There are a number of products that is safe to feed a Siamese kitten.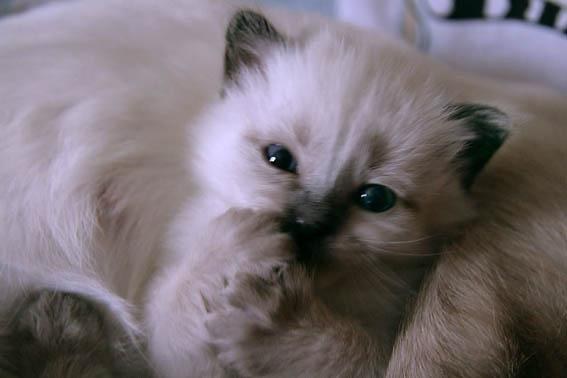 Instruction
Meat and meat products. Raw frozen beef pour over boiling water before feeding. You need to give at least 30 g per day and no more than 500-1000 grams. Boiled chicken breast is allowed to give every day.
Offal (
liver
, heart, lungs, kidneys). Let us only frozen and boiled. Note that the liver can change the coat color kittens white yellowish, it is not recommended to give it in large quantity. All the meat given to the cat raw, primarette in the freezer and pour over boiling water just before feeding.
Chicken egg yolk in cooked or raw form can be given 1-2 times a week. Quail eggs better to feed raw along with protein.
Milk and dairy products. Kittens can make liquid milk porridge. Dairy products try to offer yogurt, cheese, not sour curd can be mixed with cream or chicken egg yolk, giving 3-4 times a week.
Vegetables and fruits let in cheese and in boiled form mixed with meat, in the proportion of 1 part vegetables to 2 parts meat. This will help prevent constipation in your kitty. Same goes for rice. For this cooked meat mix with rice in a ratio of 1 part rice to 2 parts meat.
Water water purified and preferably raw, in any case, not mineral. Clean fresh water should always be freely available for the kitten.
Siamese cats in any case it is impossible to give a number of products: bones of chicken, fish, pork, poultry (except chicken and Turkey). Fatty, spicy, salty, smoked, fried foods. Sausage and canned food intended for people. Sugar, chocolate, candy, cakes and all sweets. Chocolate can even cause death of the animal. Potatoes, beans, salt, spices. Medicines, including vitamins, designed for people. Many medicines safe for humans, may cause severe disorders and even death of the cats.
Note
If you decide to feed your kitten ready food, choose food in accordance with his age. No need to use food of different manufacturers. Select food of the same brand.
Useful advice
Food must be served warm, but not hot. Up to two months Siamese kittens feed on their mother's milk. Therefore it is not recommended to wean a kitten from a cat until they reach 2-2.5 months.
Advice 4: How to make a kitten with a dog
Most of the animals in the wild, trying to avoid contact with members of other species. Different Pets also are not always able to live under one roof. How to make friends with the dog a little kitten?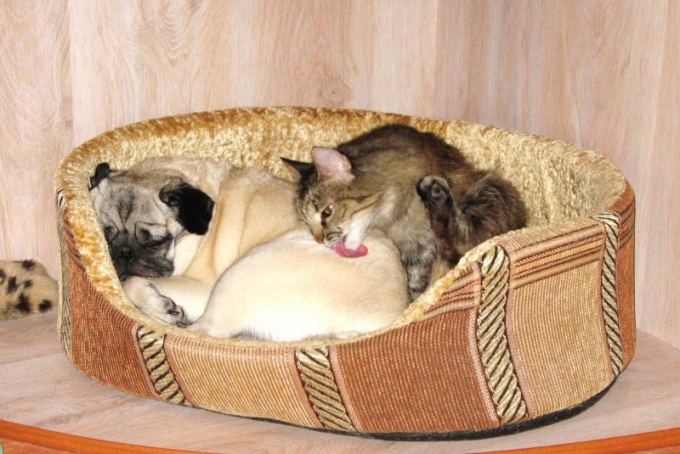 Instruction
If having an adult dog, you decided to bring home a kitten, keep in mind that for most animals it is the stress, and sometimes serious danger. Typically, the host feels a pet that appears first in your family. Easier when your dog is well socialized and you'll be well-adjusted, sociable disposition. This dog can get along with any living creatures, he may even make friends with the kitten. Cats are much more individualistic, but they can be good neighbors to other Pets.
True friendship between animals of different species is very rare. But mutual tolerance, shared interest in games, the absence of conflicts between household Pets is very real. However, some precautions are required. Monitor the process the first meeting of a kitten with a dog. Don't force Pets, give them the opportunity to first study each other at some distance, and then quietly sniff.
Select for each animal a place to sleep, a bowl for food, to prevent conflicts between them in the struggle for property. At first, feed the Pets in the same room but in different places. Thus the pet will gradually get used to the smell of each other, associating it with something positive. Dogs usually eat food faster, leaving his bowl empty. Cats often do not eat enough food. So remove the bowl of the kitten after he ate to avoid eating dog remnants of cat food.
Pay equal attention to both animals, not to give them a reason for rivalry and jealousy. Accustomed to each other's Pets often play and sleep together. Heat-loving cats use the dog as a "live warmer". At the same time, licking his fur, clean the members of the cat family often begin to wash the dog.
Advice 5: How to feed a kitten
Cat is one of the most popular Pets. Once little kitty is moving to a new family, all its members, there are many questions on caring for a tiny defenseless creature. Therefore, the appearance of a kitten in the house, you must prepare in advance. It is especially important to think carefully about how and what to feed the baby.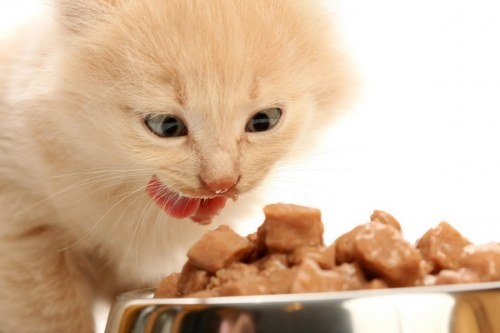 Instruction
Little kitten, not yet reached the age of three, should have access to food throughout the day. Don't be afraid that a kid can overeat. Kittens at this age usually most of the day headlong rush through the house, burning all the excess calories.
For six or seven months of a kitten preferably translated to two meals a day. By this time the growth of the baby slows down a bit, so feeding on a schedule will allow you to control the amount of food eaten by the pet.
Never feed a kitten immediately after your morning Wake-up, otherwise he quickly realized that in order to get a treat, he only need you to Wake up. But the baby might get hungry and at 5 in the morning. Better feed him before you leave for work.
The same rule apply to the evening feeding. Feed the kitten not as soon as I come home, and after some time. This is important, because if you're late from work, the child will be nervous. A restless animal can make a row: to peel the Wallpaper in the hallway, to stir the soil in the flower pots "to relieve themselves" in the wrong place.
Feed the kitten in the designated place. If you don't want to jump on the kitchen table where you prepare food, do not feed him near it. The same applies to the dining table. Do not put a bowl of food next to the object near which you would not wish to see your pet.
If during a meal you don't want to stay fixed on your vision and endure harassment four-legged lover to eat, never let the kitten treats from their plates.
Feeding kitten boiled chicken without bones, lean beef, boiled chicken and beef stomachs, kidneys, lungs and heart, low-fat cream cheese, any vegetables, except potatoes, and ready-made food designed specifically for kittens. Cook the baby rice, oatmeal, wheat or buckwheat. Include in the diet of its food cooked or raw egg yolk. Toddler under the age of three, can fluster milk. In older kittens, this product may cause diarrhea.
Note
But such products as pork, goose, duck, potatoes, sausages, canned food, feed the kitty can not. Protect it from consuming spicy, smoked and salty food.
Useful advice
Don't forget that next to the bowl of food must always be a saucer of clean water, which is necessary to change on a daily basis.
Advice 6: How to teach a kitten to eat on their own and walk in pan
Taking the kitten home, immediately resolve the problem of food and toilet. Baby, recently weaned from mother, often isn't able to walk in the tray and eat on their own. But with persistence, you'll be able to teach animal everything you need.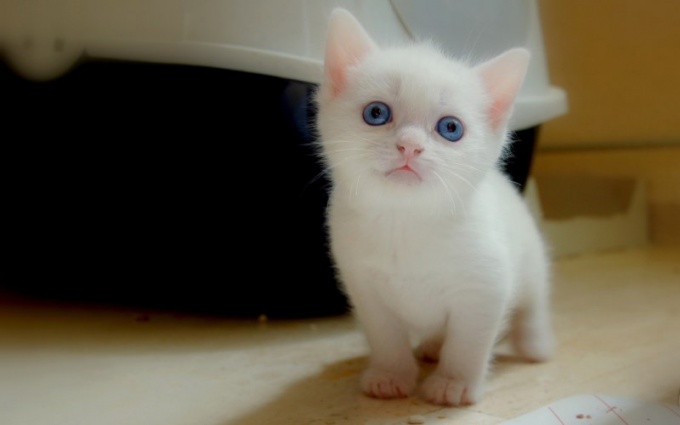 Instruction
If the kitten is not familiar with solid food, teach him to drink milk. It is better to warm up to room temperature and pour into a saucer. Put the baby next to a saucer, dip your finger in the milk and slide it over the muzzle of the animal. Kitty lick and feel a familiar taste.
Will put baby closer to the bowl. He might try to lap by yourself. If this happens, carefully dip the face of a kitten in milk. Be careful it does not hit in the nose. First experiments will be not too successful - the animal can back away, otharkiwate and clawing. Be persistent, but don't be angry with pet. Gently push it to the bowl, soon the cat will understand what you want from him.
Kitten at the age of 1 month time to feed a more dense food. The best option to start feeding - canned meat for kittens. Usually animals are attracted to their smell. Put a little paste on your finger and put it to the mouth of the animal, encouraging him lick the treat. If this is successful, Pat pet and give him a little more canned food. Very soon the kitten will eat on their own.
If animal prefer liquid food and not eating food for kittens, offer him baby biscuits - they have a light consistency. Began to eat meat food, the kitten will soon be able to switch to cat food, and later, on dry pellets. Don't let the animal purchase meat, sausage and other foods with lots of fat and salt. Delicate stomach of the animal can respond to disorder.
Another important point - the problem with the toilet. Pick up the kitten a small tray with low sides - the baby should be easy to get into it. The filler will suit pressed sawdust or silica gel. Do not use clumping litter - the baby can lick it off, and it is fraught with problems with the stomach.
Put the tray in a secluded place. Once the pet wakes up, put him in the tray, and, stroking, hold it there. If the kid goes to the toilet, praise him. Repeat the procedure after each meal is a healthy kitten visits the tray several times a day.
In the early days watch out for the baby. Usually the kitten understands what you want from it, and begins to walk to the bathroom in the allotted space. If not, make sure that the access tray is not blocked. As an additional stimulator can be used teaches spray from time to time sprinkle them with kitty litter. Promptly remove from the pot pet waste and clean the tray at least once a week.
Advice 7: What to feed a newborn puppy
At the birth of long awaited puppies are not excluded various contingencies. These include bottle-feeding the newborn Pets. This need may be related to the lack of bitches milk, contraindications to breastfeeding, the death of a dog, or just her lack of desire to feed their offspring. In this case, the responsibility for the lives of the puppies falls on the shoulders of the owner.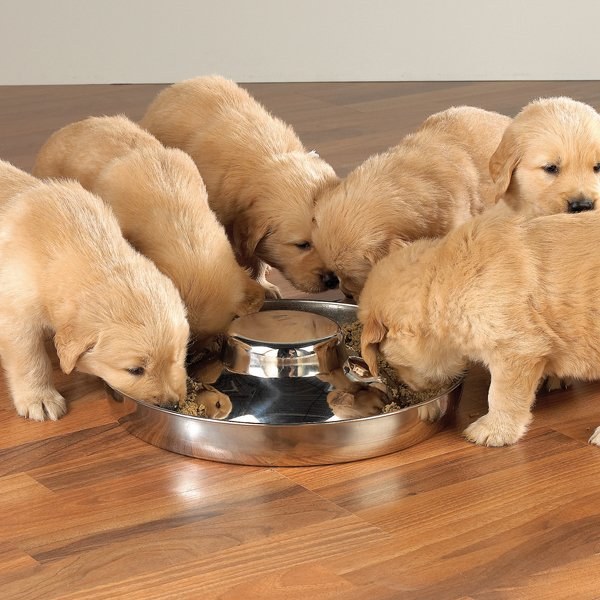 Feeding newborn puppies

The owner of the puppies should make an effort to receive adequate nutrition from the first days of life. If possible, infants should try to drink at least one serving of expressed mother's milk called colostrum. This will provide them an initial immunity, which is very important for the development and growth of puppies.

During the first weeks babies should feed every 2 hours. This applies not only to daytime but also night. Gradually, the interval between feedings should be increased so that by the end of the first month, the frequency of this procedure was 5 to 6 times a day.

Approximately two weeks until the puppies don't open my eyes, the food should consist of whole milk substitute (WMS). The mixture can be purchased ready-made in stores, but you can do it yourself.

This mixture can be prepared from 1 fresh chicken raw eggs and 100 g of milk. In egg batter added milk, all well mixed and is decanted through cheesecloth. In the resulting feed, you can add a couple of drops of vitamins A and D.

Enough nutrients is considered another part. In 80 g of milk added 1 egg yolk, 20 g cream, 20 ml glucose (40%), 3 ml of ascorbic acid and a couple drops of vitamins A and D.

When feeding puppies you can use a baby bottle with rubber nipple. Special containers for feeding puppies can be purchased at pet stores. You need to choose this option so that the hole in the nipple was not too big, otherwise the puppy can choke. Too small hole as well uncomfortable for feeding, as the animal tired to suck before use the necessary portion. And this, in turn, can affect the growth of the puppy. In some cases the feeding can be done with a pipette or a syringe without the needle.

Formula feeding should be the optimal temperature. To determine this figure could, dropping a bit at the elbow joint. If the fluid is not hot, but lukewarm, you can begin feeding your pet.

Before feeding should RUB the tummy of a puppy. It improves peristalsis. To understand that the puppy ate you for his behavior – he starts to turn away from the nipple. It is important to sure that the baby had malnutrition. On the packaging of the finished feed, typically needed, depending on the weight of the animal.

Subsequent feeding puppies

Once the Pets will open your eyes, you need to give them to lap from the bowl and accustom to the cream cheese. Last better to do it yourself. A jar of yogurt should be put in the water filled pan. Once the liquid boils, you need to wait a few minutes, stirring the yogurt. Thereafter, the resulting product recommended strain through cheesecloth and squeeze. Turning to the feeding curd for a long time in parallel to continue to give the puppies milk replacer.

After 5 days of feeding cheese to it should begin to mix and different food. If you use dry food previously to soften them in hot boiled water. Gradually the diet of the Pets need to enrich various food products. This will ensure their healthy growth.
Advice 8: What to feed newborn kittens
Nature designed that feeding young kittens involved in their mother-cat, in the milk which contains all the necessary for the full development of kids nutrients and trace elements. Unfortunately, it happens that newborn kittens are sometimes left without a mother and bring up they have person. How and what would they feed?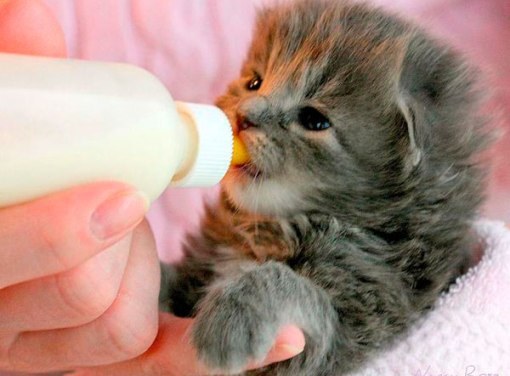 Instruction
First decide what you will feed the kittens. It is important to choose a decent replacement for mother's milk-cats that would be easily absorbed by the delicate digestive tract of the kitten and saturated his body with all necessary for the full development and growth nutrients. Would be perfect for that special milk for kittens that you can buy in pet stores.

If for some reason you are unable to buy designed for feeding newborn kittens milk, try to prepare a special nutrient blend. To do this, take the boiled cow or goat milk and mix it with egg white, rapidly whisking the mixture. The ratio of milk and egg protein should equal about 80:20.
Finally, a good product for feeding newborn kittens is a mixture for feeding the child 1-2 weeks.
When warm food for toddlers ready to feed them. To do this you need a syringe without needle or eyedropper; as well little nipple. In the process of feeding and watch carefully to the kitten slowly sucked the milk, and in no case did not drown them. First, feed the kittens every two to three hours; the older the kitten, the more increases the time interval between feedings.

Thus babies fed until such time as they reach a month; by this time the kittens usually start eating from a bowl. Starting from the third week of life kittens, and gradually introduce them to solid foods can be finely chopped hard-boiled egg, baby food from meat, mashed cooked fish low-fat varieties or a small amount of low-fat curds.
In nature the mother cat gently massaging the kittens bellies, licking them, which provokes the development of the babies have normal peristalsis. In the absence of cats the owner can accurately do the kitten massage the tummy with a wet thick cloth. If you do everything right, the kitten needs to do number two or three times a day. When the kids get a little older, the need for this will disappear.
Note
Are you sure you don't have to feed kids, because you have a pet cat that goes outside, and she's safe? In a small percentage of cases the cat has not awakened the maternal instinct with the birth of the kittens and she simply runs away from them, not wanting to care for their children and even feed them.