Instruction
To avoid allergic reactions, very often accompanying mosquito bites, take the pill of any anti-inflammatory and antihistamine, for example, "Suprastin", "Fenistil" or "Tavegilum".
Remember that mosquito bites in no case do not RUB or scratch, even if you suffer the itching is unbearable. This can not only lead to more irritation, but also to the emergence of the inflammatory process.
If the place is
a mosquito bite itches
quite so unbearable, greatly push the nail to the inflamed area of the skin 2 times, put it on the cross. After 1-2 minutes the itch should disappear.
The easiest way to treat mosquito bites – is a superimposition on the itchy areas of the skin with gauze bandage moistened with a solution of baking soda (half a teaspoon in a glass of water). Instead of club soda you can also use a pale pink solution of potassium permanganate, 50%-s ' solution of ammonia, camphor alcohol, or freshly squeezed lemon juice.
To reduce itching, swelling and discomfort from mosquito bites, RUB the affected areas of the skin fresh juice of plantain or attach them to a pulp from the leaves of this medicinal plant.
Attach in place of a mosquito bite a piece of onion or a cloth soaked in his juice. After a couple minutes of discomfort, such as itching and burning will disappear.
To
get rid of
unpleasant sensations in the field of mosquito bites, can treat them in one of the following: boric alcohol, normal toothpaste or tooth powder, tincture of calendula, tincture of propolis, oil of clove or tea tree cream, "Corvalol" , "Valokordin" or with balm "Asterisk".
Perfectly relieve inflammation and itching from mosquito bites fresh mint leaves, eucalyptus and cherry. Lightly mash them and soak the damaged area of skin for 2-3 minutes.
Advice 2 : Than to smear the mosquito bites a small child
Mosquito bites small children endure a lot harder than adults. This is due to both psychological and physical factors. To help get rid of itching child need special methods, taking into account many of the features of child's organism.
Peculiarities of children's organism


Mosquito bites dangerous for the child not only the risk of infection, but less serious consequences. Itching in the affected area of the skin can greatly spoil the mood of even the most friendly and obedient baby. The bite is constantly itching, redness, ache, and cause discomfort. Because of this, the child may disrupt sleep, lose your appetite, you will be irritable.

In addition, children's skin is much softer than that of an adult. Mosquito bites may not be for a long time. This is due primarily to a way of life. Children are constantly in contact with sand, plants, animals, so the possibility of contamination of the wound is very large.


How to remove itching


The most effective means of getting rid of the itching after a mosquito bite is a special spray or cream. To buy this remedy at any pharmacy. The main thing you should pay attention – is the presence on the bottle is the mark that the drug is designed just for kids.

Similar means are available to prevent mosquito bites. Their main goal is scaring the insects away from the baby. The most convenient to use drugs are considered aerosols and creams. Just a drop of spray on the hood of the child can save him and you from sleepless nights and suffering. In sale there are even special bracelets from mosquitoes, which can be put on infants.

If special means are not at hand, to relieve the discomfort can decoction of calendula or lemon juice. Helps fight the itching tomato or onion. The affected area simply smear a slice of cut fruit, removing impurities, if any.

Relieves itching regular soda. Simply dilute one teaspoon of powder in a glass of water and moistened in the fluid with a cotton swab several times a day to treat the bites. Additionally, you can make a poultice from mashed leaves of parsley. In a pinch, you can spread the bites regular yogurt or sour cream.


Allergic reaction


If a small child was bitten by mosquitoes, along with measures of getting rid of the itching, it is necessary to examine the affected skin. The fact that among the toddlers is a very common reaction to insect bites is an allergic. If itching persists for several days and the redness is spreading in the skin, then be sure to seek help from a specialist. The alarm should cause accompanying symptoms of allergic reactions – nausea, vomiting and fever.
Advice 3 : How to treat mosquito bites
Mosquito bites are very unpleasant. The affected area is red, itchy, swollen and brings a lot of anxiety to the victim. If you are bitten by mosquitoes, it is not necessary to endure stoically, because you can improve your condition.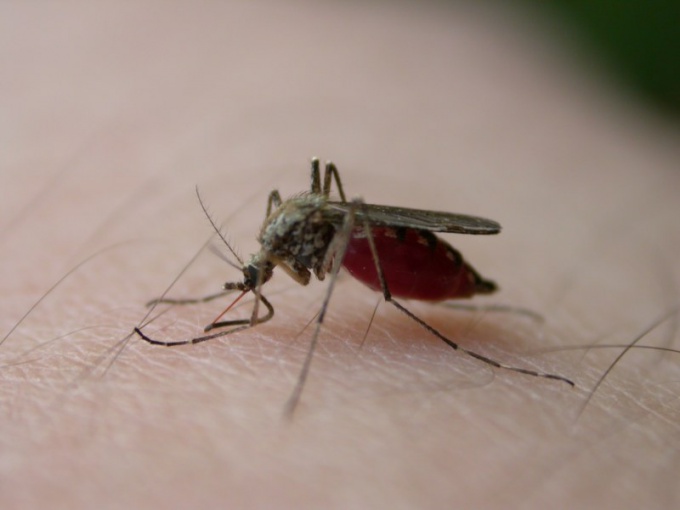 You will need
- plantain;
- the ice or chilled drink;
"Valokordin", "Corvalol", tincture of calendula, a balm "Asterisk";
- essential oil of clove, peppermint, eucalyptus, tea tree;
soda;
- ammonia;
pharmacy ointment and plaster.
Instruction
Try not to scratch the place of mosquito
bite
before you get there, where will be able to provide assistance. Sometimes the itching can be unbearable, but to treat scratched skin will be much more difficult, and the remaining trail will long remind you of time spent in nature.
Those who are bitten outdoors, you should try to remove itching with the help of improvised means. Fortunately, these can be extracted, even in the woods or by the river. Tear the plantain, rinse the sheet clean with water, RUB a little between your palms and apply to the bite. Gradually the itching will subside and the skin brighten.
To relieve swelling and relieve the itching will help a cold. If you have access to ice, or if you currently have a jar with a chilled drink, soak cold some time on the site of the bite. After that you will feel better.
If you were attacked by mosquitoes not far from civilization, and have access to the medicine Cabinet, look in it "Valokordin", "Corvalol", tincture of calendula, a balm "Asterisk". Apply on the affected area and try not to touch the skin until then, until the liquid or ointment is dry.
Fans of aromatherapy you can use essential oils to relieve the itching. Apply a drop of oil of cloves, eucalyptus, peppermint or tea tree on the bite. However, embarking on such treatment is possible only in the case if you used these oils before, and you know that they don't cause you allergic reactions.
For the treatment of mosquito bite can be made from ordinary baking soda. Mix three teaspoons of baking soda with a teaspoon of water. As a result, you get a thick paste, which should be applied on the affected area. Wait until an improvised ointment dry. If itching is not passed, the baking soda can be applied again.
Will help soothe aching bite ammonia. Soak in it a cotton pad and wipe the reddened skin. Gradually the swelling will subside and stop itching.
In pharmacies you can buy special tools that help to cope with itchy after getting acquainted with the mosquitoes skin. Before you go for a walk outside the city, get "Fenistil", "Aquamarin", balsam "Lifeguard" and other tools that will help you cope with your problem. There are also patches, which prevent from scratching the bites. Be prepared, and then the mosquitoes will not be afraid of you.
Advice 4 : How to treat severe mosquito bites
There are many means of protection against mosquitoes: creams, sprays, ointments and fumigators, but not always, they can be used. In this case, after a mosquito bite there is swelling, irritation and intense itching.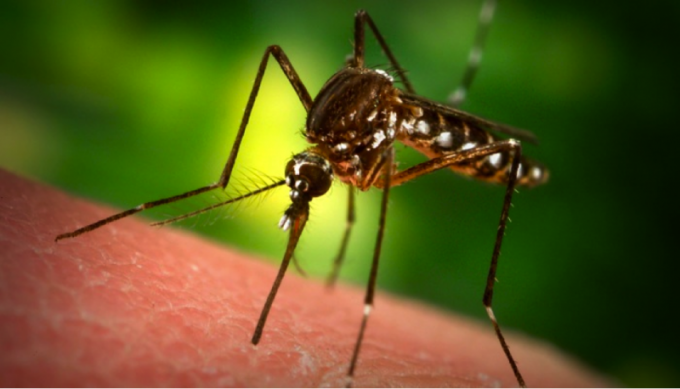 You will need
Parsley leaves or plantain, ammonia, weak solution of potassium permanganate, softened mint leaves or cherry, the juice of citrus fruits, the juice of plantain, calendula juice, onion juice or parsley, juice of celandine, the balm "Asterisk".
Instruction
Mosquitoes are carriers of various diseases, including such dangerous and intractable as encephalitis. Combing the wound from a mosquito bite, you can easily bring an infection in it. For example, when working outdoors was bitten by a mosquito, the bite is very itchy and he starts scratching it hard, and not very clean hands. If the bite occurred on the forehead or the temples, the bite could easily get sweat, which also causes a burning sensation and the result is an explosive mixture - a mosquito bite, dirt and sweat. To mosquito bites did not bring much harm, you need to follow a sequence of actions after they are detected.
The bite does not need combing, to prevent the occurrence of edema must be applied to the wound a small piece of ice or put the bite under running cold water. Also swelling itching and perfectly remove the juice of parsley and psyllium. To do this, take a piece of parsley or plantain, mash with a soup spoon, or any other means at hand until the juice, then the resulting juice must be carefully treat the bite.
To relieve feelings of itching, there are also folk remedies. For example, the place of mosquito bite can be treated moistened in soda solution (1 tsp soda to a half Cup of cold boiled water) with a cotton swab. Adults relieve itching from the bite will help a small compress of cotton wool soaked in ammonia solution or a weak solution of potassium permanganate.
Also an effective remedy for relieving burning sensation at the site of insect bite is softened mint leaves or cherry, the juice of citrus fruits, plantain, calendula, onions or parsley. To get the result applied leaves or a small compress of cotton wool, liberally soaked in any of these juices to the bite.
Juice of celandine is a great method of combating insect bites. Treating the bite with juice of this plant, in addition to relieving swelling and itching, there is a complete disinfection of the wound. The same effect has known since childhood balm "Asterisk". It will not only relieve severe itching and irritation, but also will scare away annoying insects.
Note
When used for the treatment of insect bites and stings ammonia should act with the greatest care to avoid contact with the mucous membranes of the eyes.