You will need
-potatoes;
-aloe;
-lemon;
-cucumber;
-parsley;
-sea buckthorn oil.
Instruction
To avoid stains after the burn, they should be properly treated: dry to protect against infections, reduce inflammation, timely and regularly lubricate intended for this purpose ointments. In this case, the cells are actively updated and the burn marks will remain.
For a more rapid disappearance of the spots protect the injury from exposure to direct sunlight. To do this, before going out to lubricate the stain sunscreen. It is not necessary in this situation to get a tan and visit the Solarium.
Use folk remedies:

Potatoes clean the injured place, cutting it into slices, but you can grate it on a grater and apply to the skin.
Apply the aloe leaf, peeled on one side from the skin, to the skin or wipe the burn of the juice of this plant.
Add lemon juice to the cream that you always use, and densely cover them skin.
Even better, if you make a special mask. Connect a little butter and beeswax (2:1), heat it in a water bath, cool, add lemon juice and apply to the skin. This remedy softens and nourishes the skin and has a bleaching effect.
Within a month, lubricate the site of the former burn sea buckthorn oil. It acts, according to the healers, even on old burn scars.
Apply to the injured place a slice of fresh cucumber or its pulp.
The leaves of parsley mash and apply on the skin as a compress.
To deal with burns there is also a lot of drugs, creams and serum with the effect of peeling and whitening that you buy at the pharmacy. Of course, you may not immediately notice the effect of their application, but after regular use for a couple of months you will see the difference. These funds destroy excessive formation of a pigment and reduces melanin production.
If the burn was damaged deeper layers of the skin, to cope with traces of burns by using the above means, you may not succeed. In this case consult a dermatologist, who will prescribe required examinations and direct the procedure.
You can also go to a good beauticians. In modern clinics for removal pigment spot of a various origin to use the superficial and deep peeling (exfoliation), cryomassage liquid nitrogen, alexandrite laser, vodolechenie, etc. the Laser beam also destroys the pigmentation and the spots are much lighter. This purpose can be used injection techniques of mesotherapy, when the skin is injected a special drug that destroys the pigment.
Advice 2: How to get rid of stains on teeth
A beautiful smile is a guarantee of good mood and is an indicator of many diseases within the body. It is therefore advisable to pay attention to the color and condition of the teeth, in order to identify the causes and begin the process of treatment and recovery.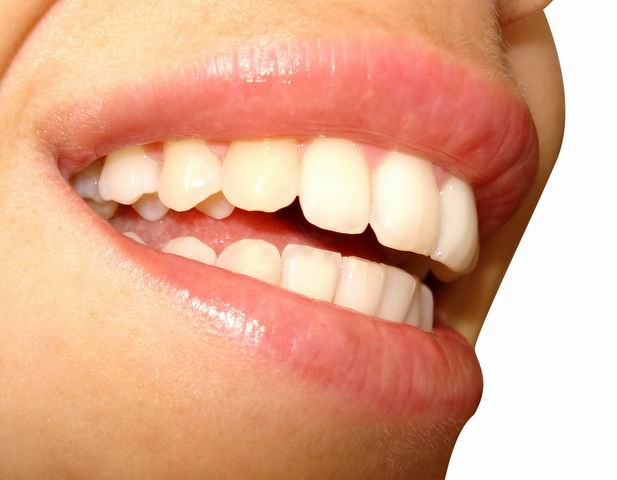 You will need
- toothbrush
- whitening toothpaste
- whitening strips
- mouthwash
- dental floss
- toothpicks
Instruction
To get rid of
stains
on
teeth
, you need to find the cause. Spots can vary in color, size, etc. for Example,
white spots
often appear when an excess of fluoride in the body, resulting in the development of fluorosis. Accordingly, in order to get rid of it, you need to reduce the dose of trace elements and to seek help to the experts for whitening the tooth surface.
Black colour stains on teeth can occur when using drugs with hlorgeksidinom. The appearance of this type of spots require immediate treatment to the dentist for the consultation and determination of treatment tactics. Generally, dark spots are the initial stage of caries, so the method of getting rid of them lies in timely treatment of caries.
Yellow stains on teeth are a sign of the emergence of Tartar or prolonged contact with harmful production. Also yellowish stains on the teeth appear when the erosive destruction of tooth enamel in acid or necrosis. In this case it is also necessary to seek the assistance of the dentist, who will select the most suitable treatment option.
First and foremost you need to efficiently carry out hygienic procedures that will help to clean the surface of your teeth from food particles. Such procedures include regular cleaning of teeth with special toothpastes, with whitening effect, rinse your mouth after meals. Self-removing stains with the help of the pharmacy means for whitening (whitening toothpaste, toothbrushes, dental floss, whitening strips allows you to get rid of only a small and shallow spots. Such means grind the outer surface of the tooth, so for deeper stains require the assistance of a dentist.
Useful advice
Regular visits to the dentist for preventive care will allow for years to preserve the beauty and health of your teeth.
Advice 3: How to get rid of trace of burn
That after burn left no scars or traces to properly care for the wound. Immediately after you burn yourself, it is recommended to apply special foam diluted with water lavender oil or plain toothpaste and subsequently carefully to ensure that damaged skin is not cracked. Do not worry if your burn is already inveterate, and you don't know how to handle it – today trace or scar can be removed at any time.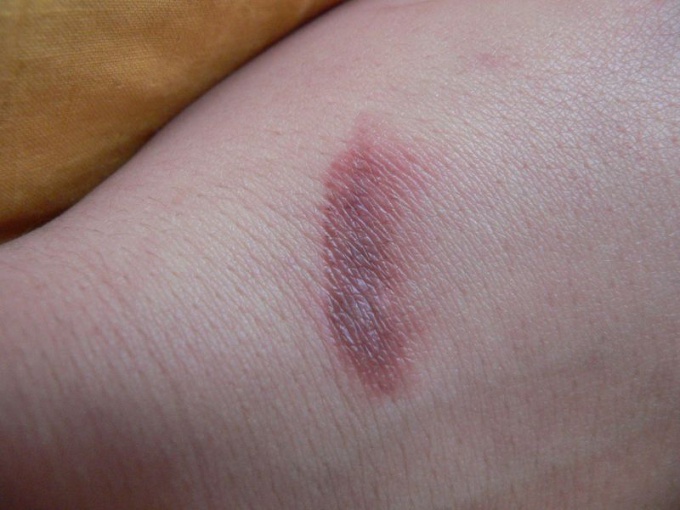 Instruction
The most modern method is laser resurfacing. This procedure is performed only in beauty salons or clinics and allows you to almost completely remove the scar of any complexity, regardless of how long ago you got it. The use of laser is quite expensive, but using this method you can be guaranteed to get rid of scars on any part of your body.
To cope with traces of burns will help and various ointments, such as "Panthenol", "Contractubex", "Syntomycin", "Solcoseryl", "Actovegin", "Mederma". Be patient and use these remedies regularly for at least two months, otherwise, all these ointments are ineffective.
Folk medicine recommends to treat fresh burns cut fresh potatoes. Very good juice and leaves of aloe Vera. You can use it in different ways. If you want to be treated by the juice, then cut a few leaves of the plant, chop them, wrap in cheesecloth and squeeze juice into the Cup. Handle the place of a burn with aloe juice twice a day until the disappearance of the spots. You can also make compresses of gauze soaked in the juice. Some use the leaves of the plant: they must be cut in half lengthwise, make a cut to scar and to fix bandage.
The trace of the burn , you can also exfoliate calcium chloride. Based on this principle such cosmetic procedure as rolling, which you can drink in the cabin.
If the place of injury remains a dark stain, you can use castor oil which has a whitening effect. This property also has the juice and zest of a lemon, which you can use to create special masks. The recipe is quite simple: take one part beeswax and two parts of butter, heat the mixture in a water bath, stirring constantly until you get a homogeneous mass. Add the juice of half a lemon or chopped lemon zest and apply on the place burn. The wax softens the skin, oil nourishes the damaged area and lemon juice whitens pigment spots.
If you remove the trail from the burn itself does not work or the scar is too large, contact a specialist - a surgeon or dermatologist. Doctors will prescribe you a course of treatment and if necessary refer to the procedure.
Advice 4: How to get rid of the yellow stains under the armpits
In people with excessive sweating, there are many problems, especially with clothes. Sweat stains are very hard to wash off, and if they are still not fresh, it's almost unreal. Many people simply throw things light with yellow stains. But it's not so tragic as it seems at first glance, some things can still be saved.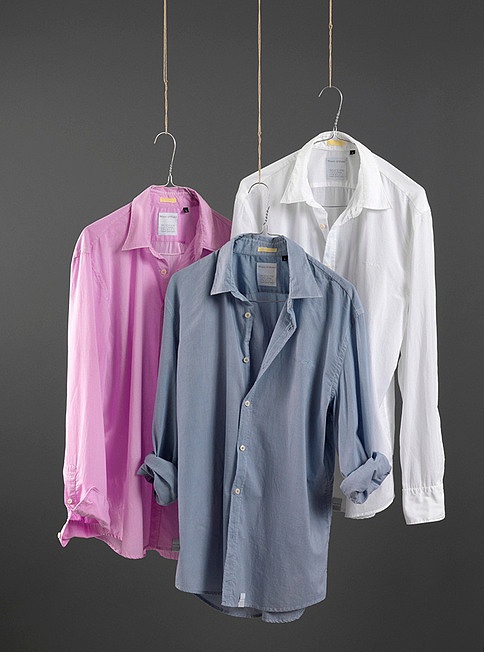 Instruction
To remove sweat stains from silk (any color), it is necessary to use the hyposulphite (it is sold in Department photo) or ordinary table salt. Take a glass of water and dissolve in it one tablespoon of salt, if you use the hyposulphite – in a glass of water one teaspoonful of hyposulphite. When the stain disappears, rinse the thing in warm water. In this solution you can also keep your underwear and dresses.
If sweat stains left on a light woolen stuff, you can help the following recipe: prepare a soapy solution, take a soft, gentle brush and slightly RUB the stain. Now, rinse the thing to wash all of the soap solution. You can also take oxalic acid (one teaspoon per Cup of water) and moisten in the resulting solution the stain, then it is necessary to thoroughly rinse the thing in warm water.
For colored woolen products, you need a different tool. Prepare a mixture of ammonia and white spirit in the ratio 2:4. Treat stains and wait a while, and then rinse the product two or three times. But if the sweat stains already not fresh, use a different tool. To prepare the mixture you will need: gasoline (acetone), denatured and ammonia in the ratio 3:4:2. Then rinse thing.
To remove sweat stains from cotton and linen fabrics, prepare a cleaning mixture of salt and ammonia. Take one teaspoon of each ingredient and dissolve in one glass of water. After the stain disappears, the product must be well rinsed in warm water.
If sweat stains left on the white silk lining products, buy in drugstore hydrogen peroxide and dilute it with water (1:10). This is a very effective way to remove stains of sweat. But if the lining fabric color, you will need a mixture of ammonia and denatured alcohol (1:1). Apply the mixture directly on the stain, and then rinse the thing in warm water.
To reduce sweating, use a good antiperspirants. They efficiently reduce sweating, while deodorants just removes unpleasant smell.
Advice 5: How to get rid of white spots on teeth
White spots on the teeth, which is a sign of fluorosis, can occur in people at any age. The disease occurs as a result of continuous excess supply of fluoride in the body. It often appears the inhabitants of the regions with a high concentration of fluoride in water or the workers of enterprises where the amount of fluoride compounds in the air exceeds the norm.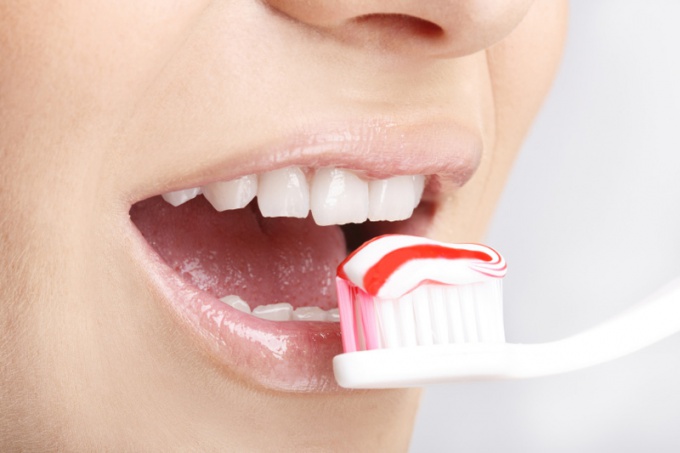 Instruction
Upon the occurrence of fluorosis in the initial stages on the anterior teeth appear white spots or stripes, which are usually located symmetrically. Usually before other fluorosis affects the incisors. When the fluorine content in the body begins a long time higher than normal, the spots appear on other teeth. If this symptom is not to pay attention, the spots darken, becoming brown or even brown color.
Any specific treatment of this disease does not exist. It is first necessary to remove the cause of the high concentration of fluoride. Drinking water should be thoroughly cleaned, from the use of toothpastes and mouthwashes with fluoride should be abandoned. Special attention should be paid to nutrition. The diet should include dairy products, fresh fruits and vegetables. In the winter time should take fish oil, multivitamin. Do not put a little UV exposure.
In the initial stages of fluorosis, the enamel is when white spots appear, carry out the teeth whitening with remineralization therapy, in which there is a saturation of enamel with calcium compounds, fluorine and phosphorus. These substances penetrate the hard tissue of the tooth, saturate and strengthen them. Remineralisation is carried out by applications or by electrophoresis. For this procedure, use solutions of calcium gluconate and sodium fluoride, which alternate with each other.
Sometimes at the initial stage of fluorosis prescribe the drug is "Remodent". It contains a complex of elements derived from animal bones and is essential for the remineralization of enamel. Before the procedure the teeth thoroughly cleaned of plaque, dried them, and then impose a cotton swab soaked in the solution. After the completion of the applications do not eat within 2 hours. The course of treatment is usually 15-20 applications.
Advice 6: How to get rid of skin pigmentation on back
Under the influence of the hot rays of the sun, the skin of many women is covered with pigment spots, especially a lot of them appears on the back. Another cause of increased pigmentation of the skin can be a total failure in the female body. In any case these spots spoil the appearance of the back and cause a lot of grief to their owners.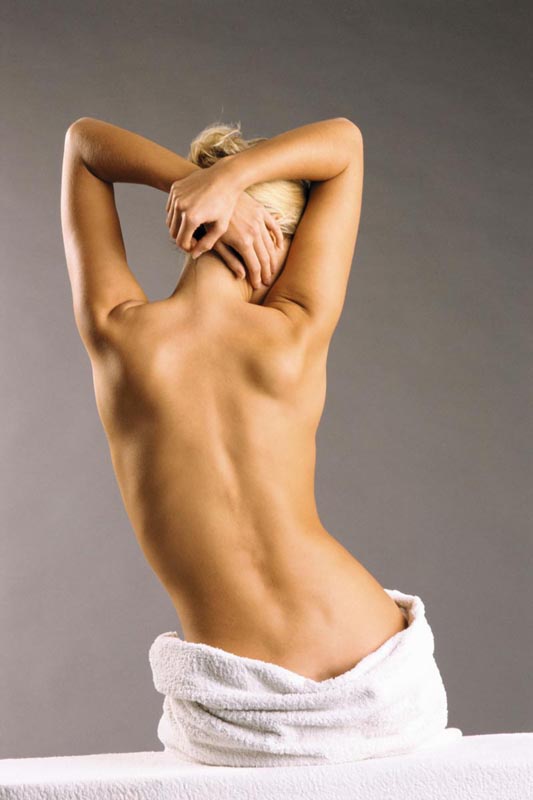 You will need
- cucumbers;
- carrot juice;
- juice of red currant berries;
- berries and leaves of black currant;
- cabbage juice;
- corn or olive oil;
is chamomile tea.
Instruction
Use the special bleach. However, keep in mind that powerful drugs often have side effects such as allergic reactions and dermatitis, mild and more pronounced do not give quick results.
Whitening will not be effective if not provided reliable protection of the back skin from UV rays. Wear closed clothes or at least wear sunscreen.
Use for skin whitening back carrot juice. You can drop into it a little lemon juice (4-5 drops in half a glass of carrot juice). Wipe the spots with a cotton swab soaked in the juice, 2-3 times a day.
Take spots using the juice of berries of red currant. For this purpose, wipe the skin of the back with a cotton swab soaked in the juice. Red currant make a mask, mix mashed berries with yogurt or sour cream in proportion 1:1. Apply the mask on your back for about 10 minutes, then rinse with water.
Use black currant leaves, brew them in a Cup of boiling water. Add the infusion of the fruit juice (1 tablespoon per Cup of infusion), soak it in a napkin and attach to the back for 20 minutes. You can make a mask from mashed berries of black currant, mixed with sour cream or yogurt in a 1:1 ratio. This mask is superimposed on the 20 minutes, rinse with warm water. To achieve a visible effect it is necessary to make a mask 2 times a week for 3 months.
Make a mask from the juice of cabbage, soaking them with cloth and attaching it to the back for 10 minutes.
Use for removing stains corn or olive oil. Wipe oil on the skin of the back, and then make a poultice with soaked in hot water towels. You can also dampen a towel in a hot infusion of chamomile.
Use whitening properties of green cucumber. Grated vegetable mixed with nourishing cream (2:1) and apply the resulting mass in the form of a mask on the back (available separately on the stain for 10-15 minutes. Then rinse with water. Wipe the back of fresh cucumber.
Eat more fruits and vegetables rich in vitamin C.
Advice 7: How to get rid of spots after tanning
Today, many women visit the Solarium, wanting to have a tan all year round. However, if too frequent visits or too long procedures on the skin there may be spots, to fight that pretty hard.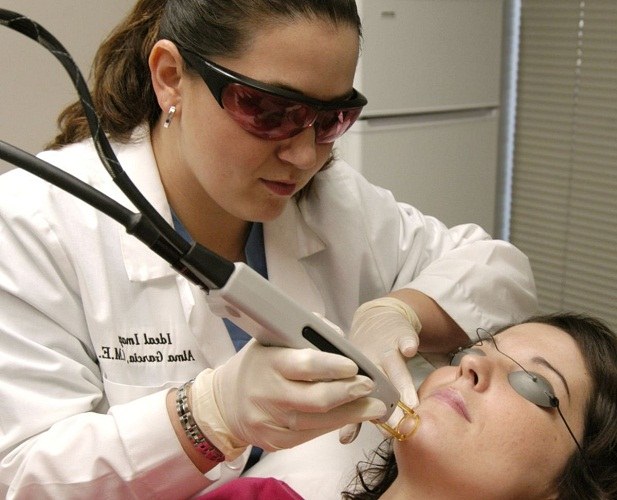 Instruction
First of all, if after visiting the Solarium on your body there are spots, refrain from any further sessions, at least at the time of treatment. Don't sunbathe under the sun and wear closed clothes and use special protective creams.
Be sure to consult your doctor. He will conduct the necessary survey and find out the true causes of pigmentation on your skin and then prescribe the right treatment. Remember that to apply the products and use funds to combat pigment spots only under the supervision of a specialist.
For pigmentation removal, there are various bleaching creams and ointments. In the composition may include mercury or substances that can cause an allergic reaction, so before use apply a small amount to the skin on the inner side of the wrist. If you do not have irritation, itching, rash or redness, you can use these cream.
Beauticians and dermatologists recommend to choose bleaching agents based on fatty creams, because they do not contain water (contact with water can cause different reactions on the skin) and not so toxic. Remember that when using such ointments to wash water cannot be used – use the special tonics, lotions or sour milk.
There are also many folk recipes for skin whitening using natural remedies. The composition of such masks usually includes lemon juice or peel, infusion of elderberry, cabbage juice, egg white, honey.
If the cosmetic bleaching agents do not help you to cope with pigment spots, your doctor may advise you to undergo a chemical peel. This procedure is based on the use of acids that burn the top layer of skin, causing it is removed along with the entire pigmentation. The cost for chemical peeling in various beauty salons and centres varies from two to four thousand rubles.
Another procedure that can offer you the specialists, laser resurfacing of the face. Its effect is similar to chemical peeling, but this method uses a laser, not acid. It is much more expensive than peeling, but much more effective and less dangerous. In addition, the recovery of the skin after such a procedure will be at least two times faster than when using acids.
One of the newest methods of dealing with excessive pigmentation – phototherapy. During this procedure, the skin is not damaged, in contrast to the previous two. Deleted in this way spots, subject to recommendations of the doctor, will not appear, and the restoration of the skin occurs in just a couple of days.
Advice 8: How to get rid of burn marks
After burns are almost always left dark spots or scars. However, this problem can be avoided if proper care and maintenance of the damaged area of the body. In addition, today there are many ways to get rid of old burn scars.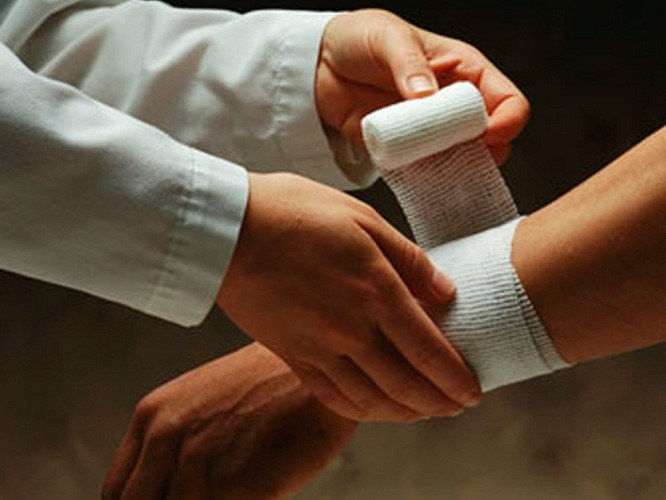 Instruction
Immediately after you are injured, it is recommended to apply the burn special foam. If not at hand, you can use regular mint toothpaste – it will slightly reduce the pain and will not give the skin to crack. You can also use baby ointments for the oral cavity on the basis of lidocaine, if you have no allergies, or to make the cut along the leaf of aloe is cut to the skin. It is not necessary to wash the affected area with cold water – it will only worsen your condition.
Fresh burns should be regularly applied bandage with a greasy ointment to prevent the skin to dry and crack. With such care after the injury will not leave traces, of course, if the burn is not too large and deep.
Stains from old burns can be removed people's ways. For example, the injured place should be two to three times a day, wipe clean with a slice of fresh potato. You can also make potato mush, and apply to the skin. Good help and aloe. Can be applied cut the leaves of plants, and you can squeeze the juice out of it, wet them with a bandage and make a compress. As it dries, the poultice should be changed.
You can also use castor oil or zest and lemon juice – these products have bleaching properties. You can add them to the cream and thickly smeared the affected area, and you can make a special mask. To do this, take butter and beeswax in a ratio of two to one, heat in a water bath, mix a little cool, add the zest and juice of lemon and apply to the skin. The oil will nourish the damaged area, the wax will soften and the lemon will bleach.
The pharmacy can buy ointments for coping with the burn scars. For example, "Contractubex", "Panthenol", "Bepanten", "Panthoderm", "Actovegin", "Syntomycin", "Mederma" and "Solcoseryl". The effect of their application was not noticed immediately, so be patient and regularly use these funds for two to three months.
If to cope with signs or scars from burns fails, consult a dermatologist or a beautician. You will appoint the necessary examination and may direct the procedure, such as laser polishing, rolling or skin grafts.
Advice 9: How to get rid of mold in the bath
The appearance of mold is a serious problem. It can become a cause of Allergy turning into asthma, Allergy in children, migraines, asthma and cardiovascular disorders. Often becomes one of the causes of destruction of buildings. Mold loves high humidity. Therefore, in the baths, where condensation is common, this problem occurs quite often.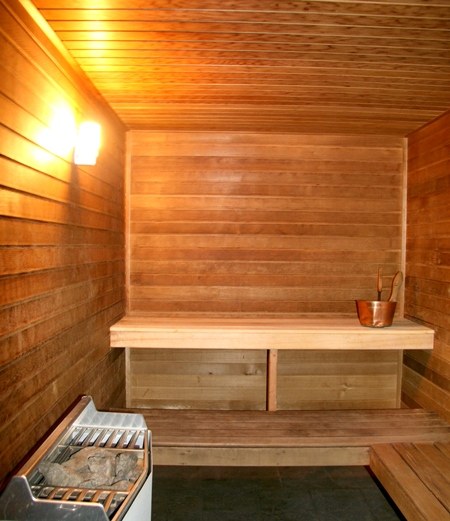 Instruction
Find and correct the cause of mold. Most actively it is spreading at a relative humidity above 95%, temperature + 20 ° C and poor ventilation. So be sure to check the ventilation condition. Perhaps it is to clean or even completely redone.
Active growth of fungi and mold contributes to the dirt. Watch the cleanliness of bath room. Unfortunately, some of the owners of baths believe that the walls are so clean, just due to the fact that in the process of washing the surface is constantly rinsed.
Proceed to clean moldy surfaces. For this you can use ordinary rubbing alcohol. Just be careful not to forget that it is a flammable liquid. Alcohol well digidrive (i.e. gets rid of water), allowing you to kill raids of moldon the surface and in depth.
Can also try treating the surface with a solution of iron sulphate. To do this in 1 liter of water dissolve iron sulfate (22 g), aljumokalievyh alum (44 g) and sodium chloride (18 g). If mold a little more, and she only recently appeared, try to get rid of it by wiping the surface with a conventional "White". Another recipe: a solution of 40% formalin at the rate of 25 ml per 1 liter of water.
In addition to these national resources, can benefit from professional sold in hardware and DIY stores. Choosing a product for treatment, make sure that it is designed specifically for removing mold, not to prevent its occurrence.
Thoroughly rinse all surfaces with clean water. Since all these chemicals are harmful to human health.
After the full cleansing of surface from mildew , the room should be thoroughly dried. You can then handle with special means for prevention. Now just have to constantly monitor the condition of the bath room and to prevent the emergence of mold again.
Advice 10: How to get rid of spots after waxing
Of course, waxing is good because it allows to make the skin smooth and delicate. But due to the intense exposure to the hair follicles can become inflamed, irritation of the skin and soreness. And as a result -
after
removing unwanted hair increases the risk of pigment
spots
and irritation.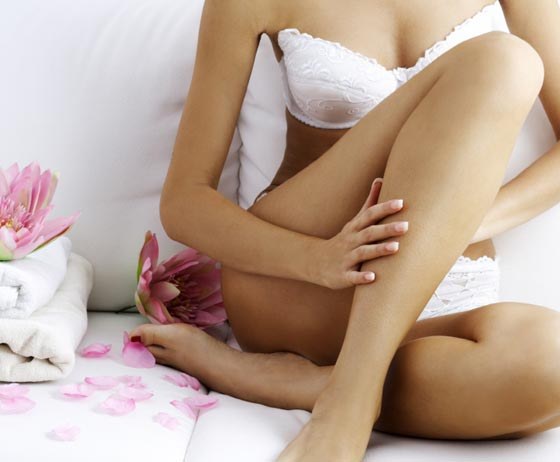 You will need
- jojoba oil;
- essential oils;
- zinc oxide;
- talc;
- glycerin;
- diphenhydramine.
Instruction
First, you need to calm the skin. To do this, use essential oils of pine, lemon, juniper, rosewood or grape seed oil, which will accelerate the healing of minor wounds and will be removed red spots.
Mix your usual cosmetics with a few drops of essential oils. Can prepare a mixture of 10 ml of base oil jojoba and 10 drops of essential oils. Take this mixture even in a beauty salon, if you do waxing there.
If spots still appear, then a comprehensive approach is necessary. They need to exfoliate, bleach, combining this with the right care. Very effective peels with glycolic and trichloroacetic acid or retinol can be combined with mesotherapy with vitamin C and other substances that inhibit the production of melanin.
Exfoliation can spend in the salon and at home. When you do this, be sure to avoid direct sunlight on the affected areas of the skin. Choose a quality cosmetic skin care products that contains arbutin, retinol, vitamin C, and vegetable oils with natural UV-filters. Please note deodorants if spots after waxing appeared under the arms. It is possible that your only aggravates the situation.
Dark spots can be effectively removed by using hair removal at the same time removed and hairs. Must complete 6 treatments once a month. Between treatments, use a gel, which includes options, just don't overdo it, because it not only promotes the resorption of stagnant spots and wound healing but also accelerates hair growth.
If you have any allergic spots after waxing, try, use the liquid powder. For its preparation mix 20 g of zinc oxide and talc, add 20 g of glycerin and crushed a pill of diphenhydramine, dissolve all of it in 100 ml of distilled water. Soak in the resulting solution a cotton pad and treat affected areas.
Advice 11: How to quickly get rid of the burn
Thermal burn on the skin caused by exposure to boiling water, hot grease, flame or molten metal. To quickly get rid of the burn, reduce pain and prevent swelling, take advantage of valuable recommendations. But remember that to treat at home only small superficial burns, with the wound infection and the presence of pus immediately call for help in a medical facility.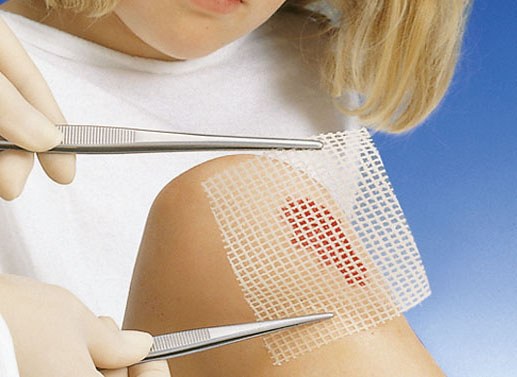 You will need
- oak bark;
- gauze;
- the urine;
- interior lard;
spruce oleoresin;
- beeswax;
- lime.
Instruction
Oak bark is a great remedy for many troubles, so it just need to have in the home medicine Cabinet. Not wasting any time when you burn, prepare the following decoction: take a tablespoon of oak bark and pour a glass of boiling water, put on the stove and simmer for eight minutes. Strain the cooled broth and moisten it a piece of gauze, apply to the affected burn the skin. Three or four times a day to change the lotion, leave the compress on the night, tie a bandage. This method also works well with sun burnH.
If you receive a burn, immediately dip the burnt surface of the skin in cold water, hold ten to fifteen minutes. Then apply a gauze dressing, keep in mind that the bandage should be sterile. Call an ambulance, because in severe cases you may need skin grafts. In any case, do not apply ice to the burnt site, this can lead to necrosis of cells and as a consequence no recovery of the skin in the future.
Upon receipt of the burn begin to act immediately. If he struck a small area of the surface of the skin, use the old folk remedy – the urine. It is considered an excellent remedy for burns, in the composition of urine includes a bile acid, which breaks down and absorbs the damaged cells of the skin, and urea, possessing antiseptic properties. Soak a gauze bandage in the urine and apply on the burned surface, periodically moisten the bandage, do not let it dry. Even with a strong burnx urine prevents the formation of scars on the skin.
Prepare at home burn ointment. To do this, mix one hundred grams interior lard, one hundred grams of spruce gum and one hundred grams of beeswax. Put the mixture heated on a water bath, boil. Gently wash the wound with lime water (to prepare, dissolve a tablespoon of lime in a liter of lukewarm water) and apply a gauze bandage with ointment prepared. Even the most severe wounds heal after three to five such procedures.
Advice 12: Why after tanning itchy skin
In Central Russia are not so many Sunny days, and look tanned and rested always want. So many girls visit a Solarium, to give the skin a beautiful chocolate shade. But when going to the salon should follow certain rules in order not to harm the body.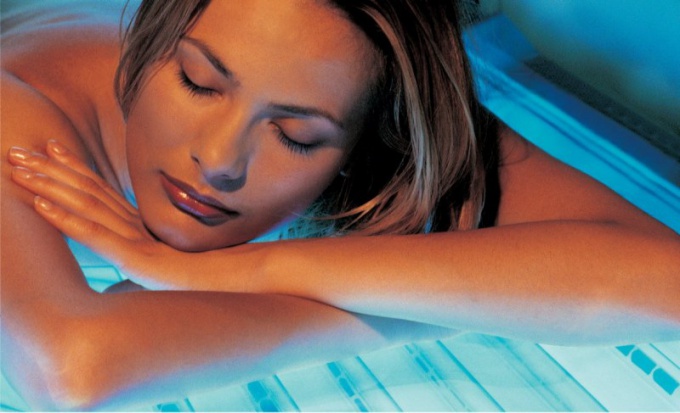 Why skin burns in the tanning bed
In sun decks with powerful ultraviolet lamps. The rays have two spectrum A and B. the First is able to penetrate into the deepest layers of the epidermis. The skin becomes dark, but there is a negative effect. It loses collagen and elastin, becoming more dry.
If the sunroom installed a new lamp need to be especially careful. Visiting better a little lower. After the first session should be repeated not earlier than forty-eight hours.
The rays of the spectrum To affect the upper layers of the epidermis. Begins to actively produce melanin, sunburn becomes visible. However, the skin rapidly loses moisture, may appear redness and even blisters. The top layer of skin begins to itch and flake off. To avoid this, you need to follow the rules of tanning.
The rules of tanning - how to make skin not itching
To tolerate the strong ultraviolet rays of the face and body burned and itched, you need to follow some rules. They are especially important for fair-skinned blondes and redheads. Their skin is very thin, contains little melanin, the burn in the tanning bed can be quickly obtained.
If the sun were received burns to ultraviolet rays, the damaged area should be lubricated with a special cream. It is best to use "Bepanthen". He quickly repairs the damaged layers of the epidermis.
Cosmetologists and dermatologists offer the following tips for tanning in the Solarium:
girls with fair skin should not sunbathe for more than five minutes in the first session;
- if the skin is very white, you need to use a special protective cream for tanning;
- near the eye skin is very delicate and burns quickly. Use the special glasses they give out in tanning salons;
- the chest is not burned and itched, attach to it, stikine;
- after tanning, be sure to use a moisturizing cream, preferably water-based;
- if the skin is still burned - the house can make a mask of cucumber and sour cream. It will help to repair the damaged cover;
- time tanning it is necessary to increase gradually. For light-skinned girls is better to stick to this algorithm is the first visit to five minutes, the second seven, the third ten, the fourth to thirteen, the fifth sixteen, sixth, eighteen. To maintain tan enough twice a week to go to the Solarium for ten to twelve minutes. Dark-skinned girls, you can begin to tan with seven minutes, gradually increasing the residence time under the lamps.
Advice 13: How to get rid of age spots under breast
Girls try to be perfect in everything they take care of the hair, nails and skin. In the pursuit of beauty, they forget that you need to follow not only for their appearance but also for health. Trying to tan faster by tanning, they expose their skin to UV rays. As a consequence, on the body, especially where sensitive skin such as under Breasts, there are dark spots. Is it possible to get rid of this cosmetic defect?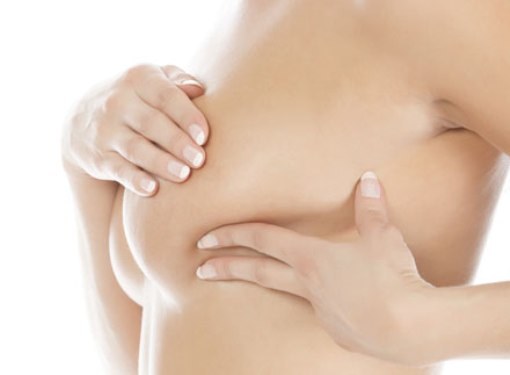 Modern medicine vs age spots
Before starting to develop methods of dealing with pigment spots under the breast, you need to establish the nature of their origin. The appearance of dark circles on the skin may indicate a malfunction of the adrenal glands and sexual glands, lack of vitamin C. In this case, you must pass the examination by experts. The cause may be sloppy use of cosmetics, excessive Solarium, and sunbathing. Hyperpigmentation often occurs on the background of stress, bad ecology.
Against pigment spots under Breasts there are many methods. For example, you can enjoy non-invasive procedures like mesotherapy, phototherapy, chemical peels. Each of these methods has both pluses and minuses.
After phototherapy, which is based on exposure of the skin of high-energy stream of light, you may be hypersensitivity and swelling of the skin. When you use laser therapy you should be within 3 weeks to exclude the sun. For the prevention of hyperpigmentation eat more foods rich in vitamin C. Use high quality and tested cosmetics.
Regularly do whitening mask, especially if your skin is prone to hyperpigmentation.
Folk medicine against age spots under breast
Lighten the sensitive skin at the neck you can use fresh cucumber. Grate it on a fine grater and squeezing the juice, apply on the problem area of skin. Repeat this procedure every day.
To get rid of brown spots under the breast will help the clay mask. Mix the clay powder with water, add to the mix a few drops of fresh lemon juice. Means apply to the skin after 15 minutes rinse with water.
In fighting age spots will help the flour. Mix rice and wheat flour in equal proportions (approximately 2 teaspoon), add 1 teaspoon of Apple cider vinegar and same amount of honey. The mixture apply on problem skin for half an hour.
Honey is a strong allergen, so use it with caution.
You can also borrow an effective tool the Japanese geisha, because they are famous for their pale skin. To achieve such a complexion helps them lemon peel. The peel of the citrus put in an enamel pan, pour a small amount of water. The broth cook over moderate heat for about 30 minutes, after boiling capacity remove from heat, let cool. Three times a day, wipe the skin with the mixture.
In addition to the above the popular ways you can RUB the skin parsley juice or sour milk.
Advice 14: Than to smear the burn immediately after injury
Burn is the exposure to unacceptable thermal or chemical factors on human tissue. Proper and timely first aid
for burns
is the key to a quick recovery with the least damage to the victim.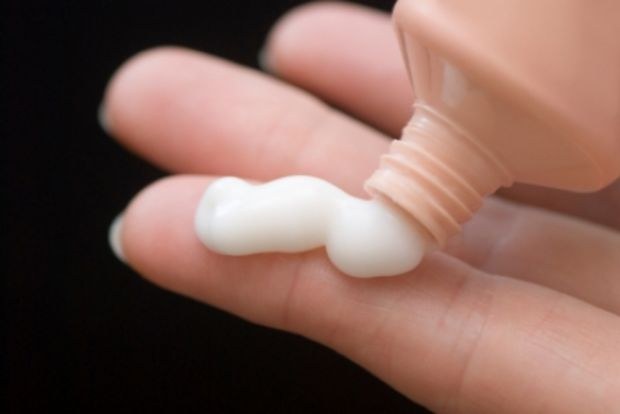 The types of burns
There are several types of burns: thermal, chemical, electrical, ionizing. The latter involve the effect on human tissue radiation or solar radiation. Electrical burns occur after exposure of human tissue to electricity, chemicals - after contact with skin chemically active substances (acids, alkalis) and thermal burns are formed after an impact on the tissues of the body temperatures are unacceptable for humans.
The depth of the injury, burns are divided also into several groups.
A first-degree burn – injury to the surface of human tissue, the characteristics for her redness and pain, no blisters and bubbles. Typically, such a burn takes place without treatment in 3-5 days.
When second-degree burn damaged the epidermis surface. This degree of damage to the skin characterized by the appearance of blisters, redness of the injured area. This burn takes place for 10 days, leaving no scars.
Third-degree burns – deep damage to the skin, followed by damage to blood vessels and nerve trunks. This burn is characterized by severe pain with possible early necrosis of tissues.
When the fourth degree burn is charring of the skin and deep underlying tissues such as subcutaneous tissue, muscle and even bone.
First aid for burns
With thermal burns and sunburns should immediately bring people out of the impact of the damaging factor is to extinguish or remove burning clothing, withdraw from the zone of this factor and to protect against the effects of direct sunlight.
For burns of first or second degree it is necessary to quickly produce cooling of the damaged area with cold water with temperatures around 12-18 degrees for 15-20 minutes. Then cover the affected area with a damp, clean cloth.
If it is impossible to wash with water the affected areas, if possible, their initially cool clean wet cloth for 15-20 minutes and then cover with a clean dry cloth. When finding bracelets, rings, etc. in the area affected area immediately to remove them. You can use the available painkillers, to relieve pain syndrome in the victim.
While first degree burns possible to use the following medicines: Panthenol, Alzolam, Dermazin and so on. They all have a cooling and soothing effect. Perhaps the use of the bells and whistles of the cooled decoction of chamomile. After first aid, should immediately consult a doctor for further treatment and rehabilitation.
For chemical burns, you should immediately free the victim from the action of damaging factor. In case of burns with acid, except the sulphuric, the damaged area flush with cold water for 15-20 minutes. If possible to treat the damaged area with a solution of 3% soda solution or soap and water. To impose a clean sterile dressing and seek immediate medical attention.
When alkali burns, the affected area washed with water and yield a treatment with 2% solution of citric or acetic acid. After that also you must immediately consult a doctor.
When receiving electrical burns should immediately free the victim from exposure to damaging factor, and then apply a clean sterile dressing and seek immediate medical attention.
Can I use a burn ointment and creams
To use ointments and creams for burns acceptable. So, for the treatment of a burn of thermal origin, the most commonly used ointment Procelan. It has good antibacterial properties. In addition, this cream contains an analgesic ingredient that in the first time of healing of a burn will relieve the pain.
Well-proven ointment Pavilion-iodine. In its composition includes active iodine, which disinfect the wound, and components that accelerate the regeneration of damaged tissue. Similarly, the action has Rescue balm based on natural ingredients.
For speedy healing and to avoid infection of the skin after burn is traditionally used in ointments Levomekol and Panthenol.
It is forbidden to do for burns
It is strictly forbidden: - to remove the victim stuck as a result of thermal effects of clothing; engaging the bladder during pregnancy and, especially, to open; to touch your hands to the affected areas; - apply to affected areas of creams, ointments, urine, bulk drugs, oil, hydrogen peroxide, drugs which includes alcohol; - in the presence of a second-degree burn and higher self can't do. You should immediately contact the medical facility to receive skilled care. - apply on the affected area with ice, cotton wool, plasters, etc.