Here's a skirt with a drop length from mini to Maxi looks like a skirt with a train. It fits beautifully on almost any figure, very feminine, and also allows you to demonstrate flawless legs in all its glory. And even with the skirt (and skirt-bottoms) to wear very simple tops, as an interesting cut of the skirt does not require other delights in the outfit.
How to sew a skirt with a train, simply and quickly
Helpful advice: choose this skirt flowy fabric. Suitable, for example, silk, chiffon. However, if the fabric is translucent, stands under a skirt to sew even dense and lower skirt. When choosing fabrics, it is also important to remember that if you choose thin or even translucent fabric, this skirt is better to choose a cloth more width to sew it with minimum number of joints.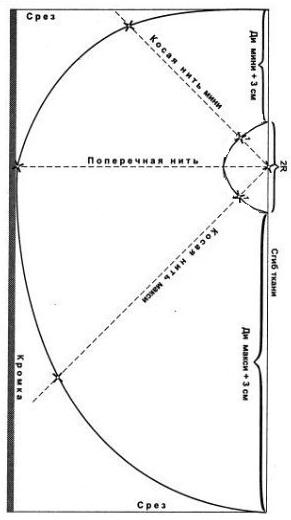 In order to build the pattern by his own standards, you need to know your waist size. Then, determine your desired length of mini and Maxi (for example, it can be 50 and 90 cm). Build the pattern according to the scheme according to their specific sizes. It should come in the form of a half oval. It will have to pin to the fabric, folded in half lengthwise and equity. The belt for the skirt cut out as a rectangle, whose width should be twice the desired width of the finished belt + 2 or 3 cm on the hem and the belt length is approximately 5 cm larger waist girth.
When sewing the skirt first, it is better to sew the zipper (the cut side) and then sew on the waistband. The hem can be cuffed and hemmed by hand (like twirling) or process piping.