You will need
- Kalanchoe;
- a sharp knife or blade.
Instruction
First of all, define your Kalanchoe as different varieties react differently to pruning. Ordinary Kalanchoe Blossfeld, blooming red flowers, you can dive without restrictions. Even if you leave just a stump, after a while it will Bud and securewise. To the care of rare hybrids with yellow, pink, white flowers take a more cautious, they can even die as a result of improper trimming.
If the plant has outgrown (this often occurs in full sun), has lost its compact form, and formed ugly sickly the top, remove it. After each bloom be sure to cut away all the stems. To form the buds, place the plant on a dark window sill (you can even close the flower at night with a bucket or box) and hold almost no irrigation for a month. Then move to a bright place and begin watering, such a regime change favorable effect on Kalanchoe, and it will almost certainly bloom.
To Kalanchoe growing dense Bush, carefully observe the shoots. As soon as they begin to grow, they take on the top two leaves. In place of the pinching after some time will be two shoots, let them grow until the appearance of the third pair of leaves, and trim them at this level. Wait for two more shoots and a third pair of leaves, again make pinched. Act so until then, until it forms a neat, dense shrub is rounded (or desired) shape.
Last time cut shoots of Kalanchoe in November (on) or winter (on the West or East window). Please note that in winter, Kalanchoe is advisable to keep in a cool place, the optimum temperature of 10-15?C.
To propagate Kalanchoe, or simply refresh you from cuttings. To do this, cut off the young shoots with a length of 10 to 15 cm with a sharp blade or knife. Remove the leaves from the lower part of the handle, let dry 1-2 days. Prepare a place for a flower in a pot with a mixture of sand and moist peat. Place the cuttings at a depth of about 5 cm, the ground around well push. We should not close the handle with plastic or tin, but also spray water. Just moderate it and keep water at a temperature of 20-25?C.
Advice 2: How to water the Kalanchoe
It is believed that Kalanchoe in the house creates a calm and healthy atmosphere. This plant, having a relatively small height, no more than 0.5 m, ideal for growing at home. Does not require special care, so it grows well even those who are not too able to take care of flowers.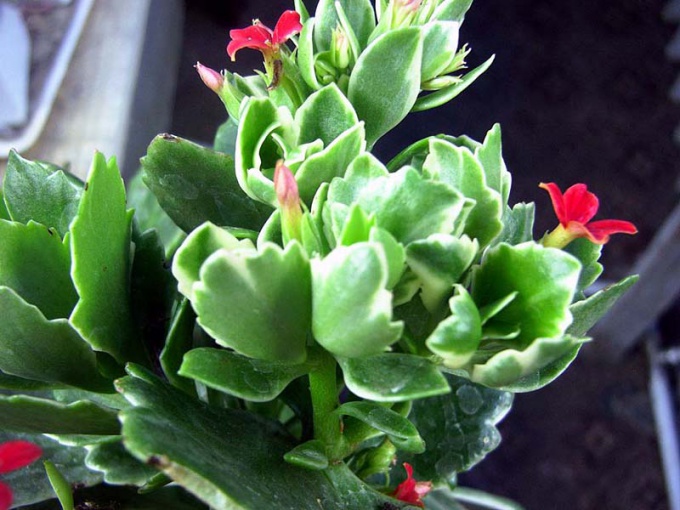 Instruction
Kalanchoe
is native to South Africa and Madagascar, the soil it prefers sandy soil. This plant does not like too much moisture, it is trained by evolution to harsh arid conditions, so do not fill it with water too much, otherwise the roots can rot.
In addition to the rules for watering Kalanchoe great importance is the composition of the soil. This plant requires loose soil that is freely pervious to air and water. To do this, make sure that the soil contained little peat, as it prevents ventilation. Kalanchoe in a peat environment rots and dies.
Water the flower should be rare, he calmly takes the situation where the land is almost completely dry. Much worse he has to constantly wet soil. The air is too dry loves. When you see that the upper layers of the earth quite dry, then water the plant.
In winter, Kalanchoe should be watered somewhat less than in the summer. And in the spring for him and is encouraged to make a small rest period, no irrigation.
To give the plant a rest in the early spring as soon as the flower Bud, cut all the stems, then put the pot in a shaded area. A couple of months, do not water it, it is also desirable to keep it at a temperature of about 15 degrees Celsius.
After a month or two after the start of the holiday get Kalanchoe of the foxhole, put back on a Sunny windowsill. Now it can be watered the same as always.
Useful in the summer instead of watering from time to time to arrange a fertilizer plant. Liquid fertilizer that can be purchased in gardening stores, will only benefit him.
Useful advice
Try to choose for Kalanchoe is a place where he'd had enough sun and heat. From spring to autumn put it on the West or East windowsill, but the winter is better for him to spend on the South window to where the warmer and sunnier.
Advice 3: How to care for Kalanchoe, kalandiva
Among gardeners there is a perception that Kalanchoe, Kalandiva is the flower for the lazy, because it is very easy to care for. The plant could move and too abundant watering, and their long absence, and other flaws in care.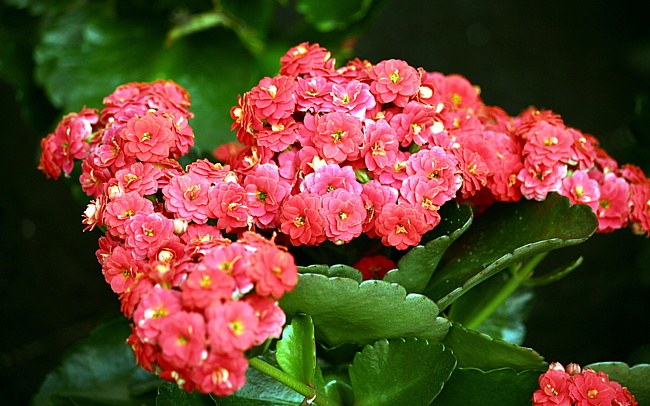 Particular care for Kalanchoe, Kalandiva
For planting flower, choose a pot slightly larger diameter and volume, the bottom of which there should be holes for water drainage. Pour a layer of drainage, although Kalanchoe and pretty well tolerate excess moisture better than if in a pot it will not stagnate.
Kalanchoe usually appears on sale in late winter - early spring already flourishing. Replant it immediately-it is better to wait until the flower Bud, and then to carry out this procedure.
Use soil for succulents and cacti, or make it from 1 part loam and 1 part coarse sand. When
transplanting Kalanchoe
shake off the soil and rinse the roots so they are not left peat substrate in which the plants are planted in greenhouses.
In the ground you can also add small pebbles.
Kalanchoe requires fairly frequent, but not abundant watering after drying earthen coma. Because the plant belongs to the succulents, the leaves can accumulate moisture, so Kalanchoe can withstand drought, but try to keep around the roots are not formed of solid earth com. In winter, the plant begins a dormant period, this time you need to reduce watering to 1 time per 1-2 weeks.
The plant grows well at room temperature may develop at lower, and higher. In the summer it can be taken on the balcony and in winter in a cool place with a temperature of 10-15°.
How to create a flower and make it bloom
Many complain that after flowering, the shoots of Kalanchoe stretch and repeat flowering did not occur. Indeed, in the period of active growth of the plant the side shoots appear. They can and should be cut, giving the plant the desired compact form. The resulting cuttings are very easily rooted, and the new young plants you can give to everyone familiar.
During the flowering remove any dead flowers. And after it completely cut stems. After the first flowering of Kalanchoe, Kalandiva required a rest period (usually fall months).
In November presidnete all shoots, they will begin to lay the flower buds, with their appearance required a short day. This condition can be created and artificial, but the plant also requires bright sunlight for 8 hours.
Advice 4: How to make Kalanchoe bloom
To artificially force Kalanchoe to bloom is impossible: even the most experienced grower will not be able to cheat nature, which only defines his term. However, take care of the most favourable flowering conditions capable of that. It is enough to observe a few simple rules.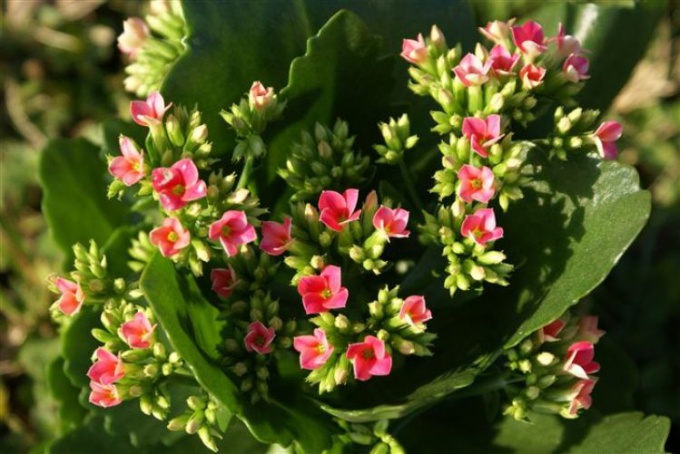 Instruction
Kalanchoe create favorable conditions. Gentle care, regular watering is the key to the health of any plant.
Kalanchoe
does not like too much water. It should be watered about once a week as drying of the soil. Need to replant Kalanchoe at least once a year in autumn or spring. Special attention is required and the soil must be well drained. Do not forget that excessive care and the "overfeeding" with organic fertilizers or a mixture of mineral salts only slow down the development of the flower. Especially reverent attitude requires Kalanchoe, just with the buds. At this time it is better not to move the pot, turn it to light the other side and not fertilizing. Trust nature to do its work.
Keep your plant short daylight hours. To bloom, Kalanchoe, you must be in the dark no less than 8-12 hours. Thus, at night it is better to hide the flower in the cupboard, and in the morning put back on the windowsill. This method is not ideal because the flowers are not too fond of, when they often move. Replace the Cabinet may be made from black paper cover, which should close the plant. It stimulates flower formation of buds.
Ensure that the flower was getting enough fresh air. In summer, place the pot at the open window, leaving it outdoors day and night. The evening temperature drop has a beneficial "training" effects on plants. Fresh air prevents the appearance of Kalanchoe diseases and accelerates flowering.
Briefly, trim the Bush after flowering. Cuttings can take root. Wait for a few shoots and pinch each one on a fourth sheet. A few months prior to the expected flowering take the pot with a flower in a dark place and provide scant watering. Again returning the plant to the light, at the same time start to water it more actively. Combine it with a little dressing.
Periodically molagavita Kalanchoe. Best root apical shoots, which should be put into the water before the emergence of roots and then transplant into the ground. Should from time to time to pinch off cuttings.
Note
Pot Kalanchoe should not be too broad. In large pots the flower grows slowly and poorly flowering.
Advice 5: How to dribble Kalanchoe
Kalanchoe has long been known as an effective remedy against common cold. The advantage of the plant is its availability and possibility of application even in young children. Clearing clogged nose juice of Kalanchoe makes breathing easier and speeds recovery.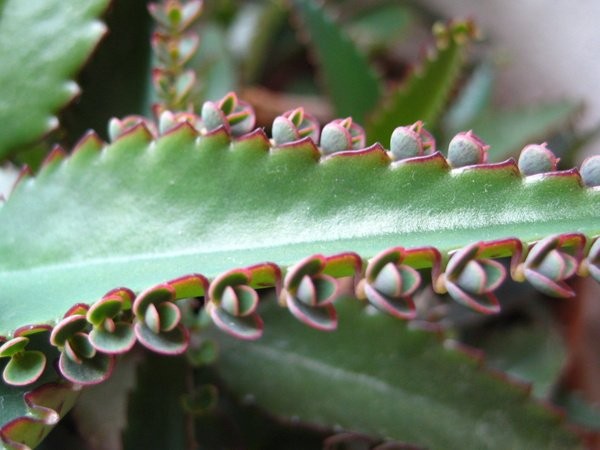 Instruction
For the treatment of rhinitis in children under one year, use the decoction of Kalanchoe. Finely chop 100 g of leaves and pour them a pint of boiling water. Warm the liquid on a water bath for 20-30 minutes then strain and cool the broth. Instill 1-2 drops into each baby's nostril 2-3 times a day.
For the treatment of rhinitis in children aged 1-1. 5 years use diluted juice of Kalanchoe. To make it, skip the 50 g leaves of the plant through a meat grinder. The resulting slurry was wrap in double layer cheesecloth and squeeze through the juice. Mix it with boiled water in different proportions. Instill 2 drops of the mixture in each nostril 3-4 times a day.
For the treatment of rhinitis in children aged 1.5-2 years use pure juice. Soak a cotton swab in freshly prepared juice and gently wipe inside her nostrils. Carry out the procedure carefully. If a child behaves restless, the probability of injury. The kid can not agree, it is better to drip the diluted juice.
Children older than 2 years bury the pure juice of Kalanchoe. It is also suitable for the treatment of rhinitis in adults. Dosage for baby under 3 years - 1 drop in each nostril 3 times a day, child 3-10 years - 2 drops three times a day. At older ages, drip 3-4 times daily 3 drops to a full recovery.
Before starting treatment of Kalanchoe, make sure that the plant is not allergic. To do this, drip a cotton swab a drop of juice and gently lubricate her nostril on the inside. With the appearance of mucosal edema and watery eyes, take an antihistamine and avoid treatment with this agent.
Useful advice
To improve the effectiveness of treatment Kalanchoe juice can be mixed in equal proportions with aloe juice. Dosage drops will be the same, but the recovery will come much faster.