Sometimes there is a desire to sew some fashionable thing myself. For example, the original t-shirt, which the others don't. In principle, it is not so difficult. Enough to be able to hold a needle in hand.


Thinking about select source materials


First you need to think about the model. Will the t-shirt tight or loose, what you wear, what accessories to combine.

Based on this you need to choose the suitable material and accessories. It is advisable to choose a fabric that will not Ravel when cut, as lay people, it would be difficult exactly to neaten the edges and straight stitch seams. Why satin and silk is better left for later. But viscose or cotton in combination with elastane is fine.


How to cut


You can perform the classic cut, to measure, to line drawing and make a pattern, which is then cut to the future t-shirt. For this you will need the following measurements: - poluobhvat waist, poluobhvat chest, poluobhvat neck, reach shoulder length.

But there is an easier way. It is relevant in that case, if the t-shirt will be free or oblique cut. You just need to gently spread out on the floor of his old t-shirt or blouse to outline her with chalk. On the basis of the drawing, it will be very easy to tailor a new thing.

From casual has its advantages – you can design some original item, e.g. the slot on the back or sleeve "bat". But you never know what? Imagination will transform your homemade t-shirt into a work of art. The main thing is to ensure that all seams were flat and nothing was sticking out, then get the design of the thing.


Decor


The most interesting sewing – decorating. That's what makes the thing unique. T-shirt you can draw anything. In the course of going and the flowers and large colorful buttons, and appliques and even fur. The main thing – do not overdo it. Skillfully decorated t-shirt will look nice and trendy. For example, if you decided to decorate it a major element, then let it be one. It is better if it is placed on the chest, shifted a little to the side. A little tip: when you wear a t-shirt, it is better to collect hair in a bun or ponytail.

Small details will look elegant if their correct place. You can sew sequins. They are well grouped in the application or scatter rare rows across the surface. Well it will look like the stones adorning the neckline or a sleeve. You can sew and shoulder straps.

And you can do nothing to decorate. Enough to pick up a suitable ornament, which can change every time.
Advice 2: How to sew a t-shirt
Sew myself a fancy t-shirt of knitted fabric quite easily and quickly. Sewing a t-shirt need color of cotton
Jersey
with elastane fibers. The easiest style - straight fit with slightly lowered armhole.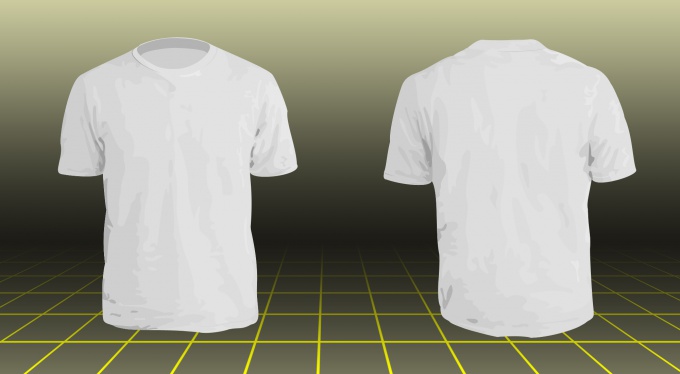 You will need
Cotton Jersey, centimeter, thread, serger, sewing machine.
Instruction
First you need to take the measurements: length of shirt, bust, hips, waist. To draw on paper patterns. Patterns of the back and front are virtually identical. You need to draw a rectangle where the length of a rectangle is the length of shirt, width of the breast volume. Free fit allow 3-4 cm
The rectangle to draw the appropriate markup in place of the waist to draw inside a smooth concave line, as if "pritalen rectangle. If the hip measurement is much larger than the volume of the chest, gradually to extend the pattern down a few inches. To impose patterns on one another and apply a neckline. For simplicity and precision the neck back and front to cut your old t-shirt. All patterns are ready.
Before cutting out the fabric needs to be folded in half, face inward. Pattern to put on fabric strictly according to the knit columns, using them as an equity line. The seams add 1.5 inch for the bottom hem 4 inches. Carefully pin the pattern to the fabric with sewing pins. Carve out carefully with sharp scissors, being careful not to move the pattern with knitted fabrics.
After you cut out the parts to sew on the overlock machine. First, sew the shoulder seams. Then sew side seams, leaving 20-25 cm unsewn for armholes. Then in the sewing machine to insert the double needle. To turn on the wrong side of the seam of the neckline and armholes about one centimeter, tack. The bottom of the t-shirt remove 3 cm, tack.

Carefully priotity bends. Then double needle to pristroit swept up on the wrong side of bends. Ironed product.
Advice 3: How to look beautiful and stylish
To dress fashionable and beautiful – does not mean to buy clothes in expensive boutiques. This requires a good sense of taste and style, which is not inherent in each of the fairer sex. But to learn how to pick up items for your wardrobe and place the necessary emphasis can any woman.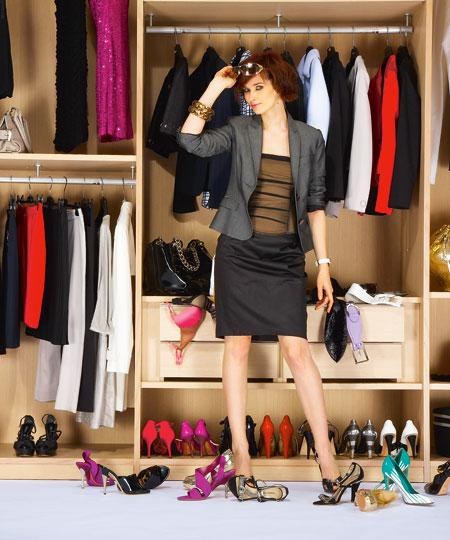 Instruction
Audits in their wardrobe. Even if your wardrobe is overloaded with a huge number of things – this is not a guarantee that you will always look fashionable. Often, buying their clothing on sale, woman first drew attention to the price, and the latest on how and what to wear. So to the wardrobe fall casual things that do not mix. Try to leave among the things the clothes you really going to wear.
Make it a rule: before you buy some new thing, think about how it will be combined with another item in your wardrobe. The ability to combine different items of clothing will give you several advantages: the opportunity to present the same thing in different variations, the collection of your wardrobe with new sets and finally, will significantly reduce the cost of purchasing additional garments.
Every woman's wardrobe should include several things: the classic little black dress, classic pants or a business suit, a pair of white blouses, and jeans. This set depends on what type of activities you are busy.
The same rules apply and shoes. The main thing here is quality, not quantity. Choosing shoes, do not follow low price. Shoes must be of good quality, of good material, so your feet throughout the day, it was comfortable. A pair of black classic shoes are a versatile addition as evening dresses, and office suits.
A good selection of clothes – not all. Pay attention to your hairstyle, make-up. If you have difficulty in this matter, refer to professionals – makeup artists, hairdressers, masters of manicure.
In the selection of accessories to properly accent. Handbags and jewelry is a complement to the clothes, and not its main element. Accessories should be universal and not screaming. Adhering to these rules, you will always look stylish, beautiful and elegant.