You will need
Internet access, printer, mobile phone
Instruction
Open the website of your airline. Find the registration tab on the Internet. This must be done no sooner than three days before your flight. While working online check every airline its own: on average, normally open check-in 48 hours until 2 hours before departure. If you receive a notification when a flight by e-mail, as soon as registration opens, you must send a letter, which will indicate the required reference and the time of registration. After going through it you will be able to get at the right time boarding pass.
In the displayed website, provide the required information. Often asked to start with the departure airport. There are a number of airports in the world, where the terms of the security services cannot online check-in. If your flight is not among them, then enter the surname in Latin letters and e-ticket number. You can find this information in your ticket that was sent in the mail upon purchase.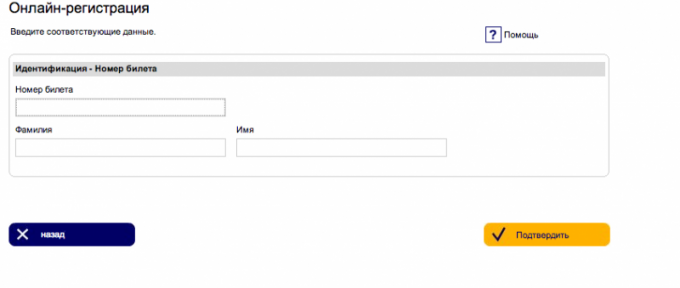 Select the free space in the cabin. If you are traveling with family or with friends, register for multiple tickets to be able to choose places close by. Cheap airlines such as Ryanair, can charge separately for this service. They will be given a boarding pass for a flight without specifying the place. When landing you have to sit on the remaining free chair.
Receive your boarding pass by e-mail, or phone. It must be printed out before departure and present already at the Luggage check and boarding. Many large airlines such as Aeroflot, Air Baltic, Lufthansa and others offer the service to get a boarding pass on a mobile phone. In this case, you will receive the phone a text with the barcode. With him at the airport way terminal self check and scan the code. The terminal will print out your boarding pass. It will only take 5 minutes of your time. You can also get your boarding pass by e-mail and print at home if your printer. If the printer does not, it can also be done at the self check-in kiosk by flight number and name. Or print the registration Desk that will take more time.
Arriving at the airport with a printed boarding pass you can proceed directly to the room to the gate bypassing the front Desk. The number indicate on the monitors at the airports. But that's if you're travelling light, with hand baggage only. If you have Luggage, it must pass or in points of reception of Luggage in Domodedovo, or at reception.
Note
When you check in online you have the opportunity to choose seats. If the plane is close, the choice of location will be very important. Convenient, then, are first, next to the business class seats economy class.
Useful advice
Fill in the fields name and surname in Latin letters. Look closely at the number of the ticket - don't confuse it with the order number.