You will need
For "Capelin for the Czar":

500 g frozen capelin;
50 g of vegetable refined oil;
20 g of soy sauce;
salt.
For detail
braised greens:
800 g fish;
150 g of green onions;
25 g parsley;
25 g dill;
25 g of celery;
100 g of crackers;
0.5 liters of milk or 1 Cup sour cream;
2 eggs;
1,5 tablespoon of flour;
1,5 tablespoon vegetable oil;
salt.
Instruction
"Capelin royally". Frozen fish place for a few minutes in cold water until partial defrosting. Then loop, washing thoroughly. Separate relatively large
capelin
from the smaller fish. Larger capelin clean, cut off head and remove the innards. Small fish does not require additional processing.
Moderately salt all the fish. The main taste will give the dish the soy sauce. Place the pieces tightly (rybinka to rybinka) in a frying pan poured with oil. Shake the pan from side to side so the oil spreads under the fish on the bottom. Place frying pan on a medium heat.
Ten minutes later, to see whether brown the fish on one side. If so, sprinkle it on top of soy sauce. And again shake the pan from side to side.
After about five minutes flip the capelin. With the right frying capelin will not stick to the pan, but it will saritsa between them. Flip it with a spatula, and lift out from the whole layer.
Add the remaining soy sauce and turn heat down to low. Ten minutes later, roasted fish is ready.
A trifle, stewed with greens. For this dish you can use any small fish. River fish clean, gut and rinse well. Then add salt and place the prepared fish for 30 minutes in the refrigerator.
Wash, dry and finely chop green onions, parsley, dill and celery.
Crush crackers into large crumbs and mix them with greens.
Fish remove from the refrigerator, zapaniruyte in flour and fry in vegetable oil until soft.
The bottom of the pan or casserole grease well with vegetable oil and spread the mixture of greens with crackers. On top of greens, place fried fish.
Heat the milk and pour it over the fish. Cover pot and simmer everything on low heat.
Separately, boil the eggs, peel and mince. Prepared fish lay on a dish, garnish with fresh herbs and sprinkle with chopped eggs.
Note
If frying "Capelin royally" use a cast iron skillet without Teflon coating, it is necessary immediately after cooking, pour hot water. Otherwise stubborn oil with soy sauce will be hard to wash.
Useful advice
Wash the fish in clean flowing water very quickly. As if to touch the fish with the water of it washed extractives, and fish tissue obvodnaya, which leads to deterioration of fish meat.
Advice 2: How to cook the river fish
To the river fish are Chub, carp, carp, catfish, perch, sturgeon, pike, sturgeon, perch, bream, whitefish, grayling, carp, and it is not a complete list. Meat river fish, generally not fatty, but very tasty and healthy. Juicy, tender, delicious fish, baked with sour cream is one of the most popular dishes with river fish. You can complicate the recipe dishes, adding vegetables and wine.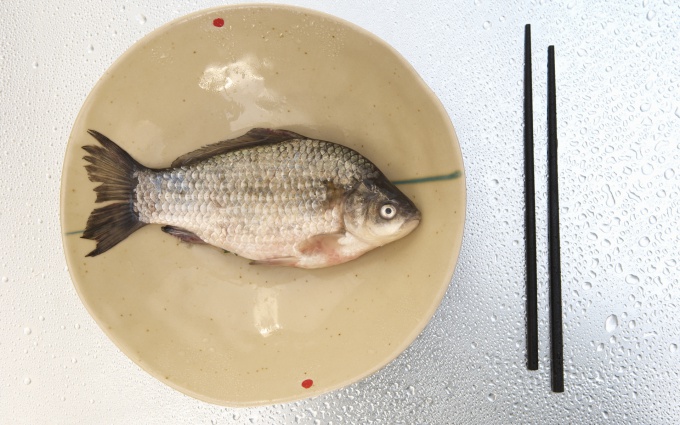 You will need
1.5 lemon;
200 ml of water;
120 ml dry white wine;
120 g of sour cream;
300 g carrots;
1 onion;
1 baton;
dill;
canned zucchini;
salt;
vegetable oil for frying.
Instruction
Carp brush and rinse with cold water.
Salt the fish inside and out.
From lemons squeeze the juice and mix it with water.
Pour the fish marinade and put on 20-30 minutes in the refrigerator.
Carrots should be cleaned and chop sticks.
Onion peel and cut into half-rings.
Zucchini cut into strips.
Mix the vegetables and spasseruyte until transparent bow.
The baton must put in a blender with herbs. It is easier to ground, it must first be placed for 20-30 minutes in the freezer.
Marinated fish , start a loaf of bread with herbs.
In a baking dish put the vegetables, then fish.
Sour cream mix with wine and pour a mixture of fish.
Bake fish in the oven at 180 degrees for 40-45 minutes.
Note
Be aware that freshwater fish contain a large number of small bones. Carefully let the children, it is better to skip the meat through a meat grinder.
Useful advice
To get rid of the unpleasant smell of river fish will help the ginger root. Carcass rinse fish under running water, wipe dry with a cloth and put in the fish abdomen finely chopped ginger root. Season with salt, roll in flour and fry in a hot pan;

Another way to get rid of the smell of slime is before cooking, rinse the fish in strong salt solution;

Fish are easier to clean if you RUB it with salt;

Fat will not splash and fish will not stick to the pan, if the pan sprinkle a little salt.
Advice 3: How to make batter for frying fish
Batter – semi-liquid dough, intended for dipping into it products before frying. There are many different recipes for batter, for example, based on wheat, rye or rice flour, eggs, mineral water, yogurt, milk, etc.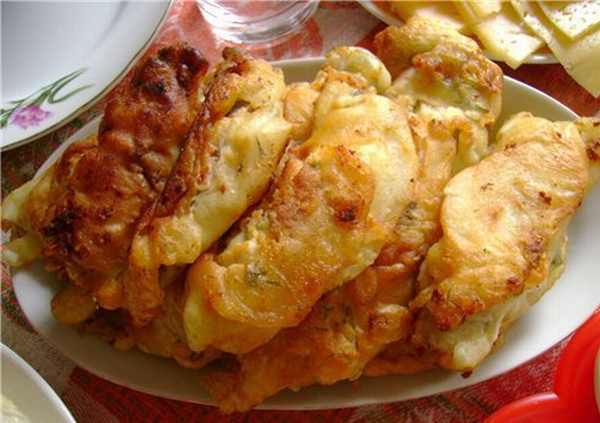 How to make batter for fish milk
You will need:
- 300 ml of milk;
- three eggs;
- teaspoon of vegetable oil;
- 150 grams of flour;
- salt (to taste).
Preparation:
Pour into a saucepan the milk, put on fire and heat it slightly. Warm milk (the temperature should not exceed 40 degrees), add the egg yolks and beat well. In the milk-yolk mass, pour vegetable oil, then stir in the flour and whisk well with a whisk (the batter should be liquid and without lumps). In a separate container, whip the whites in a lush foam, then gently combine them with the dough and add salt (at this stage it is better not to use a mixer otherwise the batter when frying, get less lush). The airy batter for frying fish ready.
How to make batter for fish without eggs
You will need:
- two tablespoons of flour;
- half Cup of light beer;
Sol;
pepper.
Preparation:
In a large bowl, connect the beer with the flour and shake thoroughly with a mixer. Salt and pepper the mixture, optionally add finely chopped greens. The beer in this batter perfectly emphasizes the taste of the fish and gives it a slight spicy bitterness.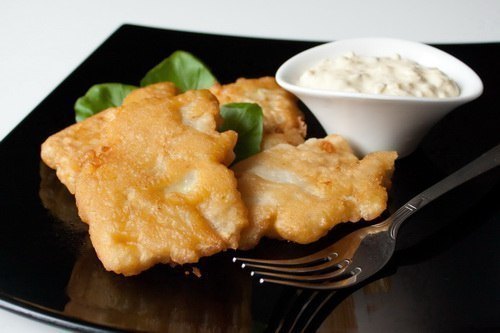 How to make batter for fish yogurt
You will need:
- 1/2 Cup of flour;
- two eggs;
- 200 ml of kefir;
Sol.
Preparation:
Pour the yogurt in a deep bowl, add eggs and whisk thoroughly. Stir the resulting flour, salt and whisk again. The consistency of the batter should be not thinner than thick cream.
How to prepare the batter for the fish with the mineral water
You will need:
- Cup of flour;
- two eggs;
- salt, pepper (to taste);
- teaspoon of vegetable oil;
- a glass of mineral water.
Preparation:
Separate the whites from the yolks. In a bowl, saturate the flour, add the mineral water, two egg yolks, salt, pepper and mix everything well. to no lumps. The resulting mass, cover with foil and let stand 20-30 minutes. Whip the whites in a solid foam and mix them with the previously prepared dough. The batter on the mineral water ready.