Instruction
Condom (from lat. praeservo – "protect") is a contraceptive barrier type, creating a mechanical barrier to sperm entering the woman's vagina. Condoms are male and female. In the first case is the case (frequently made of latex) that is worn on the erect penis, the second is introduced into the vagina tube made of polyurethane or other elastic material with rigid rings at the ends.
Condoms for prevention of sexually transmitted diseases such as AIDS, gonorrhea, syphilis, chlamydia and others, and also to prevent unwanted pregnancy. This is an inexpensive and accessible tool. Female condoms are less common and are more expensive than men's, but they have their advantages. So, their use is not dependent on male erection, they can be left in the vagina for up to 10 hours (male condoms immediately after a single intercourse, remove and discard) and apply if you are allergic to latex.
Condoms allow both sexual partners to participate in family planning. In addition, they can be used in cases of allergies women cum. To use these products no specific contraindications, except for the inability to maintain an erection or allergies of one of the partners on the material of the contraceptive.
The disadvantages of condom use should include the possible reduction of sensitivity during sexual intercourse. The least visible and tangible fine jewelry, but they have less strength. But condoms can also serve as a source of additional sensations with bumps, ribbed surface rozhkam, unicam and other "bells and whistles".
Note
Before using a condom need to check its date of manufacture and shelf life, and package integrity. Products with expired shelf life may lose its properties and does not provide adequate protection, and condoms in damaged packaging may be torn.
Advice 2 : How to use a condom
The condom is a popular barrier method of contraception. Their affordability, ease of use and great range makes these products a leader in the field of contraception.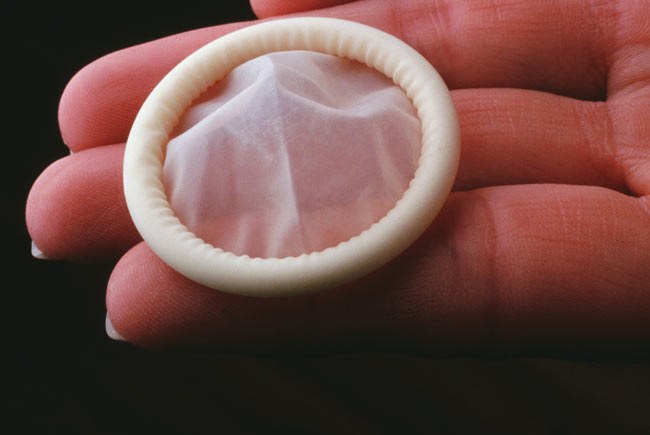 How to choose a condom
Manufacturers of condoms offer a huge selection of these products. As a rule, the most common condom has on the packaging the words "Standard" or "classic". Some companies produce products of larger size marked XXL. In the range there are condoms with particularly thin walls or anatomical shape - to enhance the naturalness of the sensations. For extra protection use a condom with spermicidal jelly, well protected from pregnancy even if the product is torn. Extra strong condoms with plenty of lube used during anal sex. Also there are articles with bumps, ribs and raised stripes for added stimulation. Additional feelings bring colored and flavored condoms. And some products are even glow in the dark.
The first condom was used before our era. In the Cairo Museum of a condom Pharaoh Ramses I.
How to use a condom
The product should be put on before intercourse, as even before ejaculation from the penis can stand a certain amount of semen. First, the tip of the condom - spiropent - squeeze with two fingers to get the air out. The rolled condom is placed on the head of the erect penis and unroll towards the base. The condom must remain on the penis throughout intercourse. A good product practically is not felt. After ejaculation remove the penis carefully, holding the condom at the base.
Despite the fact that condoms are very durable, they are easy to break with a sharp ornament or a long fingernail.
Please note
You can't use condoms along with the lubricants on fat basis. Any oil destroys the latex, which is made of most condoms. You also can not wear two condoms at once for greater protection - so between the two products will occur friction, leading to the opposite effect. For a long sexual intercourse can take a couple of condoms if the product has lost lubrication or started rubbing, it needs to be replaced. Some people may be allergic to latex. It manifests itself in the redness of the genitals, itching and burning, sometimes there is dermatitis or urticaria. In this case, you need to find alternative methods of protection.