You will need
- borax,
- liquid soap,
- liquid dishwashing,
- washing detergent for wool,
- soft brush.
Instruction
First, carefully read the instructions, which should be attached to the tag blankets and examine the recommendations. Because of this, you'll learn at what temperature it can be washed and whether it is possible. Some items from wool really should not be soaking. In another case, not difficult to wash it yourself at home, without resorting to dry cleaning.
If washing is allowed, then this should be done in the following manner: dissolve in warm water one tablespoon of borax and 1/4 litre of liquid soap. Soak in the composition of the blanket and leave for 6 hours. Then gently prosteride it into dirty areas and rinse twice in warm water and then cold to remove the foam. If the blanket is heavily soiled, can add when washing in the water a couple of tablespoons of turpentine, pre-mixed with a strong solution of soap, to make a kind of emulsion. Carefully propolene blanket hang to dry in a well ventilated place. Then you can iron it through a sheet with a warm iron (but not hot).
To launder wool blankets use soap flakes (grated soap). Add them to warm water at the rate of 5 g of flakes per liter of water, stir till the formation of abundant foam and lower the blanket. Leave on for 5-10 minutes and gently wash it, only rinse the blanket in clean and warm water. Press lightly, being careful not to twist it. It is recommended to dry a wool blanket, pre-wrapped in a sheet.
If your wool blanket was formed spots or streaks, then it is possible to dispense with washing. For this you will need liquid dishwashing detergent and an old, but soft toothbrush. The act should be especially careful not to damage blanket.
Washing machine, designed to load 5 kilograms, to cope with the Laundry blankets. For this procedure, use special powder suitable for washing woolen goods. Place the blanket in the machine and run it in the mode of delicate washing with a minimum number of revs and low temperature. Drying it as in the supine position, and hanging on several lines clotheslines. After drying it shake, so it will become again soft and fluffy.
Advice 2 : How to wash a lambswool blanket
Sheep wool is a natural, environmentally friendly fiber that has unique properties. Products produced from natural wool, comfortable and heat. Woolen blankets, mattress covers and blankets are filled with natural sheep wool give a cozy feeling, but, like other natural things, they require special care and careful care.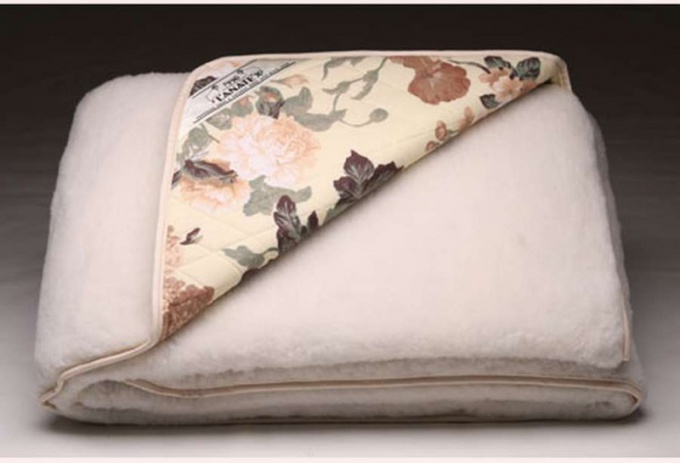 Instruction
To wool products are not lost special, peculiar only to them qualities to wash and dry them very carefully. For light contamination, use a dry "wash". A cleaning solution that is applied to wool contains lanolin, dissolve in a small amount of water at a temperature of about 30 degrees C, creating a rich foam. To clean the blanket will need is foam, but not liquid. Do not RUB the dirt, as it were, "mimetite" it from the surface of the product.
If heavily soiled, a blanket will have to be washed. In a large bowl pour water at a temperature not exceeding 30 degrees C and thoroughly dissolve it in liquid detergent for woolen clothes. Lower the blanket into the liquid a few times, rinse and repeat. Do not RUB or satirewire spot. At the end of washing, rinse the product under running warm water. Do not wring.
Dry the blanket on a horizontal surface at room temperature, away from radiators.
Not a blanket to stroke, so try it spread on a large surface. Periodically rastrakuta still wet product.
Please note, after washing the wool can give curls, this is a normal process that indicates the high quality blankets.
You can wash in the washing machine with cleaning products that contain lanolin. Select a program that is designed for wool. The spin cycle need to disconnect and rinse add conditioner.
Note
Fleece is a good influence muscle fibers, joints, helps reduce pain, helps to stimulate circulation. It contains lanolin – a natural fat produced in the skin glands of sheep has a positive effect on the human body, it protects the wool from dirt that accumulates only on the surface but in the depth of the coat remains clean.