Instruction
You can arrange a masquerade ball. You need to prepare the invitation to indicate that the guest was wearing a costume of a favorite movie or cartoon hero. And you can arrange a competition for the best performance of scenes from the movie, in the end choose the winner and present him with a kind of "Oscar".
Draw on the flipchart a funny picture and cut out circles to make guests could stick my head in. In the midst of the holiday can roll out a screen with the hidden until the picture and choose participants. When the guests take their seats, open
the picture
and give participants an assignment to make a dialogue that is only indirectly associated with what is drawn. For example, on Whatman paper painted a couple, he was handcuffed to the bed, she sits on top, and the dialogue should be on "the Policeman stopped the girl who exceeded the speed". You can prepare a few drawings to participation in competition have accepted more guests.
If you want to surprise your beloved, then get a room at the hotel, nothing to him about it without telling me. Decorate the room, set the table, prepare yourself (buy beautiful lingerie or a maid costume or nurses), call the faithful and say that waiting for him. Such a gift he will never forget and will long to brag to your friends.
Usually presents in the day of the birth give to the birthday boy, you can surprise your guests gift to them. Give your guests a fancy dance or a song. Of course, will have to prepare in advance. But as you amaze your friends, who well, did not expect such a step from you.
Useful advice
Birthday is a holiday that marks every person. Only in this feast there is something intimate, because on this day some number of years ago, a man was born. There are different traditions of celebrating a birthday. Everyone wants that his feast day was unique and remembered by friends and family for a long time in a positive mood. But no matter how you celebrated your day, as long as he liked you.
Advice 2 : How to celebrate the birthday of one
It happens that there is no way to collect guests at
the birthday party
or not in the mood to cook food and entertain friends. Treat yourself to an unusual holiday, have fun all alone. Sometimes it is useful to rethink his whole life in the day of his birth, to think about future plans without advisers.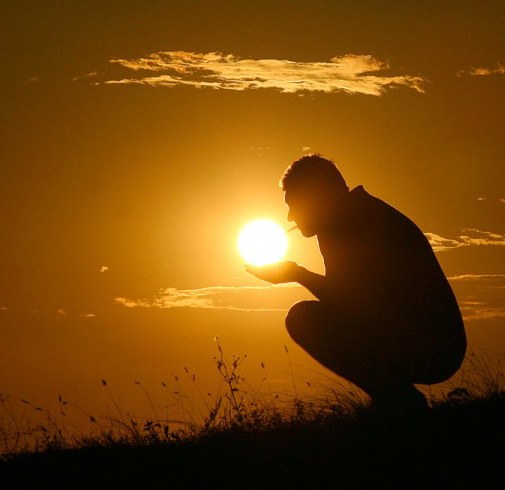 You will need
- delicious food;
- the movie tickets.
Instruction
Remember what you dreamed in childhood. Can ride a horse, to jump with a parachute or swim under water? Do it in the day of his birth, do not procrastinate. Go to an expensive restaurant and order some exotic dishes that I have long wanted to try. Enjoy delicious food and live music.
Buy a ticket to another city and wander through its streets, museums. Special interest you can poke a finger into the map at random. This will be an unforgettable adventure for you in an unfamiliar city in search of entertainment.
If you just want to relax, enjoy a movie marathon - we'll see 3-4 new films on the big screen in a row. Stock up on popcorn and Pepsi and enjoy the experience.
Hard workers who don't see a white light in their offices, take a day off and just relax on the couch. Prepare a good wine and order dinner delivered, enjoy complete idleness.
Celebrate the day of birth alone, and then gather friends and family, assigning a different date. So you feel that you can conquer time and that you can make a difference in their lives.
Arrange for yourself a holiday for the soul - read a book, watch a show from disk without ads. Buy the game you wanted to play. Treat yourself, wander through the shops in search of a special gift. Do not buy practical thing that you would buy regardless of the holiday. In this day you can afford a bit of madness.
The hike to the tattoo parlor with a tempting picture or a piercing with a beautiful trinket will help create the appropriate mood. Let this be your secret for special occasions and special people.
Call the old friends talked for many years. Invite them to visit. Surrender to nostalgia by beautiful music, look through the albums with his childhood and youthful pictures. Remember your dreams and compare them with the achievements of his life. In such moments, comes the rethinking everything that happened, new ideas that you will translate into reality.
Advice 3 : How to birthday
Leading the celebration is a very important person. He sets the tone for the evening, entertains the guests and does not allow anyone to get bored. If you are invited to spend a birthday, prepare thoroughly.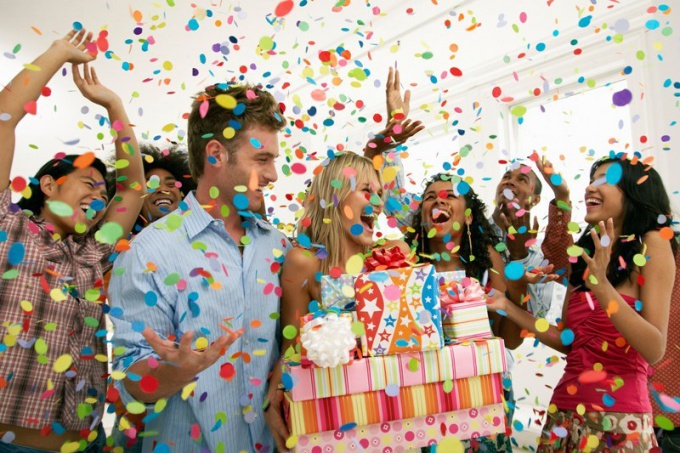 You will need
- the script of the holiday.
Instruction
Prepare the script of the holiday. You cannot rely on chance and hope that will take into account your situation and find the words. If you are a novice presenter, search the Internet for scripts of holidays. You should not copy any of them, it is better to make your own suitable to this particular occasion.
Find out more about the birthday present for the birthday guest. This will help you to understand how best to focus the conduct of the holiday and what contests to use. If you lead an evening adult generation should not offer too honest game. In a young company, respectively, may use them.
Think of or find a few unusual toast in honor of the birthday. It may happen that guests hesitate to congratulate the hero of the occasion at all into the microphone, prefer to communicate with him personally. So the evening became too boring and quiet gatherings, take the initiative into their own hands and use the birthday greetings from everyone. It is better if the toast will be humorous, but in moderation, not to offend anyone.
Watch the hotel. In any company there are more relaxed people who are willing to participate in all contests and games. However, please pay attention to those who are constantly sitting at the table. Gently try to engage them in fun, selecting appropriate people for these roles. It is not necessary to make a person, but you can offer him a few options. Your task as a facilitator – not to get bored any visitor on holiday.
Give the guests time to eat and just dance to the music. Don't be too Intrusive, otherwise you will get tired. Take breaks in the games, it is not necessary to conduct several contests in a row. Most importantly, be sure of yourself and pay more attention to the birthday as it is his feast day.
Advice 4 : How to celebrate birthday party fun
Birthday — beloved by many holiday. Relatives and friends wish the birthday boy all the best, and the "newborn" is committed to provide guests with a fun and enjoyable pastime. The holiday was bright and memorable event, it is important to consider all the details of the celebration.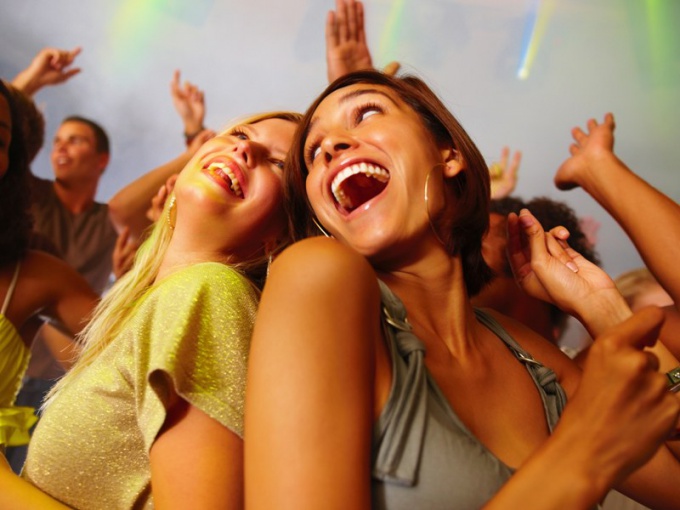 Instruction
Make a guest list
Ways
to celebrate the birthday of
a great variety. Fun to share not only with friends but also closest relatives. Decide where and with whom you want to be in this day. For a good mood, invite those people whom you will be pleased to see.
Pick up entertainment
Think about how to combine for easy communication between guests of different ages and interests. That was fun, the selection of entertainment keep in mind the views of the invited. Of course, the individual characteristics of each note is difficult, but the General direction of interest should be observed. For example, the older generation sings with pleasure, young people like to play "Fanta", but laugh at jokes. If you joke and laugh - you have created a relaxed atmosphere and a fun day.
Determine the place of celebration.
Birthday can be carried out in different environments: at home, outdoors, in a cafe or restaurant. If you are a city dweller, mark it in the fresh air, away from the bustle of the paved streets. This version of holiday is suitable for any time of year. Because making meals outdoors in summer or a visit to the hot baths in the winter - it is great fun. Use the opportunity to have fun with friends in nature, when there is such a wonderful occasion.
Picnic
If this day falls on the hottest time of year, the perfect spot for the picnic will be the shore. Here fishermen can try their luck and swimmers to enjoy the cool. Those who remained around the fire, you will find a pleasant experience – follow the fragrant meat and set the table. The picnic did not become hard, the absorption of food and drinks, entertain guests.
Prepare game
Surprise your guests with not only delicious food, but an opportunity to stretch their legs. After a hearty meal unobtrusively invite them to participate in the games. If you took the rackets and shuttlecocks, will offer everyone the badminton. None of the young people will not abandon the volleyball is fun. It is important to cover the entire company – then, the guests rejoice in the common amusements and will remain satisfied with their participation.
Think about music
In nature you need to enjoy the birds singing and the chirping of grasshoppers, but if that's not enough for a festive mood – organize to cheerful music. It could be a radio programme or a specially prepared CD of your favorite dance tunes. Sing a guitar song, but if left to rest until the evening – no harm will be dancing around the campfire.
Note
If you are a supporter of the celebration of the birth outside of the house, mark it in the sauna. You and your friends will love the relaxed atmosphere of rest, and this day will be a memorable event. In a good sauna the steam room a café or restaurant that takes care of the food. Guests can dip in the pool, play Billiards or find other interesting activities.
Useful advice
To avoid a mutual feeling of awkwardness, celebrate a birthday with colleagues and relatives separately.
Advice 5 : How to spend a birthday in the cafe
Birthday in a café is not only a feast for guests, but also a complete rest for the birthday boy. Save yourself from having to cook, lay the table, and then clean up after the revelry. Trust the professionals, and the birthday will leave only positive memories.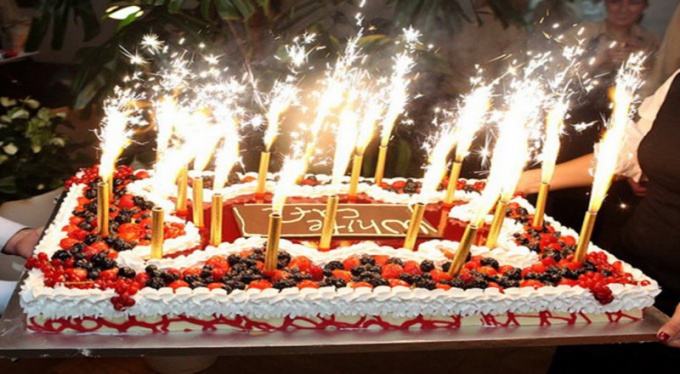 You will need
phone 1;
- pen and paper 2;
Instruction
Make a list of places where you would like to celebrate a birthday. Notice how comfortable will your guests get in a cafe. It is desirable that the institution was located in an area with developed transport infrastructure.
Explore the menus offered in different cafes. Do not get involved in exotic. To check whether in a cafe, a cultural program, will it be possible to organize the dance. If you are in some institution was never read reviews about it, ask the opinion of friends about the reputation of the institution.
Contact each dining, club or restaurant listed in your preliminary list. Very often in the cafe for the day of birth has different promotions, discount coupons and special price offers for group visits, which will help you to have fun without much damage to the wallet. Also, many schools offer a special menu designed for corporate events and celebrations. This menu includes a particularly delicious, beautifully presented dishes and suitable wine list.
Phoning cafes and restaurants, try and find out if the selected school to arrange entertainment. Many cafes will offer you a scenario leading and even fun competitions which will enliven the holiday atmosphere. If the café entertainment is not provided, then be sure to come up with simple contests. For example "Who knows the birthday boy". For this contest you need to prepare a list of humorous questions: "What color are the eyes of the birthday boy?", "What is he wearing?", "What color does he like?" For correct answers, the guests will receive some lovely presents, but for the error can perform some penalty Fanta.
If you have decided to spend the birthday in a cafe with a big noisy company, it makes sense to rent a separate hall. In this case, your fun will not be disturbed and your fun is also not cause censure from other customers of the cafe. If you are planning to celebrate a birthday a small friendly company, not configured for rough fun, it is possible to do the same table.
Discuss with staff the café, to the supply of food was divided into two stages. First let light snacks, then it is necessary to provide a short break in order to allow your guests to give you their gifts and say kind words. And after that you can apply to more serious fare.
Useful advice
Choosing a café for the birthday celebration, make sure you consider your preferences. If you want noisy fun, you can celebrate the holiday in the entertainment center, where it is possible and to sit at the table and find entertainment for the soul. If you prefer a quiet atmosphere, will opt for a more respectable establishments.