You will need
Dark jeans, glass, bleach or white, metal bucket, ordinary gum (if not, suitable pegs), rubber gloves (preferably), stick a length of 50-60 cm and forty minutes of time. If all you could find, then proceed.
Instruction
Roll up the jeans and secure with rubber bands (figure).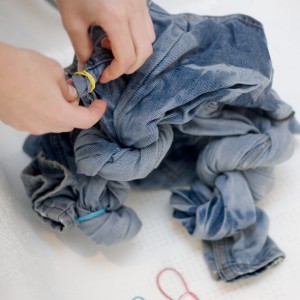 Pour into prepared bucket of water so that it filled 60 percent of capacity. Then place the bucket on the stove and light the fire. After 15 minutes pour into a bucket one Cup of white or solution and boil gradually while stirring the water. After the water in the bucket reaches a boil, put your jeans in the bucket so that they are fully immersed in it.
Put on gloves, take a stick and constantly ensure that the jeans did not rise above the water. The stick is useful to you, not to burn yourself with steam or boiling water. If the jeans after 10 minutes will not change its color, add a little bleach or white and then simmer for another 15 minutes.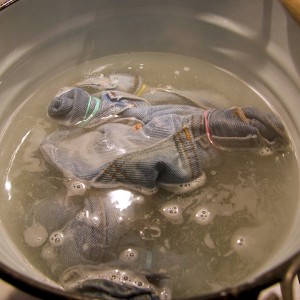 When only jeans will change color gently pull it out, remove the rubber bands (clothespins) and place in cold water. Very good rinse jeans in cold water and hang to dry. So that's how we got trendy bleached jeans with different patterns.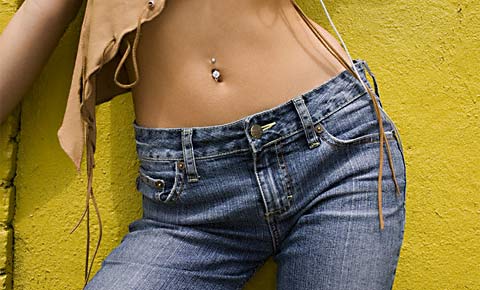 Note
When performing the above steps, you must be careful not to Ambaritsa boiling water.
Useful advice
If you don't want to lighten the jeans completely, it is possible to weld any part of them, for example, of the trousers.
Advice 2: How to make jeans trendy
If your wardrobe is boring
jeans
that you want to throw away or give to a friend, do not rush. After all, you can try to make them stunningly beautiful and fashionable thing. So you can own hands to remodel your wardrobe. This method is called "hand-made" about it and will be discussed in this article.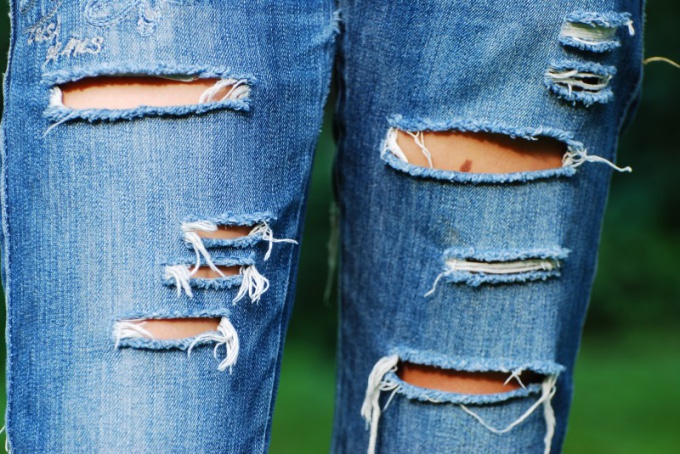 Instruction
Sequins. Using those flat plastic ornaments with hole, can add Shine to even the most plain jeans. Sequins just make some interesting patterns. To make it easier, if you know how to sew at least buttons. However, sequins and glue, if denim is not too tight.
Paint the jeans with the acrylics is quite an original approach. You don't have to wield a needle and thread. Just buy a glossy or matte paint, make a stencil by printing out some fashionable pattern and cutting it. Dyeing jeans is better a small piece of foam or a soft sponge. Do not stretch material, so as not to smear the paint. Causing the drawing, it progladte iron tracing paper.
Application. This is a classic. Of an application are different. You can take ready-made thermoapplication, propadu the iron, or to make a picture from fabric with your own hands. Applications can also patch up holes on clothes. The main thing – not to transform the composition into a heap of pictures of fabric.
Glow paint is the perfect choice for lovers of parties. These paints put on jeans beautiful pattern, will glow under the action of the neon lamps. You can also use luminous applications or threads.
Beading is another classic item which you can use to make old jeans fashionable. Patterns beaded look very attractive on any outfit.
If you have no beads, no acrylic paints, no appliqués, you can put on jeans with artificial wear. Tight jeans can be transformed with the help of sandpaper. Just be careful not to damage fabric. For thin or stretchy denim clothes can be done a few scuffs conventional coarse pumice.
Holes. This technique is one of the easiest ways of existing in service at handmaker. However, just to make a hole – this is not the case. In this case there are subtleties. First mark the cut with a piece of soap or chalk, and then try the thing. If the hole is appropriate, proceed to its creation. That's all.
Advice 3: How to make jeans warunkami
If you existed in the late 80s deficit on fabric and things have been invented several ways to turn a regular jeans in boiled. These "folk" methods did not lost relevance at the moment when the fashion for boiled denim is back.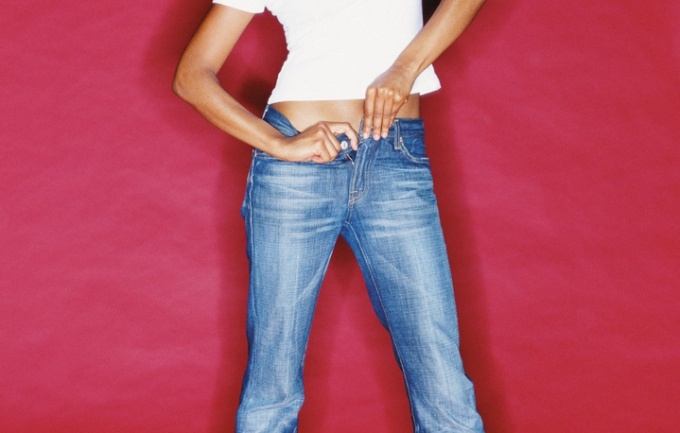 Instruction
To make their own original outfit, original you should choose jeanswhich you will turn in the fashion of a wash. Attention, if you are a beginner, then first experiment on a small piece of fabric or old clothes.
In the next stage, heat the water, but do not boil. Then fill with "Whiteness", which can be purchased in any store household chemicals. This tool is poured at the rate of one Cup per bucket of water or 100 g, if using dry matter. Mix the solution well, bring to a boil and immerse the prepared jeans.
Jeans should be prepared in the following way. Twist them along the legs, as if squeezing. This will allow you to get vertical streaks. To obtain the effect of the stars, pull tissues money gums.
Time boiling jeans is individually determined experimentally and depends on the color you wish to obtain, and the quality of the fabric. The boiling time varies from 15 minutes to a half hour.
Once you decide that the desired effect is achieved, remove the jeans from the solution and put under cold water, release the clips and rinse well.
Note
The whole process of bleaching is carried out with gloves and at the open window, it is desirable to use a respirator, as the smell from the bleach can adversely affect wellbeing;

Take your time to repeat the process again if you think that the color is still too dark. For a correct evaluation of the result must be dry because wet fabric is always darker than dry.