You will need
butter;
salt
pepper
herbs
wine.
Chanterelles with potatoes
chanterelles;
potatoes;
bacon;
olive oil;
spices.
Instruction
Select the mushrooms in perfect condition. Fresh
chanterelles
plump, bright and their edges are not too wet and not too dry. Keep these mushrooms unpeeled, in a paper bag in the refrigerator. So they can lie some days.
Clean the chanterelles from debris and dirt either with a brush or sponge with a very small amount of water. Do not soak them and rinse under running water – chanterelles, like a sponge, absorb moisture.
Large chanterelles, cut into slices. At the same time, so you can remove the pine needles and dirt that are deeply clogged in the folds of the mushroom cap. The little foxes can be cooked whole.
Heat a pan, put it on a slice of butter and let it melt. Put chanterelles. Mushrooms must lie in a single layer if they don't fit, it is best to cook them in batches.
Fry the mushrooms in oil, stirring frequently, for 1-2 minutes. Add seasonings, except salt and pepper this can be garlic, thyme, Basil, dill, other herbs, a little white wine. Fry for a further 2-3 minutes, until the mushrooms are soft and most of moisture evaporates.
To
fry
frozen chanterelles, does not require a defrost. Melt scorte the butter and add the mushrooms. They will thaw very quickly, do not forget to stir them while roasting. After they thaw, do the same with them as with fresh.
Dried chanterelles, as a rule, not fried whole. Grind them into a powder and the powder added to a variety of dishes. To this powder was ready for use, a few seconds of heat treatment.
Chanterelles with carlosmacmartin to wash and clean, cut into small cubes, put in pan, rinse again and cover with water. Put the saucepan on the fire and boil for 5-10 minutes. Drain and set aside. In a deep frying pan fry several pieces of bacon, crispy strips set aside separately to cool completely. Peel and chop finely garlic, chanterelles and onion, mix and sauté in olive oil for 2-3 minutes, sprinkle with salt, pepper, herbs. Add the potatoes and fry until Golden brown. For a few minutes until done, put crumbled pieces of crispy bacon.
Note
In French and English culinary literature chanterelles have the same name – сhanterelle.
Useful advice
In dishes that require long cooking, add the chanterelles, not earlier than 15-20 minutes before it is ready. If chanterelles too long to fry or cook, they will become hard.
Advice 2 : How to cook fried chanterelles
Roasted chanterelles
- this is a very useful and tasty dish, a side dish which can serve roasted potatoes or mashed potatoes. In cooking, there are many simple recipes frying the mushrooms, so even the young mistress will always treat your loved ones fried chanterelles.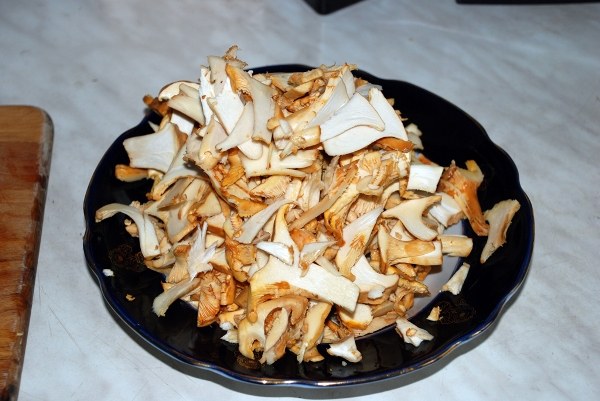 You will need
For the roasted chanterelles with garlic:

1 kg chanterelles;
1 onion;
2-3 cloves of garlic;
salt to taste;
herbs to taste;
vegetable oil;
For the roasted chanterelle mushrooms in sour cream:
1 kg chanterelles;
1 onion;
salt to taste;
5 tablespoons of sour cream;
herbs to taste;
vegetable oil.
Instruction
If you want to try the roasted
chanterelles
with garlic, first rinse the mushrooms from the ground and branches, and then take a knife and cut large
chanterelles
into pieces. Small mushrooms can not be cut. Pour water into a saucepan, bring to the boil and lower in it the chopped
chanterelles
.
Cook
the mushrooms for about 15-20 minutes, then drain the water out of the pan.
While chanterelles are cooked, cut into half rings or rings are pre-cleaned and washed onions. Take the garlic, clean, wash and cut into plates. Pour into the pan with vegetable oil, put chopped onion and garlic and fry them on slow fire until the onions are soft. Once that happened, add to the vegetables boiled mushrooms, slightly increase the heat and fry them on medium heat for approx 20 min. Readiness of the mushroom dishes you can define the color - color ready chanterelles gets brighter and onion wilts and is almost invisible in the pan. Salt the mushrooms to taste and take them on the heat for another 2-3 min., If desired, in the finished dish, you can drop 2-3 drops of lemon juice - this will give it a special piquancy. Before serving fried chanterelles with garlic is recommended garnish with greens to taste.
To eat fried chanterelles in sour cream, initially follow the same sequence of preparation of mushrooms, as in the first recipe, but omit ingredients from the garlic before adding the mushrooms to the pan and fry it in vegetable oil onion only. For 3-5 min until cooked chanterelles add to the pan sour cream, not forgetting before that to salt the dish to taste. Fry the mushrooms in sour cream for another 2-3 minutes, then turn off the heat. Put roast in sour cream chanterelles on a beautiful dish, sprinkle them pre-washed and finely chopped greens of dill and parsley and serve.
Advice 3 : How to cook fried chanterelles
Roasted chanterelles
– a great dish that can be prepared for the winter. They can freeze or roll up in banks under the metal cap, the Gulf of oil or butter.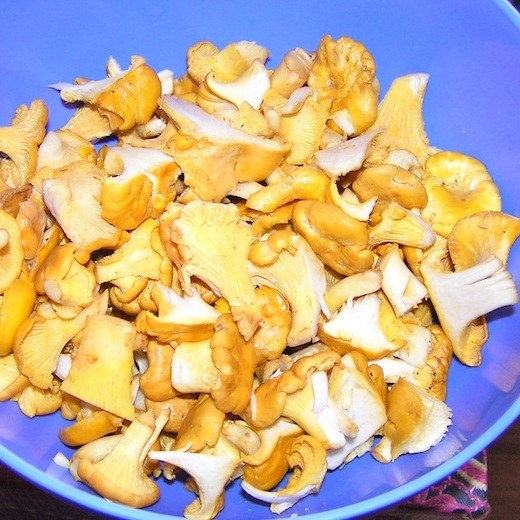 You will need
0.5 liters of vegetable oil;
4 bulbs;
salt to taste.
Instruction
Loop chanterelles, clean them, rinse and finely chop. Preheat the pan with vegetable oil. Oil needs to be poured so that it covered the bottom of the pan.
Place the sliced mushrooms in the pan, immediately season with salt to let the juice, and cook them on slow heat for 40 minutes. While chanterelles are roasting, peel and finely chop the onion.
After all the water will evaporate and add to the pan the onion, add sunflower oil and stir fry the chanterelles with onion on medium heat for 10 minutes.
Prepare jars: wash them with baking soda and sterilize. Boil the lids. Once roasted chanterelles are ready, place them in banks.
Push the mushrooms with a spoon, pour sunflower oil to the top and roll up the banks. Keep this billet be cool. Open the jar it is advisable to eat at one time, as open they don't last very long.
Freeze for the winter chanterelles fried with onions. To do this, cool the mushrooms and pack them in plastic bags. Squeeze out excess air, tie off the bags and put in the freezer. Frozen fried chanterelles stored much longer.
Heat frozen chanterelles in the pan for several minutes. This mix can be used for cooking stewed potatoes with mushrooms or mushroom soup.
Note
Instead of sunflower oil to fry chanterelles in butter. When packing cooked mushrooms poured the melted butter to the top of the jar.
Useful advice
To sterilize jars, put them in the oven, preheated to a minimum temperature of 120-130 ° C, for 15-20 minutes.

You can sterilize jars in the dishwasher – wash them at high temperature without adding the powder.

Most banks are sterilized for a couple. Boil water in a saucepan, on top of the saucepan, place a metal sieve or a grate from the oven and set one or more cans upside down. Keep them in steam for 15 minutes.