You will need
4 tablespoons icing sugar or sugar powder;
5 g of vanilla sugar;
1 teaspoon cocoa;
0.5 Cup 35% cream;
1 teaspoon grains of gelatin.
Instruction
Buy cream high fat content. Ideally you need a high quality product with 30% fat, twenty percent, but sour cream would also work. It needs to be fresh, moderately acidic, with no signs of fermentation. If you got liquid product, strain it through two layers of cheesecloth placed in a colander.
Before churning the cream should be cool. Place it in the refrigerator for 2-3 hours.
Whip cream can with a fork, whisk or electric mixer. Place the sour cream in a deep bowl or a saucepan. Place the container in cold water or ice and beat quick evenly in a circular motion until you get fluffy, but dense enough cream. A sign of readiness – the appearance on the surface of a stable "peak". This mixture cover the surface of the muffins or berry pies, or serve it as a sauce for pancakes and crepes.
Sift the icing sugar, mix it with vanilla or vanilla sugar portions and add it to the cream. Whisk it again until smooth. Instead of powder you can take sugar.
If you need more air to the cream, whisk the sour cream with cream. Pour the cooled cream into a saucepan, add the sour cream, place it in a pot of cold water. Beat the mixture until a thick foam that should hold on the raised rim. Without stopping whisking, add the cream, powdered sugar, sand and add a bit of vanilla. This cream is suitable for greasing of the cake, filling tubes and prepare fruit desserts.
Try to change the taste of sour cream. At the end of the process of churning add in the mass of sugar mixed with cocoa powder. Carefully stir the mixture. Will air cream with delicate chocolate flavor. It can be used for filling cakes and decorating the surface of the cakes.
From whipped cream to prepare a cream with the gelatin. Place in a glass of grains or plates of gelatin, add a half a Cup of cream, stir and wait until the swelling. Put the glass in hot water and stir the cream until dissolved grains of gelatin. Cool the mixture.
Prepare the cream in the basic recipe. At the end of the whipping, a thin stream pour in sour cream lush mass of the mixture of gelatin and cream. Stir the cream.
Useful advice
Use whipped cream immediately. If this is not possible, store the finished mixture in the fridge, but not more than 2-3 hours.
Advice 2 : How to beat the cream of the cream
Since childhood every holiday for us involves waiting for a tea party. An integral part of this tea party is the cake. Sour
cream
is one of the most common creams to delicious cakes. Here's a few of them.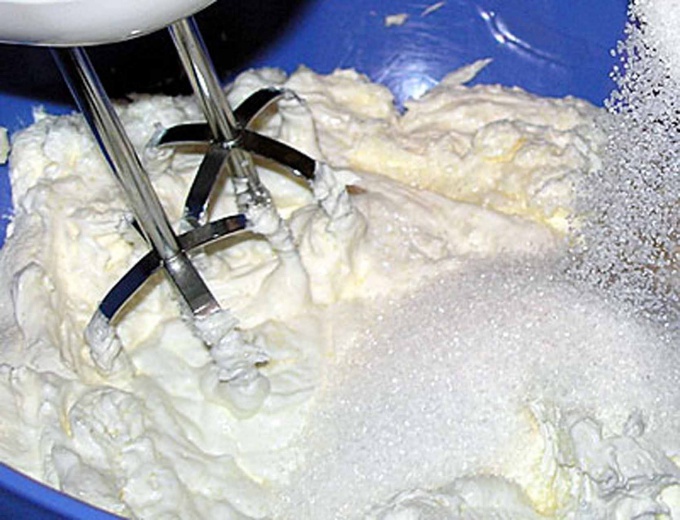 You will need
1 Cup sugar
2 tablespoons cocoa powder
1 teaspoon instant coffee or 1 lemon
berries
vanilla to taste.
Instruction
Buy or make all the right components. The cream should be purchased no lumps, fresh, pre-it is better to cool in the refrigerator. Best of cream is suitable cream, where fat content is 30 %. And beat it better at low temperatures.
A few hours before you will make the cream, you can strain the cream through a colander and cheesecloth, after which it will become a little drier, which means that the cream is not so strongly impregnated with cakes and save the form. If this is not done, the cakes will not need to separately impregnate, the cream will do it myself.
Start preparing the cream. This chilled cream to whip with a glass of sugar until obtaining a lush mass. Capacity with sour cream while whipping with a whisk is better to put in a pot with cold water for even more cooling, otherwise your cream and not whipped. We can also add vanillin.
Then your steps may be different, depending on which cream you would like to have. For dark cream chocolate, you need cocoa and coffee, which you should pour in the cream after sugar.
If you want to fruit the sour cream, you can add a bit of gelatin, about 30 grams, previously dissolved in hot water. Then add mashed berries or jam and it all over again whisk.
Also in the sour cream add lemon. For this you will need 1 lemon, which you need to hold in boiling water until tender and then cool. Then remove the seeds, and lemon skip through Mincer along with the zest. The resulting mass is necessary to mix in the cream and stir gently.
Note
Your sour cream is ready. Now still need to keep cold, and then spread it over cakes or to decorate the finished cake.
Useful advice
You can also improvise, add to cream new ingredients to make sour cream with cottage cheese, cereal or anything else. You choose!