You will need
- tincture of calendula;
- decoction of chamomile;
- tincture of eucalyptus;
- lozenges;
spray
Instruction
Contact your therapist to prescribe you drugs, is not contraindicated during lactation. Indicate that you do not want to interrupt breast-feeding during the illness. If your doctor feels it appropriate, they will prescribe you a course of treatment, allowing to do it.
Gargle every 30 minutes. You can rinse with a solution furatsilina, calendula tincture, decoction of chamomile, solution of soda, of iodine and salt, tincture of eucalyptus. Any solution should be warm, but in any case not hot or cold. Do not be lazy to perform this procedure regularly as it promotes healing of the throat to get rid of plaque.
Buy pills for resorption. Consult your pharmacist about the presence of contraindications, because in most cases during lactation are prohibited from taking a number of medications. In addition to pills buy a throat spray. Be sure to read the annotation. Orosite throat strictly according to instructions, not exceeding a specified number of procedures. Tablets also take to the scheme.
Do not neglect the abundant warm drink. It could be cranberry juice, herbal tea, broth hips, compote or tea. Drinks can help relieve pain, boost immunity and resist infection.
During illness try to only eat crushed food (purees, cereals, etc.), in order not to injure the already irritated throat. Cold foods should be excluded from the diet.
If you have a high fever and your condition has deteriorated, immediately notify the doctor, who must prescribe antibiotics at the same time allowing you to breast feed the baby. Do not forget about the drug, improve the microflora.
Advice 2 : How to treat a sore throat during pregnancy
During pregnancy and during lactation to take most medications is not recommended, as it can cause allergies or poisoning to the baby. To cope with angina and traditional methods can, however, it will take a little more time.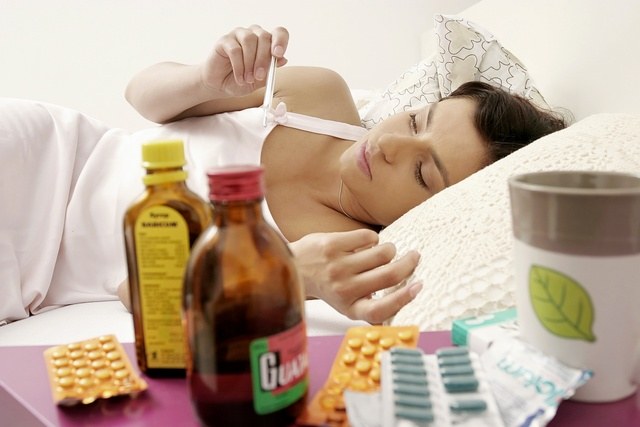 You will need
- salt solution;
- calendula;
- chamomile;
- antiseptic sprays;
- paracetamol
- vinegar;
- Lugol's solution.
Instruction
Begin to gargle as soon as you feel a severe pain. For this purpose, suitable salt solution (1 tbsp salt, 1 tsp soda and a few drops of iodine) or decoctions of herbs. Good effect is observed in the rinse water infusion of marigold and chamomile.
Take orally the decoction of chamomile. Steep a few tablespoons of dry raw material with 200 ml of boiling water. Drink 50-100 ml several times a day. Chamomile non-toxic, so don't worry about that it will penetrate into breast milk. Try to drink as much other liquid. Fit tea, juice, mineral water or natural juice.
Orosite throat spray antibacterial drugs. "Kameton", "Geksoral", "Molluscan" or a similar tool. Sprays for local application is practically not absorbed into the bloodstream therefore there is no contraindication to use during lactation. But a consultation with the doctor still does not hurt.
Reduce temperature with paracetamol. Taking aspirin and other nonsteroidal antipyretics is impossible. If the drug does not work, wipe the body with a weak solution of acetic acid (4-6%). Use vodka when breastfeeding is undesirable, since it is absorbed into the blood and in the milk that can cause poisoning in children.
Treat tonsils
Lugol"s iodine solution
if the sore throat began to move into the purulent stage. Lubricate the throat with a solution 2-3 times a day. If you have individual intolerance to this drug, try "Efficient".
Call the doctor if your condition worse. It is possible that you need antibiotics. In this case you have to suspend breastfeeding for as long as you don't get better. Do not forget to regularly Express milk, so lactation is not stopped.