In the distant 1908 began the history of the brand Converse, when it was founded by a small production of rubber footwear for children and adults. But a decade later the company released basketball sneakers that their reliability and convenience instantly captivated athletes first in America and then throughout the world. The popularity of Converse rapidly gaining momentum, and saw the light of a collection of sport shoes for badminton, tennis and other sports. However, the company did not stop there, starting to produce fashionable and stylish shoes for outdoor activities and casual wardrobe.
And today, it's safe to say that Converse sneakers have long ceased to be a part of only sports. Consistently bright, stylish and comfortable, these sneakers are a great number of models for every taste: high and low, with flaps and without them, decorated with rhinestones, brutal sporty. This diversity and the constant search for designers brand new and original solutions allow you to create a variety of outfits and emphasize your individuality. All this makes the conversion extremely popular and beloved in the world of shoes, which can be found in the wardrobe and girlfriends and Hollywood stars.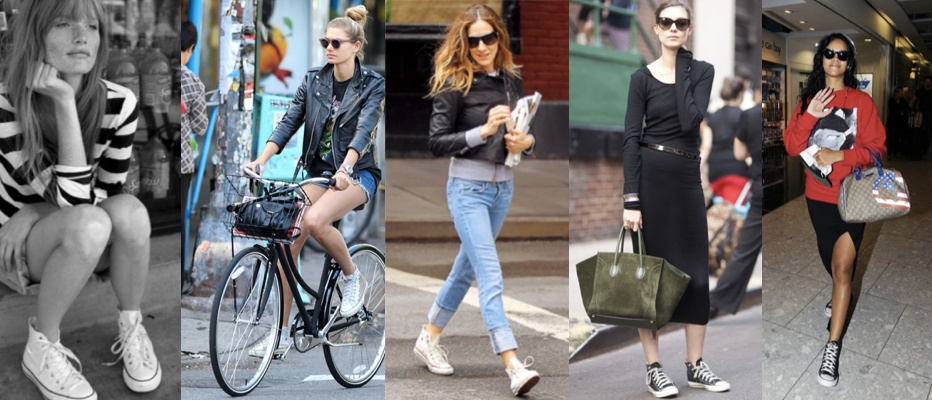 Converse sneakers are almost universal: they can walk around the city, go on a picnic with friends, work out in the fitness club, to go to work (in the absence of a rigid dress code) or even to go on a romantic date. Accordingly, and match them with different parts of clothing, creating a stylish and original images. But, deciding to buy sneakers converse, and then creating a bow with fashionable new clothes, you need to remember about the features of your figure and choose the correct combination.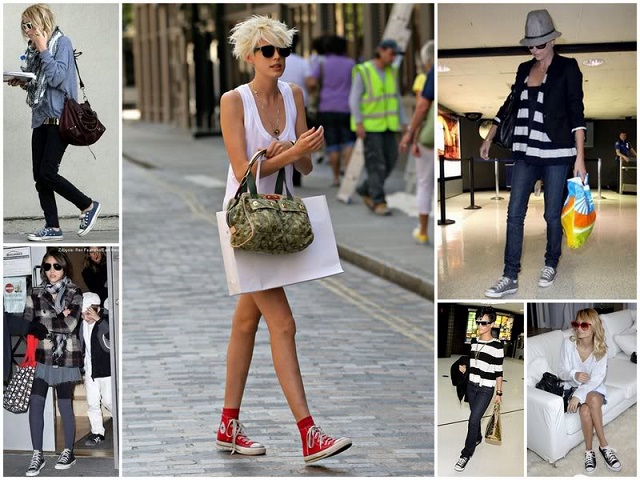 The classic combination is, of course, Converse sneakers with jeans and a variety of their styles and colors. Perfectly complement the image of a white t-shirt and a bright cropped jacket. Another win-win combination – jeans, converse and a vest. In this case, especially relevant are the white sneakers, well completion marine style. But keep in mind that if skinny jeans skinny low converse fit almost any figure, for example, strongly tapered jeans that you can tuck in sneakers, well look only for skinny girls.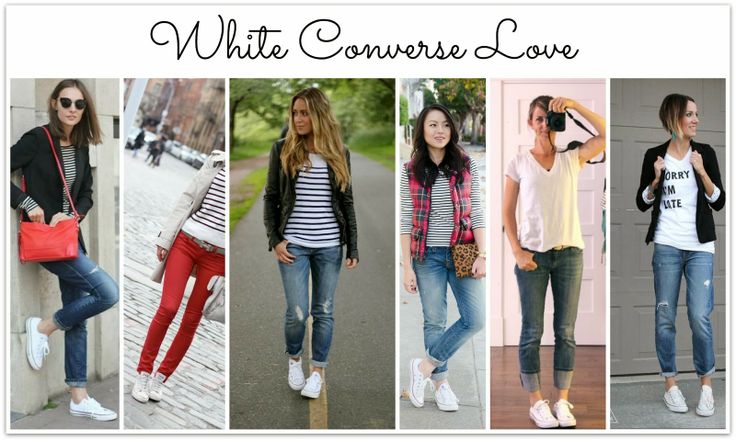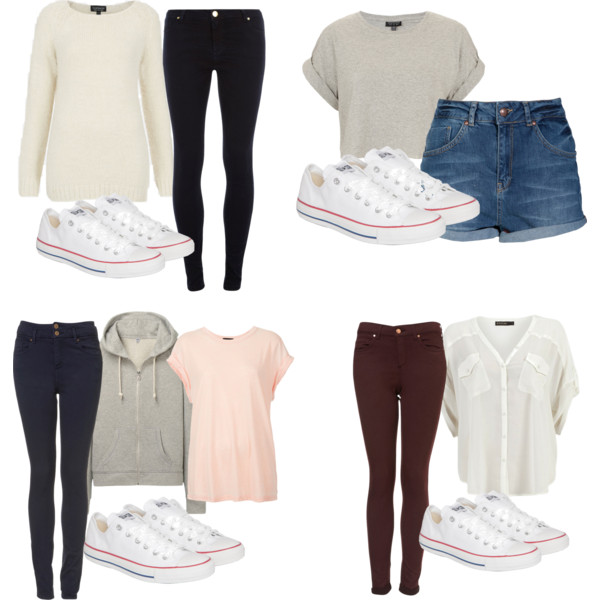 And for a summer bow to fan of converse and denim just need denim shorts combined with tops and t-shirts in different colors. Just do not overdo it: if you're wearing colored shorts or t-shirt with a bright print, then stop your choice on the classic white low sneakers.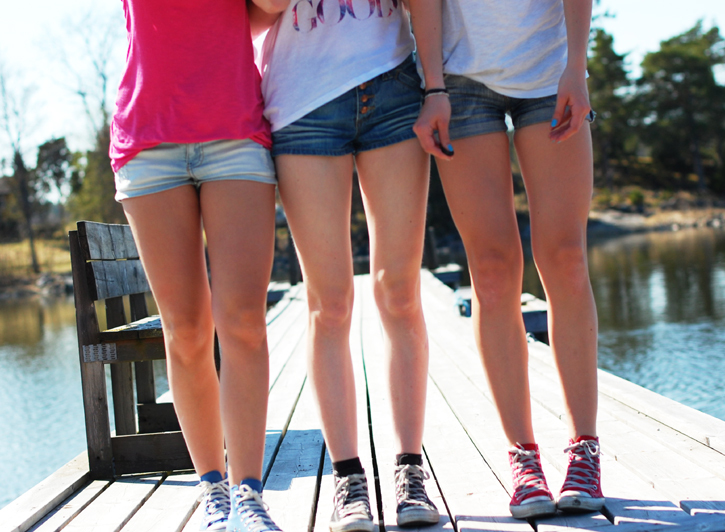 Tall, slender girls can afford to wear converse with leggings. Suitable leggings of any color, but the top it is best to choose plain and simple tank-top, long t-shirt or sweater relevant for several consecutive seasons style oversize.
Quite a common misconception that the converse, originally a sporting footwear can not be combined with skirts and dresses. It's a myth, of course. The combination of Converse sneakers with a short skirt emphasizes a slim female legs, and if you wear them with a flared skirt or skirt, a tutu, you get a romantic, touching and original image simultaneously.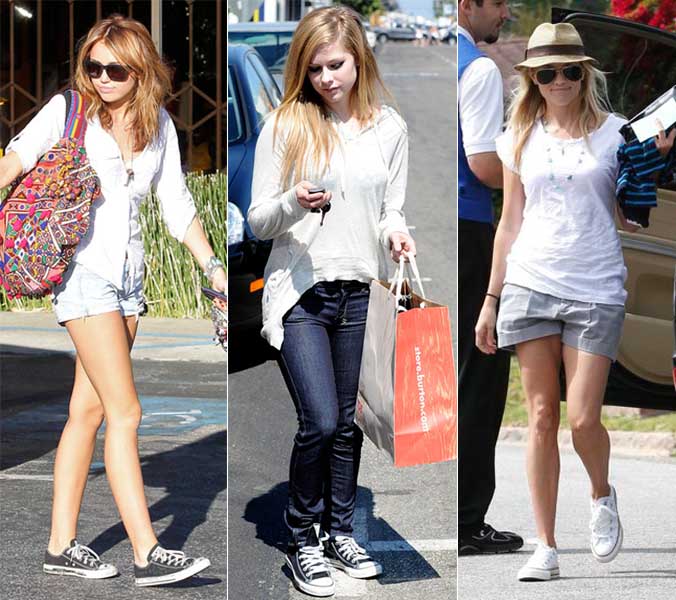 One of the most popular models of the brand low white chucks - perfect look with denim mini-skirts. To the dark shoes good black leather skirt, and red will be very relevant with a loose blouse, a colorful skirt and flashy jewelry.
The combination of converse and dresses is able to make you a real Queen of summer. Easy shirt dresses and A-line are perfectly combined with high sneakers. A low white will be fantastic to look trendy lace dress in light shades. Excellent contrast image will be the combination of chucks with a chiffon dress or skirt to the floor and a large textile bag. Just keep in mind that long dresses and skirts to wear with flat shoes can afford only tall girls, petite fashionistas also it is better to stay on dresses at the knee or slightly above.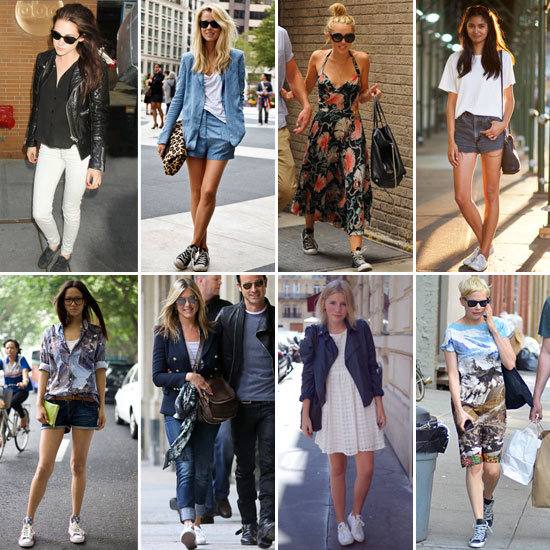 As for the combination with the outerwear, and in this case, the converse essential and universal to the most different weather conditions. They can be combined with leather jackets-black leather jackets (try it, by the way, this variant of leggings), straight coat of different lengths, with parks, bombers, ponchos and cardigans.
Whatever style you may prefer, once going into the store Converse, you will not leave without buying! These legendary sneakers will take a worthy place in your wardrobe and heart, because it's already happened with the beautiful and stylish world stars! And here you can see some celebrities in sneakers converse.