What to wear with sneakers Lacoste men


Men's shoes Lacoste best combined with straight and skinny jeans and light cotton pants. Will look good with the shoes and sweatpants with elastic at the ankle. With the latter it is best to wear t-shirts, shirts and hoodies. But with jeans and pants can be worn as t-shirt and shirt in a casual style.

To a certain way, you can also find non-classical cut vest or a light pullover. Also Lacoste sneakers go well with shorts knee length denim or cotton.

From outerwear to shoes textile fit light jackets of cotton or denim jackets or hoodies. With leather shoes you can combine more warm clothes – leather or quilted fall jackets. In the latter case as an accessory you can even use a scarf.


What to wear with sneakers Lacoste women


Ladies shoes Lacoste can be combined with any clothes of this brand from pants to dresses. In addition, this Shoe goes well with any jeans and pants are straight and slim-cut capris and shorts of different lengths. With these things you can wear t-shirts, shirts and sweatshirts non-classical style.

The sneakers of this brand, especially textiles, are well suited to the dresses in a casual style free or close fitting cut. This image can be supplemented with leather decorations and textile accessories, lightweight scarf or denim vest. Look great with the shoes and Lacoste sportswear dresses that are suitable for playing tennis or just for relaxing, as well as shirt-dresses made of thick material.

For a trip to the sea, for example, is particularly suitable sneakers Lacoste universal white color. They will look wonderful with pants and jeans of different colors, shorts and vest. As a headdress suitable Panama hat with a small brim or baseball cap white.

Shoes from nubuck or leather can be worn with the above things and more warm clothes. They are perfect for fall and go well with jeans, sweaters, polavaram, sport cut jackets and any outerwear in a casual style.

Lacoste sneakers can also be worn with trendy leggings today. But they should not be combined with tunics, especially the boxy – get ugly and ridiculous. Best of all the leggings pick up a t-shirt, short t-shirt with a light jacket or long sweater.
Advice 2: How to wear women's hoodie
Sweatshirt is one of the most common items of women's clothing. This thing have in the wardrobe of most modern women. Hoodies are not only trendy but also very comfortable to wear. They can be worn for almost any outfit — it all depends on the cut and model of the hoodies, as well as the availability and quality decorative elements.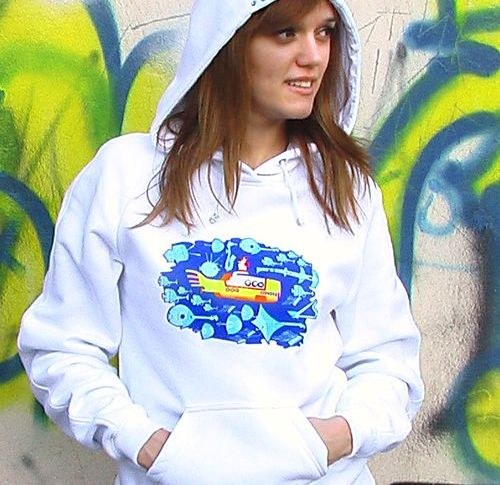 Instruction
Of course, the most common use of the sweatshirts — is the creation of comfortable and sporty style. For example, the
sweatshirt
looks very good with sporty trousers and is perfect for regular trips to the gym, swimming pool and gym.
Sweatshirt is an essential part of casual style, which is so popular among today's youth, and among older people. For example, a beautiful sweatshirt looks just perfect paired with worn jeans and trendy sneakers or sneakers. In addition, this outfit is very comfortable and perfect for work or active holidays, long walks. With this way you can constantly experiment, constantly improving it.
Extra long hoodies with zipper it is often worn instead of a coat or jacket. Stylish sweatshirt looks very nice on a beautiful t-shirt or sports shirt. In addition, there are more elegant models that can be worn with classical trousers or too short skirt. And the heels are quite appropriate.
Sweatshirt with beautiful embroidery or an original picture can be put on to the youth the skirt. And shoes in the beautiful shoes or sandals that can be on a flat platform, and heel. By the way, youth sweatshirt, decorated with a bright pattern and sequins you can wear a skirt and go to a nightclub or disco.
Under a hoodie you can pick up and decorations. For example, if you prefer sporty style, the pendant on a black cord or silver chain will look quite original. And more vivid the patterns fit and beautiful youth jewelry. All you need to do is to show imagination.
In fact, the sweatshirt is not an ordinary thing in a woman's wardrobe. With enough imagination and willingness to experiment, you can find millions of ways to wear the sweatshirt, the more that modern fashion has created many models that are suitable for every day and for holidays
Advice 3: How to wear sneakers with jeans
Sneakers is a lightweight and comfortable athletic shoes. They are now very popular, besides their models are constantly improving, delighting fans a variety of colors and prints. According to the fashion trends,
shoes
, often wear with jeans or other things from denim.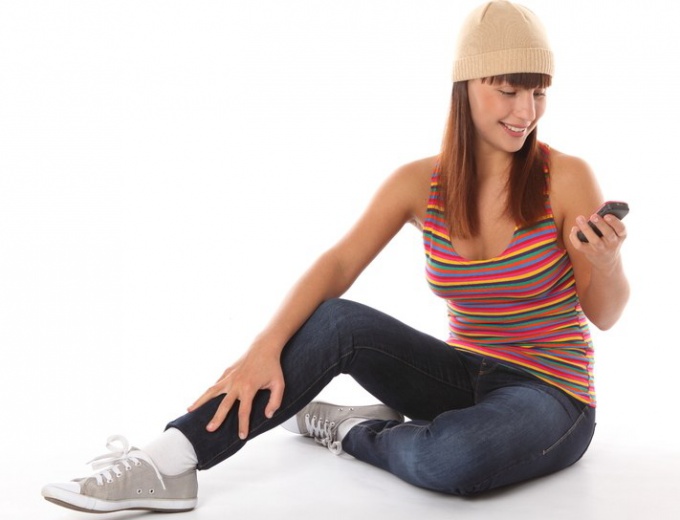 Instruction
High tops or sneakers on the platform wear, align them in skinny jeans or in combination with skinny jeans. Thus, the legs will visually appear longer and the hips are more clearly delineated.
To light jeans, showing good figure, pick up the sneakers fun colors: pink, blue or model with unusual prints. Thanks to this ensemble, your look will be bright, mischievous and memorable.
The latest designs designers is a delicate and feminine fashion sneakers heels. Such shoes feel free to combine with a denim dress or with a mini skirt and go on a romantic date.
Classic black shoes to wear with jeans and dark colors, and light beige shades will look good with light summer pants or denim shorts. Casual youth style emphasized black-and-white sneakers with dark and slightly flared loose jeans.
To create a creative and luxurious feel will help you the sneakers decorated with fur, as well as models decorated with various prints: embroidery and applique, rhinestones, sequins, and satin ribbons instead of laces. Very stylish look shoes made of genuine leather. Very popular denim sneakers. Wear them on walks around town, meeting friends or going to the movies and cafes.
A bit of a hooligan look will complement the sneakers combined with ripped jeans or breeches with suspenders. If you're a fan of rock or other heavy music, go and buy sneakers with the appropriate symbols: skulls or stars.
Sneakers suggest "street" style, without strict rules in which everything depends on the imagination of their owner. Excellent sneakers is comfort and speed, as well as an indicator of good taste, looseness and freedom. Once wearing the shoes, you will not want to part with them!
Advice 4: What better to wear with leggings
Leggings – tight tight leg pants of elastic material. This garment can be plain or have a bright print. Wear leggings with clothes and accessories of different style.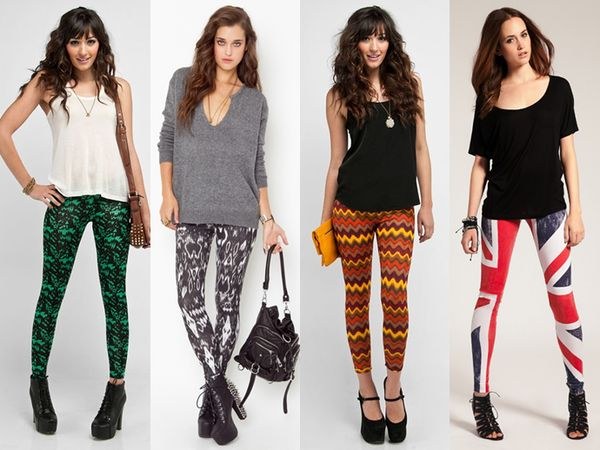 Instruction
There are several types of leggings that are related to the clothing of different style. Leggings-Capri – cropped version of this garment, a length of about 10 cm below the knee. This model is well combined with a summer of free tunics, extended shirts, t-shirts and cardigans and mini-dresses in a casual style. The quality of the Shoe is better to choose sandals, ballet flats, sneakers or sandals with a low wedge heel.
Leggings faux or genuine leather are worn as well as tight pants made of this material. They go perfectly with slim sweaters, turtlenecks, vests made of leather or suede, cropped jackets with oblique zipper. These leggings extremely appealing with feminine shoes or boots on stilettos.
Pants-the pants are sewn from dense matter, and pants of denim, called the Regency, often have pockets or belt loops. Such models, in fact, are the tight pants. It is recommended to wear with an oversized top: free sweaters, cardigans, a-line blouses and tunics, jackets, jackets detyami, etc.
Translucent leggings with lace inserts, embroidery, sequins or rhinestones is suitable for party, night club or evening get-togethers in a cafe or restaurant. This garment goes well with the short cocktail dresses and mini skirts. Shoes is better to choose a heel.
Warm leggings made of wool or dense blended fabric – great for Russian winter. Such models are perfectly combined with dresses, sweaters or long sweaters. They are suitable for any outer clothing and warm shoes since the treads on the stud and ending with boots on a rubber sole.
Leggings with print is very popular among young people. The pattern can be very different. Model with bright animal print sometimes look too provocatively and sexually, so it is better to combine with monochromatic colors clothes and shoes on a low heel. Models with crisp geometric pattern it is better to wear skinny girls with shapely legs, because they are able to emphasize all the flaws of the figure.
Wearing leggings, you need to remember that it's still not pants. Therefore, such clothes do not wear short tops and blouses. It may give the impression that you forgot to wear a skirt. This rule does not apply to pants pants, models in leather and Regency.
Advice 5: What to wear with Converse sneakers
Converse sneakers are popular all over the world. Stylish and comfortable sneakers is firmly established in the wardrobes of celebrities and ordinary girls, who constantly have their fingers on the pulse of fashion. However, even the most versatile and fashionable item need to properly combine with the other parts of the image. How to wear the famous converse we'll cover in this article.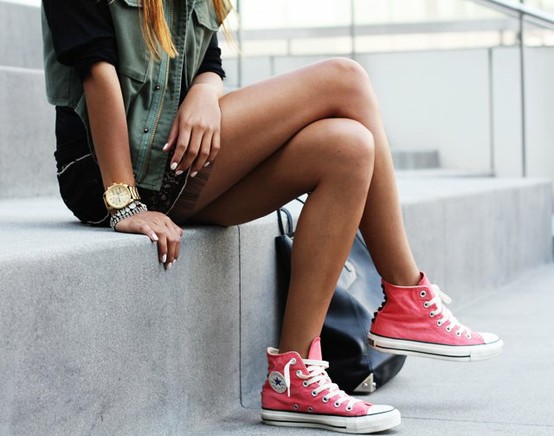 In the distant 1908 began the history of the brand Converse, when it was founded by a small production of rubber footwear for children and adults. But a decade later the company released basketball sneakers that their reliability and convenience instantly captivated athletes first in America and then throughout the world. The popularity of Converse rapidly gaining momentum, and saw the light of a collection of sport shoes for badminton, tennis and other sports. However, the company did not stop there, starting to produce fashionable and stylish shoes for outdoor activities and casual wardrobe.
And today, it's safe to say that Converse sneakers have long ceased to be a part of only sports. Consistently bright, stylish and comfortable, these sneakers are a great number of models for every taste: high and low, with flaps and without them, decorated with rhinestones, brutal sporty. This diversity and the constant search for designers brand new and original solutions allow you to create a variety of outfits and emphasize your individuality. All this makes the conversion extremely popular and beloved in the world of shoes, which can be found in the wardrobe and girlfriends and Hollywood stars.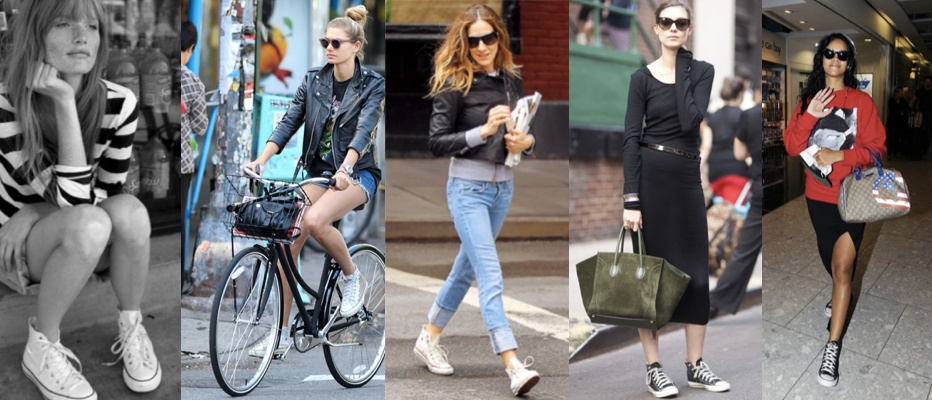 Converse sneakers are almost universal: they can walk around the city, go on a picnic with friends, work out in the fitness club, to go to work (in the absence of a rigid dress code) or even to go on a romantic date. Accordingly, and match them with different parts of clothing, creating a stylish and original images. But, deciding to buy sneakers converse, and then creating a bow with fashionable new clothes, you need to remember about the features of your figure and choose the correct combination.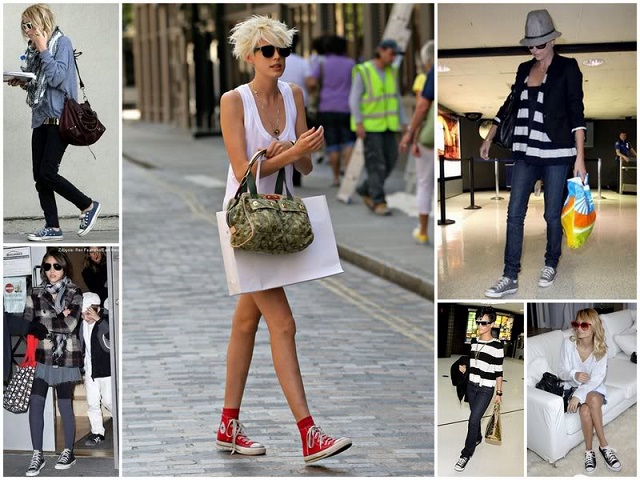 The classic combination is, of course, Converse sneakers with jeans and a variety of their styles and colors. Perfectly complement the image of a white t-shirt and a bright cropped jacket. Another win-win combination – jeans, converse and a vest. In this case, especially relevant are the white sneakers, well completion marine style. But keep in mind that if skinny jeans skinny low converse fit almost any figure, for example, strongly tapered jeans that you can tuck in sneakers, well look only for skinny girls.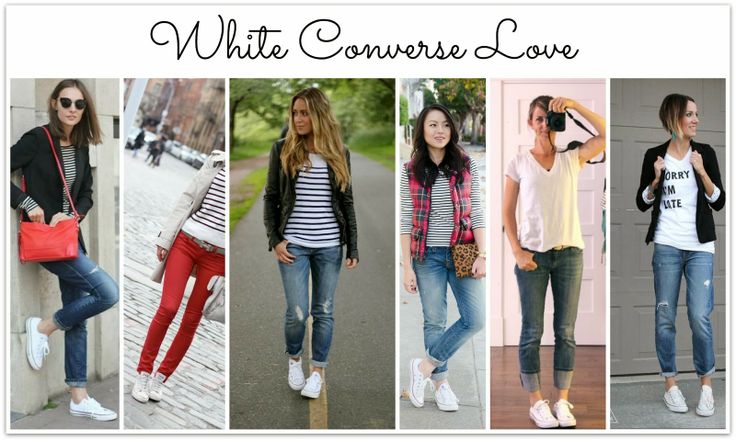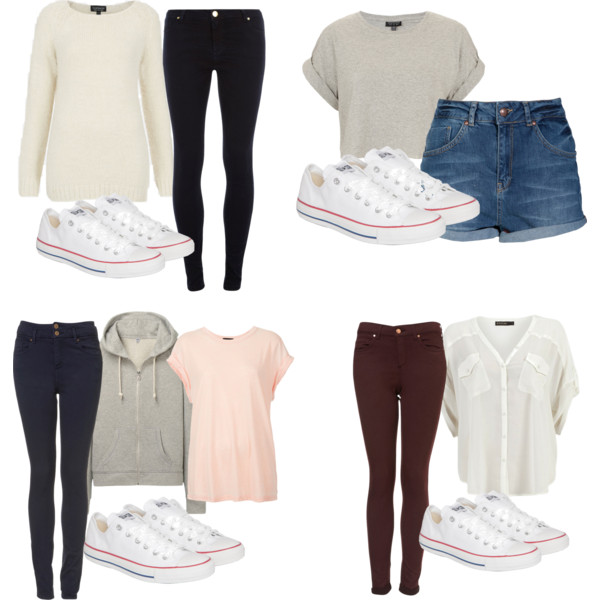 And for a summer bow to fan of converse and denim just need denim shorts combined with tops and t-shirts in different colors. Just do not overdo it: if you're wearing colored shorts or t-shirt with a bright print, then stop your choice on the classic white low sneakers.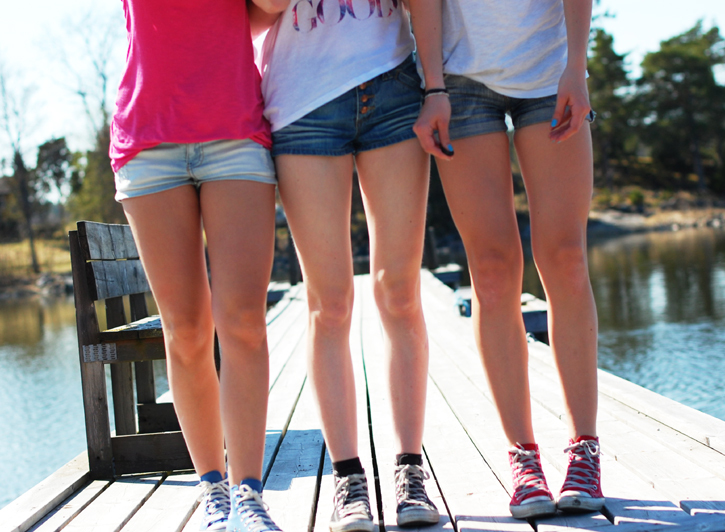 Tall, slender girls can afford to wear converse with leggings. Suitable leggings of any color, but the top it is best to choose plain and simple tank-top, long t-shirt or sweater relevant for several consecutive seasons style oversize.
Quite a common misconception that the converse, originally a sporting footwear can not be combined with skirts and dresses. It's a myth, of course. The combination of Converse sneakers with a short skirt emphasizes a slim female legs, and if you wear them with a flared skirt or skirt, a tutu, you get a romantic, touching and original image simultaneously.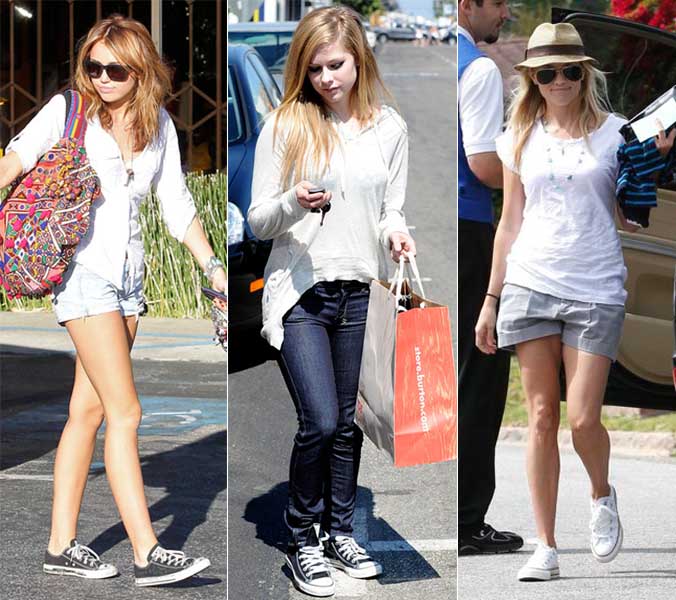 One of the most popular models of the brand low white chucks - perfect look with denim mini-skirts. To the dark shoes good black leather skirt, and red will be very relevant with a loose blouse, a colorful skirt and flashy jewelry.
The combination of converse and dresses is able to make you a real Queen of summer. Easy shirt dresses and A-line are perfectly combined with high sneakers. A low white will be fantastic to look trendy lace dress in light shades. Excellent contrast image will be the combination of chucks with a chiffon dress or skirt to the floor and a large textile bag. Just keep in mind that long dresses and skirts to wear with flat shoes can afford only tall girls, petite fashionistas also it is better to stay on dresses at the knee or slightly above.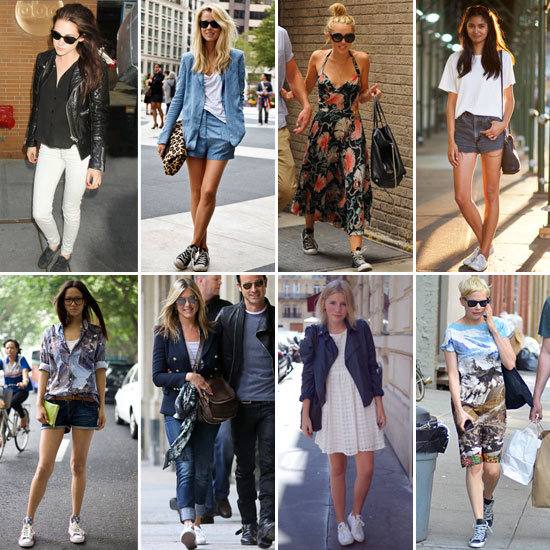 As for the combination with the outerwear, and in this case, the converse essential and universal to the most different weather conditions. They can be combined with leather jackets-black leather jackets (try it, by the way, this variant of leggings), straight coat of different lengths, with parks, bombers, ponchos and cardigans.
Whatever style you may prefer, once going into the store Converse, you will not leave without buying! These legendary sneakers will take a worthy place in your wardrobe and heart, because it's already happened with the beautiful and stylish world stars! And here you can see some celebrities in sneakers converse.