Instruction
Regular training a pit bull should include a set of exercises aimed at strengthening the working qualities of the dog. Puppy start to bring up from the first day of its appearance in your home. First, it can be a game during a walk. Gradually, the load must increase.
While walking make a pit bull run for the bike. Takes him swimming. It is useful for the cardiovascular and respiratory system of the animal, as well as to develop his muscles.
Gradually begin to train a pit bullusing exercises to foster in this fight. This training is recommended to start at ten-the age of the pet. A year of regular training a pit bull, as a rule, produced so necessary for the breed qualities as agility, perseverance, endurance and strength.
Workout, generating Pitbul endurance, include sessions on the treadmill and the skin. The first training on the treadmill should not take more than 5 minutes. Increase the time gradually to 5 minutes per week until it is equal to 1 hour. For exercises with a skin you will need a long pole with attached at its end skin. Moving skin on the ground, give your pet the opportunity to hunt for her.
More powerful dog can do weight training. The principle exercise a "Horizontal traction" is that a pit bull tied by a harness with a rubber isolator attached to the tree or pole, trying to get ahead and grab an animal pathogen, which is unattainable from the dog distance. Jumping up (exercise "Vertical thrust") perfectly develop the muscles of the hind limbs pit bull and develop their ligaments. To get the dog to jump is easy - it hang at a distance exceeding the height of the jump pet cage with an animal pathogen.
The main weapon of a pit bull in battle to serve his jaw. Therefore, in order to develop their capacity, include regular training exercise "Ring". It will require a special fixture, which is easy to do with their hands. From a thick piece of rubber make a ring, inside of which miss the thick rope. The end of the rope, cross it over a strong branch of the tree and carefully secure. A pit bull needs, standing up on his hind legs to hang on the ring teeth. This exercise develops not only the strength and depth of the grip of the dog, but the ability to breathe with a closed mouth during strong physical exertion.
Useful advice
Don't forget to thoroughly clean and weigh the dog after each exercise.
Advice 2: How to train a dog
You are responsible for your dog, for her safety and the safety of others. Therefore, a puppy of any breed, which you took to your house or plot, it is necessary to educate and train. This applies to both fighting and guard dogs, and small, almost toy Yorkies, Chow Chow and Pekingese.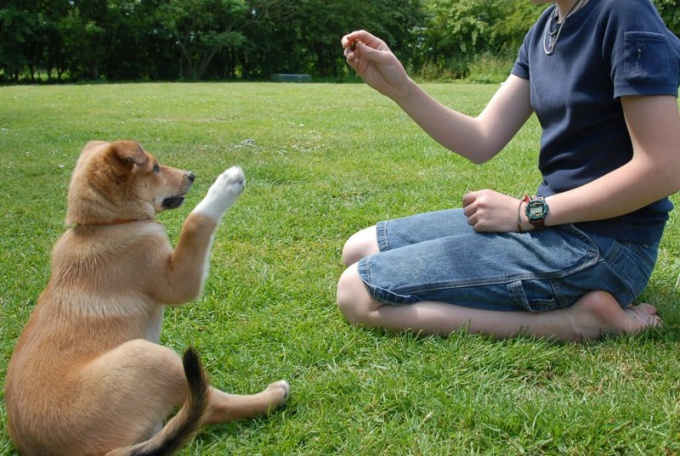 Instruction
To train and educate a dog need from its earliest days, when she little furry lump on the paws travels will appear in your home. Immediately select and organize her room for lying and feeding. They should be comfortable and not be either on the aisle or in the draft. The commands "Place" and "To me" - very first, the puppy will easily learn almost immediately, in a few days.
If you feed your pet correctly, you practice, you will be able to encourage you to use a treat that he can often see in the bowl – for example, unsalted crackers or a piece of soft mild cheese. Simple refreshments will be for the dog an incentive and well-deserved reward for diligence and obedience. Encourage your puppy not only treat, but also affection, praise him and show that you are happy with them.
Train only in good spirits and mood. The dog will still feel your nervousness, even if you try to hide it, so she will also be nervous, and worse to understand what you seek. If you don't feel tired or annoyed, then put the training and not hurt myself or the dog.
Practice commands using the advice of handlers, which are mostly found on the Internet. It is not necessary to invent their own educational methods. Use the accumulated expertise of specialists. Spend the working team, short runs for 10-15 minutes several times a day. Usually, missing two or three days, the puppy has learned the command.
Serve team clearly, highlighting their tone, do not say superfluous words, which the dog will lose the meaning of the command. Not Lisp and does not distort the words. Do not forget to constantly consolidate the commands that you have already mastered your pet and constantly return to them after a while.
To train a dog needs only one person, so even if you're busy, pay attention to her education and you will achieve what your pet will understand you perfectly.