You will need
- fur on the collar;
- material on the bottom (fur, leather, woolen cloth, velvet);
- cushioning fabric (interlining, twill dense, needle-punched fabric)
- lining.
Instruction
Pick up the necessary amount of fur and the fabric for the lining. Determine whether a cap comprised entirely of fur or will suit you the best mixed fabrics. Will watertite on the circuit pattern a side and the bottom. Keep in mind that templates are given without seam.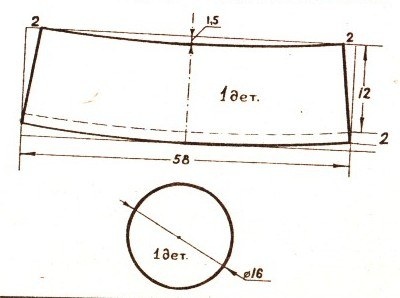 Proceed to the layout patterns. For fur details when cutting, add on all sides to the pattern of 0.3 cm On the bottom side of the pattern already contains a shift allowance on ACC 2 see Put the details on the fur, given the direction of the pile from right to left. The outline of the circle patterns on the leather side of the fur with a ballpoint pen. On the felt and the lining use for stroke chalk or soap.
To find details of the fur need a sharp scalpel or razor blade. Scissors to cut the fur can not. The cushioning material of the cutting parts without allowance for ACC on the bottom edge of the rim. For the rest of the slices make a seam 1 cm From the lining fabric will have plenty of parts with margins of 1 cm on all edges except the bottom.
Sew the short cut of parts of the rim by hand (for fur) or by car. When stitching fur please note that the skin is not stretched and did not preserialize. Vsheyte detail at the bottom. Remove fur head inside out and put on top of the detail of the fabric. Seams must match. Hem the head to the cap seam "goat", while paving sized tape from any tape. Allowance for the bottom hem of fur of the part (2 cm) remove inside out and hem the strip, lightly grasping needle leather fabric.
Sew sections detail lining. Ratatouille seams. In inside-out fur head wear lining. Tuck the bottom hem and cut manually concealed stitches.
Remove the product. Lightly moisten the fur. Smoothen fur brush and comb, metal comb. Lint caught inside the joint, remove the needle. Dry headpiece at room temperature and more races, comb the pile.
Note
Fur with a long NAP for caps kubanek not very suitable.