The flowers intended for laying on graves or to the memorial steles are divided into artificial and natural. Artificial colors include composite wreaths, decorated with rosebuds and ribbons, imitation Christmas tree branches, baskets of plastic or paper flowers, bouquets and different colors. Artificial flowers are durable and able to stand long in the open air.
Flowers and wreaths
Do not buy wreaths or bunches of bright artificial flowers, it is better to choose more reserved tones, such as Burgundy or purple.
Bouquets of deep red roses pinned on the graves of the dearly departed people, a symbol of live blood and sorrow.
Of flowers traditional funeral are:
- white lilies,
- chrysanthemum,
- red carnations,
- dark red roses.
White lilies characterize the cleanliness and integrity, they Express a sincere and kind attitude towards the deceased person. Usually they lay on the graves of girls and young women.
With the help of red carnations you Express your respect to the man, no wonder these flowers are popular in the attribution to various monuments, this flower signify the gratitude.
Lay on the grave a bouquet of white chrysanthemums will symbolize sincerity, a sense of familiarity and openness. These flowers bring dead friends.
Composition
On the anniversary of death or birthday of the deceased bring flowers on the grave is not accepted, it is possible to buy floral arrangements of live or artificial flowers. It is worth remembering that the colors in the composition must be an even number. Laying flowers on the grave need of the Bud towards the head of the deceased person.
Cut flowers will symbolize inanimate beauty, goodbye.
Many opt for artificial wreaths because they do not spoil as quickly as fresh flowers. However, if a grave or memorial is a care, fresh flowers will be appropriate, after all, dried quickly will be removed.
When you buy flowers still rely on their feelings, emotions you want to Express to the departed man. If you will not be able to attend the funeral services, it would be appropriate basket of flowers at home, again subdued cool colors, expressing sorrow. Without unnecessary detail in the form of decorations, brevity can be very useful approach for the design of such a bouquet, which is designed to support the families of the deceased.
Advice 2 : What flowers bring to the funeral
Funerals are always terrible shock to close friends and relatives of the deceased, even if we are talking about the death of old or seriously ill person. To observe in such circumstances, tradition is very difficult, but you need to try to do it, paying special attention to the colors that will be brought to the coffin and laid in the grave.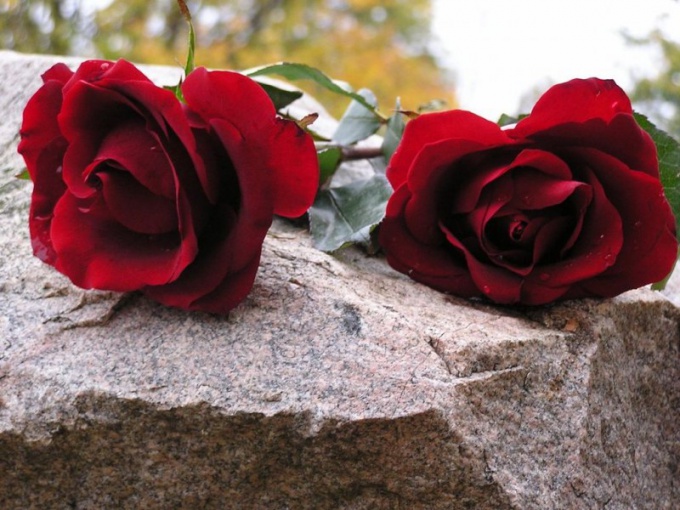 What kind of bouquet is appropriate to bring to the funeral
It is advisable to choose for a funeral bouquet of even number of colors not exceeding 12. Of course, it is doubtful that someone will count the plants, but to keep the tradition still stands. Also note the design of the bouquet. The best option is to bring the individual flowers are not bonded to each other, because all the bouquets all the same mix and put it first in a coffin and then the grave. There is another option –
flowers
, tied with black ribbon. Jewelry, and modest, is only valid in baskets and wreaths.
Carefully choose the colors of the bouquet. Here are two important rules. First, in any case, you cannot select a variegated composition. Secondly, it is desirable to give preference to white, red, blue, purple, Burgundy shades, but not yellow, orange, pink, cream. If you knew the deceased, and he was a close person for you, pick up his favorite flowers the right shade – it will be a good symbol of your respect and love.
What flowers to choose for a funeral
Very often the funeral bring red and Burgundy roses. There is a certain symbolism. These flowers will mean love or blood relationship, or that people have lived a hard life and very hard to die, but now his suffering is over and he has no more pain. Similar are the red carnations which are also suitable for burial.
If you want to Express respect for the deceased or to show that he was an honest, sincere person with pure soul and thoughts, choose lilies and violets. These flowers should be placed on the grave of a spiritual person or a deeply religious person.
Also often choose plants, symbolizing rebirth or eternal life. In particular, we are talking about the iris: these flowers with the dark buds will mean that the deceased continues living in the hearts of their loved ones. It is appropriate to add any funeral bouquet willows, symbolizing the transition of the human soul to the other world and its eternal life. You can use any number of willow twigs at your discretion – their number may not be even.
Also good option would be to use sprigs of cypress, yew or arborvitae, complementing the flowers. They will also mean the life of the soul, its rebirth in another body or in another world, and respect for, love for the deceased and sorrow associated with his death.
Advice 3 : What flowers to buy for a funeral
Flowers accompany people not only throughout life but even after death. For day of memory and grief there is a special arrangement of flowers, which expresses respect and love for friends and loved ones who have left this world.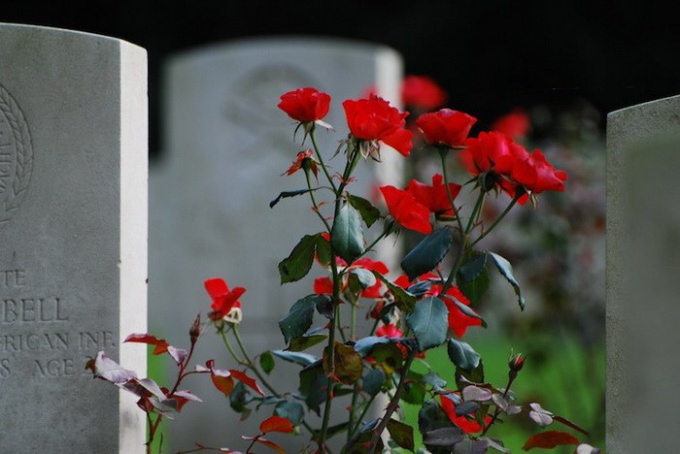 Instruction
In European countries for funerals often bring flowers yellow, because it is the color separation and sadness. In Russia and neighboring countries are considered to be the appropriate flowers are red, blue and white colors, while yellow is perceived as an inappropriate connotation because of the excess brightness.
White and other light colors bring, usually at the funerals of young people or children, because this color symbolizes purity and tenderness. The older the deceased, the more dark colors for example. Purple, blue, dark red flowers are considered to be the most suitable options.
You can Express your emotions with a suitable flower arrangement. Instead of the traditional colors, you can use evergreens in matching ceramic pots. The yew, cypress, thuja will help you to show that the deceased will remain in your heart forever. Irises for many centuries, symbolize the hope for a revival. Laying these
flowers on the grave
of the deceased, you emphasize that he will live in your heart forever.
In Russia the basic "funeral" flowers are carnations of different colors and pale rose. If you know exactly what flowers the deceased liked in life, make a bunch of them. This will help you Express your respect and affection departed in the world other person.
It is believed that the number of colors must be even, but this is true only for Russia and several neighboring countries. Fresh flower - an ancient pagan tradition. The fact that first of all even numbers carrying negative meaning, symbolizing death and evil. For bouquets, which contain more than twenty flowers, this rule does not apply.
Instead of a bouquet you can bring to the grave of the traditional funeral wreath is a symbol of the cycle of rebirth and immortality of the soul. Of course, artificial wreaths are much easier and more practical natural, but still they cannot compare with wreaths of flowers.
Funeral wreaths are usually made up of a hundred or more flowers arranged on a circle. Usually they are intertwined with green pine branches or fern leaves. Variety used for making wreath of flowers carrying a concealed value. So, red roses speak of long life and heroic death. The wreaths placed on the graves of young people who can present lilies and Calla lilies. They signify hope and purity.