Instruction
Running – a great opportunity to practice endurance and give your heart the location of the load. But consider Jogging as a panacea against excess weight and strengthening your muscles is not worth it. Only in combination with other physical exercises you can get results from Jogging. So, first determine what goal you pursue, and make a schedule of workouts.
For example, running is part of the training aimed to weight loss. So you have at least three times a week training in the gym or Cardinale. The remaining three days of the can and run and one day leave for rest and recovery. If you think about it, three paces in a week not so much. Moreover, in freezing temperatures and rain the tracks of the Park replaced the treadmills in the fitness club.
Start to run in nice weather and comfortable temperature. The ideal time for Jogging is 7-8 o'clock in the morning. The body is slowly waking up, and it is possible to give optimal load. Start running 20-30 minutes a day, gradually bringing up to an hour. How long you will run during this time, it depends on you. Start to run in the mode that you are comfortable with. In the race no matter how to run, important - like.
In the first weeks the body will get used to the loads, and you will experience unpleasant consequences in the form of muscle pain. But any discomfort quit running impossible. You need to endure these painful days. But then you will begin to experience the fun of feasible loads.
Do not expect instant results. To achieve perfect form only in the regular classroom for quite a long time. Adjust yourself that you need a lot of time. You can't program yourself that need to lose weight in time for swimsuit season, which starts in about a month. Miracles do not happen, and you will suffer frustration and a feeling that all the effort spent in vain. Set more realistic goals.
For someone a good incentive for a morning jog becomes someone's example. If you take the figure of Jennifer Lopez the standard of beauty. So put her picture on the bedside table and whenever you in the morning want to sleep longer, you will come across her ideal. But this body is the result of long and hard work.
Note
Question: how do you motivate yourself to run in the mornings?what result will I get.Answer: In the morning, really run. The body after sleep needs gradually to Wake up smoothly and running is a sharp stress on the heart. so, maybe we don't have to force yourself.
Useful advice
All people are divided into larks and owls. If the first does not cost anything to Wake up at 5 am and start the day with a run, the owls will likely be useless to torment yourself an early rise. Not awakened until the end of the body is not able to run at full strength, and you just really get tired quickly.
Advice 2 : How do you motivate yourself to run
Sedentary lifestyle, poor environment and poor nutrition have a negative impact on our health. Everyone starts to fight in his own way. Someone decides to run every morning or every evening. But how
to get
up off the couch and put on your running shoes?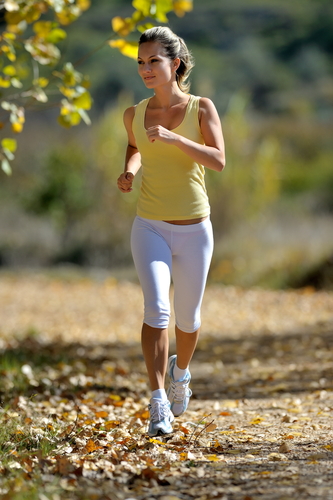 Instruction
What time to run - a controversial issue. Someone runs in the morning to cheer up, to freshen the tone and start the day. Someone chooses the evening, claiming that to trouble your body at bedtime when he has a whole night of rest. If you favor Jogging every morning, immediately after waking up, take a cold shower. It will Wake you up and give you the muscle tone. After this it is much easier to force yourself to go out. In addition, you combine a run with another method of strengthening the immune system - a contrast shower.
A very good way to force yourself to run - walking the dog. Your pet will not give you a moment's rest, and in any case will get you on the street. In addition, most dogs are big fans to run at high speed. Run through the Park together will be much more fun. In this case you can say that you are walking your pet, and he you.
If you are not attracted to the prospect of easy running, you can resort to the rollers. Muscle, of course, are not exactly the strain that running, but you will be able to accustom themselves to the daily attacks and will train legs. In addition, for many people, the skating seems to be a pastime much more light than normal Jogging. Use the summer months to get used to physical activity, if not daily, then at least more or less regular. And when it's cold and rainy, you won't be able to sit around on the spot and go to run, and when snow could be skied.
The support team are great, so ask friends to take part in your new hobby. Let one of them (some early bird and probably among your friends is such) wakes you up in the morning bell, and a loud cry into the phone "For a run to become!". But even better to inspire your friends really pull them out the whole crowd with you to the Park or on the waterfront. You'll see, if there is even a small company, make yourself out to be much easier. Choose a beautiful place for place for Jogging with friends, where you are not so often due to work or study. This will be another incentive to get up early and pull on running shoes.
However, all these tricks will not work if there is no main thing - understanding that you really need it. Once again watch your health, look in the mirror, compare themselves with others. Understand that constant level of physical activity necessary to hold and not office chair and stale air will age you prematurely and make you into a wreck.
Note
In no case do not overdo it, do not go too far. Such an attitude to the run will make it worse. You need to start gradually, carefully listening to your body.
Useful advice
Choose comfortable clothes made of natural materials and shoes designed specifically for running. This will make sports more useful and more enjoyable.