You will need
pan-fried: 500 grams of mullets
1 tbsp flour
60 g sunflower oil or ghee
quartered lemon
For fried mullet in Chinese: 500 grams of mullets
2 eggs
vegetable oil
bread crumbs
For mullet
roast in the oven: 1 kg mullet
0,5 tbsp. vegetable oil
1st.l. chopped parsley
a half of a lemon
For mullet in anchovy sauce: 4 pieces of mullet
8 PCs anchovy fillets
flour for dusting
0,5 tbsp. orange juice (preferably freshly squeezed)
4 tbsp peeled and seed and finely chopped tomatoes
chopped parsley
For mullet-fishing: 1 kg mullet
8-9 potatoes
4 tomatoes
4 medium onions
1/3 Cup vegetable oil
¼ Cup milk
half a Cup of cream (sour cream)
half of the roots of carrot and parsley
Instruction
Fry mullet in the pan.

Fish cut into portions. Sprinkle with salt and ground black pepper, zapaniruyte in flour. Heat the oil in a frying pan and sear the fish on both sides until browned.

Serve ready mullet with fried potatoes. Pour all the oil on fish put a slice of lemon and garnish the dish with dill or parsley.
To cook fried mullet in Chinese, the fish clean, and RUB with salt and ground black pepper to taste. Whisk the eggs. Mullet dip into the egg batter, then obvalivat in bread crumbs and fry (cut into pieces) fried.
Mullet you can fry in the oven.

Clean and gut the fish. Make it cross cuts. RUB with salt and pepper to taste, sprinkle with lemon juice. Pan grease with vegetable oil, put on her fish. On top pour the remaining oil and lemon juice. Preheat oven to 200 degrees and put the pan. Fry the mullet for 20-25 minutes.

The finished dish sprinkle with parsley.
Very tasty mullet in anchovy sauce. This dish is cooked using the grill.

Warm up the grill. Mullet peel and disembowel. On each side of each fish make diagonal cuts. Anchovy fillets, cut into 4 pieces each. Place a slice in the slots.

Flour salt and pepper to taste. Roll it the mullet. Then brush the fish with oil, place on very hot grill and cook until tender. The crust should be browned and crispy. Put the mullet on a dish. Drain from pan and grill the resulting juice.

Mix the remaining pieces of anchovies, tomatoes, orange juice, juice from the pan. Put all on the fire and boil until the state of sour cream. Pepper sauce. Pour it over the fish. Decorate the finished dish with capers and orange slices.
For a family dinner, prepare original dish – mullet-fishing.

Clean the fish, gut it. Remove gills, fins and tail. Rinse under running water. Large mullet cut in half. Fold the product into a bowl, add salt, pepper, cover with milk and leave to stand for at least 10 minutes. Then roll the fish in flour and fry in vegetable oil until Golden brown. Put the product in the baking dish.

Finely chop the tomatoes, onions, carrots, and parsley. Spoon the mixture into a heated pan with vegetable oil, fry, add a little water and simmer 30 minutes on low heat. Then remove the pan from the heat and allow the mixture to cool and strain it. Grind vegetables using blender or RUB through a sieve. Again put the mixture on the fire, add salt to taste, sugar, black pepper, cumin. Pour in a little vinegar. Stir and bring to a boil.

At the same time mix in cream or sour cream with flour, pour in the boiling sauce, let it boil again and pour over the mullet. The form, close the lid and place in the preheated oven for 5-7 minutes.

The mullet is ready serve with fried potatoes. Dish sprinkle with finely chopped parsley and dill.
Advice 2: How to cook a mullet
The mullet
is found in the warm southern seas of Russia in the Azov, Black and Caspian.
Mullet
of the Caspian sea is less fat, but big. Meat mullet white is quite oily, no small bones. All varieties of this fish is perfect for frying, boiling and grilling. To complement the mullet fennel. Very tasty smoked and dried mullet. But the real taste of this fish can be felt,
prepared
her for a couple.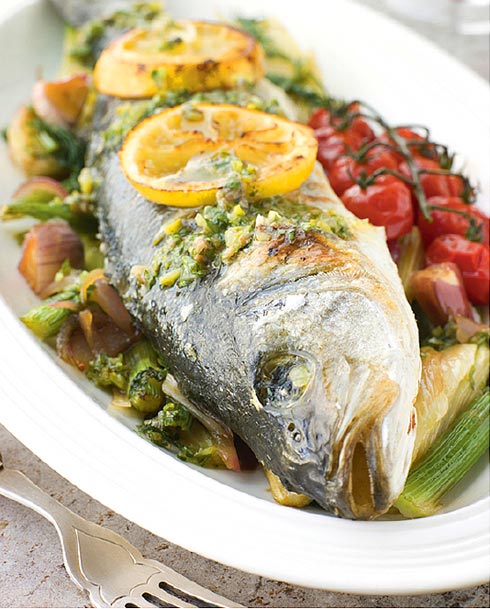 You will need
3 medium onions
3 potatoes
3 medium carrots
leek - 1 piece
olive oil
lemon
mustard
200 gr. cheese
salt
pepper or
mullet - 1 kg.
onions - 2 PCs.
4 garlic cloves
1 glass of wine
herbs fennel
parsley
salt
pepper
milled crackers.
Instruction
Mullet clean, gut and rinse thoroughly, remove the head. Make a deep cut along the spinal bone. Then divide the fish into two fillets, making a small undercut along the edges. Fillet salt, pepper and sprinkled with juice of half a lemon.
Peel the carrots, onions and potatoes. Grate two carrots, and the third cut into cubes. The remaining half of the lemon and leek cut into rounds. Potatoes cut into quarters. Cheese grate on a fine grater. Mix together the olive oil, salt and pepper. Sliced carrots, potatoes and leek and add to a Cup of butter, stir and put in bottom tier of steamer.
In the upper tier of a double boiler, place onion rings on top of them - a piece of mullet fillet. Smear it with mustard, sprinkle with half grated carrots and cheese.
Then lay the second fillet, also sprinkle with cheese and carrots. Top off mugs of lemon.Cover the steamer with a lid, cook for twenty minutes.
If no double boiler, cook this wonderful fish in the oven. Heat the oil in a pan. Slice the onion into thin slices, put it in a heated pan and saute for about ten minutes. Cooked gutted a large carcass mullet RUB both sides with salt and pepper, put the garlic, greens of fennel and parsley. After that, put fried onion into a deep baking tray. Put the fish, pour her wine and sprinkle with breadcrumbs.
Close the baking sheet and bake for 10-15 minutes, then remove the lid and leave for another 10-15 minutes, until the fish is easily removed from the bone. Serve, garnished with sprigs of fennel.
If you are not able to find big fish, prepare a few small.
Useful advice
Sometimes in the abdominal cavity of mullet found in white fat. It needs to be carefully separated.
Advice 3: How to catch mullet
There are several methods of catching mullet: complex float rigs to sophisticated combined tackles, but for a good time and a good catch is better to use proven options for experienced anglers.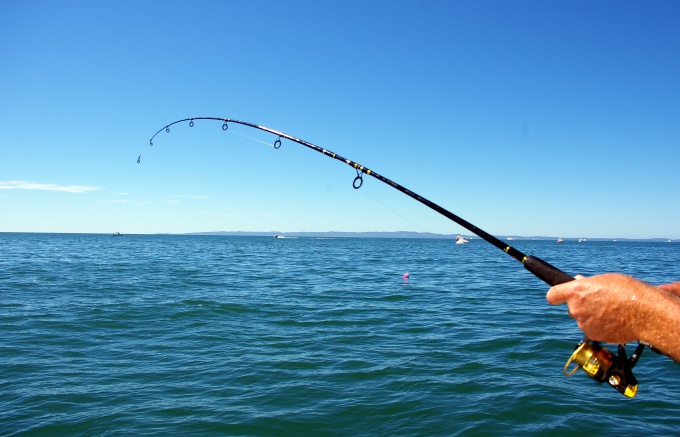 You will need
poplavny rod
Donka,
spinning,
poplavnoi the Seine
Instruction
The most common way of catching mullet – an ordinary float rod. Mullet – fish is very cautious, so if you are going to fish in the clear water, it is best to apply the most thin (less than 0.15 mm), fishing line and hooks №4-5. Float choose sustainable, with camouflage coloring. Try not to make sudden movements, otherwise the fish will notice you and move to another place. Keep in mind that catching mullet on a float the early morning with complete calm. As nozzles use the bread crumb, sea worms, mussels, chunks of fresh fish.
The float rod is hard to throw away, so on long casts rather preferable to a Donk. The main line in this case should be no more than 0.2 mm and the leads is smaller than the diameter of the line, about 0.15-0.18 mm. In comparison with a float rod, Donk – tackle less sensitive, so empty of bites can not be avoided. Try to fish "by eye", rather it is cut as soon as I saw that mullet took the bait.
Spinning is used for catching large mullet slowly passing flocks close to shore. The top of the spinning is better to choose thin, so the fish easily podscasts. On the shank of the hook to fasten the fine-pored foam, painted green. Hooks, with its light foam, quickly pop up and not get lost in the weeds.
Summer on the South coast of the Crimea, mullet poplavnoi are sometimes caught in the Seine net, which is a tackle composed of thick fishing line with a large number
of leads
.
The Seine net
cast as bottom fishing, using a hundred or more leads and hooks with a width of 6-7cm. every 2-3 meters to the line tie plastic tube.
Useful advice
Bait mullet.
Even the most simple bait acts on the mullet perfectly. For this you can use any fish product, from finely chopped pieces of bull to the remnants of the soup.
Advice 4: How to fry on the grill pan
Before the grill pan used only by chefs in restaurants. Now to buy this can afford any hostess; grill pan are not much more expensive than their classic counterparts.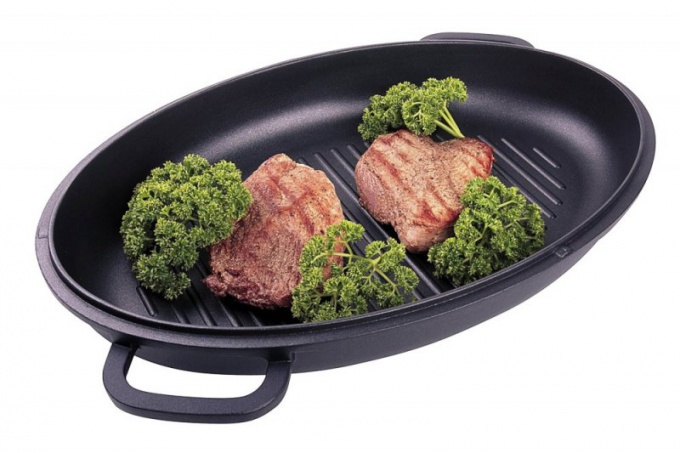 You will need
- scoured grill;
oil;
water;
the spatula or brush;
products.
Instruction
Choose the most convenient form of pan-grill. They are round, oval, square or rectangular. Some like a waffle iron – they not only have a corrugated bottom, but the same cover. Ribbed surface that mimics the barbecue grill evenly distributes heat and allows you to cook with virtually no oil.
Find suitable material. Cast iron skillet-
grill
due to the thick walls allows you to cook a very flavorful, rich dishes. However, it is heavy, long time warms up and difficult to wash off. Frying pan with Teflon coating is heated and washed quickly, but require special care. It is easily scratched. Such
pan
-
grill
food is not always fried evenly and sometimes burning. While the best option is to pan
grill
ceramic coating.
When frying use oil at a minimum. They need a bit of fluff protruding strip of bottom that will be in contact with food. It is better to use a brush for the grill or silicone spatula. There are special devices of type of atomizers for spraying the oil. To oil, add a little water.
Fry pan
-
grill
meat, fish, seafood, vegetables, cheese and toast. All this food is cooked faster than in a normal pan, high quality fried, and the result is more useful. Vegetables enough to fry on both sides in 5-10 minutes, sprinkle in front of it with salt and spices. The fish should cook a little longer, and this should be done very carefully because it may fall apart (the best option to grill cod and salmon). Use the pan-
grill
a pizza!