You will need
carcass or fillet of salmon;

2-3 bulbs;
1 large carrot (or 2 medium);
150-200 g of hard cheese;
vegetable oil;
Cup sour cream;
a tea-spoon of flour;
teaspoon of butter;
spices to taste;
salt.
Instruction
Clean fish from the scales (if you have the carcass, not the fillet). Cut her head, tail, fins, and divide the salmon along the spinal bones in two layers. Cut out the backbone and remove bone. The resulting fillet wash and cut into pieces of medium size.
Peel and mince the onion. Wash, peel and grate on harmful grated carrots. Pour into the pan vegetable oil and sauté the onions and carrots until Golden brown.
Separately, prepare the sauce. Put the sour cream in a small saucepan and heat over medium heat. When it boils, add a teaspoon of flour mixed with the same amount of softened butter. Thoroughly mix all and boil for one to two minutes. Then remove the sauce from heat and cool.
Take a deep form or pan and thoroughly grease it with vegetable oil. Put an even layer of roasted vegetables. Salt the fish pieces and place on the vegetables. Further, the layers alternate.
Pour the fish with vegetables sauce.
Grate cheese and sprinkle the fish sweets on top. For convenience, you can pre-mix grated cheese with sour cream and spread on the fish already prepared mass.
Preheat oven to 180-200 degrees and put the form of fish. Note: oven must be well heated. Otherwise, the bad fish will be baked and will dry out and become tasteless.
Bake until tender about twenty or thirty minutes. When the cheese crust is browned, remove the dish from the oven. Transfer to a plate. Wash, dry, finely chop the herbs and sprinkle over the finished fish "Gourmand".
When cooking fish gourmet can layers do not alternate. Put on a greased baking tray pink, and on top of each slice place a "cap" fried onions with carrots. Next cover with cream sauce, sprinkle with cheese and bake in pre-heated to 200 degrees oven until ready.
Note
Bake the fish preferred the small, deep trays.
Useful advice
In sour cream sauce, you can add any spices to taste.
Advice 2: How to cook healthy pancakes with flax meal
Flax is a plant that has been known for its beneficial properties even in Ancient Russia. Get the flour, ground flax seed. This meal contains fiber, magnesium, potassium, vitamin B1, B2, B6, vegetable protein and many other essential body substances. To extract the maximum benefit from Flaxseed meal, add it to your daily diet. The best way - prepare recipes using Flaxseed meal. If you prepares healthy pancakes with flax meal, get a delicious dish for Breakfast. And even who is a supporter of healthy eating, tender pancakes are sure to enjoy.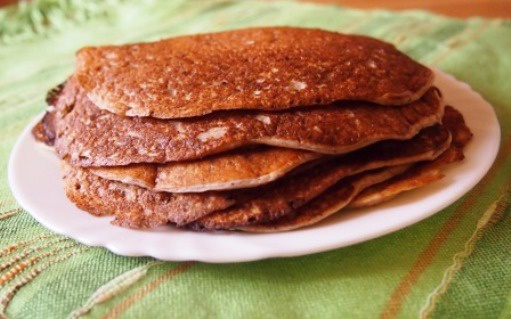 You will need
- 1 Cup wheat flour
- 1, 5 cups of yogurt
- 0.5 Cup of flax flour
- 0,5 teaspoon of baking soda
- 1 tablespoon Apple cider vinegar
- 1 tablespoon refined olive oil
-1 tablespoon of refined sunflower oil
- salt to taste
- 1 egg
Instruction
Pour the yogurt in a deep bowl, add the egg. Whisk thoroughly. Sift the flour and add it to the yogurt. Beat well with a whisk. Sift the flour of linseed, add it to the mixture and also mix well.
Extinguish soda with one tablespoon of Apple cider vinegar and add it to the mixture . Pour one tablespoon of olive oil. All beat well with a whisk.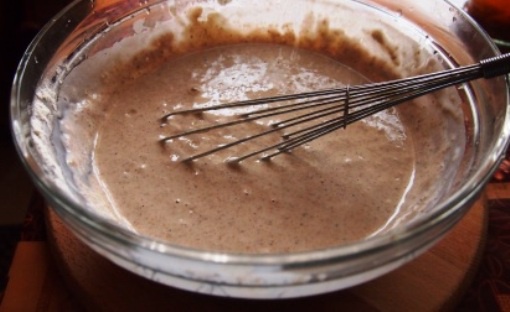 When the mixture to prepare a pancake with flax meal is ready, heat a pan and pour in her vegetable oil. Proceed to baking pancakes. A large spoon pour the mixture into the pan. Turn it to different sides, so the mixture is spread on the pan with a thin layer.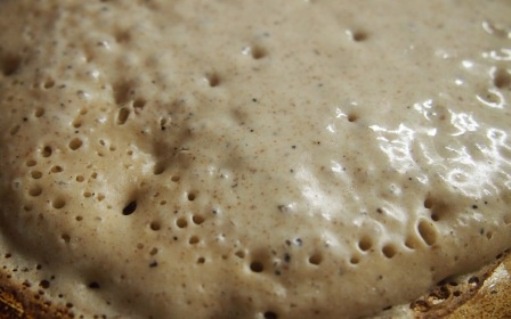 As soon as oladushki will appear holes, flip it to the other side. Remove from the pan as soon as the pancake is browned and on the reverse side. Pour vegetable oil only when the first muffin is baked.
If you use a pan with ceramic coating, all the other pancakes with flax meal, are easily removed without the use of oil.
Useful advice
If you find it easier to cook the mixture for pancakes with flax meal in a blender - use blender.