You will need
800 g fillet of Kaluga;
7 white mushrooms;
3 eggs;
2 heads of onions;
50 g butter;
7 potatoes;
1.5 cups sour sauce;
half a Cup of grated cream cheese;
salt.
For sour cream sauce:
25 g flour;
25 g butter;
250 ml mushroom broth
100 g of sour cream;
salt;
pepper.
Steak from Kaluga:
fillet of Kaluga;
sweet peas;
dill;
garlic;
salt;
vegetable oil.
For Kaluga with potatoes in mushroom sauce:
800 g fish;
10 mushrooms;
1 onions;
1 tbsp flour;
Bay leaf;
4 peas of fragrant pepper;
500 g potatoes;
2-3 tbsp oil;
2 tablespoons breadcrumbs;
salt.
Instruction
Kaluga-Moskovskaia fish fillets flat pieces, heat the oil in a pan, fry the fish on both sides. Cook mushrooms in salted water, chop onions, wash and peel the potatoes, cut them into small slices. Fry in a pan onion until Golden brown in separate pan, fry the potatoes until cooked.
Boil eggs, cool, cut into wedges, grate cheese on a coarse grater. Fry in butter flour, pour a thin stream of the broth, stir to avoid lumps, add the sour cream and cook over low heat for 10 -15 minutes. Remove the sauce from heat, season with salt and pepper, add the rest of butter.
Grease a heatproof dish, put in the center pieces of fried fish, around fish – fried potatoes. Put on top of fish and potatoes fried onion, slices of boiled eggs, cooked white mushrooms. Cover with cream sauce, sprinkle with cheese and bake in the oven until the cheese melts enough to become homogeneous.
Steak calogeromoser fillet, cut into pieces of a palm size. Heat the oil in a pan, fry fillets on both sides in high heat for 1-2 minutes. Place the fish on the foil and squeeze the garlic on top, season with salt.
Wrap the fish in foil and put in the oven until cooked. Chop the dill, sprinkle it on the finished fish, wrap again in foil.Leave to simmer for turned-off oven until the oven has cooled.
Kaluga potatoes with mushroom zosavanie potatoes, boil in "uniform", peel, cut into slices. Boil in salted water mushrooms, coarsely chop, slice onions, heat the pan fat or oil, put in mushrooms and onion, fry for 5 minutes. Through a sieve sprinkle mushrooms and onion with flour and fry for another 3 minutes, then place in a saucepan.
Boil 2 cups of water, add salt, add the Bay leaf and pepper, pour the mushrooms and onions, cook over low heat until the mixture thickens. Fish fillets cut into portions, salt, bread and fry on both sides until Golden brown. Grease a baking dish with oil, place onions and mushrooms on top of the fish, surrounded by the potatoes, sprinkle with rest of breadcrumbs and bake in the oven for 10 minutes.
Advice 2: How to cook fish Cupid
White Amur - river fish. The bones in it a bit and the meat has no taste Tina. There are many different recipes of preparation of dishes from carp.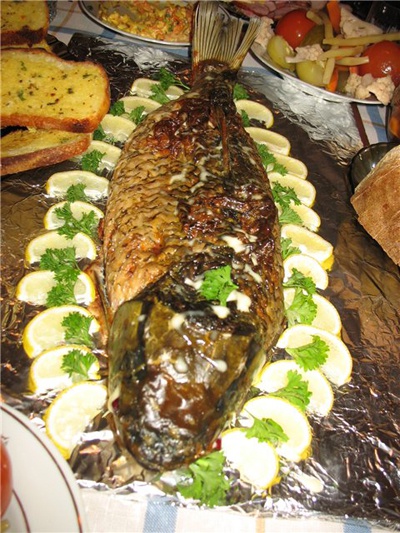 You will need
carp - 1 kg;
fresh mushrooms - 100g;
rice - 50g;
salt;
onions - 2 PCs.
With vegetables:
carp - 1 kg;
mayonnaise;
sesame seeds;
potatoes - 6pcs;
tomatoes - 2 PCs;
onion - 1 piece;
lemon;
greens.
Skewers:
carp - 1 kg;
tomato paste;
sour cream;
salt;
pepper.
The meatballs:
carp - 1 kg;
egg - 3 PCs;
flour;
salt;
vegetable oil.
Instruction
Carp stuffed with mushrooms and rice decorate the holiday table and cooking it will not take much time. For starters, clean the fish, gut the inside, remove the gills and rinse thoroughly under running water. RUB with coarse salt and leave it for a while. Sort and rinse fresh mushrooms, cut into strips. Clean the onions and finely chop. Preheat the pan with vegetable oil and fry together with mushrooms. In a separate vessel boil the rice. Then mix with mushrooms and onions. Add the mayonnaise. Rinse the fish from the remnants of salt and nafarshiruyte. Abdomen kill it with toothpicks. Lay the carp on a baking sheet and bake in preheated oven 40 minutes.
Carp with vegetables - a delicious and hearty dish that will decorate your table. Fish wash, peel and remove the guts and gills. Rinse again under running water. RUB fish with vegetable oil, spices and salt. Put fresh herbs. Slice potatoes, tomatoes and onions. Place the fish on a baking sheet with vegetables. Grease the top with mayonnaise and sprinkle with sesame seeds. Bake 30-40 minutes in preheated oven until the 170S.
For variety, you can make skewers of carp. The delicate flavor and delightful aroma will not leave you indifferent. Fish clean, wash under running cold water and have to pieces. Make a marinade. Mix tomato paste and sour cream. Add salt and pepper to taste. Carp leave to marinate for a few hours. Then fry on coals until tender.
The meatballs of grass carp suitable for a family dinner or holiday table. Fish clean, gut, remove gills and rinse under cold water. Have to pieces a thickness of about 5cm. In a bowl mix the flour, salt and pepper. Break the eggs and whisk them. Roll each piece of fish in flour, egg and breadcrumbs in turn. Preheat the pan with vegetable oil and fry it carp until Golden brown. Then cover, reduce heat and cook for another 10 minutes.