Instruction
White shirt can be returned in different ways. The most common of them is the normal
bleach
sold in any Department store. In order to bleach the thing in this way, add the bleach when machine washing to washing powder. The dosage for each bleaching agent has its own. It is specified by the manufacturer. Not to spoil a thing, see maximum washing temperature on label.
You can use the grandmother's method. Boil shirt with the addition of "White". This method is highly effective. However, the fabric with such a rigorous whitening will quickly wear out.
You can bleach a shirt with "White", even without boiling it. To do this, simply add to hot water as indicated on the packaging of proportion. Keep the item in the solution only a couple of minutes. Then rinse thoroughly in warm water. Then again down into the solution. After a minute, remove and wash in the usual way.
Try the bleach thing with ammonia. Dissolve in hot water to five tablespoons of alcohol. On the half hour put the white shirt. After that rinse well.
In addition, a white shirt, you can quickly and easily bleached using hydrogen peroxide. 2 liters of water take one teaspoon of peroxide. For best results, add a pinch of soda ash. For 20 minutes place the white shirt in the resulting solution. Then remove it and wash it in the usual way.
Note
Before using any chemical bleaching agents, carefully read the instructions for use. Otherwise you risk to spoil a white shirt.
Useful advice
All of these whitening methods can damage some synthetic fabrics. Therefore, in order not to spoil a thing, better take it to the dry cleaners.
Advice 2: How to wash shirt
Shirt often is not only a staple, but an indicator of style and status men. Therefore, it should always be clean, fresh and ironed. A textile company is recommended to wash the shirt at least once in two days. However, frequent washing of the product can come into disrepair, so there are a few simple rules for the washing of shirts.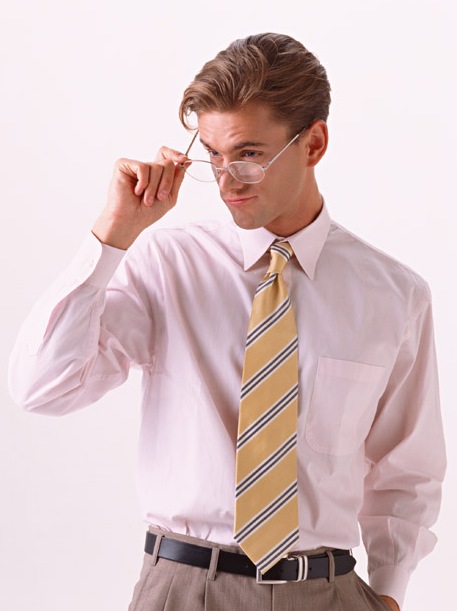 Instruction
The easiest way to attribute things to the dry cleaners. After a few days you'll give them clean and fresh. However, this may not always be cheap, and some fabrics are not suitable for dry cleaning.
Washing by hand is the most commonly recommended option of washing shirts. The fabric is not deformed, which means that the thing will serve you. Ensure the water temperature does not exceed forty degrees. First the shirt soak paying special attention to the collar and cuffs. Lather, and then go over them several times with a special brush for the fabric. If there are stains, apply some stain remover. In a few minutes you can start to wash the shirt. Many manufacturers do not advise pressing shirts, so after rinsing, just hang your garment on a hanger and allow drying.
To wash the shirt you can also in a washing machine. As hand-washing, the shirt should be first soaked and the cuffs and collar are greasy. Then wash it in machine in delicate washing at a temperature of thirty degrees. It is desirable to use not a powder, and soap. Disable the function of pressing and drying, the fabric remains soft and not wrinkled, and the collar and cuffs hold their shape. After washing the shirt, straighten and dry on a hanger.
Note
Before washing, always pay attention to special characters depicted on the label of the product. For example, if this shirt is recommended hand-wash, never wash it in the machine. The same applies to the remaining recommendations. If you are going to comply with them, your man will always look neat and stylish.
Advice 3: How to bleach white fabric
Things from the white fabric, always beautiful, elegant, fresh. Whether it's blouses and shirts or bed linen, towels or napkins, white cloth always spectacular. The stronger the disappointment when whites turned yellow, and acquired a grayish hue or it is stained. Meanwhile, do not get upset, this trouble can always be corrected.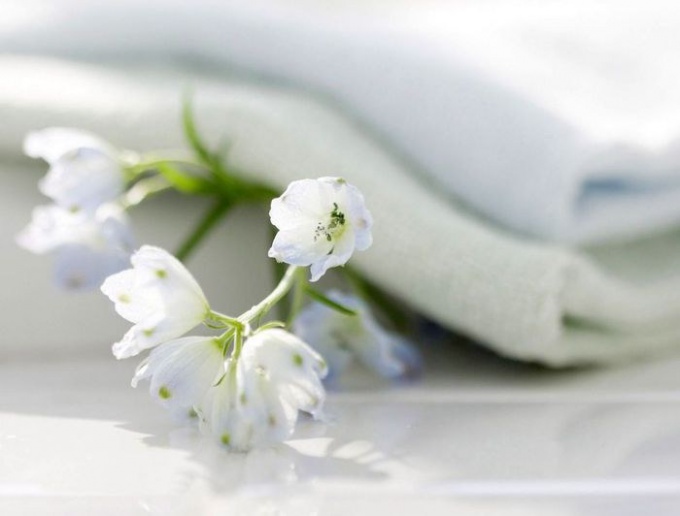 You will need
- ammonia;
hydrogen peroxide 3%;
- turpentine;
Sol stone;
bleach from the store household chemicals.
Instruction
When washing yellowed whites, add ammonia and hydrogen peroxide (10 l of water 1 tablespoon of ammonia and 2 tbsp. tablespoons of 3% peroxide). Cotton and linen to be washed at high temperatures, wool and synthetics at 40 degrees.
Cotton and linen things well obestsya in turpentine solution (4-5 tablespoons of turpentine per 10 liters of water), if they soak for 12 hours. After soaking wash in the machine.
Wool and silk things you can try to bleach in this solution: 10 liters of water dissolve 6 tablespoons rock salt 50 grams of washing powder, 30 ml of 3% hydrogen peroxide, 20 ml of liquid ammonia. Let items soak in this solution and leave for 5-6 hours, then wash and rinse thoroughly.
Buy in store household chemicals bleach and try using it to bleach things, observing instruction. If you fail the first time, try again, only with a different bleaching agent. Especially effective modern bleach in gel form. They do not spoil the fabric and does not irritate the skin.
Use the old – fashioned way- by boiling. Dissolve in a bucket or in the tank 2 tbsp. of ammonia and the same amount of hydrogen peroxide (3%), add a pinch of washing powder or grated soap. Boil this solution things of white cloth in 1 hour, not forgetting to stir. Keep linen was completely under water, or it may be covered with yellow stains.Boil white linen in soda ash solution (400 g per 10 liters of water). Before downloading the things the solution should drain, and boil in it will have at least 2 hours.
Note
Do not keep long white dirty stuff in the Laundry basket, the fabric may turn yellow from long storage.

Stored on hangers in the closet the white stuff should be periodically aired.

Linens, folded on the shelves and pile for a long time not used, it should be prostitiute 1 time in 2-3 months, otherwise it will yellow.
Useful advice
Bleached linen to enhance the effect, you can podsiniy. To do this, take the blue powder, put it in a bag of 5 layers of cheesecloth and place in water. When the water will take quite intense, in your view, painting, remove the bag and thoroughly mix the solution and rinse the white stuff.

Things from the white fabric, always wash separately from colored things (even a solid color).
Advice 4: How to bleach a white
White clothing looks neat and elegant. Only trouble is, it was too easily soiled. One random spot can destroy her forever. Therefore,
whites
need not only the Laundry but also in the periodic whitening.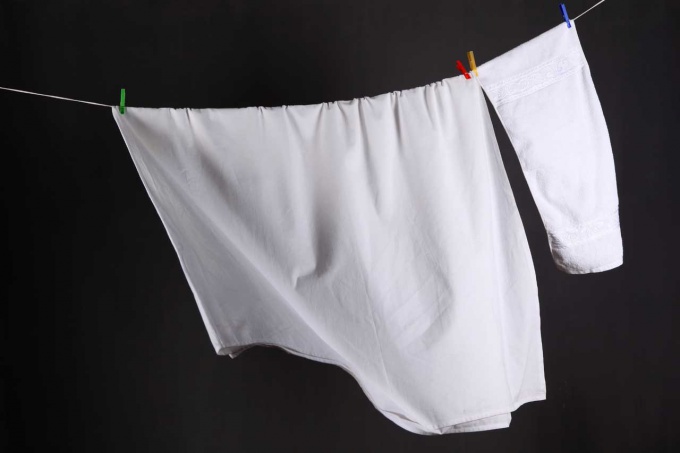 Instruction
Not every white thing can be subjected to ordinary bleach. This is especially true of products made of artificial fabrics, so before you start the washing white clothes, look at the fabric composition.
The easiest way bleached products made of natural fabrics – linen, cotton. Soak them in ordinary soapy water with a small addition of ammonia, about 5 tablespoons per 10 liters of water. Alcohol eliminates magnesium salt, giving things a yellowish tinge.
For particularly stubborn stains, you can try to influence ordinary household White or any other bleach-based bleach. But be careful, White contributes to the decay of things, so don't use it too often.
Artificial fabric do not expose to bleach them, they turn yellow and permanently sereyut. Return the white color will help them soak all in the same soap solution with ammonia, but add in a bowl and 2 tablespoons of hydrogen peroxide. The peroxide will react with water pollution and is literally in half an hour you will get a dazzling white linen.
Never wash whites and coloreds together, it hurts both. The more that modern washing powders industry has long been releasing special detergent for white linen, consisting of additives that promote the whitening and the light of their podsinivanija. Even our grandmothers knew that blue takes away from things a yellow hue, as a result they become even whiter.
If the machine accidentally got pink or yellow thing and painted white favorite clothes, do not despair. Most likely underwear can still be saved. Look for a special swipe, catching and absorbing the faded paint with ruined clothes. Just run the wash for one cycle along with a napkin, things will once again Shine white.
Useful advice
If you have the opportunity to dry clothes under the sun, use it, the sun's rays perfectly bleached things.
Advice 5: How to wash white linen
White color is universal, it, like black, goes with everything. Only here to wash off the white stuff, unlike black, is often very problematic. White is stronger than the visible spots and stains. White cloth, over time, acquires a grayish or yellowish tint, adds to the aesthetics of things. To try to wash white linen a variety of ways.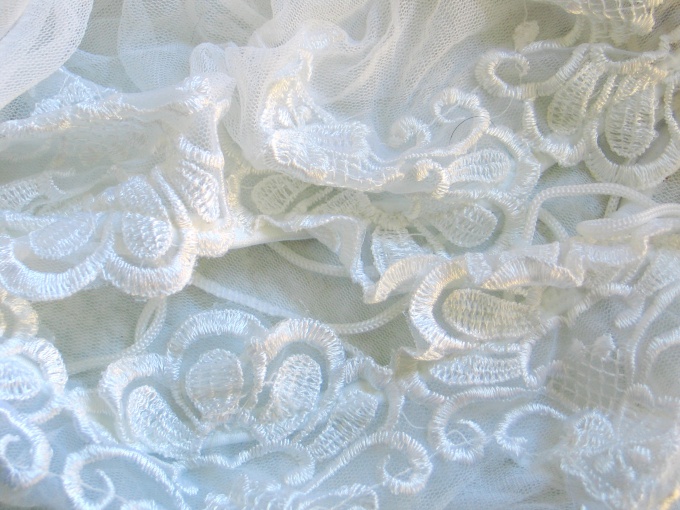 Instruction
First, consider what fabrics are made thing. Delicate fabrics require delicate handling, so Laundry made of delicate materials more gently (low temperature water, weak spin, etc.). Things made of thick fabric can be subjected to a more severe impact.
Use the special formulations developed by the manufacturers for washing white clothes. The chemical industry produces a variety of bleaching agents: special Soaps, powders, stain removers, bleaches. When choosing a product, pay attention to the degree of contamination of linen.
Pre-soaking helps to cope with many problems. Leave the white stuff for a few hours in soapy water, most of the dirt is then easily washed out. Using powder with blue pellets, ensure that they are fully dissolved in water, or on white linen will remain blue dots and spots.
If the traditional means did not help, use folk remedies. For example, soak the white socks for a few hours in a solution of warm water and 2-3 tablespoons of boric acid. Or 10 liters of warm water dissolve 2 tablespoons of bleach, 1 Cup of washing powder and leave in this solution the white linen for two and a half hours.
When machine washing, be sure to use not only detergent, but also add enhancers powder and special formulations for whitening, which will refresh the color or impart a barely noticeable bluish tint, which will make underwear visually whiter.
Boiling white linen gives good results. If you decide to boil the linen with bleach, remember that boil things only from a fairly dense fabric. Tolerate boiling linen and cotton. Stay tuned to the average ratio of the bleaching solution and the linen was 10:1, boil the linen not more than 30 minutes after boiling water.
For removing stains Laundry pre-treat soiled areas, special stain removers. Collars and cuffs of white shirts is also recommended to pre-process a special tool from stains.
Advice 6: How to whiten teeth at home with folk remedies
Teeth whitening can be very costly - you can spend thousands of rubles on visits to the dentist or the purchase of medical products and devices for self-bleaching. However, there are folk remedies that help to whiten your teeth at home with much less effort and financial investment.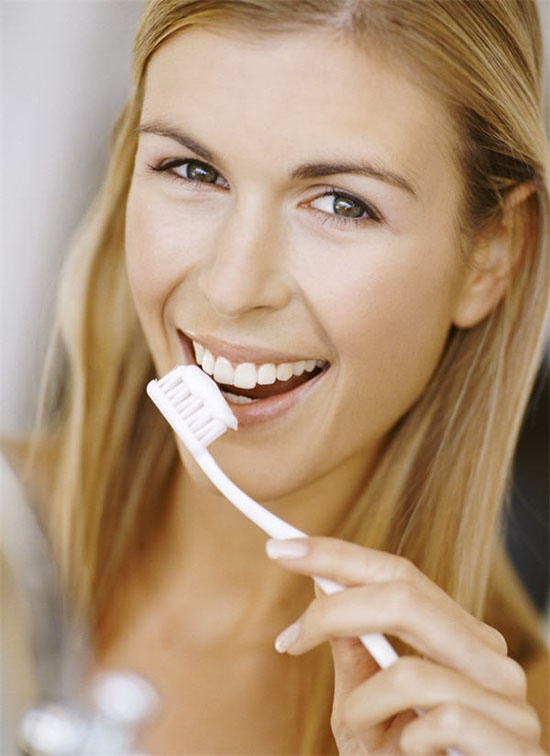 You will need
Soda
Toothbrush
Hydrogen peroxide
Instruction
To whiten teeth at home, mix a tablespoon of baking soda with a few drops of water so that the mixture of water and baking soda the consistency was like toothpaste. Gather the mixture with a toothbrush and brush her teeth. Let the paste remains on the teeth for a minute. Then thoroughly rinse your mouth. Follow this procedure daily and you will soon notice the results.
Whiten teeth with hydrogen peroxide. Use it as a mouthwash once a day. It not only kills germs, but also makes the tooth whiter.
Try to use a mixture of baking soda and hydrogen peroxide to make a whitening toothpaste in case you could not make the teeth whiter by using two ways described above.
Note
Beware of the popular ways to whiten teeth using strawberries, Apple cider vinegar or honey. Maybe teeth whiten you manage, but you are hopelessly spoil the tooth enamel.