You will need
blouse, container, water, bleaching agent "Lily" soap.
Instruction
Sasteria the stain in warm water, using soap.
Add to capacity with ten liters of warm water (temperature should not exceed fifty degrees) two full tablespoons of bleaching agent. Give him a good stir.
Dip in a solution of synthetic blouse with a stain and leave it there for fifteen minutes.
Remove the shirt and rinse in clean water.
Because the fibers are synthetic fibers made from petrochemical products, products made of this fabric if used in their pure form, as a rule, do not require bleaching. Another thing, if synthetic fibers combined with fibers of natural origin (for example, polyester with cotton). In this case, without bleaching can not do. Ideal for the bleaching of fabrics with synthetic and natural fibers is hydrogen peroxide. This substance is part Vanish, as well as SMS. Therefore, the use of these bleaching agents will help you to solve the problem of yellowing of the fabric.
Note
Do not use to bleach synthetic fabrics, chlorine bleach! It will ruin the fabric. However, over time, synthetic products white color can yellow, the result of a photochemical reaction, which occurs under the influence of sunlight, such a reaction occurring in synthetic fibers, serves as evidence that the fibers of the fabric are active processes of aging. If something similar is happening with your favorite blouse, don't despair, perhaps all is not hopeless. To mask the yellowing will help tools intended for washing, which is based on the optical brighteners.
Advice 2 : How to whiten linen
Len – quite a dense material that can be bleached by various means, so if your clothes turned yellow or gray – there is no reason to be upset. In any case, you need to exercise caution when undertaking such procedures, otherwise the fabric will deteriorate.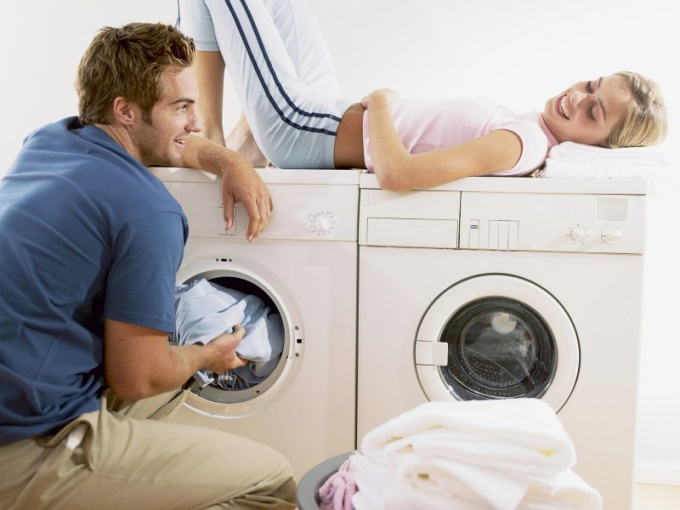 You will need
- oxygen bleach;
Persol;
- acetic acid;
hydrogen peroxide;
powder with optical otbelivatel.
Instruction
Purchase oxygen bleach. If you have bad water, pre-filter it or boil and allow to settle. Dissolve the desired amount in water (specify the dosage in the instructions). Soak the item for several hours or overnight, and then just wash it in the washing machine or by hand.
Add with each wash Persol. It is sold in hardware stores in bags, and something like a normal powder. But the remedy is used as a bleach and stain remover. If
linen
cloth is much faded, soak it in a solution of parsoli and washing powder for 12 hours. Don't worry, the product will not spoil.
Make a weak solution of acetic acid – 5-7%. Pour the liquid into an enamel bowl, soak it in fabric, container cover and leave for a few hours. Then you just have to wash the product in the usual way.
Bleaching properties and the hydrogen peroxide. Add per liter of water 3 tablespoons of liquid. Soak the item for a day or at least for the night. In the morning the effect is obvious – the fabric will be lighter.
Buy a good powder composed of optical Brightener. This is perhaps the safest way to get rid of yellowness and dullness of the fabric. Wash things only with the powder and clean water. After a short period of time, linen fabric white.
Contact the dry cleaning, if you have never got to whiten the linen fabric. Will help you to do this for a fee.
Note
Do not use bleach, including chlorine, and especially do not subject the product to boiling in this solution. First, the fibers of the fabric will become thinner and the thing will acquire a poor appearance. And secondly, to breathe the fumes is very dangerous, because there is a possibility of poisoning.