You will need
blouse, container, water, bleaching agent "Lily" soap.
Instruction
Sasteria the stain in warm water, using soap.
Add to capacity with ten liters of warm water (temperature should not exceed fifty degrees) two full tablespoons of bleaching agent. Give him a good stir.
Dip in a solution of synthetic blouse with a stain and leave it there for fifteen minutes.
Remove the shirt and rinse in clean water.
Because the fibers are synthetic fibers made from petrochemical products, products made of this fabric if used in their pure form, as a rule, do not require bleaching. Another thing, if synthetic fibers combined with fibers of natural origin (for example, polyester with cotton). In this case, without bleaching can not do. Ideal for the bleaching of fabrics with synthetic and natural fibers is hydrogen peroxide. This substance is part Vanish, as well as SMS. Therefore, the use of these bleaching agents will help you to solve the problem of yellowing of the fabric.
Note
Do not use to bleach synthetic fabrics, chlorine bleach! It will ruin the fabric. However, over time, synthetic products white color can yellow, the result of a photochemical reaction, which occurs under the influence of sunlight, such a reaction occurring in synthetic fibers, serves as evidence that the fibers of the fabric are active processes of aging. If something similar is happening with your favorite blouse, don't despair, perhaps all is not hopeless. To mask the yellowing will help tools intended for washing, which is based on the optical brighteners.
Advice 2: How to whiten the blouse
Very often it happens that white shirt after a few washings, losing its whiteness and acquire a grayish hue. How to bleach a shirt and not ruin the fabric?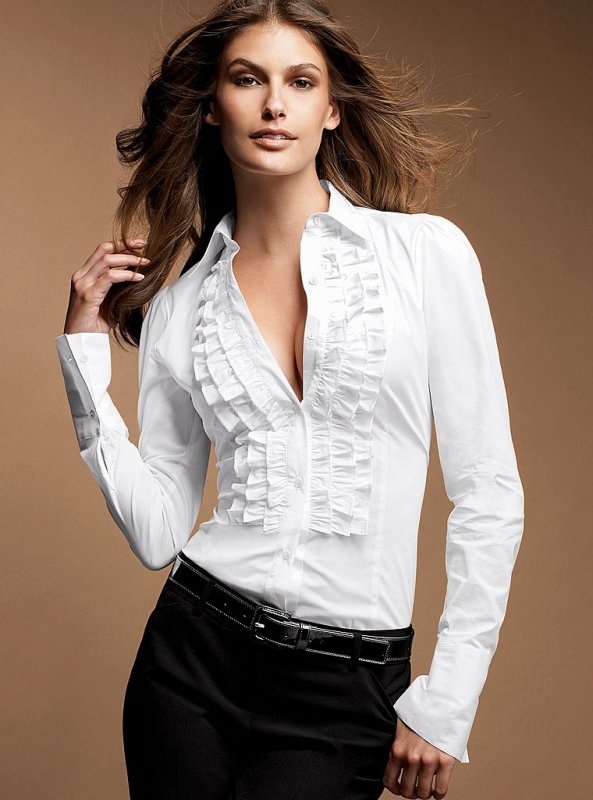 Instruction
The first rule that you must remember is that to erase the white stuff apart from color you need. In addition, it is also important to wash separately the items of linen and cotton from synthetic or wool. If you prefer to wash in the washing machine, to the usual washing powder is recommended to add a special powder bleach. It is also also called "power washing powder." It is also possible to pre-wash to add a small amount of liquid bleach. Currently available a lot of a variety of bleaches.
If you are opposed to the use of chemical whiteners, try to use folk remedies. However it is also not recommended to apply the most effective but also the most aggressive "method of the grandmother". It relates to boiling blouses in a saucepan with the addition of "White". After this blouse will be white, but the fabric it will quickly wear out. There are more gentle ways.
Pour in a bucket of hot water. Add to it a little potassium permanganate. Water should buy a little pink. Then add about 200 grams of washing powder. In a bucket you need to put already washed the blouse. Close it all with plastic wrap. You need to wait when the water is completely cool. Then thoroughly rinse the product.
In addition, the white stuff can be easily bleached using hydrogen peroxide. Pour 2 litres of warm water. Add in a container of three-percent hydrogen peroxide, about one teaspoon. You can also add a little soda ash. Place in the resulting solution a white blouse for 15-20 minutes. So there was a uniform bleaching, it is recommended to periodically stir.
The white stuff
, if they are made of cotton or linen, before washing, soak them for a couple of hours in the water, which is added in a small amount with the addition of ammonia.
Advice 3: How to bleach a white blouse
The white stuff
eventually sereyut or yellow. It depends not only on water quality but also to the powder. To bleach a white blouse in several ways, but be careful, because you can ruin the material if you use the wrong tool for a particular kind of fabric.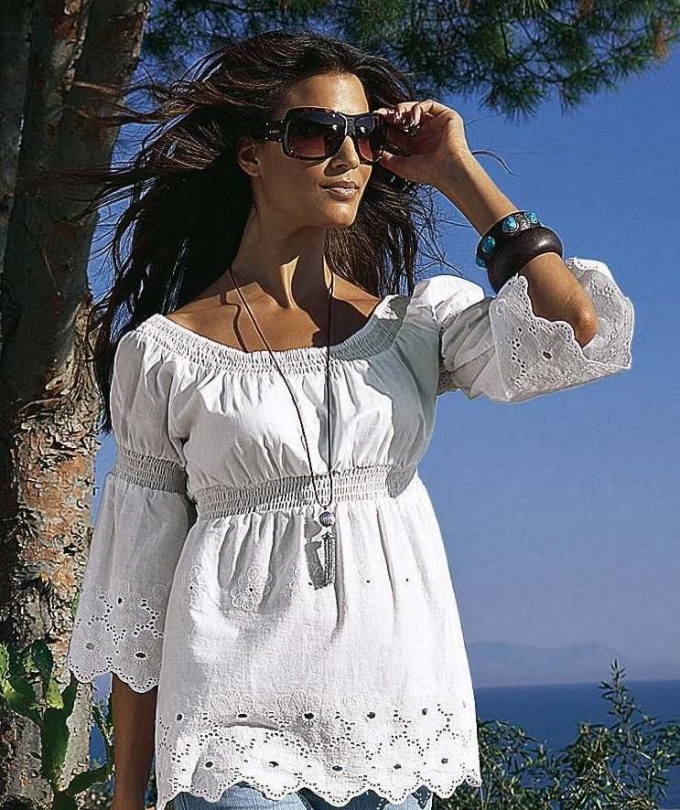 Instruction
If you have poor quality water, boil in a clean blouse. To do this, take filtered water, add teaspoon salt and teaspoon of baking soda, a little powder, mix well. Boil the product in for 30 minutes on low heat. Rinse the shirt and hang to dry.
Buy powder for white things. In its composition contains whitening ingredients that will gradually return the original look to your product. To speed up the whitening, the first few washings, add a little more than normal powder.
Soak the shirt in a solution of water with added oxygen bleach overnight. In the morning wash in usual manner. Usually after the first steeping, the color of the product is changed. In subsequent Laundry add a little bleach to the main compartment for powder.
Dissolve about 50 ml of hydrogen peroxide in 5 liters of water and soak into her blouse for a few hours. Rinse the product in clean water, if desired, can additionally be washed. Peroxide bleaches fabric, but not damage it.
If all your efforts are not successful, take the blouse to the dry cleaners. You will bleach it using professional tools. There are, of course, another option – just throw on any old thing, and instead buy a new, white blouse.
Note
Blouse do not bleach with chlorine bleach, because it will certainly ruin the material. Oxygen bleaches or stain removers is the best option for the return of white delicate fabrics, of which mainly sew blouses.
Useful advice
Try not to wash white things at too high temperatures – it contributes to their yellowing, and the cloth wears out much faster. Enough about 40-60 degrees in order to wash off all the dirt.
Advice 4: How to bleach white fabric
Things from the white fabric, always beautiful, elegant, fresh. Whether it's blouses and shirts or bed linen, towels or napkins, white cloth always spectacular. The stronger the disappointment when whites turned yellow, and acquired a grayish hue or it is stained. Meanwhile, do not get upset, this trouble can always be corrected.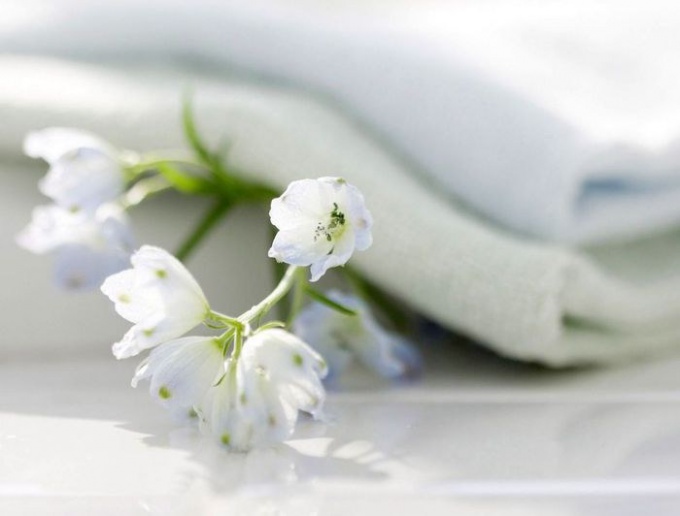 You will need
- ammonia;
hydrogen peroxide 3%;
- turpentine;
Sol stone;
bleach from the store household chemicals.
Instruction
When washing yellowed whites, add ammonia and hydrogen peroxide (10 l of water 1 tablespoon of ammonia and 2 tbsp. tablespoons of 3% peroxide). Cotton and linen to be washed at high temperatures, wool and synthetics at 40 degrees.
Cotton and linen things well obestsya in turpentine solution (4-5 tablespoons of turpentine per 10 liters of water), if they soak for 12 hours. After soaking wash in the machine.
Wool and silk things you can try to bleach in this solution: 10 liters of water dissolve 6 tablespoons rock salt 50 grams of washing powder, 30 ml of 3% hydrogen peroxide, 20 ml of liquid ammonia. Let items soak in this solution and leave for 5-6 hours, then wash and rinse thoroughly.
Buy in store household chemicals bleach and try using it to bleach things, observing instruction. If you fail the first time, try again, only with a different bleaching agent. Especially effective modern bleach in gel form. They do not spoil the fabric and does not irritate the skin.
Use the old – fashioned way- by boiling. Dissolve in a bucket or in the tank 2 tbsp. of ammonia and the same amount of hydrogen peroxide (3%), add a pinch of washing powder or grated soap. Boil this solution things of white cloth in 1 hour, not forgetting to stir. Keep linen was completely under water, or it may be covered with yellow stains.Boil white linen in soda ash solution (400 g per 10 liters of water). Before downloading the things the solution should drain, and boil in it will have at least 2 hours.
Note
Do not keep long white dirty stuff in the Laundry basket, the fabric may turn yellow from long storage.

Stored on hangers in the closet the white stuff should be periodically aired.

Linens, folded on the shelves and pile for a long time not used, it should be prostitiute 1 time in 2-3 months, otherwise it will yellow.
Useful advice
Bleached linen to enhance the effect, you can podsiniy. To do this, take the blue powder, put it in a bag of 5 layers of cheesecloth and place in water. When the water will take quite intense, in your view, painting, remove the bag and thoroughly mix the solution and rinse the white stuff.

Things from the white fabric, always wash separately from colored things (even a solid color).
Advice 5: How to bleach a faded thing
Clothing or fabric in the interior can fade over time when washed with other colors, from repeated washings. Appearance faded
things
become not acceptable. Is there a way to fix the situation?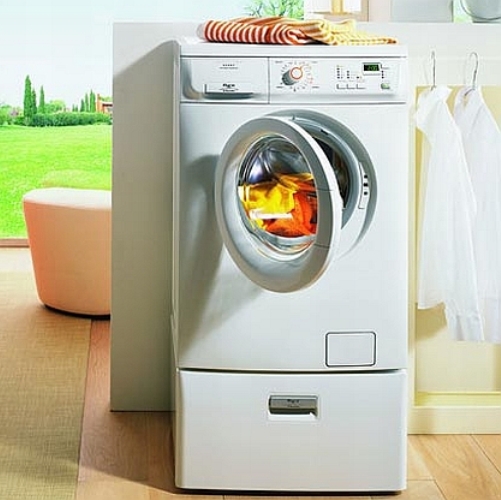 Instruction
Bleach with special concentrated means. If the Laundry is yellowed from frequent washings or from time to time, it is possible to use this method, carefully following the instructions printed on the package. Linen white suit universal powder, for color special powder for colored clothes without bleach or mild detergent.
Yellowed synthetics white will podsinee methylene blue. It is at least for a little while (until next wash), but it's very effective.
If
the thing
faded badly and handy tools do not help, try to repaint it. In specialty stores have sufficient choice of colorants, after which
the thing
will be like new. If your abilities are in doubt, it is better to give
the thing
dry-cleaned for painting.
Among the popular ways of correcting the problem the following: ten gallons of water you need to add two bubbles of ammonia. All olinala paint coming off and what remains is the original color. In some cases, enough and cold water, in others it is necessary to warm up. Working with ammonia requires safety precautions.
Soak the thing overnight in a solution of Vanish or similar soft tool. The result promises to be always positive but hope to save things there.
Try the tool to restore accidentally dyed fabrics or color restorer 3 in 1. Such cures are produced by many manufacturers. You can find them in a large shop or supermarket.
Useful advice
If nothing helps, try to use the "White" (2 tablespoons in 5 liters of water). But be careful, as it is a very potent tool and it can be used only for white things. First you need to soak the linen, pushing it a few times to water and the solution was evenly distributed. Leave overnight, and then again washed with detergent and thoroughly rinsed.
Advice 6: How to bleach the white stuff
No matter how careful you are, things will sooner or later lose its original color. So the question is, how to bleach white things relevant in our time. For guaranteed results should include items to the dry cleaners. However, there are other, more affordable methods.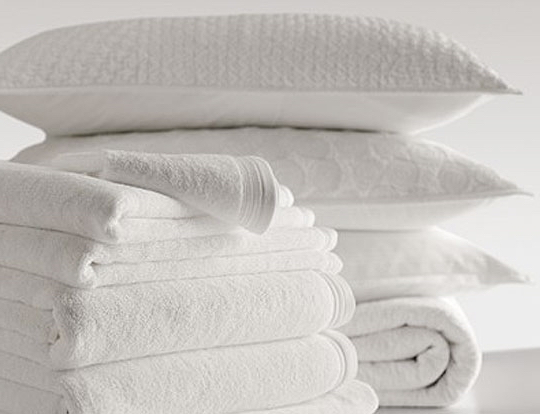 At home to whiten white clothes without the use of special substances and methods, if you follow some simple guidelines:
The white stuff should be washed separately. Otherwise, they will become colors other tissues.
All things are made of different materials. Cotton, synthetic or linen require different modes.
Before washing should be soaked stuff.
Check the condition of drain the washing machine. If it is clogged, rinse things will be ineffective. This will appear on the spot.
How to whiten faded things
Often in the wash with white things can get a ticket, a banknote, the wrapper from the candy, etc. because Of these seemingly insignificant items of clothes shed. Therefore, to rid it of stains will be more difficult.
To whiten such things, you can use the cleanser accidentally painted items. It is sold in specialty stores and in mass use. Consider the material of the product.
But the cotton will clean any bleach. Fit the usual white. Dissolve it in cool water and soak items for 30 minutes. If your washing machine has a mode of "Pre-wash", activate it before the main procedure. If the machine is gone, you can boil the linen in water with addition of soap. The procedure lasts about an hour.
How to whiten poserevshie things
People who need to whiten the white stuff at home, often want to save articles from the dullness. The most affordable and best tools are hydrogen peroxide and pharmacy ammonia:
Fill the basin 10 l boiled water.
Dissolve in the liquid 2 tablespoons of peroxide and alcohol.
Soak jewelry in the solution for half an hour.
Drain the water and wash things in the usual way.
Hydrogen peroxide can replace baking soda. However, to soak things in 30 minutes and at 3-4 hours. Thus it is necessary to take 5 liters of water.
How to bleach a wool and linen garments at home
To deliver silk and woolen items from yellow and other stains, add to water, alcohol and peroxide large white salt. 1 tbsp of rubbing alcohol and peroxide, you need 4 tbsp of the spice. Keep linen in a solution need 2-3 hours.
For linen things only need soda ash. Pour it in the washing machine. The water temperature should be between 70 OC.
Advice 7: How to bleach a t-shirt
T-shirts is a versatile clothing in the summer heat, and in cool weather. But for white t-shirts need special care. Sometimes such situations arise when expensive bleaches and powders with stains on white things do not. Or a white t-shirt yellowed or become grayish and losing still dazzling white.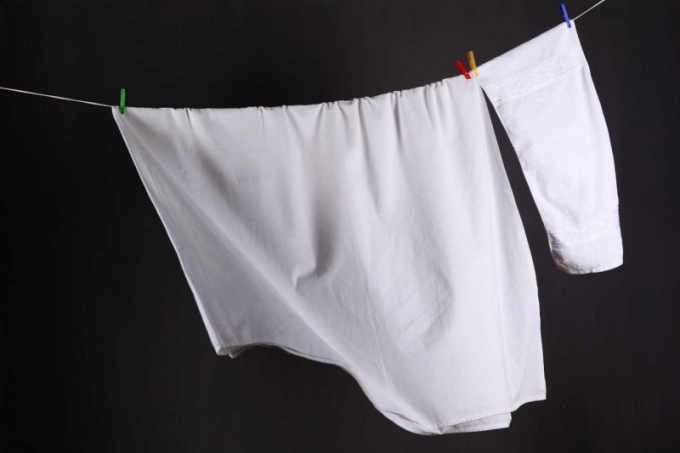 Instruction
Make your t-shirts are not yellowing and do not become gray after washing, wash it separately from bright and colorful things. If it is composed of linen or cotton, wash separately from wool and synthetics. During washing in the washing machine to powder, add powdered bleach or pour bleach into the compartment for pre-wash. Be sure to look at the packaging. These tools must be suitable for use in an automatic washing machine and for washing white.
If you are afraid to use bleach, remember how a few decades ago coped with the problem of bleaching white things. At that time it was very popular boiling with white. This method will fit you only if your shirt is cotton. In 10 liters of water, add 500 grams of soda ash and 500 grams of chlorine. Solution leave for two days, then strain. Boil the shirt in this solution for at least two hours. But be aware that this method of whitening leads to the rapid release of tissue failure. And there are more gentle ways.
Also bleach t-shirt using potassium permanganate. Add in a bucket with hot water and a small amount of potassium permanganate to the water acquired a pale pink hue, and 200 grams of conventional washing powder. Then lower the bucket already washed the thing, top cover with polythene and wait until cool water. After this procedure, thoroughly rinse the shirt.
Still glaring whiteness of your belongings will help return the solution of hydrogen peroxide. A bucket or basin, fill with warm water and add hydrogen peroxide per 2 litres of water one teaspoon of 3% hydrogen peroxide. Add a handful of baking soda. The resulting solution down the t-shirt for 20 minutes. That bleaching was uniform, the thing periodically stir.
Before washing, soak the shirt for a couple of hours in the water with ammonia. It gives
the underwear
yellowing and softens the water. If the thing is very dirty, add 3 teaspoons of turpentine.
To emphasize the whiteness of the shirt, use blue dye powder. Put it in 4 layers of cheesecloth and drop into the cool water. Remove cheesecloth after water is painted in rich color. Then the solution stir and dip into it white.
Note
Remember that the white thing can lose its color not only from contamination, but also due to prolonged storage. That is why the dirty linen for a long time can not be stored
Advice 8: How to bleach the white stuff
Often, white shirts, pants or t-shirts after a few washings become grayish or yellow, losing their dazzling whiteness. How to whiten white clothes, to restore their original chic, and not to ruin the fabric?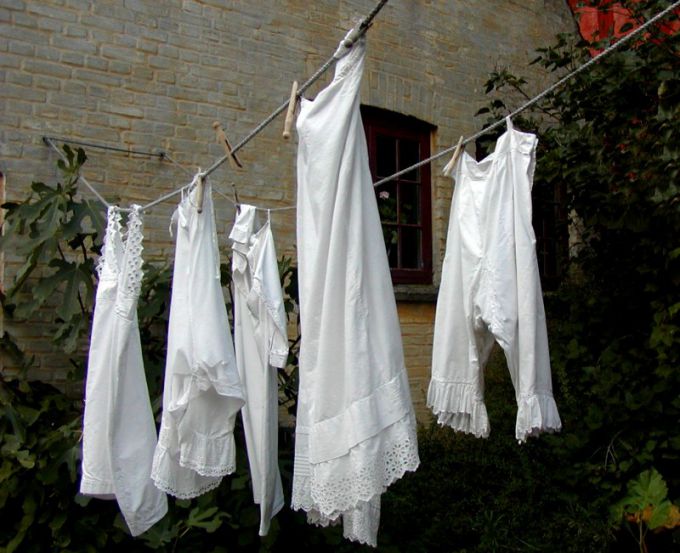 Instruction
In order for white stuff after washing remained the same white, it is necessary first, to wash them separately from colored and white clothes. In addition, items of linen and cotton should be washed separately from wool or synthetics – in this case, after washing, they will not be grey. When washing in the washing machine, you can add to the usual washing powder powder bleach ("power detergent") or add to the Department for pre-washing a little bit of liquid bleach. Now comes a number of bleaches that can be used when washing in automatic machines is specifically indicated on the packaging.
If you are afraid to use whitening things are special bleaches you can use the "grandmother's means". However, it is not advised to use the hard "method of the grandmother" - the boiling with the addition of "White" (this will cause the fabric very quickly get old). There are more gentle ways.
Add in a bucket with hot water and a little potassium permanganate (the water was a little pinkish) and about 200 grams of washing powder, put the already washed clothes, cover with plastic and wait until the water is completely cool. After that, things need to rinse.
Can be bleached white stuff and with the help of hydrogen peroxide. On 2 liters of warm water add one teaspoon of three-percent peroxide, you can also pour a little soda and place linen or clothing for 15-20 minutes. For uniform whitening things that are required from time to time to mix.
White stuff cotton or linen can be bleached, soak them before washing for hours in water with addition of ammonia (it softens the water and prevents yellowing of linen). If things are very dirty you can add in the water a couple of tablespoons of turpentine.
To whiten the lace or tulle in a bucket with hot water, add two tablespoons of hydrogen peroxide and a spoonful of ammonia. Dip things into the solution for 20-30 minutes, then wash.
If you want to bring back the original whiteness of clothes made of natural cotton or wool has already been washed things down in a bucket of warm (about 40 degrees) water, which added a handful of salt, a bit of washing powder, 3 tablespoons of hydrogen peroxide and liquid ammonia spoon.