Instruction
Decide what kind of filmmaker you want to be. The options are endless: film Director, sound engineer, Director of performances, festivals, music videos, television programs.
Aim at a UNIVERSITY, you want to do, because each of them holds different creative tests, to prepare for which it is necessary in advance. Among the educational institutions in raising future Mikhalkov: Schukinskaya, Schepkin theatre school, VGIK, Moscow art UNIVERSITY, GITR, Moscow state University of culture.
Pass the exam on the Russian language and literature. The higher your score, the more chances
to enter
. Still, the talent is the main defining success.
Acting tour. Be prepared to read the fable, prose and poem. He is not in all Universities. For example, the theatre school believe it is important that the Director was a good actor and understands what she is reading.
Interview. Read the theory of the profession. After all, if you are going to devote yourself to something, you have to know everything about it. Learn by heart film Directors, playwrights, composers, artists, basic terms and history. The interview will test your knowledge of the profession and the intellectual level in General.
Written work. It would be – it is not known. Some institutions require an essay on their specific topic, the other an autobiography in artistic style, and others - photos. Such tests help to identify the professional skills and the Director's mindset.
Finally, the practical part. Before the Commission you will be asked to supply Director's study involving the same applicants as you.
Note
The possible risk is your shyness. Never tushuytes!
Useful advice
For each test take seriously. On each round is eliminated a large number of participants. One place claimed dozens of people. To do this, you will have to give our best. But if not – don't be discouraged! The majority of applicants enter the years until you achieve your goal. After all, many famous people also came in the directing Department is not the first time.
Advice 2: How to act in GITIS
About the career of an actor or actress's dream. And according to statistics, every year the largest influx of students experiencing what College theater. Usually the competition is more than 200 people in the place. In the acting group of the University of up to 23-25 years, for future Directors the age limit increased to 35 years, but they should already have experience in professional or Amateur theatre.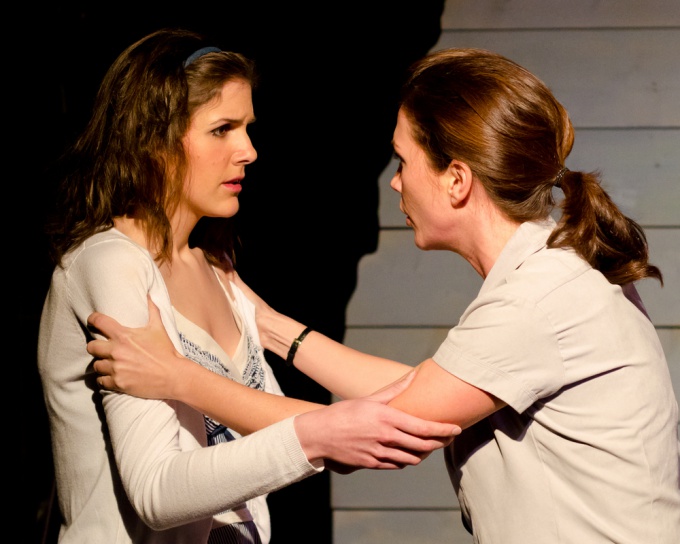 Instruction
Before you start applying to College theater, students go through a qualifying round of the creative contest. Future actors will have to show off the skill of the actor, scenic speech, as well as their knowledge of the history of theatre
Colloquium
E. For Directors the contest is divided into 4 stages – the skill of the artist, practical direction, orally and in writing, and Colloquium on the history of theatre. If all three rounds of creative competition will be successfully completed, the exams in Russian language and literature.Exam skills assessed the talent of the applicant. Here perform several works from different genres – a poem, fable, prose. In preparing the program, choose those passages that are close to you in spirit that you understand and feel every cell of his body. Rate your effort theatrical role, the program picks up the type. Don't make long passages – one of them will not listen, it is better to prepare several pieces from different works, as the Commission may request to read something else. And most importantly – do not try to Excel. The original passage is, of course, fine, but don't forget about the proximity of the text to your inner world. Sometimes it's better to show a familiar and clear to everyone since childhood, Pushkin, Baudelaire rather than complex or Borges.In addition to the software products, the Commission may be asked to sing an impromptu stage study, to sing, to dance etc. by the Way, in departments such as pop, choreography, musical theatre, dance and vocal are included in the software testing art competition.
After passing the exam on the skill of future actors are allowed to Colloquium and Directors to the examination in the direction. Examination in the direction of consists of a practical exam on directing, writing directing the work carried out in the classroom on topics determined by the examination Committee, and Colloquium.Of course, students of the directing faculty should be familiar with basic theory of directing, well-versed in theatre history (including modern), music, painting, cinema, literature, etc and an Oral exam in directing is an etude on a given topic, it can be any product from the music to the beautiful. To participate in the study the candidate may involve in its scenic effects of other applicants. It is important to find the emotional-figurative expression of the thought that the future Director wants to reveal in the study. At this stage, the Commission examines the creative imagination and taste of the entrant, as well as his initiative and ingenuity. Written directorial work – is staging a plan of the play or one scene, by the decision of the Commission as well as clearly set out on paper a description of the plans of the Director of the art and music design.
The Colloquium is an interview that tests the level of intellectual development of incoming, knowledge, interests, and abilities creative thinking, as well as his aesthetic views and cultural level. For a successful passage is required to freely navigate in the Russian and foreign literature, dramaturgy, theatre criticism, history of directing, and the drama theatre. On the website of the University posted the list of literature, required reading to prepare for the Colloquium.
After completing all three stages of the creative competition entrants are allowed to the examinations in General subjects: Russian language and literature. For applicants who do not have certifications exam, it is conducted in the form of essays.
Useful advice
Three important "don'T" at receipt in theatrical high school:

At the audition, don't mumble, speak confidently and clearly! This is important because this step tests for not only acting, but the defects of speech.

In any case do not say that you were engaged with the teacher or at the Studio theatre!

Do not wear flashy and bright. Better to dress modestly, but with taste. For girls mandatory item of clothing for the audition is a skirt, not mini and not Maxi. No need to try and a ton of makeup, listening to appropriate a modest unnoticeable makeup, since the Commission is an important person coming, not her ability to draw on itself "angelina Jolie". The young men also undesirable to come to the qualifying round in the jackets or the jeans-pipes. Classic costume or clothing style casual that's perfect for listening. Monthly stubble is also not relevant, as long unwashed hair or shaved Mohawk. Remember: your appearance should match with what you read!
Advice 3: How to enter the Shchukin school
To enter the Shchukin school – it is very difficult, especially if you focus on the acting Department. UNIVERSITY with long-standing traditions, history, teaching staff are not all admits in its walls. This is one of the most popular Russian educational institutions of its kind attracts hundreds of entrants each year.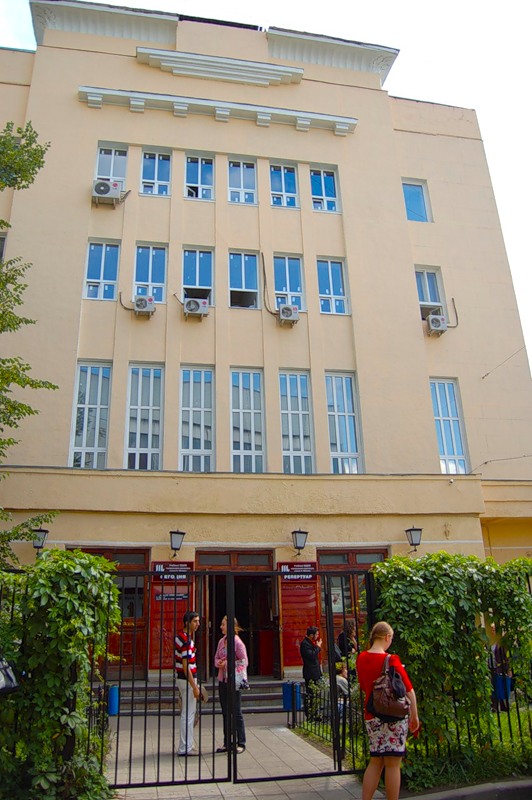 Instruction
Sign up for an audition. To do this, 5 days before schoolm posted a list for self.
Audition. The day will be the audition, come early. This stage takes several days, so, missing some dates, you have the chance to try again. Applicants should read the fable, prose, poem. To let in the audience you will have 10 people to call turns in the center of the room. At this stage is eliminated a significant portion of applicants. The lucky ones who were lucky to get on round 1 should go to the website of the Institute and to find out when the next stage.
Subsequent rounds are much more complicated and harder listening. Most likely, future students will select the head of the course – master. It is important to all – the looks, the vocals, plasticity, charisma, voice. You will be asked to show off vocal skills and perform a dance.
In the later rounds, the students performed sketches on topics proposed by the Commission. Each stage is eliminated a large part coming from hundreds of entrants remain 15-20 people. Another important test is the interview. It makes sure that the General intellectual level of students, knowledge of theatre and literature. On the website Ashley posted a list of plays that need to read and determine which hero would you like to do.
At the end of each test the applicant exhibited the points plus with the points of unified state examination in Russian and literature. Scoring the maximum points is more likely to enter the Shchukin school. If you could not get there this year, don't worry. Avid students from year to year trying to get the list of students. And to do that – that's not all. After all, there are cases when, after the first session, dismissed as incompetent. So, if you aim to become an actor, have to give our best.
At the Shchukin school has a 2-month course, where you will be trained in acting, gesture and voice and repertoire.
Note
You may be asked to perform the same passage, but in a different style. For example, imagine that you are at war or in a nightclub.
Useful advice
In the selection of repertoire, select a few diverse options. The main thing – that they are all fit the type.
If you are a girl, it is necessary to come in a dress knee length and not much makeup. Naturalness above all else.
Advice 4: How to enter the medical faculty
Every year more than one hundred thousand people are students of Russian medical schools. To enter the medical faculty is difficult, it requires good preparation and serious attitude to later learning.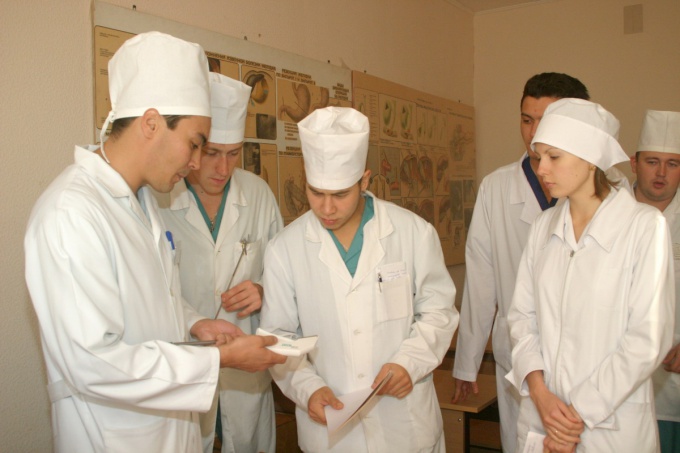 Instruction
Make your choice in favor of one or another medical school. Among such institutions there is not a vowel rating. The first places belong to the universities of Kursk, Ufa, Moscow, Yaroslavl and St. Petersburg. Here you will gain more quality knowledge and skills. In its leadership selection criteria such as educational base and infrastructure of the University. For example, you should interest the presence of attached to the establishment of clinics, laboratories, extensive libraries and the ability to complete online courses.
Prepare for entrance examinations. To choose the necessary school subjects and thoroughly study them as early as possible, about two years before admission. Most likely you will need the knowledge in biology, chemistry and some other disciplines.
Prepare a package of the following documents:- passport and several copies of it (two or three);
- certificate of school education and its notarized copy;
- certificate of unified state exam in biology and chemistry, as well as multiple copies (two or three);
- six photos size 3x4 cm;
- medical certificate on form 086-y.Take the necessary documents to the admission Commission of the University or College in which you are going to do.
To enter the medical faculty will be a little easier, if you have any successes and awards in disciplines representing the medicine of particular interest.
The final and most important stage – entrance examinations. You have to take it seriously. Never use a crib, be careful in writing the test works, confident oral responses. Everything you say, try to bind to the medicine.
Useful advice
In order to successfully enter the medical program, you should not rely on luck. Once you have submitted the documents to the admissions office, forget about the night get-togethers and countryside recreation. Now the main task – successful passing of entrance examinations. Only upon completion can slightly relax. But do not forget that learning in medical school is a serious undertaking.
Advice 5: What to do in MGUKI
Moscow state University of culture and arts was founded in the 30-ies. First it was the library of the Institute, but gradually the walls began to educate future musicians, Directors, actors. Every year Moscow state University of culture attracts a large number of applicants.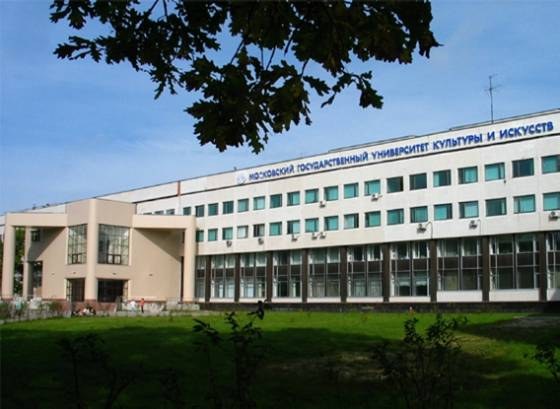 Instruction
Select the faculty you want to do. In MGUKI , there are several: theatre directing, choreography, international, faculty of socio-cultural activities and design. In each faculty you can select one of several specializations.
Go through additional testing. Students waiting for a creative competition. The students of the acting Department will check the vocal, the plastic data. To listen prepare the fable, prose and poem. Those wishing to become Directors waiting for tasks to test their imagination. For example, you may be asked to write an autobiography in art form. Coming on the dance faculty must submit admissions original dance and improvisation. And of course, after a creative job – interview on the knowledge of the future profession.
Pass the exam for biology and mathematics, if you have chosen the specialty "social work" or "pedagogy and psychology". Incoming international faculty pass social studies. Designers will also have to pass a creative exam where you need to provide your own sketches and drawings. Also in MGUKI there are institutions of music, media, cultural studies, Economics. Representatives of creative directions have to show all their skills, and Humanities – excellent knowledge.
Bring the exam results to the admissions office, go through additional testing. If the latter ended successfully for you, then the time to hand over the original documents (certificate, exam results). To apply on-campus have until July 5, and by correspondence up to 20. If you enter a second degree, then give to the Commission a diploma of graduation from the first University.
Advice 6: How to determine type of thinking
Type of thinking – the most important characteristic of personality. How a person receives and processes the information, determines his aptitude, interest, and activity, where he can best reveal themselves. To determine your type of thinking, read five lists of statements below. Each of them corresponds to a certain mentality. Select the list that best reveals your qualities.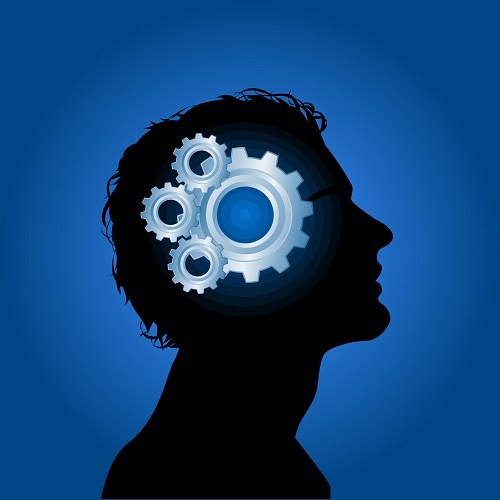 Instruction
Subject-active thinking. Inextricably linked to action, with the manipulation of objects. About people with this type of thinking often say "hands of gold", the most brilliant idea will be difficult to implement without them. Among the representatives of this category can be as fitters, drivers, collectors and artists, dancers, athletes. This type of thinking is yours, if you agree with the statements: - Make a stool with his hands is more interesting than to design it on paper.- It is true that you can touch.- At the sound of the music you have to dance.- The class was your favorite subject in school.- As a child you liked to play with the designer.- It's easier to do something than to explain the motives of these actions. - Do you like to do crafts. - Making something, you go by trial and error.
Abstract and symbolic thinking. Theoretical physicists, programmers, mathematicians, economists, and other men of science often have this type of thinking. It's easy for them to perceive the world through formulas, mathematical codes, etc. You are among this category of people if:- You like to work with your computer.- You know and love to play checkers or chess.- Algebra is more interesting for you geometry.- You are interested to understand diagrams and drawings.- You could easily learn the kanji.- The study of foreign languages does not cause you difficulties.- You are interested in the exact Sciences.- Interested in programming languages, work as a programmer.
Verbal-logical. People with this type of thinking become good teachers, researchers, translators, writers, journalists, TV hosts. They can easily Express their thoughts and convey them to others. This type of thinking prevails from you if:- You like to read fiction.- For you, it is not difficult to Express their thoughts orally and in writing.- You think an interesting job as a journalist or TV presenter.- You will not be easy to strike up a conversation with a stranger. You are important, not only the meaning but also form of this statement. In school you liked to write essays. - You like to tell my friends stories, news, read them out loud.
Visual creative. This type of thinking separates people with an artistic turn of mind: artists, poets, writers, filmmakers, architects. They subtly feel the beauty, think in images and can envision the most fantastic things. You are among this category if:- You are interested in painting, sculpture.- Familiar tunes, smells cause you have in mind a picture of the past.- Do you like poetry.- Dostoevsky was right when he said that beauty will save the world.- The plot of the movie or read the book you remember as a series of images.- You will not be difficult to imagine a non-existent animal. You think an interesting work of writer, screenwriter and graphic designer.- You love to attend entertainment events, but museums seem boring.
Creative thinking (creativity). Researchers usually do not consider creativity to a single type of thinking, as it may be peculiar to each of them and allows you to achieve success in any sphere of activity. You think creatively and know how to find creative solutions, if you agree with the statement:- Abstract painting awakens your imagination.- Work, where everything is clearly defined and regulated, boring. - You love to fantasize. - Process activities are often more interesting than its final result.- The abundance of Hobbies makes life more interesting.- You often don't even what to others seems obvious. Even the well-established process can be improved. You don't like to go the same way and generally to subordinate life to certain schemes.
Note
To determine the type of thinking can be difficult because they rarely occur in pure form, but one of them can dominate the others.
Advice 7: How to enter the University to become the acting Department
Cinematography is a State University of Cinematography. The University has faculties such as actor, cameraman, art, film production, screenwriting and film history and directing. But to come back is not as easy as it seems at first glance.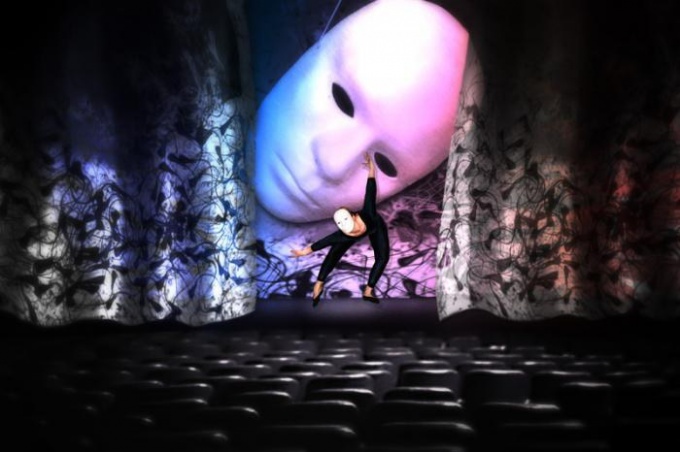 Instruction
Acting Department prepares students in the specialty "performing arts" and specialization "Actor drama theater and cinema". The term of study is 4 years for full-time education. To enroll in the University and to realize his dream of becoming an actor is not easy, especially because many famous artists are unable to do the first time. In order to enroll to this school, it is necessary to work over itself with full force. Ongoing work on yourself is the Foundation of acting.
To enroll in the theater Department, you need to go two rounds. The first is the traditional exam, writing assignment or dictation. The second - a creative exam, where you will need to open up in all its glory his talent. For admission important both exams, but the final point when choosing will be creative exam where each applicant needs to show their abilities. Creative examination involves the preparation of a monologue, fable, musical number, singing and dancing. In addition to all of every applicant will be interviewed about knowledge of the art of the theatre, cinema, literature and music. It is important to know all the famous film Directors, actors of theatre and cinema, writers and composers.
One desires to do is not enough, you must understand that like you a lot and all I want to do. Usually for a budget place in a big contest, so your goal is to Express yourself and to assert yourself that you are worthy to study in VGIK. Rehearsal - the success of any intervention. The more rehearsals, so you are more confident in their abilities. To begin the rehearsal process better before admission, if possible, it is necessary to start doing for the year.
Exams are assessed on a 100-point scale. A positive score is 41 points. Entrance exams start from July 1 to 15. You need to have: application, certificate, exam, certificate, diploma, 6 photos, passport and copy from it. For part-time faculty are required to present: a certificate of employment and copy of employment record.
Applicants who have not passed on competition, the decision of the Commission may be offered training on a fee basis. If the applicant has a diploma of higher education, may teaching only on a commercial basis. If the applicant does not agree with the results of the entrance exams, he has the right to challenge the decision of the examination Committee and make an appeal.
Useful advice
When you surrender creative exam should display numbers in this order: monologue, fable, musical number and then a dance.