You will need
Card Of Sberbank Of Russia
An ATM with built-in terminal cash-in (cash acceptance)
Instruction
First find a Bank with installed devices for self-service. From the list, and a map of the location you can see on the official Bank website by clicking on the link at the end of the article. The main difference between them from the usual ATMs, designed for debit transactions (cash withdrawal), is that they are equipped with a cash-in. This feature allows the unit to receive and process paper bills. The difficulties that arose in many account, are linked to the fact that the Bank uses for transactions with the card account of the client two kinds of terminals.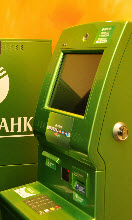 Insert the card into an ATM equipped with cash-in terminal for receiving bills). Follow the instructions that appear on the display. Enter in the active field, observing safety measures, the pin for your Bank
card
. Select the operation button corresponding to the caption "transfer of funds to the account.
Insert the bill in a special compartment for reception of cash. The screen shows the amount that will be invited to enroll in the card account. Confirm your decision to do this. The amount will be immediately transferred to your card account. If you decide to continue with the account, you can choose the following from the offered function without removing the card from the ATM.
Note
You need the device in almost every branch of the savings Bank, but the consumable units are installed for customers ' convenience in shopping, office centers and on the streets.
Useful advice
Except replenishment of the Bank card account in such self-service devices of Sberbank of Russia, you can perform many other operations. Such as utilities payment, money transfer to mobile phone or another card of the savings Bank, to repay a loan or to obtain a statement of account.