You will need
Dense fabric, spool of thread, needle, pins, scissors, sewing machine.
Instruction
Make a soft pencil case. It is absolutely quiet to use and, it is hoped that the school teacher will be very grateful. This tall Cabinet you can sew in a matter of hours, and use them for the rest of my life. The selected model is easy to use because the pencil is always ready to work – it has no cover, tabs, buttons or Velcro. This will save time for work and not to prevent a sudden surge of inspiration.
Start with, measure the pocket in your student portfolio, where he will be comfortable to wear next pencil case. Cut the appropriate size rectangle from a dense fabric. Suitable for wool fabric, or even old jeans. This will be the base of the canister. But in order to make it tight, cut two or three rectangles of the same size. Fold all the rectangles together and stitch around the perimeter on the sewing machine or sew by hand, pre-treating and with tucked edges.
Pocket pencil case cutting so that it was several inches less than the base case in length and several inches greater than the footprint width. This is necessary in order to enable you to stitch the pockets for pencils, pens and rulers for 3-4 cm in width. The result is a kind of bandolier. Don't forget to pre-process the edge of the pocket. Fabric, you can choose a contrast to the basis.
In the wide separation of the pocket, which is approximately 4 cm, stick ruler with eraser, in the next, narrower, put pencils and pens, two in one compartment. If necessary, insert the compass. Tightly filled compartment – protection and guarantee for its contents from falling out.
Advice 2: DIY: pencil case for school with their hands
Our young students every day have to carry a lot of necessary items: pens, pencils, markers, rulers, and so on. Very often children are very reluctant to use the pencil case and all these much needed things lying around in backpacks, and the boys have time to rummage through them in search of a pencil or pen. To remedy the situation, try to make a pencil case with his own hands and with your child. Such a thing would be a source of pride for your student. And school supplies is always in order.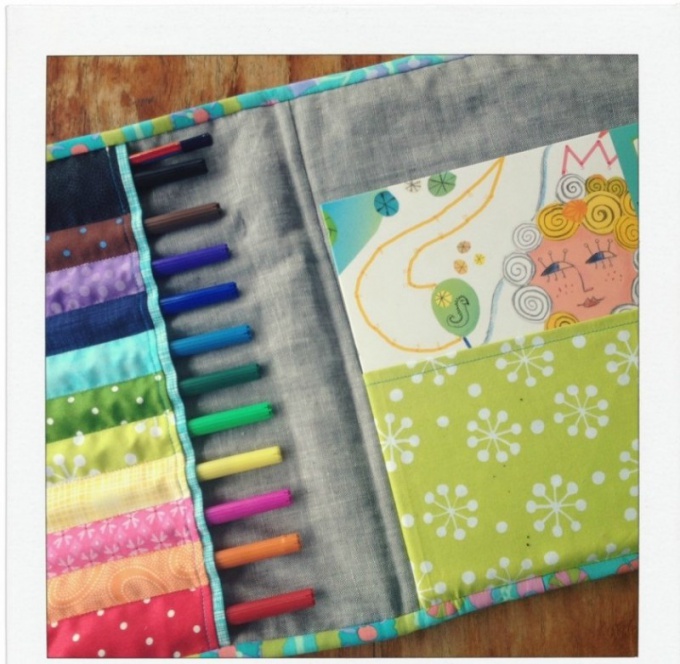 You will need
- 4 pieces of cotton fabric;
- interlining;
- threads;
- braid;
- satin ribbons;
- scissors;
- the range;
- a sewing machine.
Instruction
Together, choose a bright cotton fabric that will appeal to your child. You will need 2 pieces of bigger and 2 smaller. Length greater parts equal to the height of a pencil, plus a couple inches for seam, and the width depends on the number of pencils to be stored in the pencil case. The width of the smaller rectangle is equal to the width of the larger piece with a length less than 3-4 cm.
To give the strength of the structure by duplicating one part of a larger and one smaller adhesive interlining. It will have plenty of similar rectangles and glue them to the underside of the pieces with a flat iron.
Fold the rectangles with each other, right sides inside and sew all the sections at a distance of 1.5 cm from the edge, leaving 3-4 cm unsewn on one side. Through the hole remove the detail on the front side. seam unsewn hole fill inside the details. Smooth the seams and proutyuzhte.
Connect the large and small rectangles, lining up 3 sides. Staple items tailor with pins and sew together on three sides. Then plot vertical lines, retreating the required distance to form compartments for pencils, pens or rulers. on top of the seam sew a narrow bright band. With the two sides of the resulting part sew strings of ribbon or satin ribbons.
Decorate the pencil case. Make the application with your favorite cartoon character or his embroidered sequins, beads or braid. Your child will enjoy using this case and will learn to keep their things in order.
Insert in the finished pencil case pencils, markers and pens. Roll it into a tube and tie with ribbons.
Note
Very simple and fast to make a pencil case out of felt. Its edges do not fall off, the material is thick, so it is enough to cut out 2 rectangle is one more, and the second is smaller and sew them as described above.
Useful advice
In the handicraft shops there are a huge number of ready-made applications that can be easily glued to the garment with the iron.
Advice 3: What you can make from old jeans?
Denim has long been known for its versatility. Therefore, regular old jeans, found at the bottom of the wardrobe, should be regarded as an excellent catch, because you can make many beautiful and useful things!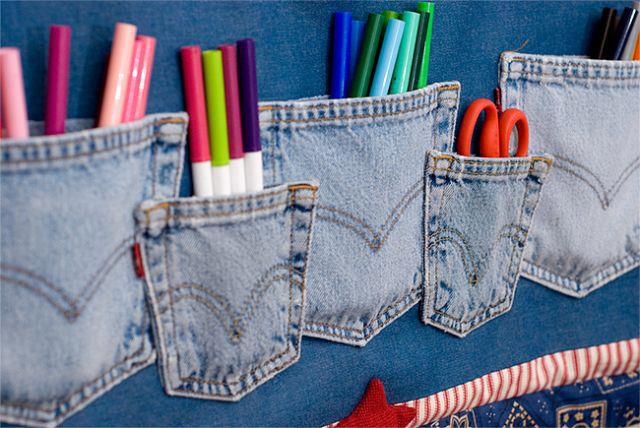 Instruction
First, if the jeans fit You well, but have some external defects, to eliminate them and to give exclusivity a designer jeans with patches, laces, rhinestones, beads, etc.
If the jeans become short, or they have a frayed hem, you can turn them into denim pants in any length you desire, and also in shorts and mini-skirt. To do this, simply cut the required piece of cloth, and in the case of skirts still to stitch a couple of stitches. You can do a long skirt, sewing denim top to the bottom of any material.
From denim scraps to make original shoelaces, and also use cuts of fabric for patchwork.
Denim material allows production of even shoes!
Huge popular denim purses, cosmetic bags, pencil cases, bags, bags for shoes, cell phone cases, etc For making simple things you do not need special skills or sewing skills, just creative inspiration and the ability to insert the thread a needle.
If you cut the pockets from a few pairs of jeans, you can make an interesting hanging organizer.
Widely used denim fabric for the upholstery of furniture, make covers, cushion covers, rugs and curtains.
Denim can be covered lampshade, decorate a flower pot, make photo frame, coaster, pot holder, coaster for hot dishes and many more.
Denim is stylish jewelry and accessories.
Denim is an excellent material for sewing soft toys, balls, dolls, blocks, etc. a Great way to create safe toys with your own hands!
The whole jeans can be turned into planters, and some couples even build the original hedge.