Instruction
Before you begin the process of making smoke grenades with colored smoke, decide how many pieces you need. For example, seven or eight pieces, equal in size to a matchbox, you will need 60 grams. potassium nitrate, 40g. of sugar, and incomplete teaspoon of baking soda.
Smoke bomb start to do with sleep potassium nitrate and sugar in a metal tin or aluminum pan, then put them on low heat appliance. Bring the mass to boil, continuously stirring. It will first start to melt, and then will boil. It is very important to stir the mass continually, to prevent it from burning. Pochivshaya a whole should make a brown color.
Now add the cooked mass a little soda, which will result in immediate foaming. Stir thoroughly, and then the mass may "escape".
Now the most interesting: for painting smoke, add three spoons of an organic dye called "henna". The color of the smoke in this case will be orange. You can experiment with potassium permanganate or food dyes.
After the mass is completely mixed up, she needs to stand still to cool down. Once the mixture has cooled to lukewarm, put on rubber gloves, take the mass and cram it in the prepared cylindrical box of film or empty matchboxes. See to it that mass was natalina tightly and without voids. While the mixture still does not harden, insert a pencil in order to form a hole for the wick.
When the mass is dry, insert the wick in it and lock it with cotton wool. Then tightly wrap the container of your checkers tape or duct tape on all sides, leaving only a hole for the wick. Grenade color smoke finish. That's all.
Advice 2 : How to make artificial smoke
You are no longer satisfied with a quiet home gatherings in honor of your birthday? And you are going to arrange the real holiday show? Then you can not do without all sorts of special effects. And equipment to create now you can easily rent.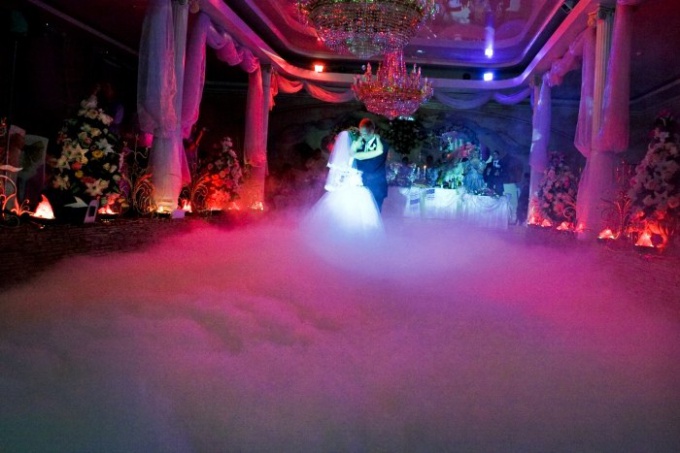 Instruction
Hire a generator of smoke. Model smoke machines are different, each of which gives a special smoke effect. For example, you can decorate the scene of the high pillars of smoke (geysers), which can be further effectively illuminated. This model is interesting because smoke pouring from her in the high post. Then in 1-2 seconds dissipated, leaving no trace. This effect can be used in the climax of your show.
Use the model with the effect of "heavy" smoke, creeping along the floor. This special effect is perfect for any concert, wedding celebration, disco or birthday. Complete smoke this dance floor. You will see how nice will look pair, slow-moving dance around the room.
Apply a fog machine, to create a "fog effect". This kind of smoke will emit into space the rays of lights and creates a mysterious atmosphere. It will be especially appropriate if you plan a tour of a rock band on your occasion.
Use smoke machines of different types according to their purposes. If you want to get the effect of "creeping smoke", use the outdoor types of smoke generators. If you need diffused throughout the room smoke, then you better purchase the pendant model.
Please contact the organization granting a lease of various equipment for the holidays. There you will be able to give you advice, provide the smoke machine, means to care for her, and also of the operator who will maintain it during the event.
Refrain from buying smoke machines, if you do not plan to use it often. If you decide to save money and acquire an inexpensive device, then you can not expect the most pleasant surprises. Low-cost machines is the sin of poor quality. Be a shame if in the moment the smoke just will not go. Therefore, it is better to rent a good camera.
Note
You should not be afraid of the toxicity of smoke machines. As a rule, to create a smoke effect, dry ice is used.
Useful advice
The smoke machine is suitable not only for parties but for the wedding celebration. A soft, prostrate on the floor the smoke will create a romantic and mysterious atmosphere to dance.