You will need
Oxygen bleach, booster Laundry detergent, washing powder, ammonia, turpentine, potassium permanganate, hydrogen peroxide.
Instruction
To whiten bed linen is possible with the help of modern means. In a bowl, pour hot water and add oxygen bleach. Soak the item in the solution overnight. In the morning rinse under running water and wash as usual. If you use the washing machine, add powder to a little powdered bleach or detergent booster.
To whiten linen, you can use traditional way — boiling. Put on the fire a large pot or bucket with water. Add detergent, put the bed linen and bring to a boil. Leave for 40 minutes, stirring occasionally. Then remove the linen and rinse with plenty of water.
Before washing, soak bed linen in hot water with a few tablespoons of ammonia and turpentine. This way you can restore the whiteness of even very dirty underwear.
Wash bed linen in the usual way. Then pour it in a bucket of hot water, add a handful of washing powder and a bit of potassium permanganate to get a pale pink solution. Immerse linen and cover the bucket with cling film. Leave in this condition for 1 hour. After this time, rinse the linen in running water.
In the bowl of hot water add 10 tablespoons of washing powder, 2 tablespoons of ammonia and turpentine and mix thoroughly. Lower the bed linen in this solution, cover and leave for 10 hours. Then rinse in running water, wring and dry.
There is another way of whitening. In the bowl of hot water add 2 tablespoons of ammonia and 3% hydrogen peroxide. Soak the pre-washed bed linen for 30-40 minutes. Rinse the cloth in plenty of water.
Advice 2: How to bleach the pan
Enameled pots over time, often yellow inside. Of course, it's not scary and they can continue to cook. But if you like perfect purity and whiteness, use one of the following means.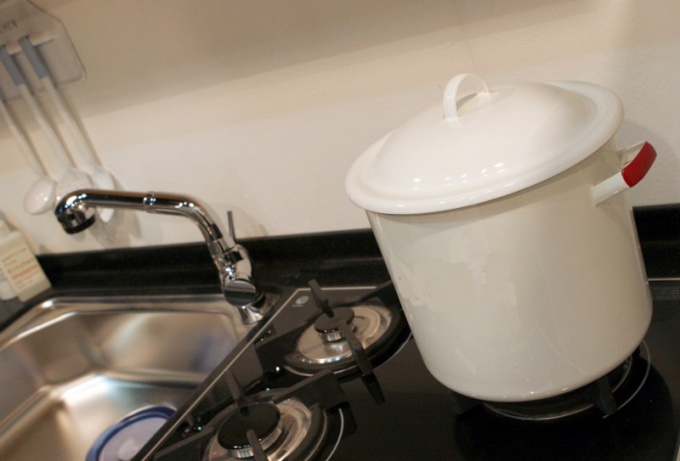 You will need
- bleach;
- peel pears and apples;
- baking soda;
onion;
- a means for washing dishes;
soap, soda ash and silicate glue.
Instruction
Boil a pan with bleach, such as with popular chlorine-containing "White". At the same time bleach any towels or linens in need of washing. To clean the pan not only inside but also outside, put it in another larger dish and do the same.
Clean the blackened inside of kettles and pots, and boiling them in the skins of pears and apples. There's another gentle (not chemical) way is baking soda, which helps in many cases. However, you may want a stronger effect, then sprinkle the baking soda in a saucepan, cover with water and leave it for a while, then longer boil on a slow fire. Rinse the dishes. If you want, use baking soda and salt at the same time. To enhance the effect, leave the pan to soak for several hours or overnight after boiling.
Boil the pan with a purified follicle is a natural way of cleaning stains and burnt. But if the ware is burnt badly, this method may not help until the end. Try to add also the vinegar, but only if the pan is aluminum or cast iron, otherwise the vinegar can damage the enamel.
Do not clean aluminum cookware aggressive funds, in particular containing acid. Dilute in water in a large dish of soap, soda ash, and some liquid glass from a hardware store. In this solution, place the aluminum pot and simmer. Goes not only the yellowing and darkening, but the fat, cleaned the burnt areas. This method can be used for enamel products, and pans. The proportions depend on the amount of water used and the quantity of dishes you are going to clean. On average, 4-5 liters of water take one soap (grate it on a grater), 2-3 cups of soda ash and 1-2 of the tube silicate glue (the same as paper glue or liquid glass). Focus on the degree of contamination.
Boil the pan in a solution of dishwashing detergent (pour a little more, and not a few drops as for washing dishes). Then use a rag or sponge to remove dirt. Dishwashing detergent is very popular now, they are used for different purposes, because they are well dissolved contamination. But they are not harmless, so at the end of the pot then rinse thoroughly.
Note
Do not use abrasive powders, hard brushes and sponges to avoid scratches and damage cookware.