Instruction
To the bed, underwear, shirts and shirt has kept its original white, each time you add the wash instead of bleach in the washing machine half a Cup of 3% solution of peroxide of hydrogen. Don't forget to use together with H2O2 and washing powder. This method is much cheaper and safer than washing with a chlorine-containing means. Moreover, later linen does not smell of bleach.
If things have already lost the white white, Laundry pre-soak them for a couple of hours in 3% strength H2O2 solution. Much for lost white things you can use a stronger concentrate 10-15%, adding a tablespoon of ammonia.
For stains from tea, coffee, fruit, juice, wine or blood, pour a small amount of a 3% solution of peroxide of hydrogen. Wait a couple of minutes and then wash it the usual thing for you – in the washing machine or by hands.
For stains on upholstered furniture pour a small amount of solution. After a couple of minutes with a sponge or a microfiber cloth wash the area with warm water. If the first attempt to remove the stain did not work, repeat the procedure again.
Using peroxide can safely remove stains on colored things. It does not discolor the fabric dye. However, cheap low-quality materials, this statement does not apply.
In addition, the peroxide of hydrogen is used for cleaning pools. To keep the water in the pool is not "blossomed", it added a 37% solution of H2O2. Per tonne of liquid you will need 0.5 kg of peroxide. Within 24 hours the substance loses its activity, improves oxygen and kills microorganisms in the water coloring green.
Useful advice
You can use it as a ready-made solution, which is sold in pharmacies and peroxide in tablets or in powder form. Using undiluted means you'll be able to adjust its percentage concentration.
Advice 2 : How to use hydrogen peroxide
Nature has taken care of the human immune system. Her white blood cells and granulocytes, produce peroxide of hydrogen, which, decaying, allocates atomic oxygen. Without it there can be no bioenergetic reaction. At the same time, the peroxide of hydrogen destroys any pathogenic flora: fungi, viruses, and bacteria. Great job on popularizing the use of peroxide of hydrogen patients did doctor of medical Sciences Ivan Pavlovich Neumyvakin.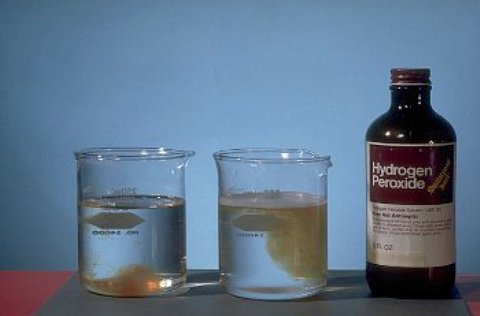 You will need
hydrogen peroxide 3%;
- baking soda;
- lemon.
Instruction
Peroxide of hydrogen is a drug of wide action. When the pain in my throat starting sore throat or a cold it is recommended to dilute 1 teaspoon of peroxide in 50 ml water and gargle with this solution 5-6 times a day the mouth, holding the solution in your mouth for 15 seconds.
With periodontal disease, bad breath, bleeding gums, prepare the following composition. Take half a teaspoon of baking soda, drip a few drops of lemon juice and 15 drops of peroxide of hydrogen, mix. Then, this composition gently RUB the gums and clean the teeth. Within 10-15 minutes, do not drink, eat or rinse your mouth.
For the treatment of painful areas prepare the following solution. 50 ml of water, pour 3 tablespoons of peroxide and mix the solution. Moisten a cotton cloth in it and apply as a compress on the sore spot for 2-3 hours. Then this is the place you can wipe not diluted 3% peroxideYu hydrogen. In Parkinson's disease and multiple sclerosis is recommended to wipe the whole body.
Also peroxide can be taken orally. Start with 1 drop three times a day, diluted in 1 tablespoon on the second day – 2 drops three times a day, etc. bring to 10 drops dissolved in a spoonful of water three times a day. Then break for 3 days. Begin to reduce from 10 drops to one under the old scheme. You can take unlimited time, depending on health.
Note
Contraindications ingestion of bleach is the only idiosyncrasy.
Useful advice
Hydrogen peroxide restores the balance of all body systems – digestive, immune, endocrine, circulatory, lymphatic, and energy. Pre-requisite peroxide is that it should take on an empty stomach. The author of the method of purification of peroxide recommends that a preliminary cleansing of the gastrointestinal tract, enemas, and herbs.
Advice 3 : How to whiten the blouse
Very often it happens that white shirt after a few washings, losing its whiteness and acquire a grayish hue. How to bleach a shirt and not ruin the fabric?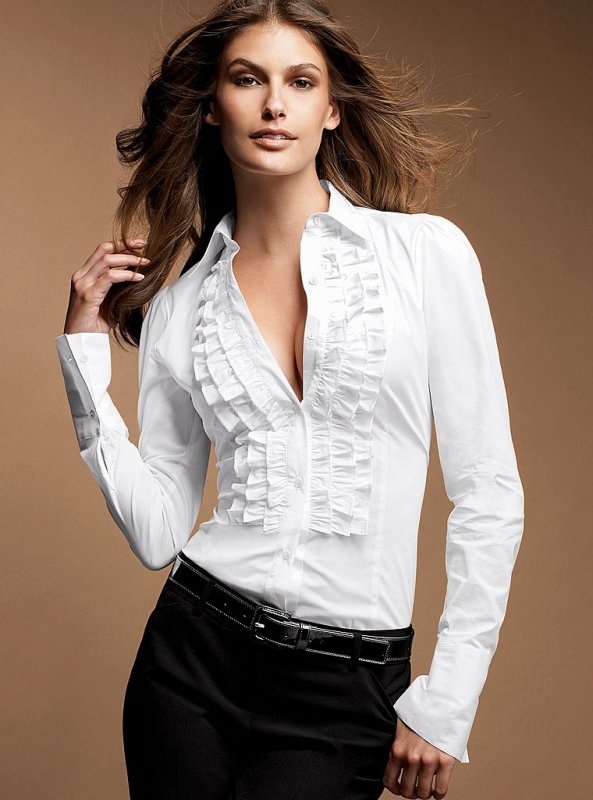 Instruction
The first rule that you must remember is that to erase the white stuff apart from color you need. In addition, it is also important to wash separately the items of linen and cotton from synthetic or wool. If you prefer to wash in the washing machine, to the usual washing powder is recommended to add a special powder bleach. It is also also called "power washing powder." It is also possible to pre-wash to add a small amount of liquid bleach. Currently available a lot of a variety of bleaches.
If you are opposed to the use of chemical whiteners, try to use folk remedies. However it is also not recommended to apply the most effective but also the most aggressive "method of the grandmother". It relates to boiling blouses in a saucepan with the addition of "White". After this blouse will be white, but the fabric it will quickly wear out. There are more gentle ways.
Pour in a bucket of hot water. Add to it a little potassium permanganate. Water should buy a little pink. Then add about 200 grams of washing powder. In a bucket you need to put already washed the blouse. Close it all with plastic wrap. You need to wait when the water is completely cool. Then thoroughly rinse the product.
In addition, the white stuff can be easily bleached using hydrogen peroxide. Pour 2 litres of warm water. Add in a container of three-percent hydrogen peroxide, about one teaspoon. You can also add a little soda ash. Place in the resulting solution a white blouse for 15-20 minutes. So there was a uniform bleaching, it is recommended to periodically stir.
The white stuff
, if they are made of cotton or linen, before washing, soak them for a couple of hours in the water, which is added in a small amount with the addition of ammonia.
Advice 4 : How to whiten underwear
Underwear gradually loses its lustrous sheen and starts to look untidy. To restore yellowed white or gray things, came up with quite a lot of different tools, so if you want things can be "reanimated".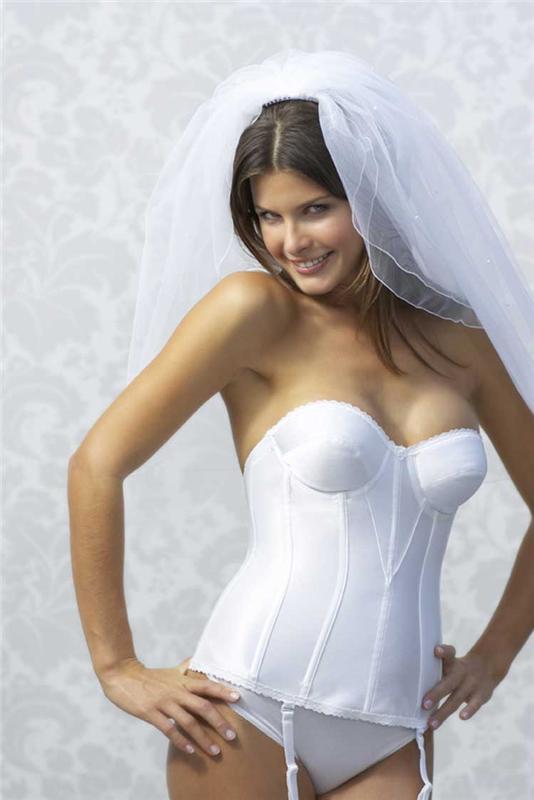 You will need
- bleach;
powder;
- salt and soda;
- hydrogen peroxide.
Instruction
Things made of cotton or linen can be boiled. For this purpose it is better to use purified water, benefit of it must not so much. Pour water into an enamel bowl (a bowl or bucket, add detergent and a little
bleach
, and put on fire to boil. Do not forget to stir. Once things let the sauce to boil for 30-40 minutes, well otbrosit them in clean water. But it's worth noting that after boiling the clothes may slightly shrink in size.
With each wash, add a bit of baking soda and salt. If you wash in the machine, that will suffice 2 tsp salt and 3 tsp. of baking soda. Of course, linen does not blanch the first time, but it gradually returns to previous form.
Soak the linen in cold water with oxygen bleach overnight. In the morning wash it by hand and rinse in clean water. To use for this purpose, the boiling water is not recommended, as bleach at high temperatures has a negative impact on the fibres.
Dissolve 2 tbsp of hydrogen peroxide in a liter of water and soak in the resulting solution linen. The bleach perfectly whitens and brightens fabric color.
At hardware stores sell special detergents for lingerie. Method of use described on the package. If you decide to use it, then first read all the guidelines, otherwise things may be permanently damaged.
To maintain the white appearance from underwear,, use the powder with optical bleach from leading brands. If you have dirty water (a yellowish tint), pre-boil and defend it. Then drain in a basin, and linen wash only in clean water by hand.
Useful advice
Do not attempt to bleach underwear citric acid. It gives a yellow tint to things. To use it is pointless.
Advice 5 : How to use hydrogen peroxide for disinfection
Hydrogen peroxide has strong antimicrobial properties and is recommended for use for disinfecting wounds, tools, different surfaces and disinfection of premises. For each of these purposes has a particular concentration of the drug.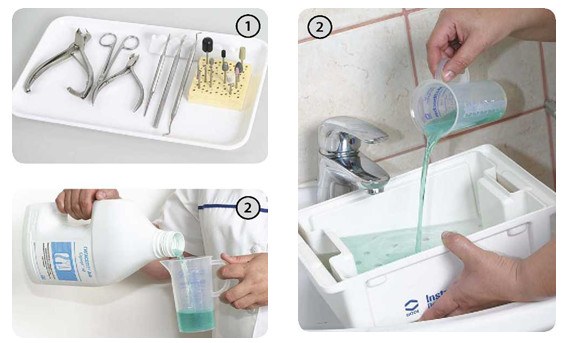 You will need
hydrogen peroxide;
- instruction No. 858-70 from 29.08.1970
Instruction
Hydrogen peroxide is a weak acid, this substance consists of water and hydrogen. Due to its high oxidizing properties, H2O2 is a strong bleaching and disinfecting agent. This is due to the fact that upon contact of hydrogen peroxide with any surface starts quick reaction, in which the released oxygen free radicals. They damage cells and tissues protective coating bacteria so that pathogens are killed.
Depending on what you need to process, H2O2 is used in different concentrations. For preparation of working disinfectant used concentrated 35% solution of perhydrol. There are official instructions on the use of H2O2, which defines the required proportions.
In most cases used 3-6% solution of hydrogen peroxide. The exposure time required for destruction of pathogens, may be 30 to 180 minutes. Allowed to wipe, spray, immerse, soak the objects of sanitation in the working solution.
With the help of hydrogen peroxide can disinfect sanitary-technical equipment, including metal, plastic, rubber, plastic and glass; sterilizing surgical instruments and medical diagnostic instruments; to bleach and disinfect linen.
You soak it in 3% hydrogen peroxide for 40 minutes, after disinfection, to wash and rinse with running water for at least 5 minutes. Surfaces in premises, furniture, surfaces of instruments and apparatus should be wiped with a cloth soaked with working solution.
For preparation of working solution, take an enamel bowl no chips, dial 500 ml of warm (50-55oC with) drinking water, add the required quantity of perhydrol ( in accordance with instruction No. 858-70 from 29.08.1970) and bring the volume to 1 liter.
For sterilization of surgical instruments in the working solution was added 1.4 g anti-corrosive agent sodium oleate and 10 g of detergent "LOTOS" or its analogues.
The flow rate of the drug when wiping 200 ml/1 sq. m.; together with a detergent 100 ml/1 sq. m.; under irrigation from gidroperita 300 ml/1 sq. m. At the expiry of the specified time the surface must be washed with water and ventilate the area.
Dilution of concentrated perhydrol is important to avoid its contact with skin or ingested, it can be deadly. In the preparation of working solutions should wear protective clothing, goggles, household rubber gloves and a respirator.
Note
In case of accidental poisoning the respiratory tract with hydrogen peroxide need to give warm alkaline drink (milk or water), rinse mouth and nasal passages with water and consult a doctor. After contact of the drug inside submit 10-15 crushed tablets of activated charcoal and urgently call an ambulance. Vomiting might not be called, not to add burns to mucous.
Useful advice
Working solutions for disinfection should be used once. The drug should be stored in a dark place in a labelled container with the lid tightly closed.
Advice 6 : How does hydrogen peroxide
Hydrogen peroxide is called well-known people substance that is widely used in medicine and for domestic purposes. In particular, hydrogen peroxide is recommended as a disinfectant.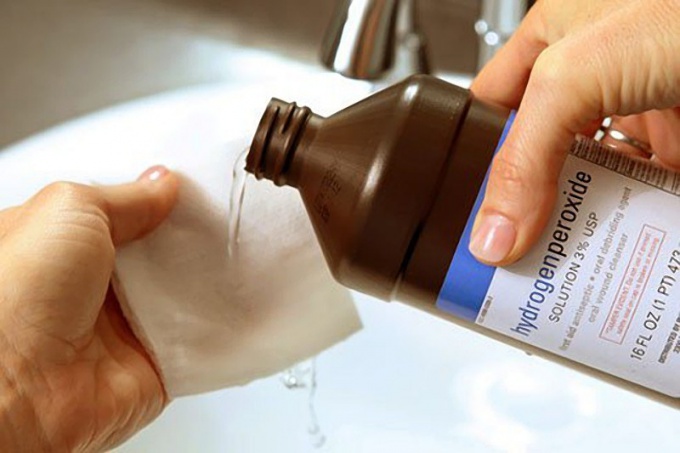 You will need
hydrogen peroxide;
- mixing container;
- a cotton swab.
Instruction
H2O2 i.e. hydrogen peroxide, in our time, is a great success. Medicine used various preparations on the basis of H2O2, which can easily buy in pharmacies. Depending on the concentration of peroxide has a bacteriostatic and bactericidal effect on microorganisms. Also, it can have a deodorizing effect, and in high concentrations when applied to the skin, irritating the place that is ingested, and may cause depigmentation of the skin or mucous membranes.
The action of the peroxide is due to the fact that when in contact with living tissue it begins to decompose. This releases molecular oxygen, which promotes oxidation of organic components of different cells. The decomposition of peroxide oxygen is released so vigorously that the solution foams.
The resulting in contact with the fabric foam AIDS in the mechanical cleansing of the damage and wounds. Along with the foam removed from the wound debris, bacteria, necrotic tissue, purulent discharge and so on. A solution of hydrogen peroxide is able by foaming to provide the hemostatic effect of a small bleeding.
The diluted solution of hydrogen peroxide in one hundred milliliters contains perhydrol – 10 g, 0,05 g of a stabilizer, about 100 ml of water. The hydrogen peroxide it contains in the amount of three percent. This liquid has no color, nor smell or it is very weakly expressed. The liquid quickly decomposes, releasing oxygen, when exposed to light, when heated, in contact with oxidizing or reducing substances, some metals and alkalis.
Note
H2O2 is traditionally administered topically. Peroxide is successfully used for washing wounds or gynecological diseases. The drug is very effective in stomatitis, angina rinse it very able to help.

Hydrogen peroxide is recommended as a hemostatic means of local action to stop minor capillary bleeding.
Useful advice
A concentrated solution of peroxide used pure or in ointments as a depigmenting agent, and when mixed with detergents in order to disinfect and decontaminate a room. Add it allows to obtain solutions, which are used as antiseptics.

Gidroperit – another drug, which is a compound of urea and hydrogen peroxide. Available in the form of white tablets, which dissolve easily in water. To prepare a gargle for the mouth, it is generally recommended to dissolve the tablet in a glass of warm water. But it should be borne in mind that antimicrobial effect on a short time – separation of oxygen from solution occurs rapidly.