Instruction
In pursuit of a white color of things you can use the old "grandma's" method – boiling. To do this, put a big bucket of water on the stove (if the glass ceramic hob, do not exceed the weight load of the slab). Dissolve in a bucket of the powder for hand washing and put ashen linen. Simmer for 30-40 minutes, stirring occasionally linen. Cooled down a bit put linen in the washing machine, rinse and wring in it. This method is suitable only for white clothes made of natural fabrics. Usually it's bed linen, children's underwear, kitchen towels.
More gentle way is soaking the clothes before washing. On 12 liters of water, put 8 tablespoons of salt, 50 g of washing powder, 3 l of 3% hydrogen peroxide and 20 ml of hydrogen peroxide. Let items soak in warm water for 4 hours in this solution. Then thoroughly rinse. This soaking will return the white stuff made of wool and silk.
For whitening things from guipure fabric and tulle, place in a bowl of water 2 tablespoons of hydrogen peroxide and 1 tablespoon of ammonia. Soak for 30 minutes and then rinse.
One of the simple ways to return things snow white is the use of bleach. When washing in the washing machine to powder, add the powder bleach & washing powder. If you bought a bleach in liquid form, paste it into the compartment for pre-wash. Carefully read the instructions for use of this tool, it indicates for what type of fabric is used, the bleach, the temperature regime in which it is used and the dosage.
Useful advice
Be sure to wash white items separately from light as cotton and linen clothing separately from synthetic and silk. In this case, after washing the white things are not becomes gray.
Advice 2 : How to make linen white
Unfortunately, to preserve the pristine, fresh white linen is quite difficult. Even in the conditions of oversaturation of the market of various chemical products designed to facilitate this task, the hostesses are constantly looking for the most effective ways of washing and bleaching.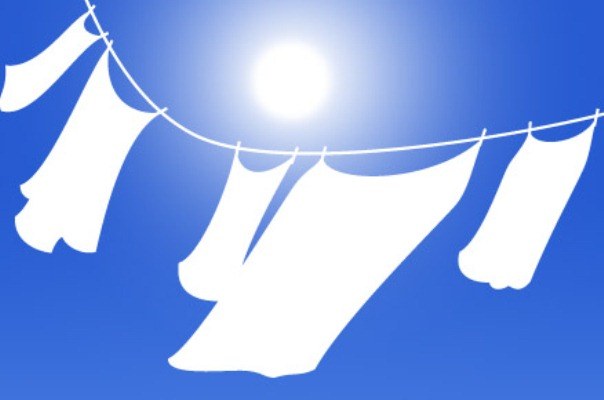 You will need
- yeast;
- turpentine;
- lemon juice;
- boric acid;
- potassium permanganate.
Instruction
When washing you should consider the quality of the fabric from which made your underwear. Delicate fabrics should be washed at a lower temperature of water, connecting a weak spin, etc., and denser can be subjected to intense attack. Therefore, separating whites from colors, it is recommended to divide it by the density. Synthetic and wool fabric should not be washed together with linen and cotton, because then you get the grey linen, besides, and not "pellets".
Undertaking the Laundry the white stuff, you still should not underestimate the achievements of the chemical industry. Correctly using powders and bleaches (and for this you should carefully read the accompanying information), you have no extra efforts not only to wash most of the dirt, but also improve the color of products.
Put in the washing machine is not only Laundry detergent, but his amplifiers as well as special formulations for whitening, which refreshes the color and gives it a dazzling white shade.
Many of the problems with washing white linen (grey plaque, yellow stains) can be avoided if pre-his
urine
te. Leave for a few hours the white stuff in a soap solution and a significant portion of the dirt will easily wash out. By the way, by soaking the linen try to dissolve the powder, so as not to add to the fabric and other spots.
But if traditional means are somehow not solved the problem, you can try to bleach linen and folk remedies. For example, soak the linen for 4-6 hours in water with nutritional yeast. Or Laundry pre-soak your stuff in water, after adding the lemon juice. Linen from flax and cotton soaked, adding to the water a few tablespoons of turpentine. Also, things are easier to wash out if them for a couple of hours to soak in water with addition of 1-2 tablespoons of boric acid.
You can soak in potassium permanganate. To do this, pour into two five-liter bowl of very hot water. In one of them astrogate a quarter of a bar of soap, and in another place a few crystals of potassium permanganate (solution should acquire a bright red color). Then the two solutions mix, lather, and soak the linen. After 8 hours rinse the linen in cold water.
A good result can be obtained by using and so the "old" way, as boiling. But you should know that this heat treatment allowed to put only underwear made of thick fabric, for example linen, cotton or calico. For boiling take a large metal container on the bottom of which lay something white, then put all that you are going to whiten, and fill it with water with dissolved detergent. Boil need no more than 30-40 minutes from the moment of boiling water, and important to make sure that linen was always covered with water (it floats). After boiling the clothes should be rinsed in warm water and then in cold and dry.