Instruction
For blessing in advance to get an icon. You will need to transfer to a new family where the icon will act as a kind of relic. The girl usually bless the icon of the Mother of God. However, the Church does not give any precise indications about this. So if your family have an icon, which may be transmitted from generation to generation, you can bless it. There are cases when the parents of the bride and groom jointly purchase the icon and give young.
Bless the daughter can be when the groom will come to her parental home to ask the hand of his future wife. However, traditions change over time. Now it is customary to give a blessing only after the groom pays the ransom, will stand all tests and will show you the bride to guests.
After all the conventions are made and guests are going to go to the registry office, take the bride and groom in a separate room. The blessing should be given in the presence of only the closest people. It would be nice if this can be the godparents of the bride. The blessing is given not only daughter, but her future husband, as you agree to live as one family.
When all that's necessary for the blessings gathered, you can begin. The bride and groom have to stand in front of you. Pick up the icon, which will bless. Turn her face to the young. Then tell them their parting words. Do not prepare a long speech, quite sincerely wish happiness and love. Remember - it's not so much custom, how much wish all the best to your daughter in a new family.
After parting speeches have a three-fold cross turns to the bride and groom. They should then kiss the icon, and then cross.
Note
If after the traditional wedding, the couple decides to get married in the Church it is advisable to take the icons which their blessed parents.
Advice 2 : How to congratulate your daughter at the wedding
A daughter's wedding
is an exciting event for her parents and other loved ones. The original message, which is embedded in the particle's loving soul will be remembered for a lifetime.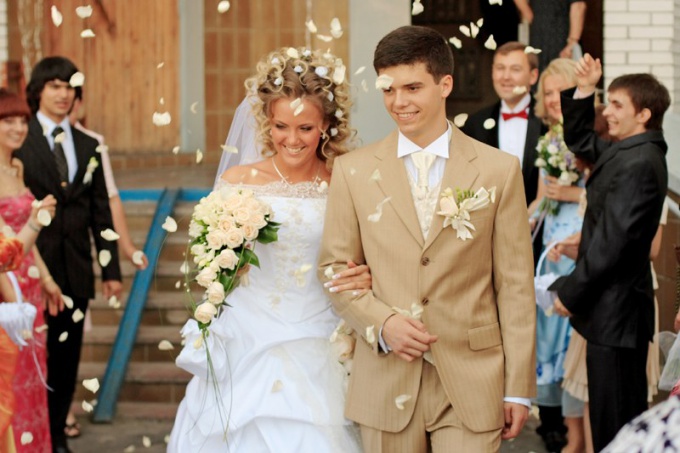 You will need
-prepared a congratulatory speech;
-poems about daughters.
- author wedding card;
album of memories.
Instruction
Greeting parents at the wedding of the daughter is the most exciting moment. Make it memorable and unusual will help you with words and poems spoken from the heart and memorable gift that will leave the memories of that day for life.
Sit down and carefully think about what you want to say and to wish his adult daughter, creating a family nest. Take a pen and paper and begin to record everything coming into the mind thoughts, everything that you wanted to say. Read and based on this sketch, make a short speech greeting.
Go on the Internet and on greeting portals find verses that karakteriziraju your feelings to her daughter. But if there is a desire, write them yourself. Buy beautiful wedding card handmade, and write down your poems-treatment.
Purchase a beautiful delicate album in pastel colors (just a photo album or special album for scrapbooking). Remove all photos that have your daughter and make a selection from the first days of its birth to the present time. If you have memorabilia (tickets to the circus, children's theater, a collection of postcards of your daughter, etc.) use them for decorating album pages, also make commemorative inscriptions about his childhood, his youth. If you feel that you can't, order this album from the experts. On the Internet find many sites with the services of these professionals. But to start, let's see what specifically I would like to do, what style. To do this, visit the websites of scrapbooking, for example - http://scrap-info.ru/gallery/index.php?storytopic=67.
On the wedding day to congratulate the young family and will contact your daughter with your own words, read poems and present an album that will remind your daughter of her parents, the warmth of the family hearth, now she needs to create.
Give a young couple a gift that they will be able to pass the same day your daughter or son. Any talisman, amulet, so it became a family tradition. If you follow Christian traditions, buy a couple of icons that will bless your daughter and her lover in a strong Union.