Instruction
Eat less. The more often you eat, the faster your
metabolism
, so in order to gain weight, it is advisable to eat no more than 3 times a day. The fact is that when you experience hunger, the body increases the level of stress hormones, which lead to a slower metabolism. Besides, if you think hungry, you'll excite your appetite and you will eat more food than we could handle, eating as usual.
Less sleep. Daily dose of sleep is considered to be 8 hours. However, people who want to slow down your metabolism, you should be spending in bed for 1-2 hours less time. When you don't get enough sleep, your adrenal glands produce cortisol – a hormone that impede metabolism. However, exercise caution cortisol not only help your hips slightly rounded, but also reduce the immune system, slow thinking, will affect the digestion.
Add simple carbohydrates, primarily refined sugar, white flour and all products containing them. These carbohydrates are also called fast – thanks to its simple structure (only 1-2 molecules of monosaccharides) absorb them very quickly and immediately converts into fat. Especially actively "lean" fast carbs is in the evening: in the morning the carbs are burned, providing a high level of energy, and toward evening, the body tends to convert them into fat and set aside "in reserve".
More fat. Fat is an excellent source of calories. Thus, gold in a piece of bacon contains 770 calories, 100 grams of vegetable oil – almost 900 calories in butter about 700 kcal per 100 grams. Therefore, abundant watering salad oil, you will increase its caloric value several times! You can add a few tablespoons of oil in almost any dish: a taste of porridge, spaghetti, vegetable stew will only improve. Try to give preference to unrefined sunflower, corn, olive oil: they are rich in vitamins, especially vitamin E. But margarine is better to refuse – this product is very harmful to health, and calories in it, usually less.
Less fibre. Fiber is a plant fiber, which in large quantities are contained in raw fruits, vegetables, bread from wheat flour, pasta from durum wheat. Fiber is good for those who want to lose weight: it slowly passes through the digestive tract, making longer the feeling of satiety, and, most importantly, it accelerates metabolism. It is believed that consuming a lot of fiber, people can speed up the metabolism to the third! Completely abandon foods that contain fiber, still not worth it, otherwise you risk to "earn" problems with the chair.
Eat less proteins. Limit your intake of eggs, lean meats and fish. These products are ideal for those who suffer from excess weight: they are relatively low in calories, but they are hearty. Eating protein foods, you won't want to eat. In addition, to break down the proteins, the body spends quite a lot of energy, causing calories eaten "lost" in the process of digestion.
Note
Excessive thinness may be a consequence of any disease, so consultation of the doctor for this reason will not be superfluous. In that case, if before your weight was normal, and later you lost a lot of weight without any apparent reason, you should definitely consult a specialist.
Useful advice
You can improve your figure, gaining lean muscle mass. The metabolism is not slowed down, quite the contrary. However, this way you will be able to recover without harm to health. Besides the muscles will help your body to acquire a beautiful silhouette and shape. The weight contributes to the strength training. But the cardio should be abandoned: they are useful to those people who want to lose weight.
Advice 2: Fast metabolism: how to gain weight
Metabolism is the main process which consists of various biochemical processes happening in a living organism. Many women trying unsuccessfully to lose weight, I'm surprised those women who eat all what you want and not get fat. All business in a fast metabolism. Thus, in order
to gain
weight, you need to slow down your metabolism.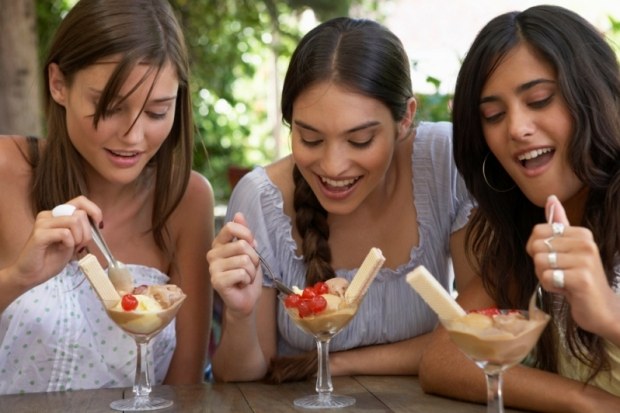 Instruction
First rule - do not drink caffeine, contained in the food. It stimulates the increasing the speed of metabolism. So you should limit the amount of coffee to recover.
Should the eating of refined carbohydrates that contain fiber. These include flour, white sugar, pasta. Therefore, you should consume as many refined carbohydrates. Increasing the level of fiber you can speed up the metabolism by 30%.
Should not eat a lot of protein foods, as it harder to digest. Trying to break down protein the human body spends too much energy and calories lost. Metabolism while accelerating to 35 percent, which is undesirable for a person who wants to gain weight.
There are also many ways to season food to obtain from it the maximum of useful substances. For example, prepare spaghetti or macaroni, you can not only add them to the sauce, but seasoning with olive oil. You need to spread on sandwiches oil or mayonnaise, to tea and add honey and crackers to eat with peanut butter. Such additional ingredients will help to quickly gaining weight, slowing the metabolism.
Frequent meals cause the metabolism to work faster and this leads to the fact that calories are spent on the transformation of food into nutrients. To slow down metabolism and gain weight, you must eat five to six times a day, as some think, but three times. This is more than enough.
When you execute physical exercises that are necessary even when weight, should not engage too intensively several times a week for 10-15 minutes. For example, running is replaced with moderate walking, which is useful because it improves the cardiovascular system. Strength training with the highest intensity should be deleted. Exercises with dumbbells, walking for half an hour three times a week, as well as a chin-up will help to increase the weight, slowing the metabolism.
You should not eat too much dairy products. However, to completely abandon them is not necessary, as the experiments have shown that in this situation there comes a calcium deficiency. To avoid this, dairy products should be included in the diet. Thus, it is possible to eat lunch a few pieces of cheese, and Breakfast be limited to yogurt.