Documents for the sale of rabbit meat
By law, to sell any meat, necessary veterinary documents confirming quality. Of course, friends and neighbors are unlikely to ask you for it, but for the implementation of rabbit meat in the market or for sales to large public catering enterprises will have to get a veterinary certificate, without which to buy, sell and use your products, they will not.
So, before slaughter is necessary to carry out a clinical inspection of animals veterinary doctor, who will issue you with a veterinary certificate. With this document you can take animals to the slaughterhouse, so as to independently score them for sale impossible. Veterinarian at the slaughterhouse will give you another piece of evidence confirming the absence of meat and offal of any harmful substances and organisms. And put a stamp on each carcass. Only after that meat rabbits can be taken for implementation.
Not worth the risk and sell the meat without veterinary documents, though their production and costs money, as it provides for fines.
Where to take meat rabbits
The fastest, but the most disadvantageous for the owner mini-farm, raising rabbits option – the delivery of meat firms in wholesale trade. To attach to rabbit is almost always possible, but the price for its purchase will be very low, as selling wholesale cheaper.
It is best to try to attach meat rabbits in private butcher shops. Owners of small shops are usually pretty easy to go to a deal with the owner of the rabbit farm, especially if this type of meat to them yet no one delivers. This will allow them to expand the store and gain new customers.
You can also try to attach the rabbit in restaurants, as dishes from this delicious meat is always present in menus of food establishments at a high level. But not every chef will venture to purchase products from unknown supplier. To convince him of a good quality meat, you can start to give him a few carcasses to sample.
Idea supply of rabbit meat in a restaurant will be successful, given the specificity of the institution. The rabbit, for example, was always present in the menu of Russian cuisine, but Japanese sushi bar are unlikely to use such a product.
A good profit can bring self-realization of meat on the market, but you need to get permission to trade. And to sell the meat only at the market where there is a State laboratory of veterinary-sanitary examination. But in this case, you will be able to control the cost, depending on the existing demand.
To sell meat rabbits, you can also advertise in local Newspapers, putting up flyers around town or post information about it on the Internet. It should be required to indicate the advantages of your goods, e.g. low price or high quality, documented.
Advice 2: How to start raising rabbits
Breeding rabbits is the production of dietary meat and pelts in the home or industrial scale. The meat of these animals is very delicious, it is easy to digest and extremely helpful. Due to the higher protein content, it can be used even for the elderly, persons suffering from gastro-intestinal and cardiovascular diseases and used as first feeding in the diet of young children.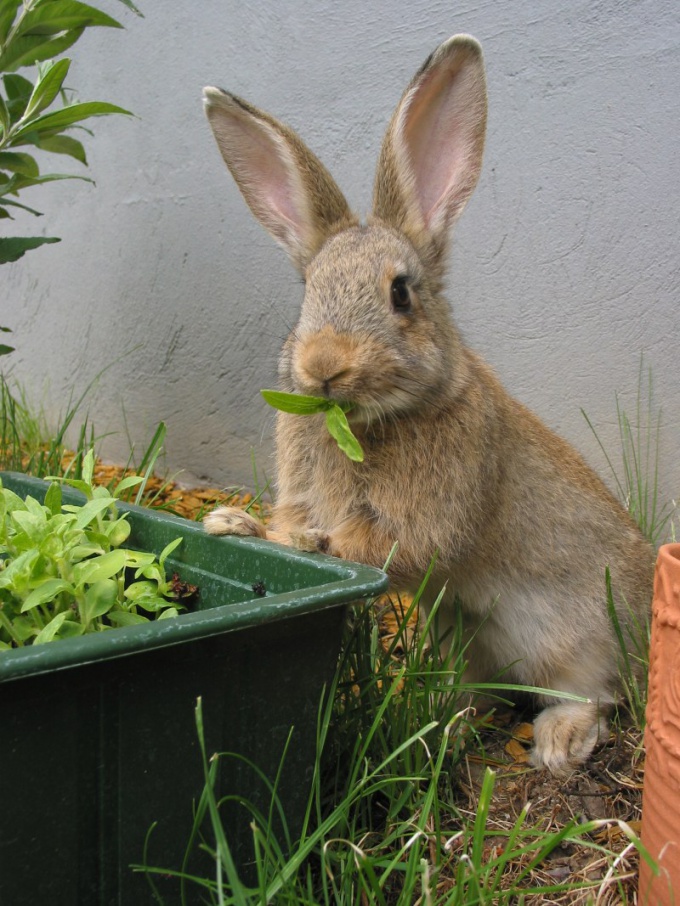 Instruction
Find a room for keeping rabbits. It is good to place the animals on the farm economy or in country areas, you can organize your own mini-farm. Build a design based on how many rabbits you plan to buy. The size should be less than three square meters. Purchase Pets from experienced breeders, well, if they are already vaccinated.
Prepare the litter, it can be made of straw or pieces of blankets. Put in the cage bowls for food and containers with clean water. Select a small area where the rabbits can leave wastes. Manure can be used as fertilizer or to negotiate its sale. Rabbits can withstand frost down to -30 degree, however, if you plan to breed them all year round and occasionally breed, take care of the insulation of the room. Can light, install electric water heating, etc.
Throw the rabbits by gender, starting from 3 months of age. This will avoid unplanned litter. The female may bear two litters at the same time, so don't be surprised if the difference between the birth of the rabbits is about three to four days. In moments of stress, for example, future rabbits can reabsorb in the womb. Thus, the rabbit starts the mechanism of self-defense of themselves and their progeny.
Feed the animals fresh vegetables, dry hay and grass. Daily change the water. Get a special tablet from worms, let their rabbits every 6 months. Discuss with your vet the need and schedule the vaccinations of your Pets.
Start searching for variants of sale of finished products. Conclude the contract for supply of meat with the closest places of public catering. Try to sell the goods through processing plants. Can register as an individual entrepreneur, if you plan to breed a large number of rabbits. Participate in various fairs, post ads in the media - so you attract buyers.