You will need
- business plan;
planning and building permits;
equipment;
products;
- staff.
Instruction
Conduct market research. The market situation in the large retail sector – the key to understanding consumer demand. After analyzing what the shops lack in your town, it is easy to understand whether your choice. Competitive analysis of client flows and competitive environment, conducted with respect to the selected premises, allows us to Refine, it is worth it to open a shop of sausages, or look for another located more successfully.
Invite supervisors to get advice on the replacement of utilities, location of shopping areas, materials that are allowed to use for decorating the hall, etc. otherwise (if you invite them, only when everything will be ready) will increase the risk of possible defects and, accordingly, alterations.
Make repairs, purchase and place business equipment. Keep in mind that buying refrigerated counters, better to take those in which there is the possibility of placing the required temperature. Trade sausages requires different modes. For example, smoked sausage best kept in a positive zone and the cooked – zero. If you are going to sell fried sausages, and other types of sausages from raw meat – provide a separate refrigeration showcase with negative area. Don't forget the refrigerating chamber in the utility room, for storage products.
Select suppliers. As a rule, it is better to offer products of several meat processing plants. In this case consumers more choice. Try to think through the range so that your store was presented and honey sausage, and sausage with a moderate cost. If you plan to sell liver sausage and sausagemade with the blood of cattle – remember that they have a very low shelf life.
Get permission, hire personnel, imported goods and start trading. In the first days it is advisable to enter the discount and any campaign aimed at attracting an audience. For sausage shop makes sense to carry out marketing actions, designed for residents of nearby houses.
Advice 2 : How to store smoked sausage
Smoked sausage – a product with a long history. Smoked sausage was served on a dinner table in Ancient Rome, a smoked sausage in medieval Europe, in Russia, this product Peter the great brought Germans. No wonder one of the nicknames given to this nation by the Russian people – "sausage makers". Almost every nation has its own, special recipes smoked sausage – this is Vienna sausage, and Spanish chorizo and Italian mortadella and hundreds of other varieties. Delicious product is stored for a long time, but it has its own "requirements".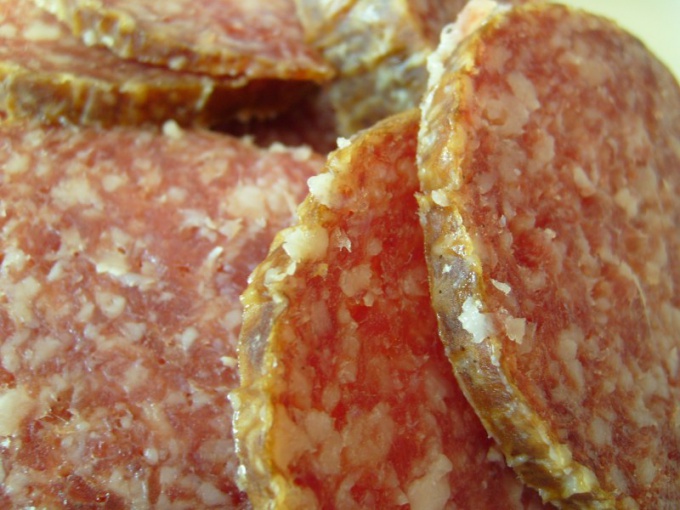 You will need
- food film;
foil;
container for storage of food products.
Instruction
Storing cabasicanimation smoked sausage in the sealed shell is not required to store in the fridge. Hang the stick in a well ventilated area with temperatures from 10 to 16 degrees Celsius, and it will be preserved for at least three months. If you keep it longer so, it is not so much spoiled as you wither, rather zakamenne and treats turn into a weapon. To "revive" this sausage is possible – you just need to wrap it in a damp linen cloth and put into the refrigerator. Of course, this sausage will lose a little in flavor, but at least you will be able to cut and chew.
Another method, which is suitable for too hard sausage – steaming. Boil water in a large saucepan, place it over a steamer or just a colander, put the sausage, reduce the heat to medium and keep the sausage over the steam for 20-25 minutes. Still warm sausage store in the refrigerator.
In the refrigerator a stick summer sausage can be stored for about a year. Keep it in the vegetable or fruit compartment. If the shell of the sausage will appear whitish patina, wipe the stick with a cloth soaked in vegetable oil.
Sausage, which you have already begun to slice, store in the refrigerator, wrapping the cut with cling film or removing the stick into the container.
Storing smoked sausage, cut into kusochkami can store the sausage in vacuum packaging without opening it, in accordance with the designated deadlines.
Sliced sausage store in plastic container or wrap in waxed paper. Also suitable for food film. Salami slices can be stored for 5-7 days, always in the fridge.
You can freeze the sliced sausage. To do this, wrap the slices in foil or store in zip-package. Carefully squeeze out of the package air and put the sausage in the freezer. So her shelf life will last up to 3-6 months. Before serving frozen sausage to the table, let it thaw in the fridge for 3-4 hours.