It is better to buy not frozen, and chilled fish. Fresh flounder should not have sharp smell of iodine. We bought fish on the light side of the carcass make V – shaped incision and peel off the head. With a sharp knife strut the belly and remove the insides. Cut the tail fins and gently remove the skin.
Remove the skin with gloves, so as not to injure hands with sharp spikes, which it is.
Cut fish rinse with cold water.
Cooking baked flounder
Ingredients:
- flounder – 2 pieces (large);
- lemon – 1 piece;
- fresh tomatoes – 2 pieces;
feta cheese – 4-5 pieces;
- vegetable oil – tbsp;
- fresh dill – 1 bunch;
- salt, pepper and seasoning for fish to taste;
Press the juice from the lemon, slice the tomatoes into thin slices, cheese grate on a fine grater. Prepared fish dry with a cloth, RUB with salt, sprinkle with black pepper and place in small saucepan with lemon juice.
If the flounder ROE, its better to fry separately on vegetable oil, so it will be tastier and won't crumble.
Let stand in a cool place, the fish has to be marinated. Then start to prepare the pan to bake the flounder in the oven. Lubricate it with vegetable oil or cover with foil. Place the fish on a baking sheet, top grease with vegetable oil.
Add flounder slices of tomatoes and pour on top of grated cheese. Put in preheated oven for 30-40 minutes. Baked fish serve, pre-sprinkled with dill.
Delicious fried flounder with bacon and peanuts
Ingredients:
- flounder – 1 piece;
- smoked bacon 2-3 strips;
- shelled peanuts – 3-4 tablespoons;
- lemon – 1 piece;
- cherry tomatoes – 3 to 4 pieces;
- olives – 4-5 pieces;
- olive oil 1-2 tablespoons;
- salt, pepper to taste.
Cleaned and washed the fish, blot dry, sdelayte transverse incisions, carefully season with salt and pepper. Remove the zest from the lemon, finely chop the parsley, stir and RUB into the cuts in the carcass of the flounder.
Heat the vegetable oil in a frying pan and fry the strips of bacon. Then add peanuts and fry for 5 minutes. Fried foods will put on a dish and into a frying pan, right in the flavored oil, dip the flounder. Sear the fish until Golden brown and gently flip. Put on flounder sliced cherry tomatoes and roasted nuts informed with the bacon. Add the olives and cook another 10 minutes until the fish is cooked. The finished dish is put on a flat plate and serve hot.
Advice 2: How to pickle flounder
The meat
of turbot
is rich in protein, which is completely absorbed by the body. In this fish contains a lot of minerals and trace elements: sodium, calcium, iron, selenium, phosphorus, iodine.
Flounder
include in the diet menu from it increase immunity and improve performance. It is usually fried or baked, but not less tasty plaice salty.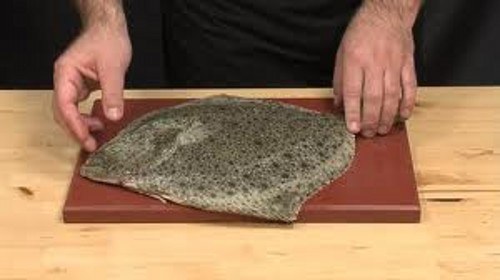 You will need
For pickling flounder in olive oil:

large flounder;
olive oil;
salt (large);
any spices to taste.
For salted flounder:
1 kg of flounder;
100-200 g of coarse salt;
20-40 g of sugar;
dill.
Instruction
Frozen flounder cut (slanting, the eyes cut) head, open the belly and remove the innards. Then remove the skin from the head to the tail. Podawa knife, pull down. The frozen fish it can be easily removed with strips. Cut the fins, cut off the fillets, wash and defrost.
Salting flounder in olive oil. Good dry each fillet with a towel or napkin and cut it into large pieces. Pour into a bowl or deep plate with the olive oil. Dip slices of flounder in butter and lay them in layers in a glass bowl. From lemon squeeze the juice. Each layer of flounder, salt, a little sprinkle with lemon juice, you can sprinkle with herbs and white ground pepper. Salted flounder taste like salted fish, use more salt, less salt or less, but for pickling this recipe is enough to salt the flounder, as in frying. Top row flounder pour olive oil so that the oil is well coated all the fish. Glass bowl cover and refrigerate. After 12 hours the fish are salted, but ready to eat will be in two days, when well-soaked with oil.
Salted flounder. For pickling flounder for this recipe, choose a medium-sized fish, medium size. Cut off the flounder's head, cut the abdomen, gut and remove the fins. Then have a fish to fillet, rinse well and carefully dry each fillet. Mix in a bowl salt and sugar. Wash, dry and finely chop the dill. Take a sheet of parchment paper, put on it a layer of fish, skin-side down and sprinkle with mixture of salt and sugar, and top with dill. Lay the second layer of flounder meat down. Then well wrap fish in parchment, put the yoke and put in the fridge. Saline this recipe flounder will be ready in a day.
Note
Salting flounder in olive oil is not suitable for long term storage. Of salt in the recipe a bit, and vegetable oil is a poor preservative.
Useful advice
*Use in pickling flounder only coarse sea salt.

*The recipe "Salted fish", you can pickle and other fish: trout, herring, mackerel.