Requirements for hand Luggage are determined by airline and airport, so be sure to ask them for your event before the flight. But there are common rules and norms.

1. The size of hand Luggage.
It is due to the size of overhead bins on the plane. Check on the airline's website allowed length, width and height of the bag.

2. Weight and number of seats. This is usually not more than 5 pounds and one seat (i.e. one bag), but the maximum weight also depends on the carrier and class of ticket. In first and business class, as a rule, there are two locations for baggage and more acceptable weight.

For control at the airport there are scales and special shape boxes to check the size of the bag.

3. Liquids.
All liquids must be in bottles or cans of not more than 100 ml each. Thus, the total volume should not exceed 1 liter. The jars should be Packed in a transparent bag. At most airports, these packages are issued. Keep in mind that under the concept of "fluid" are also creams, gels, toothpaste, cosmetics (lipstick, mascara), oil.
The stores sell convenience kits of capacities 100 ml, especially for travel.
An exception is made for baby food and medicines (better to take help from a doctor about the necessity of the medication).

4. Sharp and sharps. Knives, manicure accessories must not be carried in the cabin.

5. Hairspray and nail varnish fall under the definition of "flammable and toxic substances" and are not permitted to be carried in hand Luggage.

6. Products.
In some countries it is forbidden to export certain products, such as meat or dairy. Also note that yogurt, eggs and cheese fall under the definition of "liquids", and are subject to the same limitations, i.e. not more than 100 ml. it Is very sad when at the airport is taken away to the French or Swiss cheese, designed as a gift to friends.

7. Purchases in duty-free.
They are not subject to any restrictions applicable to hand Luggage, if the purchases are Packed in the closed package. The cheque better not to throw to arrival. But, if you have a flight with connections, when you transplant anything bought in duty-free, automatically becomes hand Luggage.

8. In addition to one piece of hand baggage allowances: hand-bags, briefcase, laptop in a special bag, one piece of outerwear, one sealed bag with goods from duty-free.

9. Common sense suggests that the trafficking of arms and narcotic substances is still prohibited.

The rigor of the inspection of hand Luggage depends on the airport and from the event. But, nevertheless, it is better not to risk and to follow the established rules.

Advice 2 : The ban on liquids on Board aircraft
Entered into force a new law that prohibits the transportation of any liquids in hand Luggage on Board the aircraft.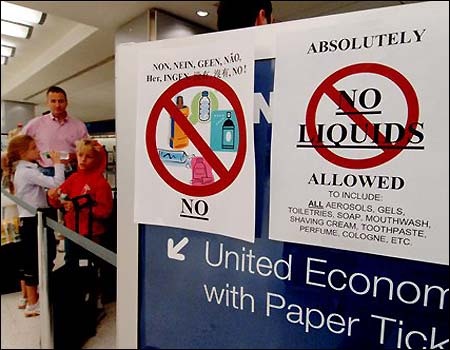 Many tourists who have to make a flight, concerned the issue of the ban on transportation in hand Luggage of all types of liquids. This ban is already in force and will remain in effect until the twentieth of March. This decision by the Federal air transport Agency has taken to provide greater security. Besides coming Olympics, where ensuring the absence of any terrorist attacks - the main prerogative of the authorities.


Currently, the aircraft is most vulnerable to the Commission of terrorist acts, so they paid such special attention. It should be noted that all liquids (such as medications and personal care products) the passenger has the right to put in my Luggage. Still, this new rule will not apply to goods bought in duty-free stores duty-free. After all, this is a sterile area, and all products have passed a thorough inspection. The purchased goods are not allowed to open during the flight, enjoy buying tourists will be able after arrival at the destination.


In fact, nothing of a supernova in this limitation. Russia even a little behind all over the world, where such a rule has long existed. Russian passengers are encouraged to be sympathetic to such bans. It is, first and foremost, security. Therefore, before departure, be sure to learn the rules of transportation of not only Luggage but also carry-on baggage; and also in due time to arrive at the departure airports.