Instruction
To a boiled chicken turned out delicious, you need to buy it in a chilled, but not frozen, because frozen meat is much less healthy substances, and who knows how many times it has been re-frozen. Good legs should be thin and delicate skin, the color of the meat is pale pink or beige. When clicking on it it must quickly recover its original shape. Such fresh meat when cooked will turn out tasty and tender.
Before cooking the legs, you need to defrost (if frozen) and rinse thoroughly. Then wipe with a cloth, put in a saucepan and cover with water with a margin of 2-3 cm and Put the saucepan on a medium heat.
If you want to get not just boiled chicken, but a nutrient broth, then the salt water at the beginning of cooking - 1 tsp salt to 1 liter of water. If your goal is to cook only the chicken legs, salt water 15 minutes after boiling water in a saucepan.
To give the chicken drumsticks a nice flavor, add to the pot after boiling water, coarsely chopped onions and carrots. You can add to taste garlic, spices: pepper, Basil, herbes de Provence, marjoram, Bay leaf (your choice).
Chicken boil for about 30-50 minutes. To check readiness, pierce the meat with a fork. If it is soft and it does not emit juice, it is ready. The cooked meat separates easily from the bones.
The legs will be even more tasty and healthy, if you cook it in the slow cooker. For this, you should rinse it and fill with water. Spices and vegetables in this case, you should put in the bowl of a slow cooker with the meat. To cook the legs need on mode "Stewing" for 30-40 minutes.
Boiled chicken can be served as a main dish with various side dishes (rice, buckwheat, potatoes, etc.). You can decorate the ham with greens or sauce.
Advice 2 : How to cook chicken legs
From
chicken legs
to cook the first dish. Soups with chicken are of excellent taste, and the Supplement can be pasta or vegetables.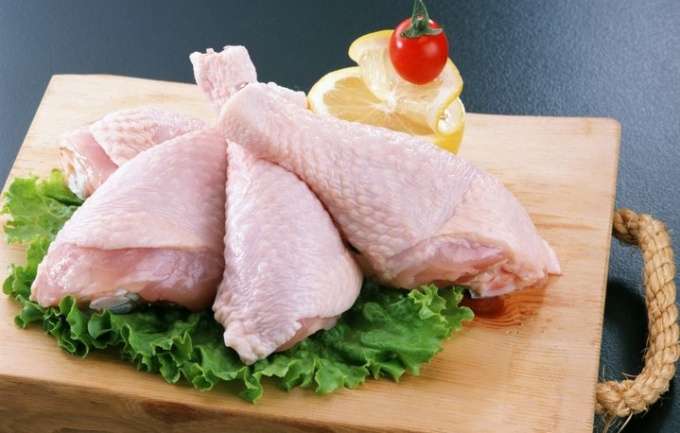 You will need
Soup from chicken feet and noodles:

chicken legs – 3 PCs.;
carrots – 2 PCs.;
potatoes – 4 PCs.;
thin vermicelli – 150 g;
dill;
black pepper;
salt.
Soup with chicken feet:
chicken legs – 3 PCs.;
potatoes – 5 PCs.;
fresh cabbage – 300 g;
carrot – 1 PC.;
onion – 1 PC.;
tomatoes – 2 PCs.;
Bulgarian pepper – 1 PC.;
green peas – 3 tbsp;
sunflower oil – 2 tbsp;
Bay leaf – 2 PCs.;
salt and pepper – to taste;
sour cream – to taste;
greens;
garlic.
Instruction
Soup from chicken feet and vermiculate cold water washed the chicken legs and place on high heat. Bring the water to a boil and reduce heat. Put in a pan the washed unpeeled onion and salt, it will add to the broth flavor and a nice Golden color. Cook legs and bow under the lid after half an hour, remove the onion from the soup, it is no longer needed.
Peel the carrots and grate it on a coarse grater, potatoes cut into cubes. Send the vegetables in the broth from the chicken legs. They should be boiled for 10 minutes, then pour in the soup noodles and cook for another 15 minutes.
Turn off the heat and season soup with chicken legs chopped dill. After 5 minutes, pour into soup bowls and place each on the half boiled eggs. Serve with white bread.
Soup with chicken nochevieja chicken legs, cover with water and bring to a boil over high heat. When the water boils, add salt and reduce heat to simmer, cook the chicken on medium heat for another 30 minutes. Then remove the legs of the chicken from the broth and separate the meat from skin and bones. Cut the processed meat into small pieces.
Cut potatoes into cubes, finely shred the cabbage, finely chop the tomatoes. Add the broth to the potatoes and boil for 15 minutes. Then send in a pot of cabbage, tomatoes and green peas.
Will peel onion and cut into thin half-rings. Carrots grate on a coarse grater, bell pepper cut into small cubes.
Add sauteed vegetables to chicken broth, toss the sliced meat and the Bay leaf. Simmer for 10 minutes, then pepper and salt the soup and turn off after 5 minutes. Leave the soup to stand 10 minutes.
Pour the finished dish bowls, each add sour cream and herbs and serve the soup with black bread and garlic.
Useful advice
When buying chicken, make sure the freshness of meat. Just press down on it with your finger - quality product should not remain dented.
Advice 3 : How to cook jellied knees
Aspic - the traditional and much-loved snack. A young hostess afraid to cook it because they think cooking is too complicated. In fact, the preparation of Brawn is not too time consuming. The broth is gently boiling on the stove, and you will be able to work on other dishes for the festive table.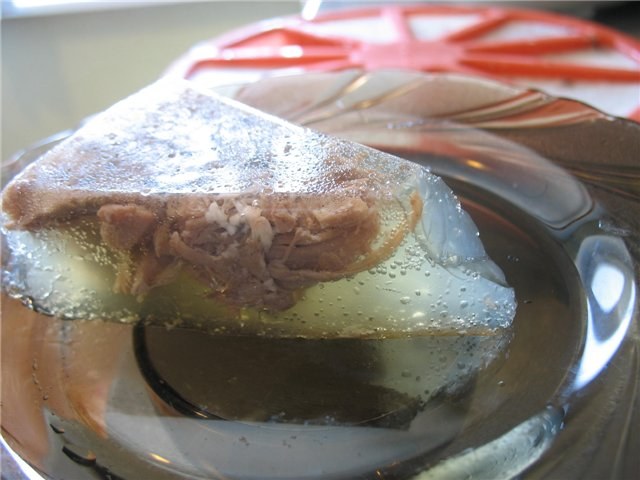 You will need
two large chicken legs;
unpeeled onion;
carrots;
green peas
carrots
parsley(for decoration);
salt;
ground black pepper.
Instruction
Knuckle good clean sharp knife. Rinse under cold running water. Cut into several small pieces and soak in cold water for three to four hours.
Chicken legs, rinse thoroughly.
Carrot peel and wash, but not cut.
In a pan put soaked shanks, chicken legs, whole carrots and raw onion.
Place on high heat. Bring to a boil, then remove the foam and reduce the heat to a minimum. Lightly season with salt.
The broth should just barely boil. Torment future
jelly
so for 6-7 hours.
Before shutting down try to RUB a drop of broth between his fingers. If there is a feeling of stickiness, the jelly hardens necessarily. Otherwise, cook for another.
Remove from the broth, meat and vegetables. Strain it through cheesecloth or a fine sieve. Leave it to cool.
Prepare a form to pour the jelly. At the bottom lay nicely chopped carrots, green peas and parsley leaves.
Disassemble the meat into small pieces and place on top of vegetables in the form to solidify.
Again strain the broth through several layers of cheesecloth. Try and dosolit, if necessary. Note that the broth for aspic should be a little saltier than soup.
Very carefully pour the broth into a form to solidify. Leave it to cool down in the room. Then place the mold in the fridge or move to the balcony, leave it overnight to complete curing.
If you like the flavor of garlic, chop two or three cloves and add to the broth before you pour it into the form.
To aspic apply mustard or horseradish.
Note
Not to be confused with aspic and aspic. For the preparation of the filler necessarily used gelatin. And the jelly or the jelly solidifies due to the large number generousi substances contained in pork knuckle.

Do not let the broth to a full boil, otherwise it will become opaque.
Useful advice
If the broth is too lean and does not freeze, try adding gelatin. Mix it in according to the recipe and pour in warm broth.
Advice 4 : How to cook soup with sausage
The traditional recipe soups includes several types of meat products, but with limited funds it is possible to prepare a more economical version of the soup. Solyanka with sausage turns out not less tasty than meat, cook it is not very difficult.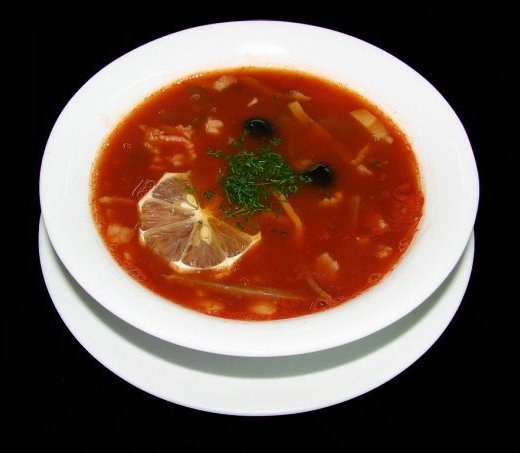 You will need
potatoes;
carrots;
bow;
cooked sausage;
smoked sausage;
sausages;
tomato paste;
salt
pepper
greens.
Instruction
Prepare the broth, so as to achieve a gain even from the most high quality sausage hard enough. As a meat basis, you can use beef brisket, ribs or chicken. The broth is brewed for hours in the boiling process, it is necessary to add a few peas black pepper and Bay leaf.
While preparing the soup base, cut into slices carrots and onions and fry them in vegetable oil.
Peel the potatoes, wash it and cut into wedges.
Remove meat from broth and put in a saucepan to cook the potatoes. Meat clean from the bones, cut into pieces and put it back in the broth.
10 minutes before the potatoes are done put in the pan carrot, onion and a tablespoon of tomato paste, add black olives, pitted. If you put the tomato paste early, the potatoes will cook longer. You can use olives with pits, as is sometimes practiced in the institutions of public power, but to get rid of them in the process of tasting the soup is not too convenient.
Cut into slices the same size, smoked, and boiled sausages,
sausages
. The number of sausages will depend on the volume pots, but enough for 2 liters 100 grams of all three types of products.
Directly before turning off the fire, put in a saucepan the chopped dill and parsley.
Note
Despite the fact that cooking soups with sausage requires many ingredients, the whole cooking process of the soup takes no more than 1.5 hours. Serve the stew tastes best with sour cream.
Useful advice
Recipe soup with sausage envisages the presence of lemon, from which the soup gets a unique acidity. But you can proceed in two ways: either add a few cloves, peeled peel, into the pot for a few minutes before turning off the fire, or add lemon directly when serving soup on the table in each plate.