Instruction
Often
the hardened skin
on the feet is the result of improper foot care, wear hard shoes, disorders of the endocrine system and vitamin deficiency.
When choosing shoes, make sure that you are not too tight and there is still sufficient space to be able to straighten the toes. Casual shoes choose a low and stable heel.
To treat rough stop necessary to carry out the following activities. Before a shower or bath lubricate them with a fat cream and leave it for a while. After that, lightly spray Tarocco for the legs, shake off the excess water and start treating it with dry feet.
After 20-30 seconds of the old skin will begin to roll spools and separated from the legs. Periodically dampen the trowel and repeat the procedure 3-4 times per session. Then take a bath, brush
heel
cream and cover them with cotton socks.
Such events, preferably at night to feet in socks as long as possible. The result will be noticeable after 1 treatment, and on the fifth day the legs will be smooth as a baby.
The rough skin of the feet can be mitigated with a daily half-hour bath of starch. For cooking 1 tbsp. of the substance dissolved in a liter of water.
Useful for the legs are also considered baths with salvea decoction of chamomile, succession, oak bark and calendula. A good result is achieved by the use of elecampane. After short procedures dry feet with a towel and lubricate them with cream.
Prepare a mask of celandine. This will crush fresh leaves of the plant, apply them to dead places, and secure with a gauze bandage. Wrap the foot with plastic, wear warm socks and leave it overnight. In the morning rinse it with warm water and RUB the skin with a loofah.
Perfectly softens rough skin of curd and honey mask. Mix honey, curd and sour cream in equal proportions and apply the mixture on the steamed, pre-treated with a pumice stone the skin by a third hour.
One of the simplest and most effective remedies for rough feet is vaseline. Before applying rasparte feet in a hot bath. It is possible to add a small amount of boric acid, at the rate of 1 teaspoon per Cup of water or broth on the basis of medicinal herbs.
After you cover heels in a thick layer of vaseline on top of cream secure a bandage and leave overnight. This method is suitable for daily use.
Note
Do not cut off the rough skin on the heels with a razor. Otherwise, it will be even rougher and faster it will grow. Do not remove the rough skin after a bath. Thus, it will be eliminated along with steamed normal feet.
Advice 2: How to get rid of rough heels
A woman wants to look perfect, beginning from roots of hair and ending...heels. Because, as you know, men pay attention to woman's legs, and are important not only slimmer, but well maintained. The impression created by neat manicure, great hair and unmatched dress may be spoiled by the kind of gritty female heels.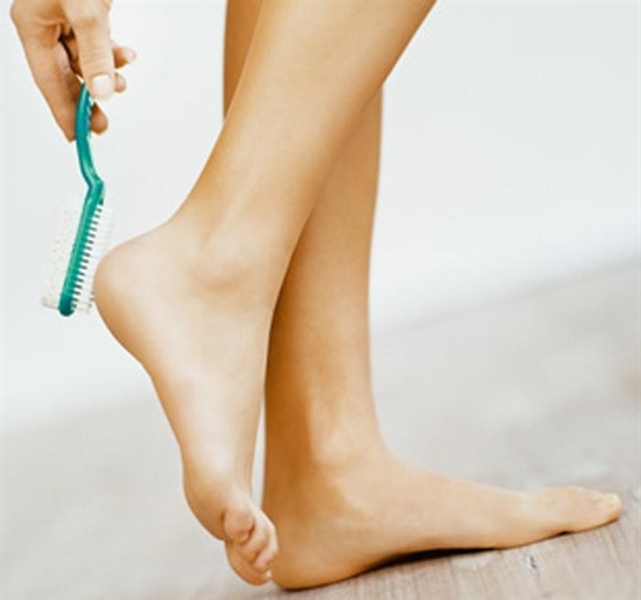 Instruction
Remember, if you care stop skin constantly, and not as problems, you will not require too much time and many complicated procedures, so as to bring the heel in order.
Pamper your heels with a foot Spa. For preparation of such baths require warm water, you want to add baking soda, salt, liquid soap. On request we can prepare a tray, based on herbs. You can use chamomile, lemon balm, St. John's wort, calendula, or any other medicinal herb you have at home. Put your feet in the prepared solution for half an hour, and then buff your heels with pumice.
Use after cleansing the heels oily moisturizer. You can apply it to the entire foot massage. To the effect of the cream was much better – put socks.
Don't worry if you have no time for cooking trays. You can buy a special set for the care of feet in any beauty store. In such a set usually includes: scrub or peeling for the feet and a nourishing cream.
Keep in mind that if the skin on your heels became not just rude, but and cracked, there is already some preventive agents can not do. In this situation, you can help decoction of oak bark or boric acid, add them to warm water and dip there feet for 20 minutes. Better if such care of cracked heels is daily.
Also treat your heel masks homemade. So you can easily cook, for example, pumpkin mask. For this you have small zucchini grind until a homogeneous mass, put the resulting slurry on a thick cloth, and then wrap in the fabric of the heel. After half an hour this mask can be washed off with warm water.
Pay attention to what changes occur with your heels after such a pleasant procedure. And if your skin remains dry, and cracks do not heal – see your doctor, because the poor condition of your heels can also warn you of any disease.