You will need
salt to taste;
6 peas of black pepper;
a sprig of rosemary;
1 head of garlic or a whole onion;
water.
Instruction
Rinse well with a piece of fresh meat under running cold water. Remove any excess fat.
Pour clean cold water into the pot. The amount of water should be small, to cover the meat. Bring to a boil.
Dip the meat in boiling water. All the prepared piece should be omitted entirely, cut it is not necessary.
That the meat was not only delicious but also safe, wait until the water in the meat boils. Then remove the meat. Drain the water.
Bring to boil a new batch of clean water. Again, lower meat.
Depending on the type of meat, calculate the cooking time. Pork boil for about 50 minutes after boiling, chicken about 30-40 minutes, beef about 1.5 hours. Do not forget that the cooking time depends on the age of the animal. Therefore, if having a slice of not very young specimens, the cooking time should be increased.
As soon as the water in the meat boils, immediately reduce the heat. Add salt to taste. Less will boil the broth, the more nutrients will remain. Meat should be simmering on the fire, and always with the lid closed.
To add flavor to cooked meat in 15 minutes after boiling, add the head of garlic or an onion, Bay leaf, black pepper and a sprig of rosemary if you have it.
During the cooking of meat requires several times to turn in the pan with a fork to evenly roasted.
At the end of cooking turn off the heat, leave the meat to rest for 10-15 minutes to infuse.
Put the meat on a platter and cut into serving pieces, add favorite herbs. You will be surprised by the tenderness and juiciness of cooked meat. Bon appetit!
Note
Merging the first broth is necessary to remove any undesirable substances that could get into the meat in the process of fattening up the animal.
Useful advice
The taste quality of cooked meat depends largely on its freshness. Better to take a piece with bone.
Advice 2: How to cook delicious beef
Beef is useful in anemia, helps the body recover and reduce cholesterol. It contains necessary vitamin for humans, which absorbed iron, complete protein. When cooking beef loses 1% fat, 40% water and 2% protein with this method of cooking is preserved almost completely.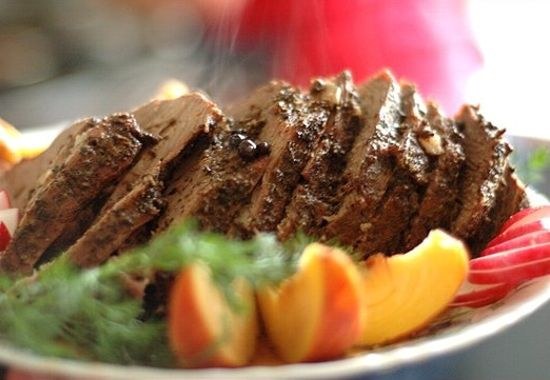 You will need
500 grams of meat;
800 g of potatoes;
2 carrots;
1 leek (or 1 onion);
turnip;
spices;
salt.
For sauce with horseradish:
tablespoon of flour;
2 tablespoons of grated horseradish;
0.5 cups of sour cream;
2 tablespoons of vinegar;
butter;
spices;
salt.
Instruction
Boiled beef. Rinse well the beef, put one piece (no more than 2 kg) in a pan and pour hot boiled water so that it just covered the meat. Cover the pan and put on fire. When the water boils, remove the foam with a slotted spoon, reduce the heat and cook the beef for two to two and a half hours.
Peel, wash and cut into slices all the vegetables except potatoes. Half an hour before end of cooking the beef add the broth, turnips, carrots, the white part of the leeks (or sliced onions). You can also put 20-40 grams of celery, parsley root or parsnip, two Laurel leaves, pepper, which you can replace with 5-10 g of red pepper. Salt.
When meat and vegetables are ready, carefully drain the broth (you will need it to prepare the sauce with horseradish), and a pot of boiled beef cover.
Peel, wash and boil the potatoes.
Before serving, warm the meat in the remaining broth. Then cut into small slices, place on a dish, add the boiled potatoes and cover with gravy horseradish.
Sauce with horseradish. Fry a tablespoon of flour with a tablespoon of butter, dissolve a glass of hot broth received when cooking beef, add sour cream, mix well and cook on low heat for five to ten minutes.
Prepare the horseradish. To do this: put in a small pot or pan two tablespoons of butter and the same quantity of grated horseradish and lightly fry.
Pour one to two tablespoons of vinegar (the amount depends on the concentration) and the same amount of water or broth. Put one Bay leaf, a few peppercorns and place on a low heat to evaporate the liquid.
Cooked horseradish put in the prepared sauce, boil and removing from heat, add salt, add a knob of butter and stir.
Note
Meat boiled in small pieces, a less juicy and tasty than cooked one large piece.
Useful advice
For dishes of boiled meat are best suited brisket, sirloin, rump and rump.
Advice 3: How delicious to cook rice
Boiled
rice
is a great easy
side dish
that contains a lot of useful minerals. It not only perfectly suited to meat and fish, but is also the main ingredient in the dishes.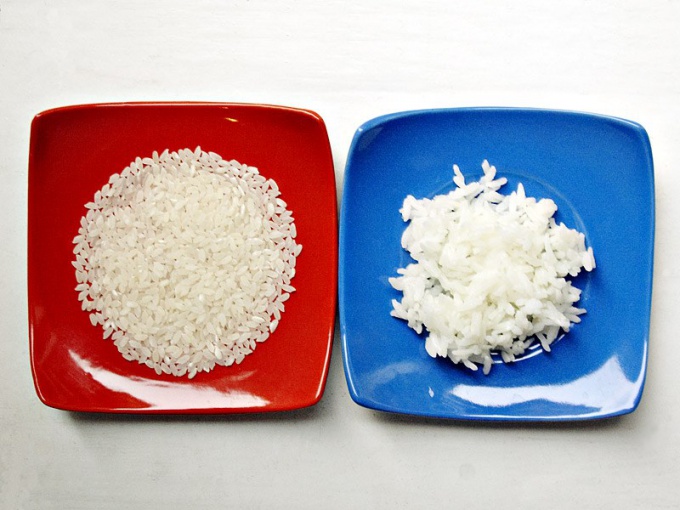 You will need
water 1.4 l;
butter - 50 g;
salt to taste.
Instruction
Before priceto topat to cooking, prepare the rice. Pour it on a clean, dry table and a loop. Apart from rotten grains and choose a dark color to the cooked rice turned out not only delicious, but also beautiful.
Put the cleaned rice in a saucepan, cover with cold water and thoroughly wash hands. Then pour the muddy water. This procedure is repeated until then, until the water becomes almost transparent. This is normally 10 washes, but it all depends on the degree of contamination. The purer will be the rice before cooking, rassypchatyh and tastier it will turn out in the end.
Washed rice, pour a lot of water and put on medium heat.
Before boiling during the brewing process be sure to stir it, otherwise it will stick to the bottom and sides of the pan.
As soon as the grits boil, reduce heat, and then add salt to taste. Please note that riceand salt should be slightly more than, for example, for the same amount of pasta or buckwheat.
Ensure that the rice does not seethe. Perfectly cooked should be crisp, soft, but not reach the extent of a mushy mass. So occasionally try his hardness in the process of cooking.
Ready rice , drain in a colander and rinse under running water at room temperature. Then put it back in the pan. Rice for cooking of any food ready.
If boiled rice is to serve as a side dish, add a little melted butter and gently mix. You can also added canned corn. Then the side dish will not only delicious and healthy but also very beautiful.
Add the boiled ricegrits ovuu a lot of butter dissolved in it honey and raisins. And boiled rice will turn into a lovely light dessert that will be the perfect end of lunch or dinner.
Advice 4: How to cook a delicious chicken broth
Chicken broth – a delicious, nutritious dish that is loved and appreciated in every family. It is not only delicious, but also very useful for healing and strengthening the immune system during colds. Because chicken meat contains large amounts of protein, polyunsaturated fatty acids, and vitamins of group B.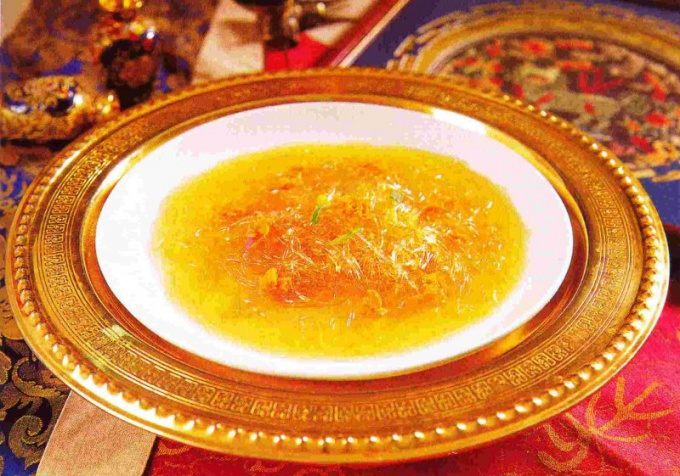 You will need
chilled eviscerated chicken;

1 onion;
1 carrot;
salt;
2 peas of black pepper;
2 sprigs of dill.
Instruction
Pour into a saucepan of cold filtered water. Please note that the pan needs to be big enough to fit a whole chicken. Typically fits a 3-liter pot.
Rinse thoroughly gutted chicken under running water.
Place washed
chicken
in a pot of water.
Put the saucepan on a high heat and bring the water to a boil.
Drain the first broth, and dial in a pot of cold filtered water again.
Return the broth to a boil. Now carefully remove the formed foam, and reduce heat to a minimum. Be prepared for the fact that in the process of cooking you will need to remove the foam more than once, as it becomes available.
Put in the broth carrots. Moreover, the carrots cut lengthwise into two halves. It is cooked in a brothof 15 minutes, absorbing everything "bad" that may be contained in the chicken. Then, remove the slices of carrots and discard.
Add to the pan cleaned from the husk onion, salt to taste and peppercorn..
Simmer the broth over low heat for 2 hours.
Always check chicken with a fork. If the fork easily pierces the meat of chicken drumsticks, so the chicken is already cooked.
Remove the chicken from the broth. In the future, you can prepare from it a dish in its sole discretion.
Ready broth be sure to strain through a sieve and then pour in a beautiful tureen. On your own you can add to the soup chopped dill or freshly made croutons.
Note
Do not use for cooking broth, the water from the tap. This can adversely affect the taste and quality of the broth. Use only filtered water.
Useful advice
Secondary broth cook over low heat. Under this condition, the broth isn't boiling, and stewing under the lid. And then Your soup will be clear and very beautiful.