Instruction
First You need to find a good coach. The task only seems simple but in fact it is not easy. From that, how much qualified to be the coach that you select will depend not only on the training progress, but also your health, because Boxing is a very traumatic sport.
A good coach must possess the ability to convey their knowledge to their students, do not get angry and not to yell at you when something does not work. Usually former boxers who have finished their career on the big ring, go into coaching. When choosing a coach, ask him what kind of success they have achieved personally, he himself, as years of teaching, what successes achieved by his disciples. The answers to these questions will serve you the indicators to begin Boxing in this section or look for another.
If you for some reason can't find a coach, start Boxing yourself. For this you need a visual aid, which you can buy at the nearest bookstore. Choosing a tutorial on the box, look at who wrote it. It is desirable that it was a man, behind which there are years of coaching. After a detailed reading of the manuals, start training. But it must be remembered that any tutorial will not replace work in the gym with a real coach.
Buy the necessary equipment, which will facilitate the training process and will help to protect vulnerable parts of the body from the blows. Firstly, it's Boxing gloves (preferably 10 oz) and bandages that will protect your hands and knuckles. Bandages it is advisable to buy a little stretching, it may be easier to wind. Also, you need a helmet and mouth guard. A helmet will help protect eyebrows and the head from possible cuts, and Capa - jaw and your teeth. It is advisable to practice in free sports clothes and footwear – bokserka – which will protect your ankle from sprains.
Success in your endeavours and remember the wisdom of the East - the road by walking.
Advice 2 : How to learn Boxing
Even the training to learn Boxing, will help you to reduce stress and gain good physical shape. And when you learn to box, then this bonus will be added and a sense of our own power. To learn Boxing you doing with a coach and independently.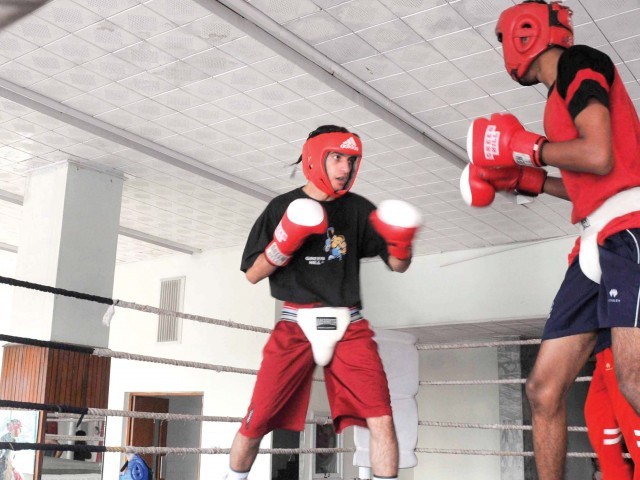 You will need
Boxing gloves
Bandages
Jump rope
Clothing for training
Benefits of Boxing
Sneakers (not very close)
Phonebook
Computer with Internet access
Instruction
To learn how to box find your gym and trainer. You can examine the phone book or directory of organizations. Still it will be useful to look for information on this subject on the Internet.
Talk to the staff rooms that you have chosen for yourself to find out what is included in their Boxing program. Inquire about the cost of education. Select the train room, which suits you in all respects.
To start learning Boxing, you need the basic Boxing gear. In most halls, you can use the local gloves, for example, but much nicer to have your own. So, you need bandages, gloves (if their weight was 300 grams, initially they can be used both individually and in paired practice), sneakers (while you are just starting out, so you can do without special Boxing shoes, t-shirt and shorts.
As soon as you learn how and where to start – depends on your trainer. But remember one thing – every day train strikes. Even if you don't go to the gym, it is very important to practice. Daily exercise will help you feel more confident, more relaxed. It will be easier to win!
Note
Training Boxing at home is great training, so you will see what the basic moves and blows exist in Boxing. The main advantage of this video is that it can easily replace your personal trainer and you will easily be able to learn favorite sports right at home! Be careful when performing elements, in order to avoid injuries!
Useful advice
Why read an article about how to learn how to fight? At least in order to correctly pick up this section! For those who want to learn to fight, the best form of sport activities will be Boxing or kickboxing. Much harder to learn to fight at home, without the presence of the opponent. But at the big desire it is possible. Do not rush to buy Boxing gloves and bag.