You will need
- sewing machine;
- scissors, needles, thread;
- pieces of fabric, chiffon, lace;
shells;
- decorative flowers;
- fittings;
glue rhinestones, beads.
Instruction
The game of contrasts. If you have in the closet gathering dust one-piece swimsuit "bandeau" colors of the sea vests with detachable straps, you are the owner of a wonderful instance. The highlight will be a large applique of bright red color.Cut out a red fabric heart. Now tonal lace make a long string with ruffles. Gently nativite ruffles cascade on the heart, from bottom to top. You will get surround air applications. Then pristrochite heart panel swimsuit, this can be done on the sewing machine or manually overlock seam.
Floral garden. Certainly, a plain white swimsuit looks too boring. To add color and mischief will be able bright decorative flowers. They can be removed with pins (ranging from small orchids to large dahlias) or purchased at the Department of accessories in fabric stores. Attach the decorations with a needle and monofilament, the cups closer to-there straps suspend, the bikini – closer to the side seam or drawstring. Floral swimsuit will not leave anyone indifferent.
Shell. Every summer vacation you are sure to bring a couple of bracelets made of shells, which lie then. They can create a unique way if you use them for two-piece "bikini" or "halter", bodily or blue.
Embroidered
cups small shells, and on the ends of the drawstring panties clip big jewelry with the help of limit switches or the holders of the pendants.
Diamond. The swimsuit model is the private "plunge" looks amazing due to the deep cut front and back. Such cutouts can be decorated with rhinestones – large and small in the form of drops. One restriction: choose glue rhinestones of the same color. Multicolor "glitter" will look childish, and, for example, large white crystals, or rhinestones, chameleon will transform you into a Royal diamond on a Golden beach.
Pythons and leopards. Girls always like predatory colors, and to update a swimsuit seems almost impossible. Almost, because such a thing is already attracting all the attention to the owner. But there are secrets. Use accessories, such as metal rings and rectangles, decorated with rhinestones. They can be fastened in the joints of the side seams bikinis and panties, and also between the top edge of the cups and straps.
Note
Keep in mind, if you decorate a swimsuit with seashells, bulk flowers and other protruding or fragile accessories, then lie on the stomach, you can not. Otherwise you'll ruin all your hard work.
Useful advice
Colorful colors of swimwear can be supplemented by the production of a short skirt of solid chiffon.
Advice 2 : How to decorate with rhinestones swimsuit
One of the brightest of the fashion trends today is the decoration of clothing or accessories bright shiny rhinestones. In this way it is possible not only to decorate blouses, shoes or bags, but outfits for a beach holiday or gymnastic leotards for performances and competitions.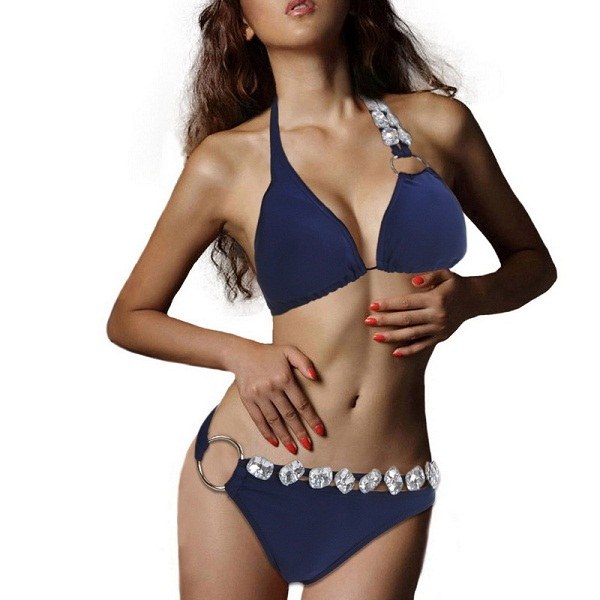 Decorating crystals allows to realize almost any idea. Rhinestone is the material with which you can easily create a variety of stylistic compositions. Working with them requires no special skills: just to have on hand all the necessary materials and to arm yourself with patience and accuracy.


How to select a suitable rhinestones

Each girl has their own favorite swimsuit that remembers the happy days of leisure at sea. Do not despair if he lost the original appearance or out of fashion, because there are a lot of creative ideas on decorating your beach outfits.

Considering the fact that beachwear swimsuit designed for swimming, for its decoration, should choose flatback rhinestones. They are securely attached to the material and will not come off in water. Sew on rhinestones on the leotard snap, it comes out much cheaper than buying a new product.

Gymnastic leotards can be decorated with thermostream. Before operation, carefully read the instructions on the package. This will help you to attach the rhinestones so that they flew after the first performance.

Before buying crystals in the shop be sure to ask what is the best glue to glue rhinestones. Today there are 2 kinds of glue: white based on PVA (rest) and transparent (clear). Transparent glue dries virtually invisible, so it is ideal for the first experiments on the decoration of the swimwear with rhinestones.


Tips for creating fashionable songs

Color crystals should be in harmony with the color of the swimsuit, only in this case it will look neat and beautiful. You should not choose the rhinestones of the same color, shape and size. Compositions of different crystals, look more original and advantageous.

To place the rhinestones should be, given the shape and design of the swimsuit. For example, drawing on a normal swimsuit is better positioned symmetrically about its center. If your swimsuit is asymmetrical or has an unusual shape, then place the rhinestones, highlighting its design features.

Small crystals you can put the outline of the picture and large – to highlight some parts of it. A great way to update your swimsuit to glue rhinestones in several rows along its edges. The main thing – do not overdo it with decorations, or you risk turning the swimsuit into a continuous bright spot, and get the effect that would be opposite of the expected.


How to decorate the product

To swimsuit after decorating rhinestones not peretyagivaet and not wince, before working the cloth to be stretched. During sewing or gluing a rhinestone fabric should remain stretched. You can use any substrate, e.g., big book, Board, embroidery frames.

Termostati it is necessary to take tweezers and the glue should be applied to rhinestones and material of the swimsuit. First practice, attaching the rhinestones to the places where they will be less noticeable, and then start the main job.