You will need
Canon, a list of your sins
Instruction
It is important to understand that we ourselves cannot atone for any sin. We have a Redeemer who took upon Himself all of our sins. We can only ask His mercy to forgive us, once again violating His commandments and His will. The forgiveness we receive through repentance and confession of their sins. Adultery is one of the deadly sins. St. John Chrysostom believed that adultery is a more grievous sin than of any robbery, because the adulterer not only defiles his body and soul, but steals from others what is better than all treasures – love and marriage. Put yourself in the place of the person who has learned about the cheating spouse, understand his pain and his heartache. This is necessary in order to continue to refrain from such a sin.
To be forgiven, you need to go to the priest and confess his sin of adultery, but other sins that you have accumulated, as well as any man. Think well what you have is sinful, make a list of your transgressions, voluntary or involuntary. If you want to be cleansed after confession is very good to take the Sacrament. To Communion had to fast at least three days.
Morning and evening prayer, read the rules. If possible, go to confession it is better to go the night before Communion, to during the morning divine service not to be distracted from prayer. It is very difficult to tell the priest about their sins, but it must be done, because unrepented, sin will remain Unforgiven. Don't need to tell you in detail about his adventures, if only you don't need the advice of the priest in a particular situation. Enough to tell you that you committed adultery, cheated on a spouse and were involved in the deception of others. If the priest will be questions, answer them as honestly as possible – remember that the lies and concealment in confession will add gravity to your already committed sins.
After receiving permission from my sins remember a moment of shame when you told the man in a cassock about his fall, and imagine how much more painful will stand before God and answer to Him for their actions. Try to avoid any situation which may lead you to a new fall in.
Useful advice
Remember that not only a physical betrayal, but also an attempt to seduce unfree man is a sin before God and people.
Advice 2 : How to atone for the sin
Sin is the transgression of the commandments God has given. According to deacon Andrei Kuraev, sin is the wound that man inflicts his soul. Person is responsible for their sins, and only children under seven years old are considered sinless, because they can not be fully aware of their actions.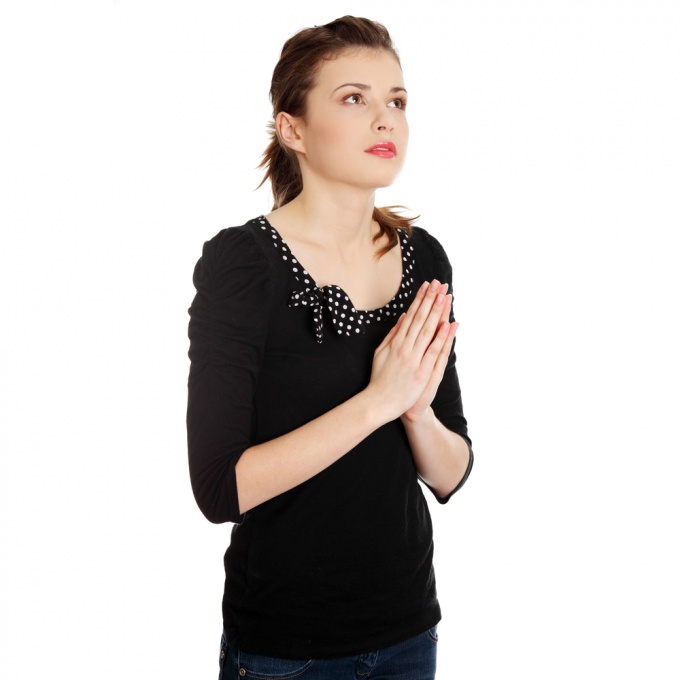 Instruction
To believe means to place all her hope in the Lord Jesus Christ. You need to remember that Jesus Christ died on the Cross for all our sins and purchased for us the gift of eternal salvation. God's mercy is infinite: "call upon Me in the day of trouble and I will deliver thee" (Psalm 49:15).
Confession is the great Christian Sacrament in which the penitent person is cleansed from sin by the Lord Jesus Christ. As taught by Holy Scripture: "If we confess our sins, He is faithful and righteous to forgive us our sins and to cleanse us from all unrighteousness" (1 John, Chapter 1, verse 8). You must know that mentioning their sins in a home prayer is not enough, as the right to authorize the sins of the people the Lord gave to the apostles only and their successors – the bishops, the clergy.
To Confession to prepare in advance: you need to make peace with others, asking forgiveness from those offended. It is advisable to read literature about the Sacrament of Confession and Communion and remember all his sins (sometimes, not to forget, write them on a separate sheet). In the evening at home to read three canons: the Canon of Repentance to our Lord Jesus Christ, virgin Mary, guardian angel. You can use prayer books, where there are these three Canon.
To fulfill the penance assigned by the priest. Sometimes the priest may impose a penance on the penitent as an aid in the struggle against sin. As penance may be the strengthening of the rule of prayer, the ban on Communion for a certain time, fasting, pilgrimage to Holy places, alms, etc this should be treated as the will of God, intended for the healing of the soul. Penance requires a mandatory execution. If for any reason it is impossible to perform penance, you must contact the priest who has imposed it.
Useful advice
To confess, you must go to the temple and find out what time Sacrament of Confession.
Advice 3 : How to atone for the sin of fornication
Christianity recognizes two forms of organization of personal life: marriage and celibacy (celibacy). If there was such a sin to seek the answer of how to redeem - is wrong. The Lord said, repent. Said atone.
Instruction
Repent in the shower and realize the sinfulness of fornication. Repent of your loved one, if you committed the sin of fornication against him. Honestly tell him about the reasons that led to the fornication, about your feelings, experiences, emotional state. Apologize to him and try to gain back the trust and love, from whom you fornicated. Not maintain any connection with the person with whom you have sinned, and try to avoid even the hint that you can once again do that sin. Behave decently, not to let even the slightest reason your loved one to doubt the sincerity of your repentance. But never let yourself down, do not tolerate mockery of moral or physical punishment.
Try to explain that you are fully aware you have committed sin and are ready to redeem it. Focus on what you honestly confessed to fornication and now regret committing such an act. Remind your loved one that you are constantly punishing your conscience that it doesn't give you a second to forget about your accomplished sin.
Go to Church, if you want to atone for the sin of fornication before God. Confess to priest, do not need to hide anything, tell us all about it, not priukrasit your story and don't try to achieve understanding. Repent the priest's soul, and acknowledge the sinfulness of fornication. Never fornication, abstain from temptations and committing sinful acts. Start living a proper human and Christian life, often confess and live according to Church laws. Do not allow despair, which also is a very big sin at the source of which is human pride. Find out from the priest of order of Holy communion and make sure that you start to constantly partake.