Instruction
For knitting warm sweaters or other warm clothing is best to choose wool and wool blend yarns. "Wool" on the label does not mean that the coat is approx 50%, it can be any percentage, the remaining proportion of different additives (acrylic, mohair, etc.). Pure wool wears out faster, in addition, the wool prickly, "bite" and can give much shrinkage after washing. Yarns with addition of acrylic, more soft and does not shrink. But wool had its advantages: the hair has natural coils or waves in each thread, which give the yarn elasticity. This yarn is stretched and then returns to its original length. Other fibers no such qualities, so the clothing related of them, often stretched.
Pay attention to the information on the labels, there may be mentioned, than it is better to use when knitting this yarn - knitting or crochet. Highly twisted yarns when knitting can skew the product and make it more rigid, so these threads I choose to knit crochet.
If you need the instructions to combine two yarns, pick as close as possible to each other according to the thickness and texture of the thread. Buklirovannye thread choose if you need to give volume to the product.
For knitting wipes and summer clothing choose cotton, flax (for example, "iris"). Pay attention to the smoothness and subtle Shine - the quality of the yarn will give a more beautiful look to your product. Good use of mercerized cotton. This is natural cotton that has undergone a treatment called "mercerizing" (named inventor John Mercer). Mercerizing brings out the best properties of cotton and reduces its shortcomings, adds luster and durability, products made from such yarn less rumpled.
To knit baby things best to use special baby yarn. The composition of the yarn includes: camel's wool, cotton, acrylic, polyamide, viscose, fiber, Merino. Depending on the percentage of incoming components children yarn has a variety. The most famous Baby color, Baby, Bambino, childish Baby. These threads are soft and do not cause allergies, have different bright and pastel colors.
Advice 2 : How to choose yarn for baby blanket
A young mother and relatives will be pleased to create with their hands something for a newborn, for example, a blanket. He will be able to protect the child in cool weather, comfortable Cape in a wheelchair. However, you should first choose a suitable yarn for knitting.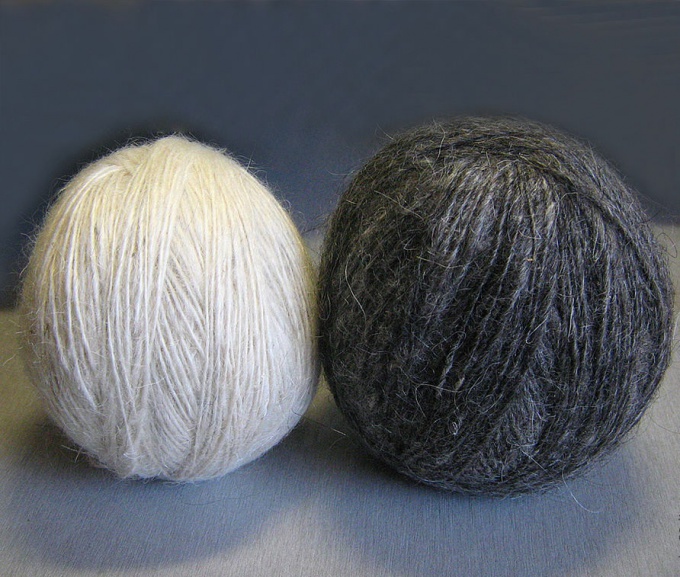 Instruction
Decide which tool you would prefer to knit: crochet or
spokes
AMI. Remember that excessive thickness of the spokes and the threads might not allow you to create the desired pattern. Select a suitable knitting pattern. Think about what color you want to associate the plaid. Be patient and careful that the finished painting looked equally good on both sides, there was no distortions or delays.
Select the plaid. It can be airy and delicate enough to cover up the baby home, and also suitable for wrapping or baptism. You can knit warm and thick blanket, suitable as a cushion or bedding in a wheelchair.
Proceed to the choice of fabric for knitting. If you plan to do plaid in a lightweight layer, then the cotton will be most useful. Consumption will depend on the thickness of the yarn and the pattern (if you plan to do a Cape with complex relief patterns, for example, cables or knobs, you need to prepare more material). To preserve the original form of plaid, you should not wash it in hot water. Try knitting with a small margin, for example, 105 x 105 cm.
Try to use for knitting Angora with acrylic. It is soft, warm and airy fabric that falls in the easy and beautiful binding. It can be used for the blanket in the cold and cool time of year, especially if you are worried about the fact that a newborn baby will freeze on the street. The flow rate can, by associating a first sample of 10 by 10 cm, and then calculating the amount of fabric for the whole blanket. Knit it better in two lines.
Note
Always use the yarn with the stock. In this case, then you will not have to search for and purchase fabric of different color, and combine existing materials. From the remains you can always tie the spare multi-colored plaid.
Useful advice
Try not to use for knitting plaid fluffy yarn. Lint and fluff much climb, and their particles can enter the child's body and face. Avoid synthetic materials, they child will feel warm and comfortable.