Instruction
Remembering a few lines from the chorus, enter them into any search engine (e.g. Google or Yandex). Clicking on "Search" from the list that appears you will see the name of the desired song.
If you can not find the song via search engines, then you can go to the website http://www.alloflyrics.ru is the largest database containing tens of thousands of songs from different artists. All you need to do is enter the known words from the lyrics in a special string. Then you will be presented with a list of songs containing those words.
Advice 2: How to find a song along the lines of it
Accidentally heard
a song
on the radio and wanted to find her - this situation is familiar, apparently, to everyone. And sometimes that flies out of my head the name of long-familiar
songs
, which is very necessary to remember. If you have Internet at your fingertips, you always have the choice of several versions of the song search for the lines from it.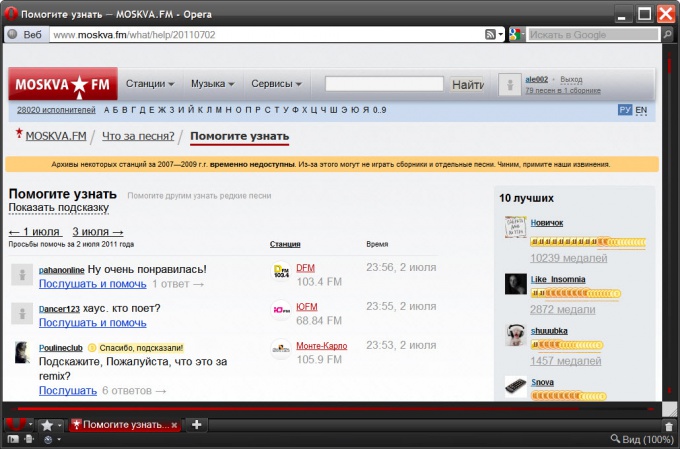 Instruction
Use any Internet resource that specializiruetsya on the collection and cataloguing of lyrics. The sites usually have a built-in search system for your databases. For example, you can enter your existing phrase
from a song
in the appropriate field at
http://masteroff.org/search.php
. In the drop-down list placed below, specify the search criteria - that is, whether to find in the text the phrase in the form in which you have specified or you can search for all the words are lines from the song in any order. In the second drop-down list, select a Line from a song" and click the button labeled "Search!".
Use the global search system on the Internet if you don't want to be limited to only one database, albeit specialized, website. For example, enter the phrase from the song in the search engine Google.com. By default, it will search for pages that contain the words of the sentence in random order. To limit the search results to only those that contain words from a song line in that order, take it in quotation marks. In addition, you can add in front of sentence (outside of quotes) "lyrics" or one word lyrics for texts in English.
Ask a question stating the phrase from the song in any online forum or other resource, which offers options for information exchange. Of course, the chance to get sufficiently precise and quick response is much higher on those sites that actively visited the "music lovers". It can be forums dedicated to music in General or specific areas or servers music online radio stations. On the website Moskva.fm, for example, there is a special section for such questions, and the answers of the experts out there are stimulated by awards from grateful supplicants. The address of this section is http://www.moskva.fm/what.