To get rid of crickets is very difficult, because to fight these insects are practically no specialized funds to bring cricket squads designed to combat household pests, such as ants and cockroaches, almost impossible. The struggle with these insects could be made effective, there are several ways of getting rid of insects.



1. Catch the cricket



As you know, crickets are the cause of most concern to the residents of the apartment the sounds they make at night. However, at night the crickets not only sing, but also to actively move. If the house is home to one cricket, the easiest way to get rid of him is to catch him in the dark.



2. To create conditions that are far from natural



Crickets live in damp conditions, and it is therefore in the apartment, they often settle in the bathrooms, because it is here that the conditions as close to natural for the crickets environment. If conditions change in the bathroom or any other room in which dwelt cricket, will become very dry, the insect will have to find new habitat, or it just dies from lack of moisture. To deal with cricket with dryness, simply, in addition, this method allows to get rid of the insect fast enough without the risk of harm to human health, or the animals living in this apartment.



3. Chemical attack



It is known that some chemicals designed to control insects, are very effective, they can be the best assistant in the fight with crickets. However, this method should only be used if the house has settled the family of crickets, and get rid of them by other means is simply impossible. However, when using toxic media, such as "Dichlorvos", is to remember that they are dangerous to people and Pets and also extremely toxic. That's why using this method should take care not to be at least a day in the treated apartment, and then provide housing thorough ventilation.



To get rid of crickets is difficult, largely because even specialized service dealing with pest control, not doing the cleansing of the house from these insects. However, it should always be remembered that the above-described methods of dealing with crickets is very effective, though extremely simple, you can use them even in a short period of time to clean the house from crickets and prevent their reappearance in the home.

 
Additional sources:
Advice 2: How to get rid of insects in the house
In our house sometimes penetrate uninvited guests. Mosquitoes, flies, bedbugs, fleas and cockroaches – they cause a lot of inconvenience and trouble. To cope with the insects will help both of modern chemical, and folk remedies.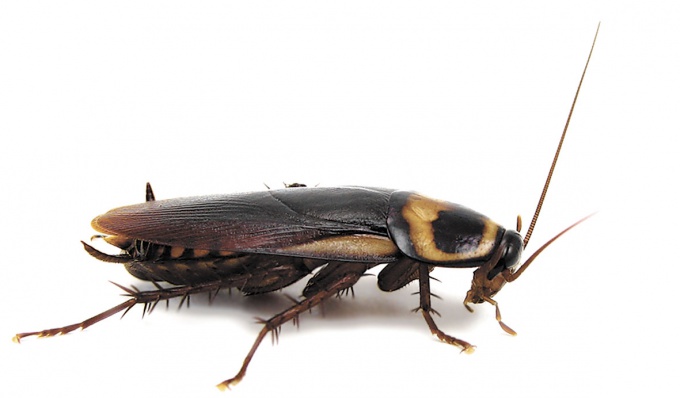 You will need
chemical insect repellent,
ammonia,
boric acid,
vinegar
lavender,
yeast.
Instruction
Tracunicode clean
the house
, wash the dishes, do not leave overflowing garbage cans. While cleaning the apartment added to water ammonia: whiskered pests can't stand the smell. During repair, carefully close all cracks and crevices. Often ventilate the room, especially in winter - cockroaches die at a temperature of 8 degrees below zero. Effective as boric acid and borax (you can buy in the pharmacy). You can use tools such as "Globol", "combat" and others. If all else fails, call the professionals.
Mosquitoes
Those pesky buzzing
insects
scare away the smell of vinegar, rosin, tar. Of chemical agents in Russia release "Give", "Pirin". Very popular as electrocapillarity: small device plugs into the wall socket and heats up, the result evaporates the insecticide deposited on the plate. There are varieties of liquid plug-in vaporizer. Most popular: "Fumitoks", Alack-10, WAPEmat-E, WAPEmagic-E. also Effective creams and lotions, the mosquito repellent.
Flies Flies can not tolerate the smell of tansy. Window frames can be lubricated with vinegar. An effective method of fighting the tape "Mukholi" and "Mukholi-M" sticky mass "- membrane vinylon and Muxid". You can also use powdered means "Newpin", pills, al-Farid" liquid preparations "Primate", "Japan-M, insecticide marker "fly" or dichlorvos. Incidentally, the latter now produced in the vial is odorless, but should not spray around the apartment at any time. It is better to arrange the disinfection when you want to leave the apartment for a few hours. And don't forget to ventilate the room after returning.
Clopay will not see their day – night residents. These blood-sucking insects can carry various infections. To see them and deal with them fairly difficult. Bed bugs die when a sudden change of temperature. Minus 15 – lethal temperature. It is best to use special chemicals. For example, "Reopen" and "Japan", "Insect Dibro-fin" and "Lekteren". Kill bedbugs and liquid preparations "Premade and Foxed".
Homemade ants, They spoil food, and some species bite, causing an allergic reaction. A popular method is sprinkle salt on the ant nest, and also in the places where they crawl. Insects can't stand the smell of parsley, onion, garlic, mint and wormwood. Highly effective yeast. Of them, you can cook it on the water a thick paste, adding a little jam or honey. You can also use the drug to Expel or "Globol".
Moths unlike other insects, it is not a threat to human health, but causes damage to our things. Interestingly, flying butterflies moth, which we love to chase around the apartment, not as bad as the caterpillars of the moth. The mole was afraid of light and air. So to protect from the voracious caterpillars need those things that lie in our cupboards, on shelves Dolne. Put dried orange peel, geranium leaves, inflorescences St. John's wort, lavender. Things that you take for long-term storage, it is better to pack in the bags. And furs after the end of the season treat good protection from moths, for example, "Mramor", "Dismal", "Difax" or Raid.
Note
All chemicals are harmful when heavy breathing poisonous to animals. So be sure to well ventilate the room in which you performed, and "long lasting" drugs apply in areas inaccessible to Pets.
Advice 3: How to get rid of insects in the rump
Insects infest products, if you bought in the store or on the market of the infested
cereals
or flour. Bugs can chew through plastic bags and settle in other products: flour, dried fruit, tea, spices. If this happens, take the following measures.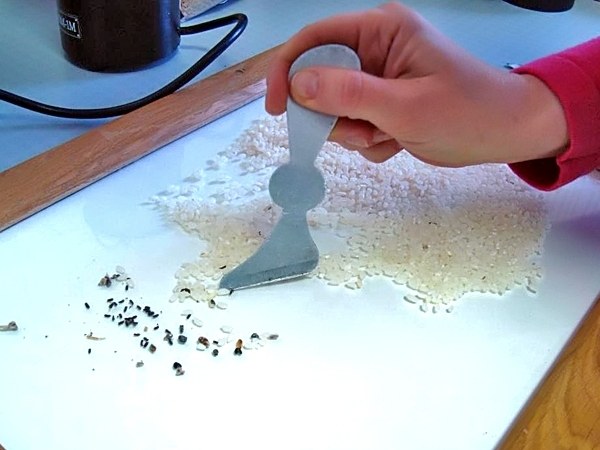 You will need
- vinegar essence;
- sealed cans;
- garlic cloves (peeled);
- Bay leaf.
Instruction
Examine very carefully all your supplies cereals, pasta, crackers, flour, dried fruits, spices. Bugs can also wind up in the sugar, tea and cocoa. Throw away all products where insects are detected. Eating them is impossible, even if you bake the cereal in the oven.
Place for 24-48 hours in the freezer products in bulk in which insects are not detected. The only way to be sure that they will appear new bugs from larvae and eggs which you have not noticed by visual inspection of grain.
Do a thorough cleaning in the kitchen. Remove contents of kitchen cabinets. Rinse them thoroughly inside and outside with warm water and disinfectant. It is suitable vinegar essence, you can use a solution of Domestos. Wipe kitchen cupboards, dry them, preferably during the day.
Cover the Newspapers shelves where to store cereals. People say that printing ink repels bugs. Put in cabinets, Bay leaf, cloves of garlic. You can use dry lavender flowers.
Buy new products in the store in small quantities. Pour them in a sealed container. For reinsurance purchased grain can be put on a night in the freezer of the refrigerator. As folk remedies you can try to put in the jars with dry food aluminum spoon.
Note
The excrement of the bugs found in cereal, hazardous to health, so the products contaminated with insects should be discarded.
Useful advice
Carefully check cereals with their purchase in the store or on the market. Do not buy them in store in large quantity. Observe the terms and conditions of storage products.
Advice 4: How to bring crickets from the apartment
The sound produced by crickets, can be very annoying, especially if it is monotonous and not stop for days. The insects penetrate in the cracks and fissures, often from basements and cellars, as they are getting a divorce where it's dark and humid.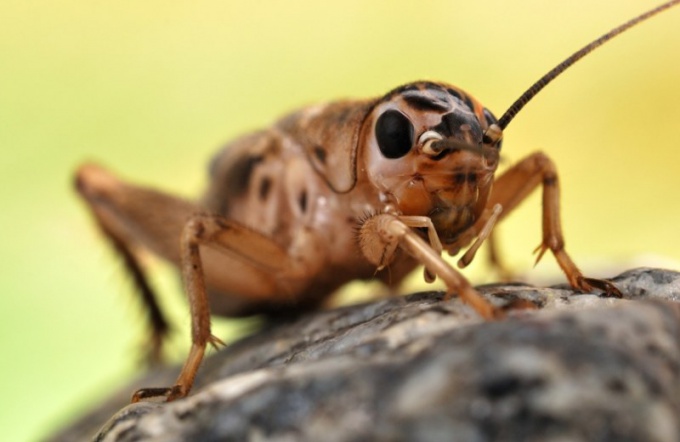 You will need
construction sealant;
- dichlorvos;
- sticky tape from insects.
Instruction
Try to catch the cricket – they can crawl on the surface in the dark. Turn on the light and inspect floors and walls – you may notice insect. You can set traps for cockroaches.
Change the living conditions, making them unsuitable for crickets. They like high humidity and heat, so often settle in the bathroom. Make it so that it became dry. If you have the opportunity, leave the apartment for a month or two (e.g. during summer vacation) – during this time, your bathroom will become much drier, so as to use it there will be nobody.
If you are unable to leave, check the ventilation. Always leave open the bathroom door, try to wipe the surface dry with a cloth (floors, mirrors, walls, tub, etc.).
Miss construction airtight means all gaps and cracks: treat the floor, the joints of floors and walls, to prevent the penetration of crickets from the basement, if you live on the first floor. This method of dealing with crickets is the most safe for humans and Pets.
The use of toxic chemicals will get rid of crickets. Use such funds only in the case if you are concerned about a whole family of crickets, as the effect of chemical vapours on the respiratory system of humans and domestic animals can be negative. You can use the old-fashioned insect repellent – spray "Dichlorvos" room. Pre-print all of the apartments, provide a defense in the form of a mask – spray baseboards, floors and walls. A few hours well ventilate the apartment and wash all treated surfaces detergent solution. Instead of "Dichlorvos" you can try more effective formulations, which do not have such a toxic effect, sprays, aerosols, adhesive tapes.
Contact the specialized service to combat insects. Disinfection activities can take place in several procedures during which you will have to leave the apartment, and came back to conduct a thorough cleaning, cleaning of textiles on the furniture, and prolonged ventilation.