You will need
In order to connect pedals you'll need rudder and a little skill the use of the control panel.
Instruction
Connect the pedals to the wheel. Inspect your wheel and locate the inputs for the pedals. It is usually do to the right or behind the wheel.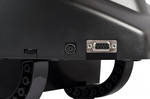 After connecting the pedals to the wheel, plug the wheel to the computer. Steering out of a USB output. Take it and connect to an available USB port on your computer.
Install drivers for the gaming device, if available.
If not, open the start menu, click the left mouse button on the icon control panel. After opening the control panel, click on the icon of the gaming device. In the off window, click properties.
You will see the settings window of the gaming device. Pressing the pedal and watch the window. If the cross in the window is moving, the computer recognizes your gaming device.
Next you need to calibrate the device. In the same window, click settings. Click or tap calibrate. To receive the calibration wizard gaming devices. Click next. Click on the pedal. Another window appears in which you need to push all the buttons of the gaming device. Click next, and finish. All, your device is ready for operation.
Note
Make sure wires are connected correctly.
If you have on the device, any bulb, see if they will illuminate when the device is connected to the computer. This gives you the opportunity to make sure that the device is connected.
Useful advice
Do not press hard on the pedal, it may cause damage.Try not to spill anything on the device.