Instruction
First of all, decide the art of fighting in which swords you would like to master. After all, between a katana and a European sword there are many differences!
If you are attracted to samurai swords, learn Kendo. It is a modern fencing art that takes its history from the traditional techniques of samurai swordsmanship. If you decide to do Kendo, you have to spend 60 – 80 thousand Russian rubles for the sword and ammunition, but then you will be able to indulge in the pleasure, developing not only the body but also the spirit. This kind of fencing art is extremely popular, and enroll in school in almost any city.
If you want to learn how to fight on the usual swords, you can join the fencing club or to go to the trps. Special investments will not require from you. You have to buy or make yourself a wooden sword or duralumin. Do not forget about defense – you, as a beginner, it is very useful. Be sure to get the Bracers. It would be nice to have a helmet. Although your mentors and try not to hit you on the head, but better not to risk it.
If you don't want to learn to fight with swords in the group under the guidance of a teacher, it can be done independently. Although the partner you'll need. Training can be conducted in parks, stadiums. Approach to the choice of protection should be more responsible than if you went to training at the club, because your partner is also inexperienced and can get sword at any place. Specify in advance a stop word, in pronouncing which the fighting stops.
One of the major mistakes newbies – during the fight they look at the sword of the enemy, trying to trace his movements. Don't do that, you still can not follow behind the blade, even if he is in inexperienced hands. Look in the chest opponent, so you will see all his movements. Not disclose during the fight: exposed arm or leg like a invite to hit on them. And remember that the best defense is a fast attack.
Advice 2: How to learn how to fight karate
Karate – an ancient martial art that came to us from Japan. It is the art of attack and defense is based on strikes with hands or feet, i.e. without the use of weapons. Learning how karate can anyone, from child to pensioner.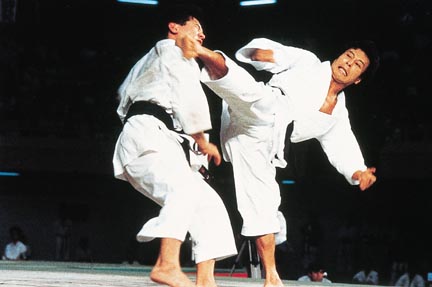 Instruction
First, you need to get an idea of karate as a sport and means of self-defense. Check out the Internet thematic websites dedicated to different styles and schools of karate. Select the most suitable direction. And also remember the ones that you absolutely do not fit (for example, the direction of Kyokushin is considered the most difficult and toughest of all areas of karate).
Further, when you have decided on the desired styles, you need to choose partition. View ads local sports schools. They are constantly there is a set of groups as beginners who want to learn how to fight and more prepared athletes who want to raise the skill level. Or, if you have heard of a particular section in your city, or karateschool with good reviews, ask there. If the result is worth it and the classes will be fun, it is better to spend the extra time on the road.
Before you make a final decision, be sure to check with a trainer (
karate
-schools coach called "Sensei"). Be sure that you have had a good relationship with your future mentor. Only an experienced Sensei will be able not only to supply good
karate
technique and learn to fight but to raise
morale
.
Once you start training, don't forget to continue self-education. Watch themed movies dedicated to the great warriors of karate, the founders of karateschools, as well as paintings, raising the spirit of war. Ask your Sensei to recommend you some literature dedicated to martial arts in General and karate in particular. And don't forget to devote time to General physical preparation. Without a good physical shape not be able to master the basic techniques of karate and to learn how to fight well.
Note
Learning to fight, do not misuse their skills. First, the enemy might be stronger. Second, the best fight is the one avoided.
Useful advice
You can learn a lot of useful information by attending workshops by recognized masters of karate, as well as competitions and demonstrations. Great communication with the athletes morale.
Advice 3: How to learn to wield a sword
Since ancient times in Japan skill
with a sword
was considered one of the most important. Katana, or samurai sword, was more than just a symbol. It was a deadly weapon in the hands of a trained samurai. How to learn to wield a sword?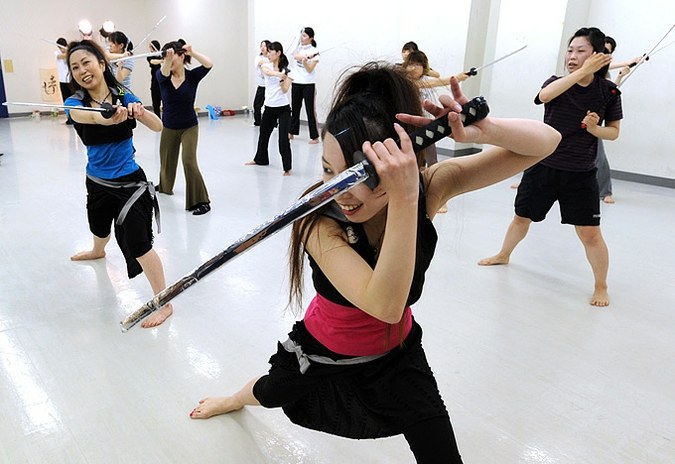 Instruction
Practice at first with Bockenem, wooden ball. Do not touch this weapon as long as you are not sure a mentor. Grasp the end of the arm bokken left hand. Squeeze it tight with the small and ring fingers.
Touch the middle finger to the hilt. Make sure to thumb and fingers can move freely. Not sacratomato them.
Grasp right hand over the upper part of the arm bokken if there is no forearm. Leave a space in the thumb between the knuckle and arm. Make it so that the index fingers and the wrist were parallel to each other. Leave between the hands of distance to the width of the wrist.
Hold, bokken 15 to 20 minutes without changing grip. This is necessary in order to have a good feel for the technique of capture and train the fingers.
At the same time turn the wrist inwards, as if wringing out a wet rag. Then return arms to the starting position on the sword. Both the palms of the hands should be at the top of bokken at the end of this movement. Perform this exercise 100 times a day. This will help to increase the strength of the hands and forearm, and also taught to work with a sword.
Place your feet together and turn your left foot 30 degrees. Slide the right foot forward until your right heel until the toes of the left foot will not vyrovnitsja. Bend your knees and move the weight on the toes.
Forced against the surface of the floor with your toes. This will allow for angular motion and spin quickly. All this can be done much faster than in the combat direction Kudo.
Learn to do piercing and cutting blows with a wooden sword under the guidance of an experienced instructor. Don't forget to work daily on position of hands, legs and body. As often as possible to practice wrist, at the above address. If these recommendations are followed, you will learn after some time to work and a real sword. Approach this issue very gradually!